20 easy mocktails you can make at home for guests of all ages. Most have only 3 ingredients.
If you're looking to entertain guests of all ages or simply enjoy a refreshing beverage, we have curated a collection of 20 easy mocktails you can make at home. These non-alcoholic drinks offer a symphony of flavors, colors, and aromas that rival their alcoholic counterparts.
In a world where creativity knows no bounds, the art of mixology has transcended the boundaries of alcoholic concoctions to embrace a more inclusive and health-conscious approach. Explore the world of mocktails, where the thrill of crafting and savoring delectable beverages need not be accompanied by alcohol.
Fruity Mocktails
Homemade Orange Julius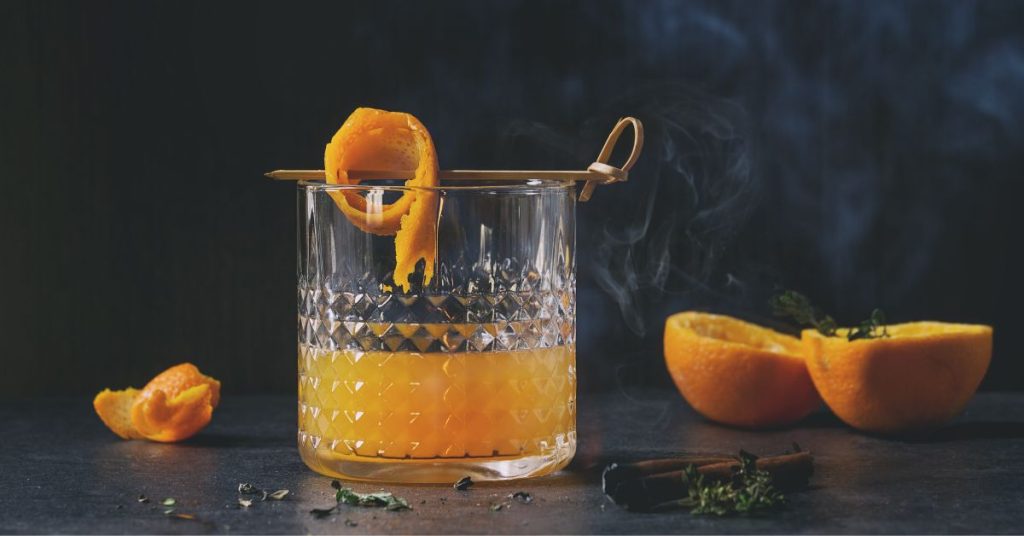 In the 1990s, an Orange Julius was a standard food court item. The ingredients include ice, milk, sugar, vanilla essence, and concentrated frozen orange juice. The classic Orange Julius tastes great but contains a lot of sugar. Fortunately, you can quickly and easily make a less expensive, healthier alternative to an Orange Julius at home that has the same flavor.
Ingredients
5 cups milk of choice. Cow, unsweetened nut, soy or oat milk (we prefer soy milk because it gets nice and frothy)
12 ounces frozen orange juice concentrate
1 tsp alcohol-free vanilla extract (buy at Trader Joe's)
Instructions
Add the milk first.
Add orange juice concentrate and vanilla.
Blend until smooth. Add ice as desired. Always add ice last because it pushes other ingredients down and it won't get stuck in the bottom and burn out the blender motor. You know what I'm talking about.
Pour into a margarita or martini glass. Serve whilst lounging in your hammock. Pinky up.
Non-Alcoholic Pineapple Piña Colada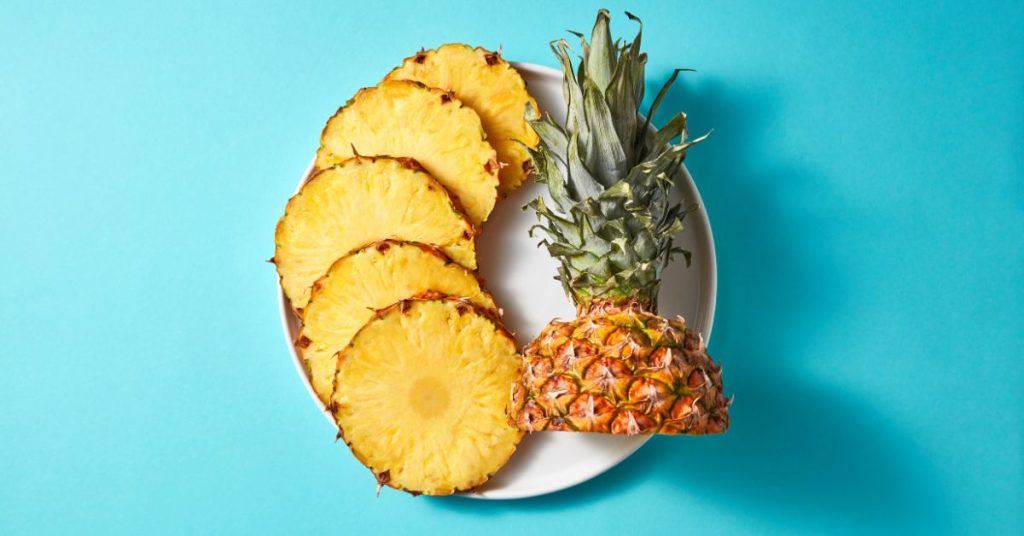 We guarantee that your pals won't even notice our non-alcoholic pineapple drink isn't made with alcohol. For this virgin Piña Coladas, Ritual Zero Proof Rum Alternative is included. Ritual's rum substitute has a delicious vanilla flavor with pineapple and coconut.
Ingredients
2 ounces Ritual Rum Alternative
1 cup of pineapple juice
2 ounce coconut cream
Ice
Maraschino cherry and pineapple slice (for garnish)
Instructions
Throw all ingredients in a blender and blend on high.
It should have the consistency of an ice cream milkshake when blended and served immediately.
For a treat, skewer a cherry and a slice of pineapple with a toothpick.
Pair with BBQ chips. You're welcome.
3-Ingredient Tropical Fruit Punch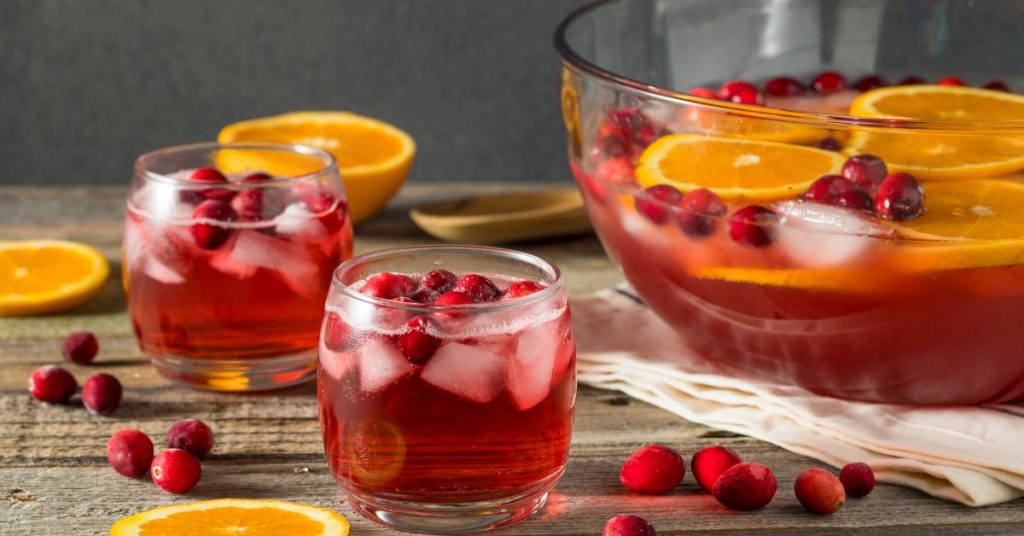 A refreshing, vibrant glass of punch perfectly embodies the essence of summertime, and it tastes even better when it takes on the appearance of a bright summer sunset! For a fun drink recipe kids can make on their own, try this 3-Ingredient Tropical Fruit Punch, perfect for a special family night or a get-together with friends.
Ingredients
¾ Cup Orange Juice
¼ cup Pineapple Juice
¼ cup Mango Juice
2 oz grenadine
Maraschino Cherry, optional garnish
Instructions
Pour grenadine into the glass's bottom.
Add ice to each glass.
Over ice, squirt orange juice, and then pineapple juice.
Cherry garnish is optional.
Serve right away.
Healthy Grapefruit Paloma Mocktail
Made with fresh grapefruit juice, sour lime juice, carbonated water, and a hint of pure maple syrup, this mocktail is called a Grapefruit Paloma. You will definitely find this recipe to be a new favorite.
Ingredients
2 oz grapefruit juice
1 oz fresh lime juice
0.5 – 1 oz maple syrup
Sparkling water
Ice
Sliced limes and grapefruit (for serving)
Instructions
Combine the grapefruit juice, lime juice, and maple syrup in a glass.
Fill the glass with ice.
Add sparkling water to the glass, stir to combine, and garnish with a slice of lime and citrus.
3-Ingredient Kiwi Mocktail
You can create this refreshing three-ingredient Kiwi Mocktail recipe any night of the week because it's so simple to prepare. Ideal for summertime BBQs and porch parties as well. The ingredients may already be in your kitchen.
Ingredients
2 kiwis (slice one kiwi wheel for garnish)
6 ounces Lemonade
2 ounces soda water or Sprite
Optional mint sprigs for garnish
Instructions
Add kiwi flesh and 2 ounces of lemonade to a shaker tin.
Muddle kiwi.
Add ice and the remaining lemonade.
Shake, shake, shake for 10 seconds
Add soda water/Sprite to the shaker tin. DO NOT SHAKE.
Pour into an ice-filled glass.
Garnish with the Kiwi wheel, and enjoy immediately.
Virgin Mango Margarita
This is a really easy Virgin Mango Margarita with just three ingredients that even kids would love! Fruit mocktails are great for parties or just for you, and they're healthful, too. Make sure you choose coconut water without any added sugar or sweetness by closely reading the label.
Ingredients
.5 cup frozen mango
¾ cup coconut water
Juice of 1 lime
Instructions
In a high-speed blender, combine mango, coconut water, and lime.
Garnish with a lime wheel and serve in salt-rimmed glasses.
Non-Alcoholic Cranberry Moscow Mule
Moscow mules are delightful, revitalizing, and ideal for happy hour. Since most people like the flavors, why not make a delicious version without alcohol? This is a great recipe to serve with friends and family who don't drink at gatherings.
Ingredients
2 ounces cranberry juice
.50 ounce lime juice
4-5 ounces ginger beer
cranberries
Instructions
In a Moscow Mule cup or glass filled with crushed ice, combine all of the ingredients.
To blend, stir everything together.
If desired, top with more cranberries.
Cheers!
Guava Daquiri Mocktail
What could be better than a traditional Guava Daiquiri Mocktail? This refreshing, easy-to-make summer beverage is perfect for the sober and curious alike.
Ingredients
2 oz. Fresh Guava Juice
¾ oz. Fresh Lime Juice
¼ Agave or Simple Syrup
Instructions
In a shaker, combine all the ingredients with ice.
Pour into a cold Martini glass after straining.
Use a lime wheel as garnish.
Passion Fruit Sparkler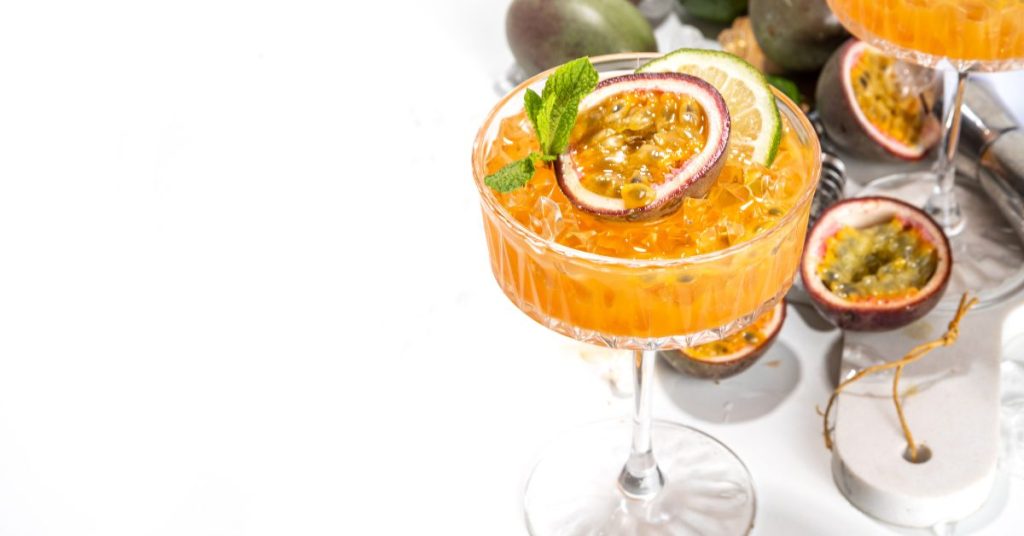 Make this simple passionfruit mocktail for the entire family at home! It has fewer calories and sugar. With a little adjustment in quantity, this Passion Fruit Sparkler can be prepared for a small gathering or yourself on hot summer days.
Ingredients
1 passionfruit
1 tablespoon lime juice
1 cup coconut water
Soda water
Sweetener of choice
Instructions
Fill a glass halfway with passionfruit pulp.
Mix in the lime juice, coconut water, and plenty of ice. Stir thoroughly.
Use half coconut water and half soda water to make the sparkling version.
Garnish with parsley and serve.
Spirit-Focused Mocktails
Mojito Mocktail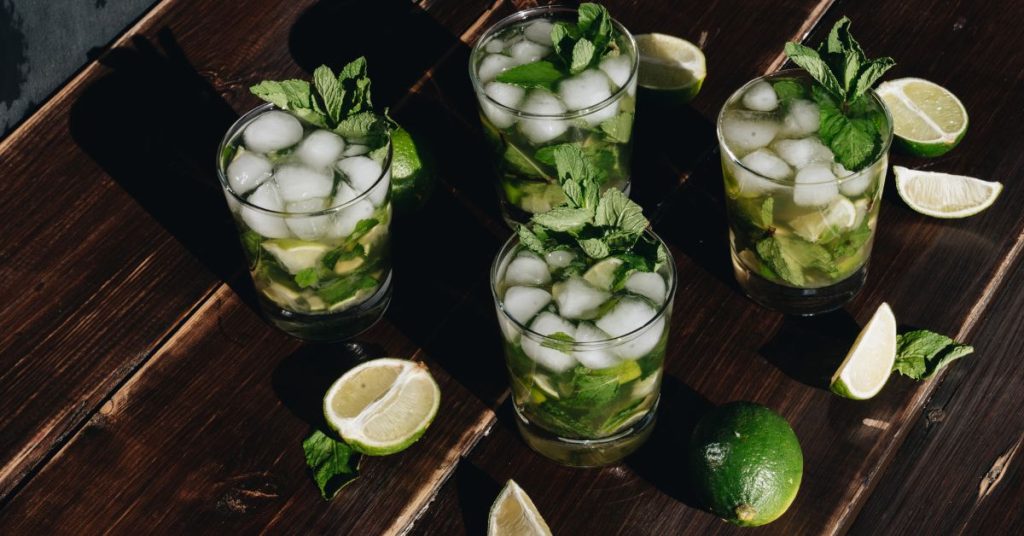 Try this classic Mojito Mocktail recipe, which uses a non-alcoholic, alcohol-free rum substitute for the rum. Ritual's Rum Alternative is our favorite since it adds a deeper flavor to the mojito. Alternatively, set it aside with steel-toed boots and utilize the traditional four ingredients.
Ingredients
2 ounces Ritual Rum Alternative
1 tbsp sugar
Small bunch mint
3 limes, juiced
soda water
Instructions
Using a mortar and pestle, muddle the sugar with the mint leaves. (or use a small bowl and the end of a rolling pin).
Fill two large glasses halfway with cubed ice.
Add Rum Alternative.
Divide the lime juice and mint mixture among the glasses.
Fill with soda water and place a straw.
Tequila Sunrise Mocktail
This Tequila Sunrise Mocktail is as stunning and possibly more delicious due to the lack of alcohol (although Ritual's tequila does have a little of a burn, which is just fine!).
Ingredients
Instructions
Depending on how you like your sunrise, you can top your drink with grenadine or add it to the bottom.
Grenadine on the bottom:
Add the grenadine to the bottom of the glass first.
Pour Ritual Tequila Alternative and orange juice into the flute.
Garnish with a cherry.
Grenadine on the top:
Pour Ritual Tequila Alternative and orange juice into a highball glass over ice.
Stir to combine.
Pour in grenadine slowly over the back of a spoon.
Garnish with an orange slice and maraschino cherry.
Create More Tequila Sunrise Mocktails Here
Non-Alcoholic Mimosa
A mimosa is usually served in an 8-ounce champagne glass and weighs 5 ounces. This drink is non-alcoholic, so don't worry too much about the size. Your Virgin Mimosas can be served in any type of glass. One cup (8 ounces) is the serving size for a Virgin Mimosas.
Ingredients
2 ounces orange juice
2 ounces pineapple juice
4 ounces non-alcoholic sparkling wine/citrus sparkling water/ginger ale
1 sprig of rosemary for garnish
Instructions
In a champagne glass, combine equal parts orange juice, pineapple juice, and non-alcoholic sparkling wine/citrus sparkling water/ginger ale. Stir well.
Garnish with your choice of orange, citrus peel, strawberry, cherry, or rosemary. (We love the aroma of the rosemary and citrus.)
Non-Alcoholic Gin And Tonic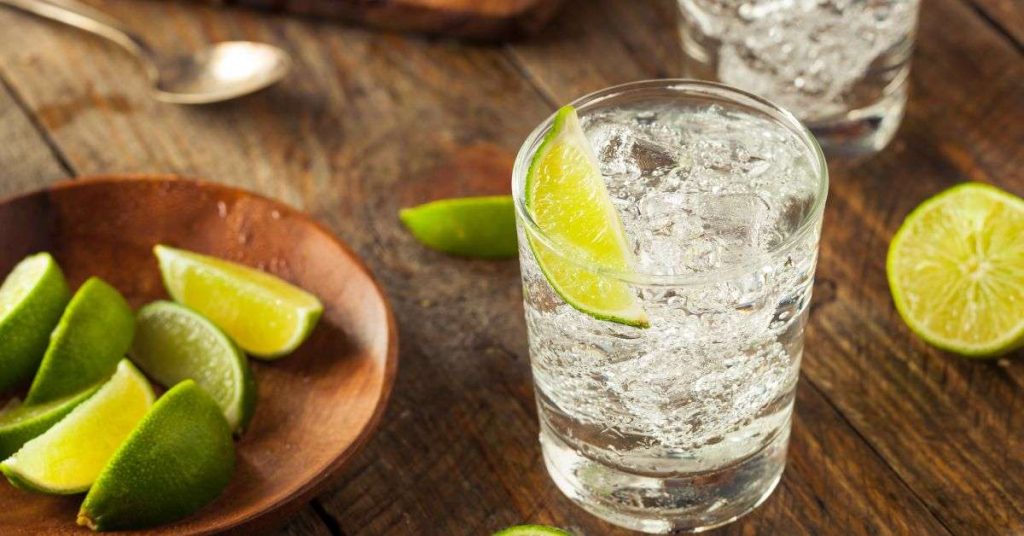 Gin and tonic without alcohol has half the calories of its alcoholic cousin. This mocktail won't make you miss the booze because it's made with All The Bitters Lavender bitters, premium tonic, and Ritual's Zero Proof Gin Alternative. It's really easy to make!
Ingredients
2 ounces Ritual Gin Alternative
3 ounces Premium Tonic Water
Fresh squeezed juice from ¼ of a lemon
Cubed Ice
Garnish: lemon wheel
3 droppers full All The Bitter Lavender bitters
Instructions
Put all the ingredients in an ice-filled glass and stir.
Garnish with a lemon wheel.
Classic Virgin Tom Collins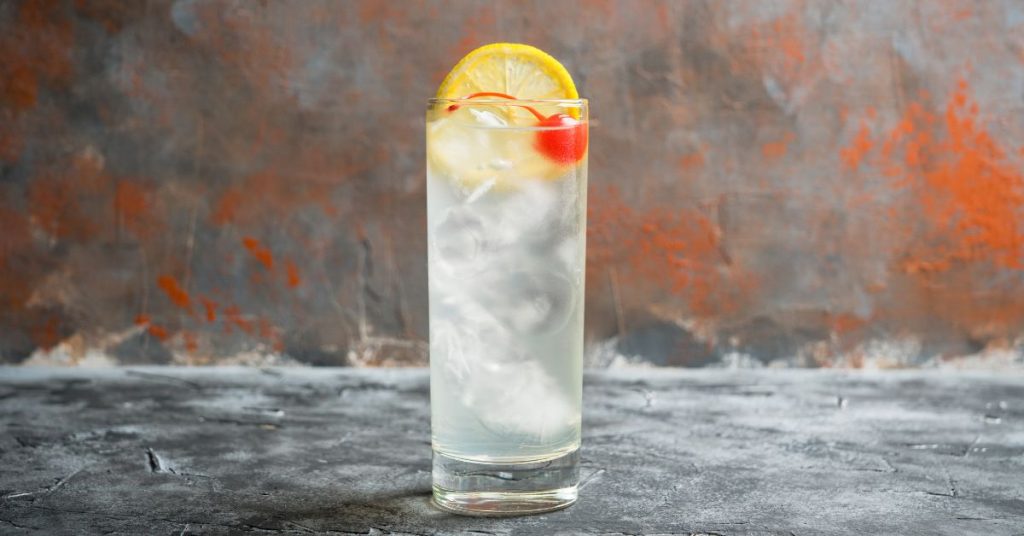 The finest elements of the original recipe are expertly captured in this Virgin Tom Collins. The best part is that it's easy to modify into a keto or low-carb dish, using just four ingredients (ice included). This non-alcoholic gin substitute drink is effervescent, sweet, light, and very refreshing!
Ingredients
2 ounces non-alcoholic gin alternative
1 ounce lemon juice freshly squeezed
½ – 1 ounce simple syrup, depending on how sweet you like
2 – 3 ounces club soda
1 cup ice
Instructions
Ice should be put in a cocktail shaker. Pour the simple syrup, non-alcoholic gin, and lemon juice into the cocktail shaker after measuring them. Cover firmly and shake vigorously.
Ice cubes should be placed in a tall glass. Over the ice, pour the mocktail mixture.
The glass should be filled all the way up with club soda before being topped off, garnished, and served.
Non-Alcoholic Old Fashioned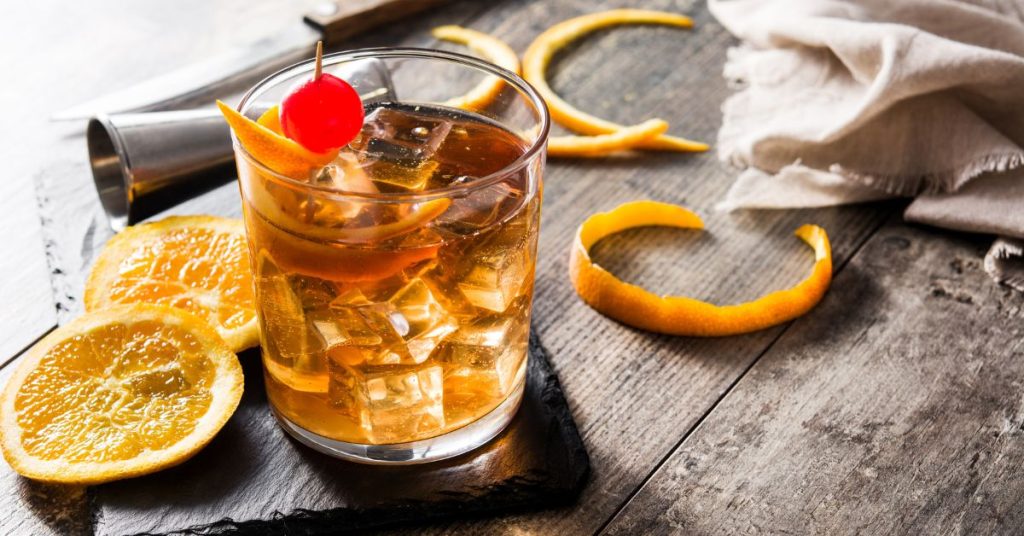 Whiskey, sugar, and bitters are the ingredients of a typical Old Fashioned. The non-alcoholic version of this cocktail does not require an expensive bottle of whiskey or bourbon. Isn't that great?
Ingredients
2 ounces preferred non-alcoholic whiskey
1 tsp simple syrup
2 droppers All The Bitter – Aromatic
1 wide zest of orange
1 cherry for garnish (optional)
1 large ice cube (optional but highly preferred – generally, ice is used to dilute and mellow the alcohol)
Instructions
Add ingredients to a stirring vessel with ice and stir for 15 seconds.
Pour into an iced rocks glass.
Garnish with orange peel and cherry.
Enjoy!
Non-Alcoholic Negroni
Ritual Gin Alternative and Ritual Aperitif are the only two components needed to make this Non-Alcoholic Negroni.
Ingredients
Instructions
Combine the two Ritual non-alcoholic alternatives into a glass of ice and stir well.
Strain the mixture over ice in a rocks glass.
Use orange peel as a garnish.
Fun Mocktails
3-Ingredient Dirty Soda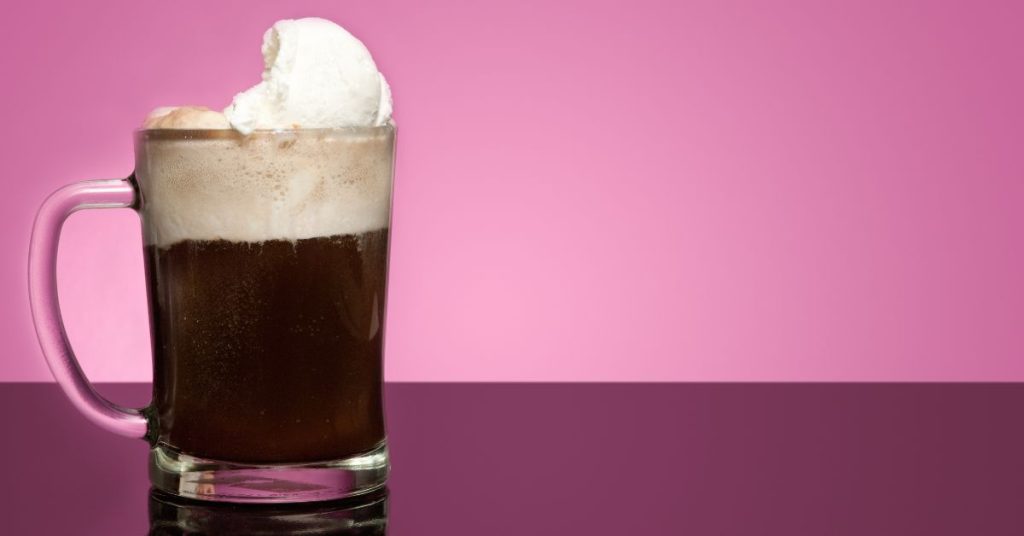 Dirty soda recipes can get expensive. There is an easy fix if you want to save your time on something other than syrups, creams, and specialty sodas: just mix creamer into your Coke! Like this recipe, any coconut-flavored creamer is a simple way to mimic the original beverage's creamy smoothness and summery flavor.
Ingredients
1 can (12 ounces) any soda (we love Diet Coke or Jarritos Orange)
3 tbsp creamer (we love coconut creamer with Diet Coke)
1 tsp lime juice (essential ingredient)
Instructions
Fill your glass halfway with ice, then halfway with soda. Make sure to leave some room for your other ingredients.
Stir in the creamer and lime juice.
Enjoy immediately.
Pumpkin Spice Espresso Martini Mocktail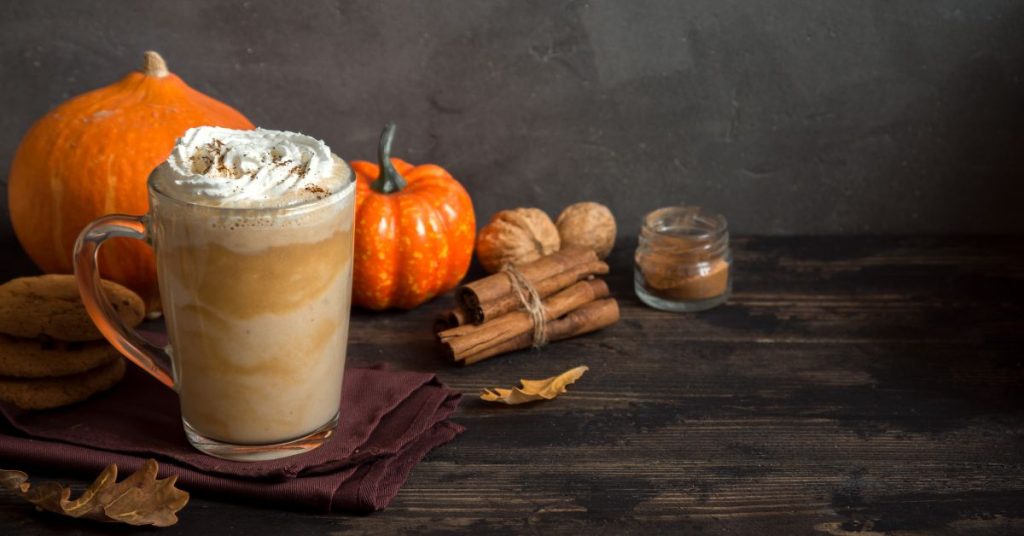 A genuine pumpkin, enhanced by a sweet syrup made from a blend of smooth pumpkin puree and pumpkin pie spice, can be found in a pumpkin spice variation of the well-known Espresso Martini. During the colder months, this Pumpkin Spice Espresso Martini Mocktail is the ideal beverage to curl up with!
Ingredients
1 ½ ounces vanilla extract
1 ounce espresso
½ ounce pumpkin spice syrup store-bought or homemade
2 ounces coconut milk
Nutmeg for garnish
Instructions
Add all ingredients to a cocktail shaker with ice, excluding the nutmeg. Shake for 10 seconds.
Strain the mixture into a martini glass.
Add some nutmeg at the top as a garnish.
Banana Eggnog Mocktail
Here's a healthy recipe for Banana Eggnog that doesn't involve alcohol! With materials you can easily buy from the local grocery shop, this recipe is meant to be incredibly simple and straightforward to make.
Ingredients
2 eggs
1 ½ oz sugar syrup
1 banana
3 oz ml milk
Instructions
Eggs and sugar syrup are combined until foamy.
Slice the peeled banana thinly, add it to the mixture, and blend it again with milk.
Serve ice-filled highball cups with a teaspoon.
Non-Alcoholic Butterbeer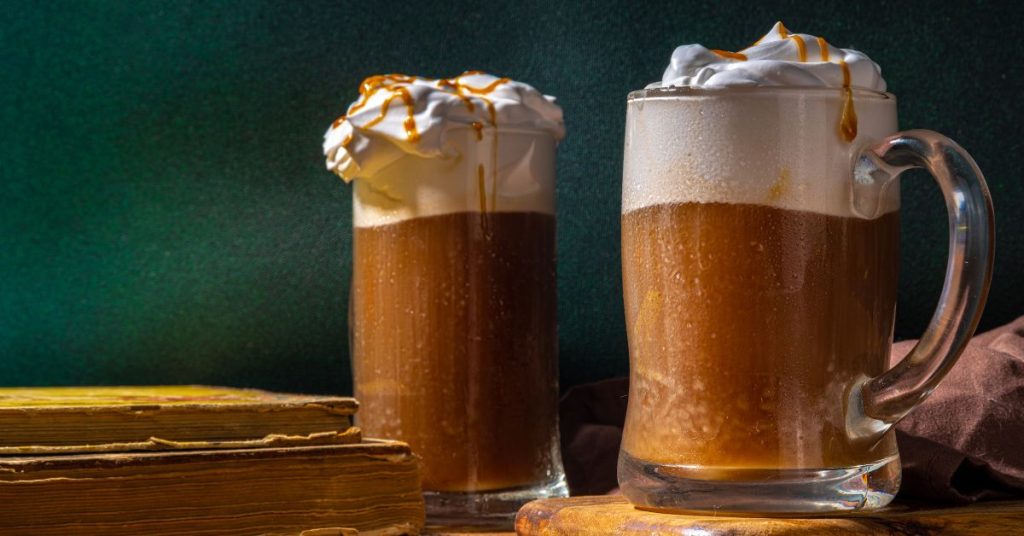 Butterbeer recipes can vary greatly in the real world; some may contain alcohol, even outside of the wizarding realm of Harry Potter. However, the beverage is typically portrayed as having very little alcohol or completely alcohol-free in official Harry Potter-related literature. This will be completely alcohol-free.
Ingredients
1 cup cream soda chilled
½ cup butterscotch syrup ice cream topping
½ tbsp butter
1 cup heavy whipping cream (optional)
Instructions
Soften the butter by setting it out.
Pour the butterscotch syrup into a bowl.
Add softened butter to the bowl.
Pour cream soda into the mixture and stir.
Pour the cream soda and butterscotch mixture into two clear mugs and top with a dollop or two of whipped cream.
For the optional whipped topping:
In a separate bowl, whip heavy whipping cream until it forms stiff peaks. To give your shoulder a workout, mix by hand. Otherwise, use a mixer. Don't overwhip.
Sip And Savor: Refreshing Mocktails Made Easy
These easy mocktails embody simplicity and taste, proving that you don't need a mixology degree to savor a delicious, alcohol-free drink. They have showcased the incredible versatility of ingredients in creating palate-pleasing drinks. They've also highlighted that you can whip up restaurant-quality mocktails right in your own home, making them accessible to all.
So let your creativity flow, and never hesitate to explore new flavors and ideas. This is not just a collection of recipes; it's an invitation to embrace the joy of crafting and savoring delightful drinks that cater to every occasion and preference.
Easy Mocktails FAQs
What are some popular mocktails?
Popular mocktails come in various flavors and ingredients, catering to different tastes. Some well-known mocktails include:
– Virgin Mojito
– Virgin Piña Colada
– Shirley Temple
– Virgin Mary (Virgin Bloody Mary)
– Nojito
These are just a few examples; mocktail recipes can be as diverse as your imagination.
What is the basic mocktail formula?
The basic mocktail formula is simple and can be customized to suit your preferences. Start with a flavorful non-alcoholic base, such as fruit juices (e.g., orange, pineapple, cranberry), herbal teas, soda water, or flavored syrups. Add ingredients that provide flavor and complexity. This can include fresh fruits (e.g., citrus slices, berries), herbs (e.g., mint, basil), spices (e.g., cinnamon, ginger), or flavored syrups (e.g., grenadine, vanilla).
Can kids drink mocktails?
Yes, mocktails are perfect for kids. Since they are alcohol-free, they provide a safe and enjoyable way for children to experience the fun of mixed drinks without any of the negative effects associated with alcohol consumption. Mocktails can be crafted to be colorful, flavorful, and appealing to children's palates, making them a great choice for family-friendly gatherings and celebrations.
Are mocktails healthy?
Mocktails can be a healthier alternative to alcoholic cocktails, especially when made with fresh ingredients and minimal added sugars. They often contain vitamins, antioxidants, and natural flavors from fruits, herbs, and spices. To make healthier mocktails:
– Use fresh fruit juices and purees.
– Minimize or avoid refined sugars; opt for natural sweeteners.
– Be mindful of portion sizes.
– Include ingredients like herbs and spices for added flavor and potential health benefits.