Whether you're throwing a party or simply seeking a refreshing drink, these 13 variations of mocktails with cranberry juice will impress your guests.
With its acidic and refreshing flavor, Cranberry juice is the ideal foundation for these delectable cocktails. So grab a shaker, some ice, and a splash of cranberry juice as we learn how to make mocktails that are as visually appealing as they are delicious. Prepare to be dazzled by a kaleidoscope of flavors, ranging from spicy citrus combinations to herb-infused treats designed to tickle your taste buds and leave a lasting impression.
Introducing Cranberry Mocktails
Cranberry mocktails are a tasty and healthy alternative to regular cocktails. These mocktails give various benefits for people looking for a pleasant and guilt-free beverage alternative.
To begin with, cranberry mocktails are refreshing. Cranberry juice's tart and tangy flavors produce a lively and energizing taste experience that may relieve your thirst and excite your senses. Cranberry mocktails provide a rush of flavor that is both delicious and refreshing, whether savored on a hot summer day or as a delightful treat all year.
Furthermore, cranberry mocktails can be a healthy option. Cranberry juice is high in vitamin C, which helps to enhance your immune system. It also contains important vitamins and minerals that promote general wellness. Cranberry mocktails can become a pleasant and nutritious addition to your beverage repertoire when mixed with other healthy components such as fresh fruits, herbs, and natural sweeteners.
Another advantage of cranberry mocktails is that they are alcohol-free. They provide a delicious and pleasurable alternative for those who choose not to consume alcohol or who want to limit their alcohol use. Cranberry mocktails can be as aesthetically beautiful, delicious, and sophisticated as alcoholic equivalents, making them appropriate for social events and special occasions.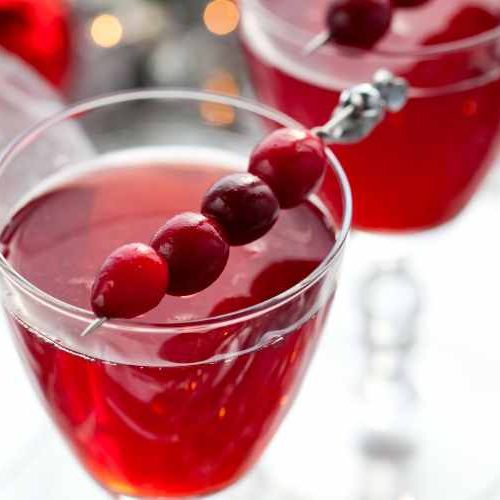 Easy Cranberry Mocktail
Our cranberry mocktail martini can be made with or without the aromatic Ceder's non-alcoholic gin. We prefer with, but this is your cocktail.
Ingredients
1

Ounce

Ceder's Non-Alcoholic Gin

1

Ounce

High quality cranberry juice

2

Ounces

Premium tonic water

(set aside)

2

Tbsp

Softened cranberries

(fresh or dried)

4

Fresh

Cranberries for garnish

1

Sprig rosemary for garnish

optional: great for the holidays
Instructions
Boil fresh cranberries for 15 minutes or cover dried cranberries in a bowl with boiling water for 10 minutes.

Muddle all but one cranberry in a shaker.

Add Ceder's Distilled Non-Alcoholic Gin and cranberry juice to your shaker tin.

Add tonic water to shaker (do not shake).

Pour into a martini glass.

Skewer cranberries and garnish.
Cranberry Margarita Mocktail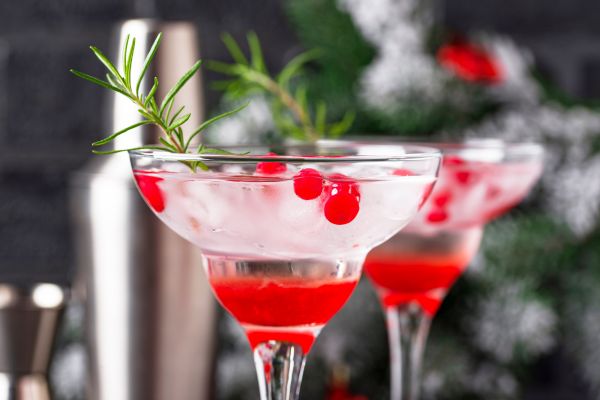 This festive cranberry margarita mocktail is fresh, tasty, and simple. You can also enjoy this mocktail recipe from Entirely Elizabeth with or without non-alcoholic spirits.
Non-alcoholic drinks mimic the flavors of alcoholic spirits; this version tastes the most like an actual margarita.
The alternative, equally delicious version uses juices and tonics to recreate a margarita.
Ingredients
Instructions
Add flaky sea salt to a small dish.
Rub a lime slice along the rims of two glasses, then dip in flaky sea salt.
Fill the cups with ice.
Combine cranberry juice, non-alcoholic tequila, simple syrup, non-alcoholic triple sec, and lime juice in a mixing glass. Stir thoroughly.
Divide the mixture into two glasses and top with fresh cranberries and lime slices.
Cranberry Mocktail with 3 Ingredients
Looking for a quick mocktail to serve your guests or make for yourself? This drink recipe from Mindful Mocktail just requires three ingredients and may be made for one or a crowd. You may customize this with low-sugar cranberry juice, ice, and your favorite sparkling beverage.
Ingredients
4 ounces of Cranberry juice low sugar
4 ounces of tonic water or other sparkling bevvy
Crushed ice
Instructions
Fill a glass halfway with crushed ice. If you don't have crushed ice, crush some intact ice cubes in a zip-lock bag or something similar.
Fill the glass about halfway with cranberry juice.
Add optional non alcoholic spirit.
Slowly pour in your favorite sparkling beverage.
Garnish with parsley and serve immediately.
Summery Orange Cranberry Mocktail
The summery orange cranberry mocktail is a refreshing, vibrant, non-alcoholic beverage perfect for warm weather gatherings. This delightful recipe from Maine Spirits combines fresh oranges' tangy sweetness with cranberries' tartness, resulting in a balanced and refreshing drink.
Ingredients
2 ounces Club Soda
2 ounces Orange Juice
1 ounces Cranberry Juice
5 Frozen Cranberries
1 Orange Slice
Instructions
Pour the club soda, orange juice, and cranberry juice into a glass filled with ice and stir to blend.
Garnish with the orange slice and frozen cranberries. Enjoy!
Cranberry Lime Mocktail
This cranberry lime mocktail from Sweets & Thank You is a tasty and festive holiday cocktail. Sparkling water, cranberry juice, and mint simple syrup combine to make a delicious drink suitable for any occasion!
Garnish this drink with fresh cranberries and lime slices for a festive red and green color scheme. It doesn't get any better than that!
Ingredients
Ice
1 ounces mint simple syrup
2 ounces fresh lime juice
4 ounces cranberry juice
2–4 ounces sparkling water/soda water
Optional garnishes: lime slices, fresh mint leaves, fresh cranberries or sugared cranberries, rosemary sprigs
Instructions
Fill a glass halfway with ice.
Fill the glass halfway with mint simple syrup, fresh lime juice, cranberry juice, and ¼ – ½ cup sparkling water.
Stir gently to mix, then top with your preferred garnishes.
Cranberry Basil Sangria Mocktail
Are you looking for a way to spice up your Tuesday summer nights? This non-alcoholic cranberry basil sangria recipe from mocktail.net will satisfy all your summer drink demands.
Making non-alcoholic sangria is very easy. All you have to do is combine the ingredients and set the mixture aside. The longer the fruit marinates in the liquids, the better the flavor of your virgin sangria mocktail!
Ingredients
3 cups cranberry juice
½ cup orange juice, fresh squeezed
1 ½ cups lemon-lime seltzer
1 orange, sliced
1 apple, cored and chopped
1 cup sliced strawberries
½ cup fresh cranberries
½ cup fresh basil leaves
ice
Instructions
Combine the cranberry juice, orange juice, and seltzer in a large pitcher and gently whisk.
Stir in the fresh orange slices, apples, strawberries, and cranberries.
Mix in the basil.
Allow the sangria to settle for 30 minutes to allow the flavors to blend. You can immediately drink the basil sangria, but it tastes even better after sitting! Keep refrigerated.
Then add the ice and enjoy!
Sparkling Ginger Cranberry Mocktail
Serve a sparkling ginger cranberry mocktail for any occasion! This drink has only two ingredients: unsweetened cranberry juice and ginger beer. Add a splash of apple or orange juice if the cranberry is too sour or the ginger beer is too spicy. This recipe from The Speckled Palate is adaptable, and when served with a sugared orange rim, this drink is perfect for a party!
Ingredients
2 ounces unsweetened cranberry juice
4 ounces ginger beer
Fresh cranberries, for garnish
2 tablespoons granulated sugar
1 teaspoon orange zest
Instructions
Combine the sugar and orange zest in a small bowl. Set aside after stirring them together until incorporated.
Cut an orange into wedges using a sharp knife.
Wrap the wedge around the glass's rim. Make sure the entire rim is moist, as the orange sugar will not stick if it is not.
Dip the rim of the glass into the orange sugar on the plate, rotating the glass around until it is completely coated.
Pour the cranberry juice into the glass using a jigger or a liquid measuring cup.
Stir in the ginger beer on top of the cranberry juice.
Garnish with fresh cranberries and serve right now!
Cranberry Pineapple Punch
This is an excellent alcohol-free cranberry juice mocktail that you will enjoy preparing. This recipe from Big Bear's Wife is perfect for any breakfast or holiday celebration! This lovely beverage will appeal to both children and adults.
Ingredients
4 ounces Sparkling Cranberry Juice
2 ounces Pineapple Juice
2 ounces Sprite
Ice
frozen or fresh cranberries for garnish (optional)
Instructions
Fill a glass halfway with ice.
Pour 4 ounces of Sparkling Cranberry Juice.
Add 2 ounces of pineapple juice.
Finish with 2 ounces of Sprite.
You may also garnish with frozen or fresh cranberries, but leave those out if serving to youngsters because they could be a choking danger.
Sparkling Apple Cranberry Fizz
In two easy steps, you can make one wonderfully delicious drink for the entire family using four ordinary ingredients and a bottle of Martinelli's Sparkling Apple-Cranberry juice.
Ingredients
1 bottle Martinelli's Sparkling Apple-Cranberry
6 tablespoons sweetened cranberry juice
¼ cup fresh lemon juice
Apple slices and fresh cranberries for garnish
Instructions
Simply combine Martinelli's Apple-Cranberry Sparkling with cranberry and lemon juice.
Then top your drink with apple slices and cranberries. And there you have it!
Non-Alcoholic Cranberry Moscow Mule
Moscow Mules are tasty, refreshing, and perfect for cocktail hour. Most people enjoy the flavors, so how about creating a wonderful version that doesn't involve alcohol? This recipe from The Gastronom is an excellent option to serve at parties with non-drinking friends and family.
Ingredients
2 ounces cranberry juice
.50 ounce lime juice
4-5 ounces ginger beer
cranberries
Instructions
In a Moscow Mule cup or glass filled with crushed ice, combine all of the ingredients.
To blend, stir everything together.
If desired, top with more cranberries.
Cheers!
Cranberry Mint Mocktail
Cranberry mint mocktail is a refreshing minty and sweet mocktail. It's also an easy drink to make, thanks to Simply Stacie. With its gorgeous red tint and mint sprig, it almost looks like Christmas. You can make these in seconds for your visitors.
Ingredients
1 cup cranberry juice
¼ sparkling water
2 tablespoons of mint syrup
8 to 16 frozen fresh cranberries
Sprigs of fresh mint
Crushed ice or ice cubes
Instructions
Pour the cranberry juice, sparkling water, and mint syrup into a large measuring cup. To blend, stir everything together.
Fill two cocktail glasses halfway with crushed ice and fresh cranberries.
Garnish with a fresh mint sprig.
Cranberry Mimosa Mocktail
Champagne glasses are always a great way to serve any mimosa with or without alcohol. If you want the cranberry flavor but a stronger focus on another juice, add only a splash of cranberry juice and larger amounts of the other juices. This recipe from The Gracious Pantry is completely adaptable.
Ingredients
1 cup unsweetened cranberry juice
¼ cup honey (or 6 tbsp. pure maple syrup + more to taste)
24 ounces sparkling water
fresh cranberries (for garnish)
Instructions
Combine all of the ingredients in a big pitcher.
Stir vigorously to aid in the dissolution of the sweetener.
Chill before serving.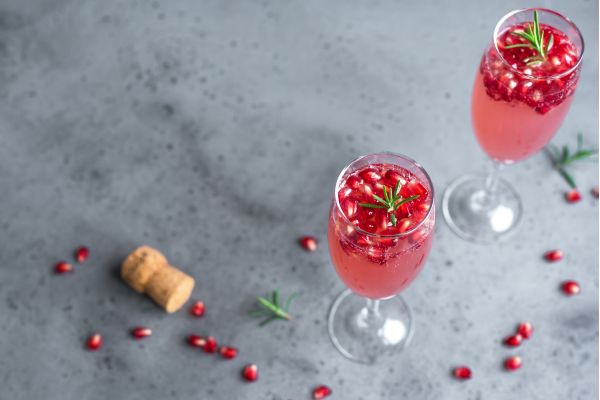 Pomegranate Cranberry Mocktail
Laura the Gastronaut came up with this lovely non-alcoholic drink that is ideal for the holidays and the entire winter season!
This gorgeous dark crimson pomegranate cranberry mocktail is delicious, has fantastic winter flavors, and is a breeze to make. This fruity cocktail is also a terrific choice for any holiday party or gathering.
Ingredients
2 ounces pomegranate juice
2 ounces cranberry juice
1 dash All The Bitter Aromatic
2 ounces ginger beer
Freshly grated nutmeg, for topping
Sugared cranberries, for garnish
Instructions
Combine cranberry juice, pomegranate juice, and bitters in a cocktail shaker with a couple of ice cubes.
Shake for about 10 seconds or until cooled.
Fill a cocktail glass halfway with the juice mixture.
Grate some nutmeg on top of the mocktail.
Garnish with fresh sugared cranberries on a cocktail pick. Cheers!
Cranberry Green Tea Mocktail
The cranberry green tea mocktail from Lunds & Byerlys is a delightful and invigorating non-alcoholic beverage that combines green tea's antioxidant-rich goodness with cranberries' tangy sweetness. This mocktail offers a refreshing twist on traditional iced tea, making it a perfect choice for those seeking a unique and flavorful drink.
Ingredients
1 quart water
4 bags green tea
1 cup unsweetened cranberry juice
½ cup pomegranate juice
4 teaspoons honey
4 teaspoons freshly squeezed lemon juice
3 mint leaves
8 ounces club soda
Fresh cranberries, sliced
Instructions
Heat 1-quart water and four bags of green tea in a small saucepan to a quick simmer.
Remove the tea bags after 10 minutes and continue to simmer until the tea is reduced to 1 cup. Place aside to cool.
Combine 2 ounces of green tea reduction, 2 ounces of cranberry juice, 1 ounce of pomegranate juice, one teaspoon of honey, and 3 mint leaves in a cocktail shaker halfway filled with ice.
Shake for 15 seconds, then strain twice over ice.
Pour 2 ounces of club soda on top.
On a skewer, garnish with fresh cranberries and a sprig of mint.
Cranberry Old Fashioned Mocktail
The Cranberry Old Fashioned Mocktail is a sophisticated and flavorful non-alcoholic twist on the classic Old Fashioned cocktail. This mocktail recipe from H-E-B combines cranberry juice's rich, fruity notes with aromatic balsamic vinegar and a hint of sweetness, resulting in a well-balanced and elegant drink.
Ingredients
½ oz cranberries, fresh or frozen, microwaved for 30-40 seconds to soften
3 sprigs fresh rosemary, 1 for muddling; 2 for garnish
½ tsp aged balsamic vinegar
6 fl ounces fresh squeezed orange juice
1 tsp Barsmith Pure Cane Simple Syrup
Instructions
Fill a cocktail shaker halfway with cranberries. Remove the leaves from 1 stalk of fresh rosemary and place them in a shaker with the balsamic vinegar, orange juice, and simple syrup.
Half-fill the shaker with ice. Shake vigorously for approximately 30 seconds.
Fill two serving glasses halfway with ice, then strain and pour the cocktail over it. Garnish with any leftover fresh rosemary.
The world of cranberry juice mocktails offers a wealth of possibilities that are sure to impress your visitors. There is a mocktail to suit every palette and occasion, from refreshing citrus blends to herbal infusions and inventive twists on classic cocktails.
The versatility of cranberry juice shines through in these 13 varieties, whether you're organizing a summer soiree, a holiday event, or simply looking to enjoy a delicious and alcohol-free beverage. With its brilliant color, tart sweetness, and potential health advantages, Cranberry juice is the ideal base for crafting visually beautiful, tasty, and fulfilling mocktails.
Mocktails With Cranberry Juice FAQs
What is a cranberry juice mocktail?
A cranberry juice mocktail is a non-alcoholic beverage that incorporates cranberry juice as a key ingredient. Cranberry juice, known for its tart and slightly sweet taste, is often used as a base in mocktails to provide a refreshing and flavorful element.
Mocktails are designed to mimic the flavors and experience of cocktails but without the inclusion of alcohol. These mocktails offer a delightful alternative for individuals who prefer non-alcoholic beverages or abstain from alcohol.
What do you mix with pure cranberry juice?
Cranberry juice mocktails can be crafted in various ways, combining cranberry juice with other juices such as orange, pineapple, or grapefruit to create unique flavor profiles. They can also incorporate ingredients like soda water, ginger ale, or sparkling water for added effervescence. To enhance their visual appeal, the mocktails may be garnished with fresh fruit slices, herbs, or even a colorful sugar rim.
Are cranberry and orange juice good together?
Cranberry and orange juice are classic combinations that work very well together. The tartness of cranberry juice and the bright, citrusy flavor of orange juice complement each other beautifully, creating a balanced and refreshing taste.
When mixed, cranberry and orange juices create a delightful blend of sweet and tangy flavors. This pairing is often used in various beverages, including cocktails, mocktails, and breakfast juices.
What can I use cranberry juice for?
Cranberry juice is a versatile ingredient that can be used in various ways. It serves as a fantastic component in non-alcoholic mocktails. Its tangy and slightly sweet flavor adds depth to a variety of mocktail recipes. You can experiment with different combinations, adding citrus juices, soda, herbs, and spices to create unique and refreshing mocktails.
Cranberry juice can also be used to create smoothies, marinades, and sauces or dressings.
Are mocktails with cranberry juice healthy?
Mocktails with cranberry juice can be a healthier alternative to alcoholic beverages, but their overall health depends on the specific ingredients used in the mocktail recipe and the individual's dietary needs and preferences.
Cranberry juice is known for its potential health benefits, particularly for urinary tract health. It is often used as a natural remedy or preventative against urinary tract infections.
What flavors pair well with cranberry?
Cranberry has a tart and slightly bitter flavor that pairs well with a variety of other flavors. Here are some popular flavor combinations that complement cranberry:
– Orange
– Apple
– Ginger
– Pear
– Mint
– Vanilla
These are just a few examples of flavors that pair well with cranberry. Feel free to experiment with different combinations to find your favorite flavor pairings with cranberry.