Non-alcoholic Old Fashioned mocktails are as timeless and classic as the traditional ones for their rich and sophisticated flavors. Traditionally made with bourbon or rye whiskey, these drinks have stood the test of time, capturing the hearts of cocktail enthusiasts worldwide.
This article explores 8 non-alcoholic Old Fashioned recipes that offer a delightful array of flavor profiles. Each recipe provides a unique twist, allowing you to experiment with different ingredients and discover your favorite flavors. Experience the art of mixology, elevate your drink choices, and unlock a realm of delicious possibilities.
1. The Non-Alcoholic Whiskey Old Fashioned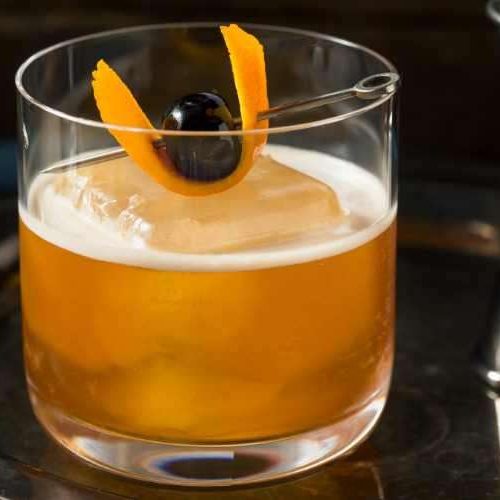 Non-Alcoholic Old Fashioned
A non-alcoholic Old Fashioned with whiskey is a mocktail made with non-alcoholic whiskey, sugar, and bitters. A bottle of pricey bourbon or whiskey is not required for the alcohol-free version of this drink. Isn't this gorgeous?
Ingredients
2

ounces

preferred non-alcoholic whiskey

1

tsp

simple syrup

2

droppers

All The Bitter – Aromatic

1

wide zest of orange

1

cherry for garnish (optional)

1

large ice cube (optional but highly preferred – generally, ice is used to dilute and mellow the alcohol)
Instructions
Add ingredients to a stirring vessel with ice and stir for 15 seconds.

Pour into an iced rocks glass.

Garnish with orange peel and cherry.
2. The "New" Non-Alcoholic Old Fashioned Mocktail
This non-alcoholic Old Fashioned recipe is for you if you want a drink that looks alcoholic but isn't. Or, maybe you're the designated driver but want to join the party. Or maybe you're attempting to lose weight and know that mocktails are a terrific method.
So, here's how to make a mocktail of a classic Old Fashioned mocktail by Recipe Fairy. If you're out and about, here's what you can anticipate if you ask for a non-alcoholic Old Fashioned.
Ingredients
2 cups hot water
1 black tea bag of choice
4 sugar cubes or 4 tsp simple syrup
4 orange slices
8 dashes non-alcoholic bitters or Old Fashioned syrup mix
Ice cubes
4 maraschino cherries
Instructions
Make the black tea ahead of time by steeping the tea bag in hot water for five minutes. Remove the tea bag and set aside until ready to make the drinks.
Place one sugar cube or a teaspoon of simple syrup at the bottom of each glass.
Fill each glass with an orange slice.
Add two dashes of bitters or an old-fashioned syrup replacement to each glass.
In the bottom of the glass, muddle together.
Fill each glass halfway with ice, but don't overfill.
Pour the tea into each glass (you'll probably have leftover tea).
Stir many times.
Finish with a cherry.
Enjoy!
3. Virgin Autumn Apple Old-Fashioned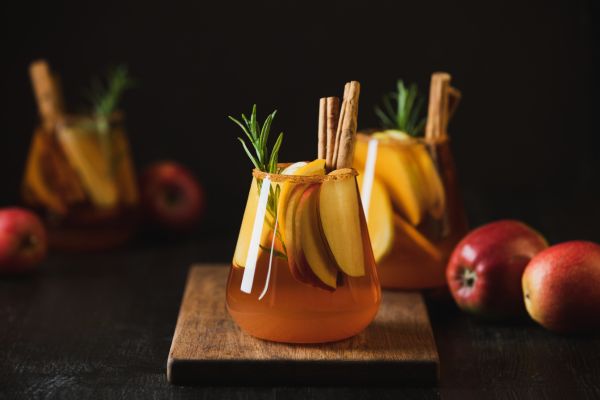 This non-alcoholic Old Fashioned recipe from LoveToKnow does require the apple butter, but the resulting mocktail is well worth the effort. If you don't have apple butter, use an ounce of apple cider instead.
As a sidenote: we love picking apples in the fall and making our own apple butter. It's certainly not required but takes very little effort. Seriously. Just peel and slice 6 lbs of apples, throw them in a crockpot with 1 cup of brown sugar and 1 tsp cinnamon on low for 8-10 hours. Done.
Ingredients
Instructions
Combine ice, black tea, apple butter, simple syrup, and bitters in a cocktail shaker.
Shake until the apple butter is thoroughly combined.
Pour into a rocks glass filled with fresh ice.
Serve with an apple slice punctured with a cocktail skewer as a garnish.
4. Gingerbread Old Fashioned Mocktail
A typical Old Fashioned cocktail gets a non-alcoholic Christmas makeover with a simple gingerbread syrup. This non-alcoholic Old Fashioned cocktail by Some Good Clean Fun reintroduces the joy of baking gingerbread while elevating the sweetness with bitters and non-alcoholic bourbon for a grown-up zero-proof take on an Old Fashioned.
Ingredients
For the gingerbread syrup:
1 cup water
1 cup demerara sugar
3 tbsp finely chopped fresh ginger root
2 cinnamon sticks
1 tsp vanilla
5 Allspice berries (smashed with a rolling pin)
5 cloves (smashed with a rolling pin)
For the mocktail:
4 oz Free Spirits Non-Alcoholic Spirit of Bourbon
1 oz Gingerbread Syrup + 1 tsp for rim
Gingerbread cookies (for garnish & cookie rim)
Instructions
For the gingerbread syrup:
Using a mortar and pestle, crush the allspice and cloves.
Combine everything except the vanilla in a small saucepan, and simmer over medium heat to ensure the sugar dissolves.
Simmer for several minutes before removing from heat.
Stir in the vanilla extract and set aside to cool.
Pour the liquid into an airtight glass jar or bottle.
For the mocktail:
Place 4-5 gingerbread cookies in a plastic bag or between parchment paper and gently smash them with a rolling pin. Place the crumbs on a small dish.
On a dish, pour a tiny amount of simple syrup.
To rim the glass with the cookie crumbs, dip a rocks glass into the syrup and then into the ginger crumbs.
Stir together the remaining drink ingredients in a rocks glass.
Stir in a large square ice cube to chill.
Serve with a ginger biscuit as a garnish.
5. Lyre's Old Fashioned Whiskey Mocktail
The Old Fashioned, served in bars since the early 1800s, is the cocktail that started it all. This whiskey mocktail by Sans Drinks is smooth and uncomplicated, and it celebrates the nuanced, full-bodied bourbon notes in Lyre's American Malt.
The addition of sugar syrup and aromatic bitters enhances the flavors even more. Serve over ice in an old-fashioned tumbler with an orange peel garnish.
Ingredients
60 ml Lyre's American Malt
5 ml white sugar syrup
2 dashes Aromatic Bitters
Instructions
Stir over ice in an Old Fashioned glass.
Garnish with an orange peel slice.
To make sugar syrup, place 50 grams of sugar in a jar with 50 ml of warm water and shake to dissolve.
6. Smoke and Cinnamon Non-Alcoholic Old Fashioned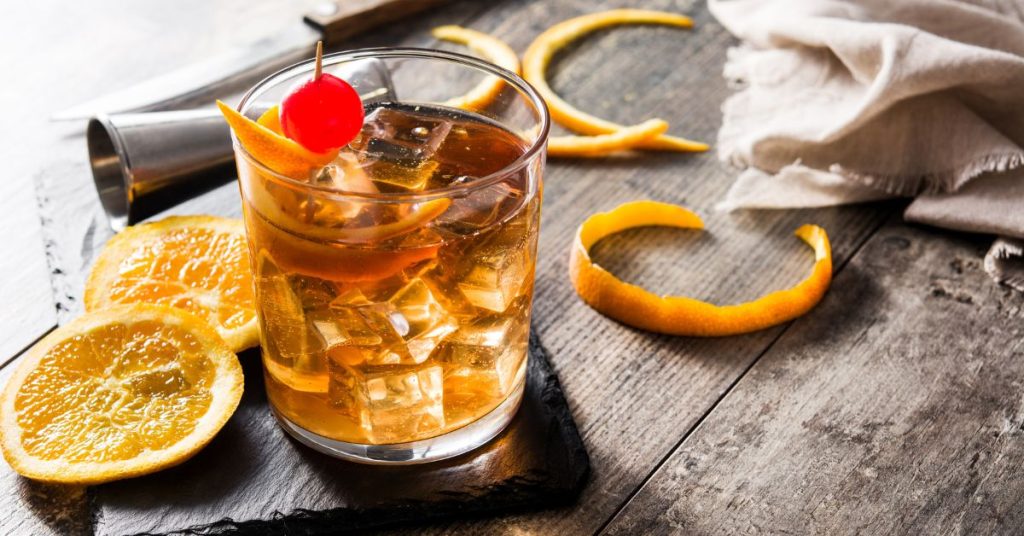 This non-alcoholic Old Fashioned version by A Beautiful Mess isn't too different from the original because how can you genuinely improve on such a fantastic drink? However, two simple changes add some interesting flavors, and one works as a type of party trick if you're cooking these for guests and want to dazzle them.
Ingredients
1 teaspoon simple syrup or super fine sugar (or super fine sugar)
2 dashes of bitters
1 ½ ounce alcohol-free rye or bourbon whiskey
a splash of water
orange peel
1 Luxardo cherry
1 cinnamon stick
ice
Instructions
To start, use the kitchen torch to burn the cedar board, and then immediately lay a cocktail glass over the board to collect the smoke.
Combine the simple syrup (or sugar) and bitters in a glass. Give it a few brisk shakes.
Fold and squeeze the orange peel over the liquid, then lightly wipe the peel over the rims of the glass before adding it to the glass.
Pour in the whiskey and a dash of water, then add the ice.
Garnish with a cherry and a cinnamon stick.
7. Non-Alcoholic Brandy Old Fashioned
The Brandy Old Fashioned by MyBartender is a delicious cocktail, but we're converting it as well into a non-alcoholic one. Remember that you can use either a maraschino cherry, orange slice, or both. To optimize display, arrange your garnish on a skewer.
Ingredients
A few dropperfuls of aromatic bitters
At least 2 orange wedges
A sugar cube
2 oz of your favorite non-alcoholic brandy
Club soda, Sprite, or a similar type of soda
Garnish with a maraschino cherry, orange wedge, or both!
Instructions
Muddle the orange wedges, cherries, bitters, and a sugar cube in an Old Fashioned glass until thoroughly blended.
Pour in the ice and non-alcoholic brandy.
Add your preferred soda.
Garnish.
8. Low-Carb Old Fashioned Mocktail
It's truly that simple to make this Low Carb Old Fashioned Cocktail by Hacked Diabetes with sugar, bitters, and whiskey. But this time, it's non-alcoholic. Replace the sugar with a low-carb sweetener to make this low-carb and diabetic-friendly.
Ingredients
2 teaspoon warm water
1 teaspoon sweetener
3 dashes alcohol-free bitters
2 ounces non-alcoholic bourbon whiskey
Instructions
In a tumbler, combine the warm water and erythritol and mix until dissolved. Alternatively, 14 oz of my simple syrup recipe can be used.
Mix in 3 dashes of bitters, ice, and non-alcoholic whiskey. Mix well and serve.
Garnish with a cherry and an orange wedge or peel.
The Most Sophisticated Non-Alcoholic Old Fashioned Mocktail Variations
The world of non-alcoholic mixology continues to evolve, and these Old Fashioned mocktail variations stand as a testament to the boundless creativity that can be found in the realm of alcohol-free cocktails. They demonstrate that sophistication and flavor need not be compromised when opting for a non-alcoholic option.
These mocktails allow individuals to enjoy the elegance and complexity of an Old Fashioned without alcohol. Whether you're seeking a non-alcoholic alternative or expanding your drink repertoire, these variations provide an excellent opportunity to elevate your mocktail game.
Related Articles
Until recently, non-alcoholic whiskey options were either unappealing or downright impossible to find. Fortunately, zero-proof whiskey options have multiplied in recent years, but universally suitable non-alcoholic alternatives can still be hard to come across.
Are there non-alcoholic bitters? Yes! We've listed the top 8 on the market and share a mocktail recipe to spice up your home bar (pun intended).
Non-Alcoholic Old Fashioned FAQs
What is a non-alcoholic substitute for bourbon?
A non-alcoholic substitute for bourbon in an Old Fashioned would be a non-alcoholic bourbon alternative or whiskey alternative. These are specially crafted spirits designed to mimic the flavor and characteristics of traditional bourbons and whiskeys without the alcohol content. They are often made from a blend of botanicals, spices, and other ingredients to recreate the familiar taste profile of bourbon.
What can you substitute for whiskey in an Old Fashioned?
When substituting whiskey in an Old Fashioned, there are several options that depend on personal taste preferences and desired flavor profiles. You can go for non-alcoholic bourbon or whiskey alternatives. Some even use black or Earl Grey tea when recreating a classic Old Fashioned cocktail.
Each substitution will alter the overall taste profile of the drink. It's recommended to choose a substitute that aligns with your personal preferences and complements the other ingredients.
What drink is similar to non-alcoholic Old Fashioned?
A drink that is similar to a non-alcoholic Old Fashioned is the Sazerac. The non-alcoholic Sazerac is a classic cocktail that shares some similarities with the Old Fashioned's base spirit and overall profile. Like the Old Fashioned, the Sazerac is typically made with traditional non-alcoholic rye whiskey, although bourbon can also be used. Both mocktails incorporate sugar and bitters, and they are often served over ice and garnished with a citrus peel.
What is another name for an Old Fashioned drink?
Another name for an Old Fashioned drink is a "Whiskey Old Fashioned" or simply a "Whiskey Cocktail." It is a mixed drink that is usually constructed in the glass in which it is served. 
Both rye and bourbon make excellent base spirits. But if you're choosing to be sober, you can use non-alcoholic alternatives to try and craft your own mocktail.