Mocktails aren't just reserved for the adults at the party; they're a delightful treat that everyone can enjoy, regardless of age. A Fruit Punch Mocktail Recipe always stands out as a crowd-pleaser that appeals to the young and the young at heart. Bursting with vibrant colors and bursting with fruity flavors, these delightful concoctions bring joy to gatherings, celebrations, and lazy afternoons alike.
Let's explore six captivating fruit punch mocktail recipes committed to inclusivity. We understand that little ones should also be able to join in on the fun, so we've curated this collection with kid-friendly options in mind.
Is A Fruit Punch Mocktail Healthy?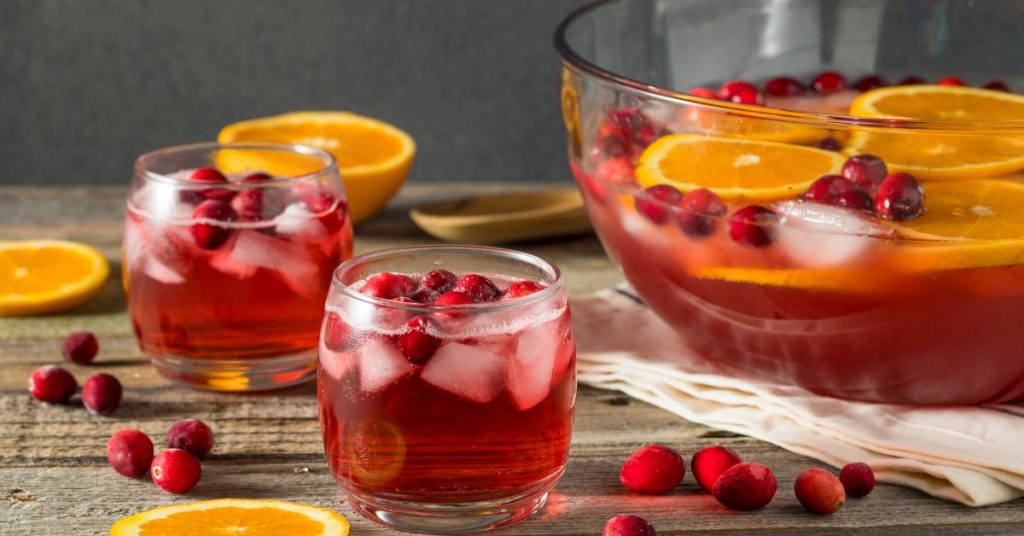 Is a fruit punch mocktail healthy? Whether a fruit punch mocktail is healthy or not depends on its ingredients and how it's prepared. Here are some factors to consider:
Ingredients: A fruit punch mocktail's health depends largely on the ingredients used. It can be a nutritious and healthy option if your mocktail is primarily made from fresh fruits, 100% fruit juices, and natural sweeteners. These ingredients provide essential vitamins, minerals, and antioxidants.
Added Sugars: One potential concern with fruit punch mocktails is the use of added sugars. Some recipes call for sugary syrups or soda, which can significantly increase the calorie and sugar content. Excessive sugar intake can lead to health issues such as weight gain, diabetes, and dental problems.
Portion Size: The size of your mocktail matters. Even if it's made with healthy ingredients, consuming large quantities can add up in terms of calories and sugar. Be mindful of portion sizes to ensure moderation.
Customization: The great thing about making your mocktails is that you control what goes into them. You can adjust the ingredients to suit your dietary preferences and health goals.
Balance: A healthy fruit punch mocktail should be balanced regarding flavors and nutrition. It should offer a variety of fruits and not be overly sweet. You can also add ingredients like herbs (e.g., mint) for added flavor without additional calories.
A fruit punch mocktail can be healthy if made with fresh, nutritious ingredients and is low in added sugars. It's a great way to enjoy the flavors of fruits and provide a refreshing, non-alcoholic option for both kids and adults. However, it's essential to be mindful of the ingredients and portion sizes to ensure they align with your health goals.
Fruit Punch Mocktail Recipes For All Ages
These delightful Fruit Punch Mocktail recipes bridge the generation gap, appealing to kids and adults alike. Bursting with the vibrant colors and flavors of assorted fruits, they bring an instant dose of cheer to any occasion.
In exploring fruit punch mocktail recipes, we invite you to embark on a flavorful journey that transcends age boundaries. From classic renditions to innovative twists, there's something here to satisfy every palate and ensure that your next gathering celebrates taste and togetherness.
Easy Fruit Punch Mocktail Recipe
This Fruit Punch Mocktail Recipe is perfect if you're searching for a quick, non-alcoholic beverage to enjoy with friends. This gorgeous pink mocktail, filled with fruit juice and a crisp ginger fizz, will have everyone chattering around the punch bowl!
Ingredients
3

cups

orange juice

3

cups

cranberry juice

1

cup

lemon juice

3

cups

ginger ale

1-2

cups

pineapple juice

optional, but adds a lovely zing!

Lemon, orange, cranberries, mint or strawberries

for garnish

Ice cubes or additional frozen cranberries
Instructions
Add the juice of the orange, cranberry, pineapple, and lemon to a sizable dish or pitcher. Stir thoroughly.

Add the ginger ale right before serving, giving it a little stir.

Frozen cranberries or ice may be added.

Add fruit and mint as garnish.
Moana Hawaiian Punch Mocktail
This Moana Hawaiian Punch by In The Kids Kitchen adds some of your favorite island tastes to a classic fruit punch. Coconut water is a healthier substitute for classic soda-based punch recipes and provides a depth of flavor. This recipe is the ideal special treat for a family trip or children's birthday party!
Ingredients
2 oz Coconut Water
4 oz fruit punch
4 oz Mango Juice
2 Tablespoons Simple Syrup (optional)
3 Tablespoons Teal Sanding Sugar (optional garnish)
Ice
Instructions
Place the Teal Sanding Sugar on one plate and the simple syrup on the other.
Put some simple syrup in your glass first, then some sanding sugar. As you make your fruit punch, set it aside and leave it to dry.
Mango juice, fruit punch, and coconut water should all be combined in a cocktail shaker and shaken well for about 5 full seconds. Shake the punch, then pour it over ice in a glass.
Sparkling Strawberry Punch
A wonderful non-alcoholic beverage with fresh strawberries and a hint of lemon is ideal for any celebration.
This Sparkling Strawberry Punch is festive, quick to make, and refreshing. It may be served at picnics, on special occasions, or as a pick-me-up on a hot summer afternoon. Enjoying this in a meal or hanging out in the park with the kids is lovely. It's very simple to transform this straightforward drink into a delicious treat.
Ingredients
2 cups strawberries sliced
Juice of 1 lemon
2 cups soda plain or strawberry-flavored
Instructions
Smoothly blend the strawberries.
Mix well before adding the lemon juice.
Pour the soda over ice and serve immediately.
Non-Alcoholic Dragon Fruit Punch
Dragon fruit is always a delight to add to mocktails. This Non-Alcoholic Dragon Fruit Punch recipe by Monin is as healthy as it can get, with unique flavor characteristics. The vibrant color of the dragon fruit syrup reflects the combination of strawberry and pear with lush tropical notes.
Ingredients
¾ oz. Monin Dragon Fruit Syrup
2 oz. cranberry juice
1 oz. fresh sour mix
1 oz. pineapple juice
Instructions
Add ice to the top of the serving glass.
In the order stated, add the ingredients to a mixing glass with ⅔ ice.
Add a cap, shake, and strain into an ice-filled serving glass.
After garnish, serve.
3-Ingredient Tropical Fruit Punch
Nothing quite captures the essence of summer like a cool, vivid glass of punch, and when that beverage appears like a golden summer sunset, that's even better!
Whether for a special family night or a get-together with friends, this 3-Ingredient Tropical Fruit Punch is a fun drink recipe youngsters can prepare independently. It has a fresh citrus flavor cut through with just the appropriate sweetness. It's also entertaining to overlay the various hues (by packing the glass full of ice cubes) to create a lovely ombre effect.
Ingredients
¾ Cup Orange Juice
¼ cup Pineapple Juice
¼ cup Mango Juice
2 oz grenadine
Maraschino Cherry, optional garnish
Instructions
Pour grenadine into the glass's bottom.
Add ice to each glass.
Over ice, squirt orange juice, and then pineapple juice.
Cherry garnish is optional.
Serve right away.
Sparkling Tropical Mocktail Punch Recipe
Thanks to the refreshing nature of this recipe for a Sparkling Tropical Mocktail Punch, you'll feel as though you're lounging on the beach with a gentle breeze in the air. This delicious non-alcoholic beverage by Five Spot Green Living is ideal for a fall celebration or the summer heat.
Ingredients
2 liters flavored sparkling water
46 ounces pineapple juice chilled
16 ounces mango nectar chilled (2 cans)
11 ounces maraschino cherries fruit and juice (1 jar)
1 cup pineapple chunks fresh or canned
Instructions
In a pitcher or jug, mix each ingredient thoroughly. Utilize both the cherries and cherry juice.
Serve chilled over ice with extra fruit as a garnish.
Making A Non-Alcoholic Fruit Punch Is Always Fun
The beauty of crafting a non-alcoholic fruit punch lies in its versatility and simplicity. With a medley of fresh fruits, juices, and a dash of creativity, you can whip up endless variations to suit any occasion and palate. It's a chance to experiment, mix, match, and surprise your taste buds with each sip.
Moreover, making non-alcoholic fruit punch is a fantastic way to involve kids in the kitchen. It's an opportunity to teach them about flavors, proportions, and the magic of combining ingredients to create something wonderful. Plus, they experience the pride of serving their delicious creations to friends and family.
Related Articles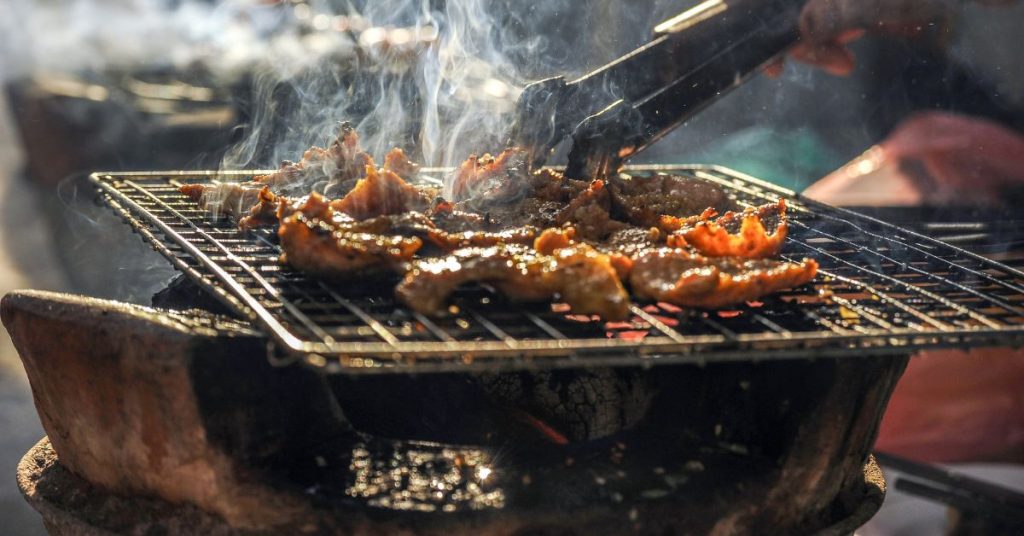 We've listed the top 25 non-alcoholic drinks for your summer BBQ. From non-alcoholic beer to fun and fruity mocktails, there's something for everyone, even the kiddos.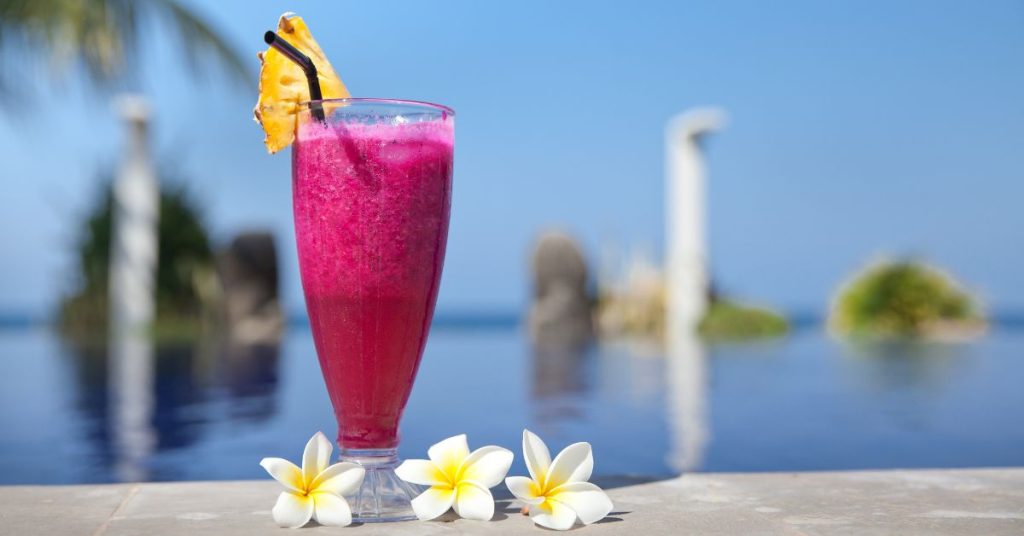 Indulge in a burst of vibrant colors and exotic flavors with our collection of dragon fruit mocktail recipes. As the world of culinary creativity continues to expand, these captivating mocktails have emerged as a delightful fusion of taste and aesthetics.
Fruit Punch Mocktail Recipe FAQs
What is a fruit punch mocktail made of?
A fruit punch mocktail is typically made of fruit juices, such as orange juice, pineapple juice, cranberry juice, and fresh fruits like oranges, lemons, and cherries. It may also include soda water or ginger ale for fizziness and sweetness, as well as a sweetener like sugar or simple syrup to adjust the level of sweetness.
What are the five original ingredients of a non-alcoholic punch?
The original recipe for a non-alcoholic punch typically includes five key ingredients: fruit juice (usually citrus juice like lemon or orange), water, sugar or a sweetener, spices (such as nutmeg or cloves), and a garnish like a slice of lemon or a sprig of mint. These ingredients were historically combined to create a refreshing and flavorful drink.
Why is it called fruit punch?
The term "fruit punch" originates from the Hindi word "panch," which means "five." Punch was originally a beverage made with five key ingredients, typically consisting of alcohol, sugar, lemon, water, and tea or spices. Over time, the concept evolved to include non-alcoholic versions and the "fruit" element was added to emphasize the use of fruit juices and flavors. So, it's called "fruit punch" because it traditionally contains fruit juices and flavors.
What does fruit punch taste like?
Fruit punch has a sweet and tangy flavor profile. The taste can vary depending on the specific fruits and juices used in the recipe, but it generally combines the sweetness of fruit juices with a hint of tartness. The addition of soda water or ginger ale often gives it a refreshing and slightly fizzy quality. Overall, fruit punch is known for being a flavorful and thirst-quenching beverage with a tropical or fruity undertone.