Looking to add a touch of tropical flavor and elevate your mocktail game to new heights? Look no further than coconut water mocktails! This natural and refreshing beverage quenches your thirst and brings a unique twist to your favorite mocktail recipes.
Whether you're hosting a gathering, lounging by the pool, or craving a delicious and guilt-free drink, coconut water mocktails are the perfect choice. Get ready to be inspired and experiment with flavors with the refreshing goodness of coconut water. Cheers to delicious moments and elevated sips that will transport you to a tropical paradise!
Health Benefits Drinking Coconut Water
Coconut water is well-known for its health benefits and is frequently regarded as a natural and nutritiously delicious beverage. Here are some significant health benefits of coconut water:
Hydration: Due to its high electrolyte content, including potassium, salt, magnesium, and calcium, coconut water is an excellent source of hydration. These electrolytes aid in replenishing fluids and maintaining adequate hydration levels, making coconut water an excellent choice for rehydration following exercise or in hot climates.
Vitamins: Coconut water is high in vitamins and minerals such as C, B-complex, iron, and manganese. While the specific nutrient composition of the coconut varies depending on its maturity, it generally delivers a good spectrum of nutrients that support overall health.
Low in calories and fat: When compared to many other beverages, coconut water is comparatively low in calories and fat. It is frequently regarded as a healthier alternative to sugary sodas or fruit juices, particularly among people managing their calorie consumption.
Antioxidants: Antioxidants are a natural source of protection for the body against cellular damage produced by free radicals. Coconut water includes antioxidants such as cytokinins and flavonoids, which may offer health advantages such as anti-aging and lowering the risk of some chronic diseases.
Digestion: Coconut water has traditionally been used to boost digestive health and ease gastrointestinal disorders. It includes natural enzymes that promote digestion and may help relieve symptoms such as indigestion and acid reflux.
While coconut water has numerous health benefits, it should not be used as a cure-all or substitute for a well-balanced diet. It is best consumed as part of a well-rounded, healthy lifestyle that includes a variety of nutrient-dense foods and regular physical activity.
Individuals with specific medical issues or on specific drugs should contact their healthcare professional before drastically increasing their coconut water consumption, as it may interfere with certain medications or have specific concerns for certain health conditions.
Coconut Water Mocktail Recipes
Coconut water mocktails are delightful and vivid drinks that combine coconut water's natural goodness with a range of flavors, fruits, and herbs. These mocktails provide a guilt-free alternative to typical cocktails, giving a tasty and hydrating drink without the additional alcohol or excessive sugar. We have collected ten must-try recipes from all over the internet to give you the best combinations of mocktails you can easily recreate at home!
Paloma Mocktail
This non-alcoholic Paloma Mocktail is a brilliant twist on the traditional as it provides citrus and zesty flavors. The recipe from Real Coco can include a non-alcoholic tequila of your choice. You can also try other virgin paloma mocktail variations that are sure to satisfy your taste buds.
Ingredients
2 ounces coconut water
2 ounces of Ritual Tequila Alternative
2 ounces fresh grapefruit juice, plus wedges for garnish
2 ounces sparkling water
½ ounce lime juice
¼ ounce agave or maple syrup, to taste
Coarse sea salt (for the rim)
Ice
Instructions
Rub the grapefruit slice along the rim of the glass and season it by dipping into a tiny plate of salt.
Combine the coconut water, non-alcoholic tequila alternative, grapefruit juice, lime juice, and agave nectar in a glass.
Fill the remaining space in the glass with ice. Finish with sparkling water.
Garnish with a wedge of grapefruit.
Pineapple Coconut Mockarita
Make this amazing Pineapple Coconut Mockarita in a shaker! This non-alcoholic, pineapple-based mixed cocktail from The Social Sipper contains delicious pineapple, moisturizing coconut water, refreshing citrus undertones, and a few more fun ingredients. It's a tropical flavor explosion.
Ingredients
½ cup pineapple juice
1 oz canned coconut milk
1 lime, juiced
¼ cup coconut water
Pinch sea salt
Toasted coconut (for rim)
Corn syrup (for rim)
Lime wheel, pineapple frond, pineapple slice (for garnish)
Instructions
In a cocktail shaker, combine coconut water, pineapple juice, half a blood orange juice, cream of coconut, and ice. Shake the mocktail ingredients until it is cooled and foamy.
Fill a glass halfway with crushed ice, then halfway with the mocktail mixture.
Season with freshly ground nutmeg. Garnish with a blood orange and pineapple slice, pineapple frond, and edible flower if desired.
Coconut-Lime Cucumber Mocktail
This Coconut-Lime Cucumber Mocktail is delicious, refreshing, and alcohol-free! The most prominent tastes from this recipe by Marie Bostwick are lime and coconut, with a faint, fresh taste of cucumber and mint also present. This mocktail is ideal for adult palates due to its rich, tangy, and sweet flavor.
Ingredients
6 cups unsweetened coconut water
2.5 cups lime juice
1 large English cucumber, thinly sliced
60 fresh mint leaves
½ to ¾ cup of white sugar
Instructions
Fill the bottom of a large pitcher with mint leaves. To assist in releasing the flavor, carefully crush the leaves using a broad wooden spoon.
Fill the pitcher halfway with coconut water and lime juice, then mix ½ cup sugar thoroughly. Stir in the cucumber slices once more.
Refrigerate the pitcher for at least two hours. Taste for sweetness and add additional sugar if necessary.
Serve simply or with a dash of soda over ice.
Stay hydrated by following this actual demo on YouTube by Bonne O on how to make a Coconut-Lime Cucumber Mocktail!
Rainbow Coconut Water Spritzers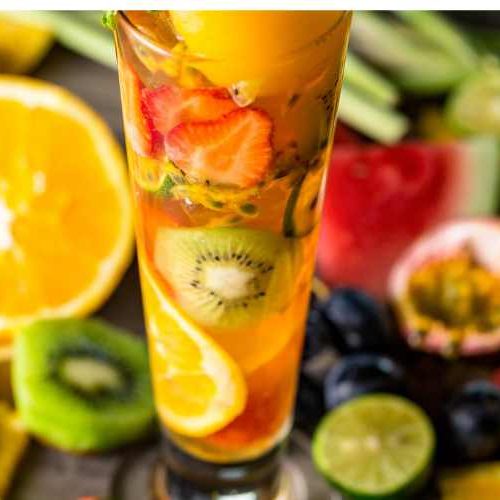 Coconut Water Mocktails
In our recipe, you can eat and drink the rainbow at the same time! A rainbow mocktail made of fruit and coconut water? Sounds exciting! It's similar to a non-alcoholic coconut water sangria, but without the wine. If you do want to get fancy though, (bridal shower or baby shower) top your drink with Prima Pavé Blanc de Blancs.
Ingredients
Raspberries

Strawberries

Cherries

Orange Slices

Peaches

Kiwi

Lime Slices

Fresh Mint

Blueberries

Blackberries

6

ounces

Coconut water

2-4

ounces

Seltzer Water
Instructions
Build in a glass. Add ice, fruit, coconut water, top with your favorite flavored seltzer water.

You can layer in a ROYGBIV pattern to make it extra interesting.

Garnish with fresh mint, Feel free to sub any fruits.
Basic Coconut Water Mocktail
This coconut water mocktail recipe from The Hangry Economist is light, refreshing, and full of summer flavors like coconut and lemonade. The whipped coconut cream on top adds a luxurious and elegant touch. You won't miss the alcohol!
Ingredients
1 can coconut cream (around 14 ounces)
1 tablespoon honey
1 teaspoon vanilla extract
12 ounces coconut water
2 limes, juiced
1 cup lemonade
Instructions
Fill a mixing bowl halfway with the solid contents of your coconut cream. Remove any liquid.
Mix on high for 1-2 minutes with a hand mixer or until soft peaks form. Then stir in the honey and vanilla extract until well mixed.
Add ice, coconut water, and half of the coconut cream mixture in a big jar with a lid or cocktail shaker and shake until fully blended. Then pour in the lemonade and mix well.
Fill two glasses halfway with ice and top with a dollop of the remaining coconut cream.
Garnish with a wedge of lemon, lime, or pineapple, and serve immediately!
Orange and Coconut Water Refresher
This orange and coconut water refresher with only five ingredients is ideal for any occasion. Fresh orange juice and coconut water naturally sweeten it! This recipe from Healthy Nibbles has a reduced sugar level, making it ideal for people watching their glucose intake.
Ingredients
1 cup freshly squeezed orange juice
1 cup sparkling water
1 cup coconut water
a few springs of fresh mint
a handful of ice cubes
Instructions
In a pitcher, combine all of the ingredients.
Pour the drink into two glasses and enjoy!
Raspberry Mojito Mocktail
This raspberry mojito mocktail recipe from Lettuce Veg Out is unlike any other. Beginning with fresh and delightful flavors of raspberry, mint, and lime, this cocktail is the ideal go-to when you want to amaze in both appearance and flavor!
Ingredients
½ ounce fresh lime juice
1 teaspoon agave syrup
5-6 fresh raspberries (or thawed frozen raspberries)
6-8 fresh mint leaves
2 ounces coconut water
3 ounces club soda (or other soda/tonic water)
ice cubes
Instructions
Fill a glass halfway with lime juice, agave syrup, raspberries, and mint.
Muddle the ingredients together with care. To completely release the taste of the mint leaves, crush the raspberries well and gently press on them (try not to shred the mint leaves).
Fill the glass halfway with ice cubes.
Pour coconut water into the glass, then top it with your preferred soda. Stirring the drink is optional.
Garnish with fresh herbs and serve.
Virgin Mango Margarita
This is a simple three-ingredient Virgin Mango Margarita from The Mindful Mocktail that even youngsters would enjoy! A mango mocktail is perfect for one or a crowd, and it's also healthy. Check the label carefully and select coconut water with no added sugar or sweetness.
Ingredients
.5 cup frozen mango
¾ cup coconut water
Juice of 1 lime
Instructions
In a high-speed blender, combine mango, coconut water, and lime.
Garnish with a lime wheel and serve in salt-rimmed glasses.
Strawberry Coconut Water Mocktail
Strawberry and coconut go together like clockwork. You get the zesty berry punch and the tropical calm coconut twist all in one drink!
A couple of strawberry slices, some coconut flakes, and a lovely straw are all you need to dress up the Strawberry Coconut Mocktail by Foodieaholic. It's like going on a beach vacation without leaving your house.
Ingredients
2 cups coconut water
2 cups frozen strawberries
½ cup water
¼ cup lemon juice
2 tbsp sugar
1 cup club soda
Coconut flakes and strawberry slices to decorate
Instructions
In a blender, combine the water, lemon juice, and strawberries. Pulse for one minute.
Pulse for two minutes more or until the coconut water, sugar, and soda are fully combined.
Pour the liquid into glasses filled with ice.
Sprinkle with coconut flakes and strawberry slices to serve.
Serve immediately and enjoy.
Lime Watermelon Coconut Water
This delightful watermelon coconut drink recipe from Wicked Spatula contains no artificial dyes, sweeteners, or colors and is a natural sports drink that tastes far better than shop-bought.
Ingredients
4 cups watermelon (diced)
2 cups coconut water
2 limes (juiced)
Sparkling mineral water (optional)
Instructions
Combine the watermelon, coconut water, and lime juice in a blender. Blend on high for about a minute or until totally liquified.
Pour over ice in a glass and top with a splash of sparkling mineral water.
Coconut water mocktails are not only delicious, but they also provide a number of health benefits. They provide a tropical taste, a blast of natural sweetness, and the possibility to experiment with new flavor profiles.
Raise your glass and enjoy the delectable world of coconut water mocktails, where refreshing sips meet tropical happiness. Cheers to a more nutritious, tasty, and vivid mocktail experience!
Coconut Water Mocktails FAQs
What does coconut water go well with?
Coconut water can be eaten on its own or combined with other ingredients to make a smoothie or mocktail. It can also be made into a quick peanut sauce with peanut butter and Sriracha or a salad dressing with lime juice and olive oil. You can also substitute it for stock or water when making coconut-flavored rice.
What can I mix with coconut water to make it taste better?
To add a fruity flavor to your coconut water, add fresh fruit slices such as pineapple, mango, or strawberry. Allow the fruit to infuse for a few hours before serving.
Add fresh mint leaves to your coconut water to make a delightful minty flavor. To release the oils from the leaves, crush them slightly before adding them.
Can coconut water be used in mocktails?
Absolutely! Coconut water can be used to craft mocktails at home. They provide a tropical taste, a blast of natural sweetness, and the possibility to experiment with new flavor profiles.
Whether you're hosting a gathering, lounging by the pool, or craving a delicious and guilt-free drink, coconut water mocktails are the perfect choice. Get ready to be inspired and experiment with flavors with the refreshing goodness of coconut water.
Can I mix lemon in coconut water?
Yes, you can. The Strawberry Coconut Water Mocktail recipe above contains lemon juice as one of its ingredients. You get the zesty berry punch and the tropical calm coconut twist all in one drink!
You can also mix the coconut water with lime by recreating the Coconut-Lime Cucumber Mocktail drink above. The most prominent tastes are lime and coconut, with a faint, fresh taste of cucumber and mint also present.