Until recently, non-alcoholic whiskey options were either unappealing or downright impossible to find.
Fortunately, the number of zero-proof whiskey options has multiplied in recent years, but universally suitable non-alcoholic alternatives can still be hard to come across.
We're talking about the best non-alcoholic whiskey substitutes for each cocktail.
Non-alcoholic whiskey isn't just for cold-weather cocktails any more, whiskey (or whisky, depending on the style) is a must-have ingredient for loads of mocktails.
How Is Non-Alcoholic Whiskey Made
While lacking the intoxicating element, a non-alcoholic whiskey closely resembles real whiskey. It is intended for those who want to drink less alcohol but still enjoy the flavor of a real dram of whiskey.
Non-alcoholic whiskey choices are frequently created with all-natural components and have little to no sugar or calories because some individuals are health conscious.
For the best flavor, non-alcoholic whiskey drinks are first distilled, just like real whiskey. The alcohol is then removed from the juice by boiling it in a procedure known as ethanol distillation. Reverse osmosis, in which alcohol is extracted using water rather than chemicals, removes the alcoholic component from whiskeys. Whiskey flavor can also be added to non-alcoholic drinks by steaming.
Although distillation is typically connected with alcoholic beverages and spirits, it is possible to add tastes to liquids while eliminating the alcohol. Many of the producers of spirit-free products utilize unique techniques to make them.
However, the tastes in spirits come from a mixture of ingredients that are both fat- and water-soluble. Both taste molecules of chemicals remain in the spirit after traditional distillation. A spirit's final content of water and alcohol can sometimes allow it to absorb and concentrate the flavors from both sorts of materials, as in the case of maceration with botanicals or food components (think gin and various liqueurs).
Spirit-free alcohol is alcohol that has been eliminated, along with many of the flavoring compounds that are more readily accumulated and concentrated in alcohol. Because of this, businesses like Seedlip, Ritual, or Lyre's have developed unique or exclusive processes for obtaining and preserving particular flavors in the beverage.
Best Non-Alcoholic Whiskey Substitutes
The top non-alcoholic whiskey alternatives available in the market are listed here.
Our top mocktail pick is this non-alcoholic whiskey sour made with Ritual Whiskey Alternatives.
Ritual Zero Proof Whiskey Alternative
With tequila, gin, and rums in their toolbox, Ritual Zero's legends certainly know what they're doing when creating a delectable non-alcoholic combination. The fact that their whiskey is among the greatest non-alcoholic whiskey alternatives available is not surprising, given that it has aromas of wood, smoke, and caramel that provide the same cozy, warm feelings associated with whiskey without the alcohol or calories.
Ritual Zero Proof is recognized for its "burn." The business behind Ritual Zero Proof blends capsicum fruit, peppercorns, and prickly ash to create a nice, lingering spice in its Whiskey Alternative. With vanilla, stone fruit, and smokey oak tastes, it has all the richness and coziness you would anticipate from real whiskey.
Ritual's Whiskey Alternative is meant to be mixed, not sipped straight. You may use 1:1 to add some spice and classic whiskey flavors like caramel and vanilla to your favorite non-alcoholic drinks. To enhance the beverages' flavor, adding a little extra Whiskey Alternative and bitters is recommended.
Ritual Zero Proof Whiskey Alternative has a nose-tingling green jalapeno, fresh wood, caramelized banana, and a strong peanut butter finish, and it is just bizarre. Ritual creates a properly therapeutic hot toddy and a charmingly distinctive, albeit unavoidably peanutty, Old-Fashioned.
In terms of taste and finish, this Ritual whiskey substitute is perhaps the most similar to true whiskey in this group.
Make a non-alcoholic Whiskey Sour at home by following the process from this video by Ritual Zero Proof.
Lyre's American Malt
One of the most well-liked non-alcoholic whiskeys on the market is Lyre's American Malt. According to Lyre's, this flavor is "impossibly constructed" to taste like bourbon.
All of a bourbon's distinguishing flavors—caramel, vanilla, and oak—are present. The American Malt is incredibly well-balanced and smooth; unlike some non-alcoholic whiskey drinks out there, it doesn't have a strong, fiery finish, but the flavor still comes through when combined with soda or in a cocktail.
Although Lyre's American Malt has the right flavor and a mildly energizing heat, its water-thin mouthfeel is underwhelming. However, when combined with other non-alcoholic spirits, the incredibly photorealistic flavors more than makeup for it, and Lyre's produces spot-on substitutes for Campari (Italian Orange) and sweet vermouth (Apéritif Rosso) for making delectable Manhattans and Boulevardiers.
Gnista Barreled Oak
In other cases, you want a non-alcoholic spirit to mimic your mood more than a particular flavor. The flavor profile of Barreled Oak, produced by the Swedish company Gnista, is unlike that of any other alcoholic spirit currently on the market.
Gnista's Barreled Oak has a ton of body and character and is complex and quirky. It tastes like warming up in front of a crackling fire after playing in the snow and really brings out woodsy spices, a strong but comforting campfire smoke, and a touch of bitter herbs to balance sweet molasses, raisins, and rye.
Barreled Oak has the same flavor qualities as non-alcoholic whiskeys but is technically not one. Although it makes a surprisingly decent non-traditional Manhattan and is delectably raisin-bready when mixed with cola, it is best drunk straight up at room temperature. It also blends wonderfully in bourbon cocktails.
Monday Zero Alcohol Whiskey
When it comes to zero-proof cocktails, Monday Whiskey's non-alcoholic whiskey is something we simply can't get enough of. They also have their dram and dry, a lovely fusion of smokey malt flavors with a mellow dry ginger zing if you're looking for a pre-mixed cocktail.
Their dram sour is a fan favorite if you prefer something with a fruitier flavor; it combines a smoky malt flavor with local Kakadu plum for a sophisticated twist. These folks certainly know how to create a beverage with a premium flavor, not to mention that they are also sugar-free.
The straight whiskey is ultimately the favorite based on its butterscotch, raisin, and toasted brown sugar scent. Although Monday Zero Alcohol Whiskey has the strongest spice flavor, it blends well with most beverages. It creates a delicious faux-rye Manhattan, a hot toddy that could last flu season, and a classic way to get the orange twist in an Old-Fashioned to release its aromatics.
The Monday Zero alcohol whiskey is booze-free but packed with spirit. A Southern California distillery hand-crafts Monday zero-alcohol whiskey in small batches, keeping things reasonably healthy by providing it with zero carbs, sugar, and calories.
Spiritless Kentucky 74
Three ladies who desired a better-tasting, alcohol-free choice started the company Spiritless with the goal of producing it themselves. Being from Kentucky, it stands to reason that they began with bourbon. All the traditional bourbon flavors—charred oak, bourbon vanilla, and dark caramel—are present in Spiritless Kentucky 74.
Spiritless Kentucky 74 is the purest imitation of the real thing. The body and slide are great. Instead of employing the industry standard capsaicin to mimic the burn of alcohol, it has a slight tongue-numbing effect, similar to Sichuan peppercorns.
An indisputable blast of burnt wood lingers with you from the first scent to the last drink. Sharp kerosene notes add to the realism, and sweet maize and buttery caramel flavors are noticeable but not overpowering (though it becomes unpleasant in cocktails with bitter ingredients like a Manhattan).
Kentucky 74 mixes beautifully with mixers. Sip this straight or on the rocks for the most accurate bourbon substitute.
Lyre's Highland Malt
One of the best non-alcoholic whiskey alternatives available is Lyre's Highland Malt, which expertly captures the essence of a blended malt whiskey with an interesting twist. It's an award-winning release that tastes as much like traditional Scotch as is feasible. It does lack a little bit of the burn, which is undoubtedly a characteristic of drinking Scotch.
With flavors like oak tannin and nutty grain notes and a little smoke finish that lifts the palate and balances the length, which is robust and rich, it gives a distinctive and modern perspective on a traditional malt whiskey. The ultimate result is something brand-new that, in our opinion, you simply must try.
Curious Elixir No. 5
The Curious Elixir No. 5 is a bottled cocktail rather than (officially) a whiskey substitute. With smoked cherry, dark chocolate, and toasty spices, it takes on the flavors of an Old Fashioned alcoholic cocktail.
The booze-free cocktails made by Curious Elixirs are renowned for being delicious, sophisticated, and ready to drink. Elixir No. 5, a smoked cherry and chocolate old-fashioned, is one of the popular favorites.
Of course, this whiskey cocktail is deep, rich, and smoky, much like the real whiskey cocktail. To enjoy two non-alcoholic old-fashioneds, simply pop the lid.
Sexy AF's Friski Whiski
An alcohol-free whisky called Sexy AF Friski Whiski is designed for mocktails, cocktails, and low-alcohol beverages.
Sexy AF's Friski Whiski is an amaro that tastes remarkably similar to whiskey despite its name; it is a potent, sweet, and bracingly bitter beverage. However, it's a ready-made Reverse Manhattan on the rocks with a blast of cinnamon and a thick texture that isn't frightened of a little melted ice over ice with a splash of water.
Features botanicals like allspice, angelica, cinnamon, and many others that have a cinnamon whisky-like flavor. For those who prefer to consume mocktails that are alcohol-free or non-alcoholic, the Friski Whiski has numerous advantages.
You can still enjoy a Sexy AF Spirit, sober or sober curious, whenever you like.
The Spirit Of Bourbon By Free Spirits
This one is a little more expensive, but you'll see why after you taste how amazing it is. With a velvety-smooth, toasted almond and brown sugar tongue, The Spirit of Bourbon is a rich, oaky, caramel-kissed non-alcoholic alternative to a fine Kentucky Bourbon.
With cola, ginger ale, and lemonade, The Spirit of Bourbon by Free Spirits flawlessly replaces Jack Daniels or Southern Comfort. It also has a higher acid content that balances heat and evokes red cherry.
You won't ever have to worry about drinking too much because it's produced with all-natural flavors, which is reason enough to drool. The only drawback is that it's a little too expensive for our tastes, but it's worth the investment if you've got the extra cash.
The Gospel Responsible Rye
Being the only specialist rye whiskey distillery in Australia, it was only a matter of time before The Gospel entered the rapidly expanding non-alcoholic market with the introduction of Responsible Rye, the country's first rye whiskey substitute.
The non-alcoholic spirits market has seen a lot of innovation, but the Australian rye market hasn't seen much of it. As fans of all things rye, The Gospel team set out to create an inclusive beverage that everyone enjoys without compromise. Co-Founder Andrew Fitzgerald said, "It took many tries and experiments over the course of a year to perfect, and we are glad to say this drink stacks up in a cocktail or on its own."
Ellie Ash, the R&D distiller at The Gospel and a sommelier, supervises the production of the non-alcoholic whiskey. Responsible Rye, which took more than a year to produce, is the authentic rye whiskey that is truly expected from this Australian distiller. In contrast to many non-alcoholic beverages, the cost is more than the equivalent amount of alcohol.
Drummerboy American Dark
The Drummerboy American Dark has strong, bold tastes that will make other non-alcoholic spirits look weak in comparison.
Drummerboy, an Australian brand that lives up to its name, produces some of the best non-alcoholic spirit substitutes available. The deep scent of the brand's "American Dark" is a terrific substitute for bourbon and has notes of caramel, vanilla, toffee, and caramelized figs.
Drummerboy blends essence and extracts to create "American Dark" before dissolving everything into the flavored liquid. Due to its caramel, molasses, and spicy vanilla flavor, this non-alcoholic whisky is best for blending with coke.
Make Mocktails With Your Non-Alcoholic Whiskey
Mocktails with whisky are becoming more popular. There are several reasons why people choose to abstain from alcohol, ranging from personal preference, pregnancy, or dependence. This meant overly sweet mixtures of fruit juices or sodas in the past, but there are now alternatives to traditional spirits on the market.
Here are some mocktail recipes with non-alcoholic whiskey alternatives: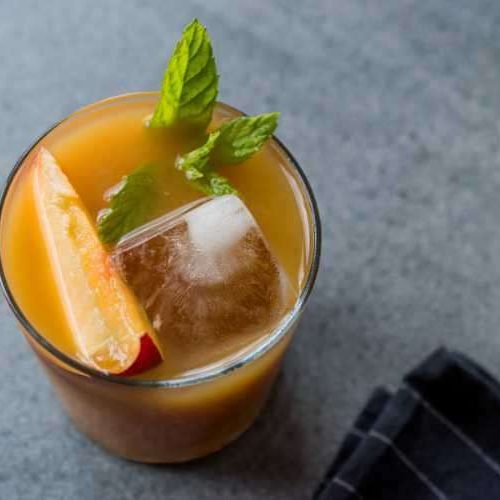 Whiskey Mocktail Just Peachy
We absolutely love Ritual Zero Proof Whiskey Alternative. It has a smokey, oaky, caramel flavor with toasted spices and pairs perfectly with anything peachy. We're making a peach simple syrup. And while it might sound intimidating, making simple syrup is the easiest thing in the world.
Ingredients
2

ounces

Ritual Zero Proof Whiskey Alternative

3/4

ounces

Lemon juice

3/4

ounces

Peach simple syrup

1

fresh

very ripe peach

A few mint leaves

Thin peach slice and mint sprig for garnish
Instructions
Add lemon juice, peaches, mint, simple syrup to a bowl (or add to a shaker and muddle if you have a muddler). Smash ingredients with a fork (muddle).

Add ingredients to a shaker with ice. Shake for 15 seconds (you want to make sure it's nice and cold.

Strain in a Nick and Nora Glass or if desired, a lowball glass with one ice cube.

Garnish with one peach slice and mint sprig.
Peach Simple Syrup
Lightly boil 1 cup of water, 1 cup of sugar, 1/2 cup of peaches.

Reduce to low, stir often.

After 8-10 minutes remove from heat. Let cool slightly. Bottle. Refrigerate overnight if you can.
Highball Mocktail
Ingredients
2 ounces Ritual whiskey alternative or non-alcoholic bourbon
Juice from one wedge of lemon
Splash of flavored simple syrup (ginger, blackberry, strawberry, or fall spice is recommended)
3-4 ounces of soda or flavored seltzer
Fresh herb, berries, fresh citrus (for garnish)
Instructions
Fill a Collins glass with non-alcoholic whiskey.
Add a squeeze of lemon and a little simple syrup.
Add soda over the top, then add citrus and fresh herbs as garnish.
Just Peachy Non-Alcoholic Whiskey Smash
Ingredients
2 ounces alcohol-free whiskey
¾ ounces lemon juice
¾ ounces peach simple syrup
1 fresh, very ripe peach
1 sprig of mint
Fresh rosemary and peach wedge (for garnish)
Instructions
In a mixing bowl, combine the peach, lemon juice, simple syrup, and rosemary.
Thoroughly mix all of them, then non-alcoholic whiskey should be added. Shake for 10 to 12 seconds.
Garnish with a fresh mint sprig and a wedge of fresh peach after straining into a rocks glass with ice.
Boston Sour Mocktail
Ingredients
2 ounces non-alcoholic bourbon or whiskey
¾ ounces lemon juice
¾ ounces simple syrup
¾ ounces egg white or aquafaba
1 dash of smoked chili bitters or another bitter you fancy (optional)
Lemon peel and/or cocktail cherry (for garnish)
Instructions
All ingredients should be combined in a cocktail shaker with ice. Then, shake for 10 to 12 seconds.
If you have a latte whisk, strain the mixture into a tin and whisk it with it for 10 to 15 seconds or until it has a lovely, creamy consistency and a wonderful head of froth on top.
Pour into a chilled coupe glass, adding a cocktail cherry and a lemon peel for decoration.
Non alcoholic whiskey substitutes are becoming more and more popular among people who want to abstain from drinking for whatever their lifestyle choice.
As long as you know what to look for, there are several great non-alcoholic whisky alternatives to sample if you want a dram but don't want a hangover.
Whether you're looking for a non alcoholic whiskey with an unusual flavor or something that tastes authentic this list has you covered.
Non-Alcoholic Whiskey FAQs
What does non-alcoholic whiskey taste like?
Even though non-alcoholic whiskey shares some of the same flavor notes as genuine bourbon or whiskey, your palate won't be tricked if you drink it neat. The non-alcoholic whiskey lacks the genuine distilled spirit's burn or heat. If you consume it neat, you are not doing it justice.
What is the point of non-alcoholic whiskey?
Non-alcoholic alcohol is a distilled water-based beverage that is meant to be strong enough in flavor and scent to replace a base spirit (such as tequila, gin, or whiskey) in a cocktail.
There are several reasons why people choose to abstain from alcohol, ranging from personal preference, pregnancy, or dependence to prescription or addiction.
What can I replace whiskey with in a mocktail?
Mocktails with whisky are becoming more popular. This meant overly sweet mixtures of fruit juices or sodas in the past, but there are now alternatives to traditional spirits on the market.
Try adding some sparkling water to a celebratory glass of your choice if real mocktails or alcohol substitutes aren't your thing.
Can you make non-alcoholic whiskey?
Yes, there are a variety of whiskeys without alcohol available nowadays. There are many ways to make these products, but the majority use distillation to take the alcohol out of the whiskey. The flavor and scent elements that give whiskey its distinctive flavor and smell are then left behind.
What are the best brands that produce non-alcoholic whiskey?
You can choose from a variety of non-alcoholic beverages. The top non-alcoholic whiskey alternatives available in the market are listed here.
1. Lyre's American Malt
2. Lyre's Highland Malt
3. Gnista Barreled Oak
4. Spiritless Kentucky 74
5. Monday Zero Alcohol Whiskey
6. Curious Elixir No. 5
7. Ritual Zero Proof Whiskey Alternative
8. Sexy AF's Friski Whiski
9. The Spirit Of Bourbon By Free Spirits
10. The Gospel Responsible Rye
11. Drummerboy American Dark