Being health conscious and often craving a refreshing drink with a burst of fruit flavors always leads to seeking healthy alternatives. Grapefruit mocktails are obviously an attractive drink idea since they contain grapefruit, known for its many health benefits. But what are the benefits of grapefruit exactly? What kinds of mocktails can you make out of it?
Let's look at 10 invigorating and healthy grapefruit mocktail recipes that harmonize taste and well-being in perfect symphony. These concoctions promise to appease your longing for vibrant flavors and elevate your commitment to a nourishing lifestyle.
Jump to Recipe
What Are The Health Benefits of Grapefruit?
What are the health benefits of grapefruit? Grapefruit, renowned for its refreshing taste and vibrant hues, boasts an array of health benefits that render it a nutritional powerhouse. This citrus fruit is rich in essential vitamins, minerals, and bioactive compounds, contributing to both bodily vitality and well-being.
Here are some key health benefits of grapefruit:
Vitamin C Boost: Grapefruit is a potent source of vitamin C, an antioxidant that supports the immune system, aids in wound healing, and contributes to the health of skin and connective tissues.
Hydration: With its high water content, grapefruit aids in hydration, helping to maintain bodily functions and skin health.
Dietary Fiber: This fruit contains dietary fiber, which promotes healthy digestion, aids in preventing constipation, and supports gut health.
Low in Calories: Grapefruit is relatively low in calories, making it a suitable choice for those seeking to manage their weight.
Antioxidant Properties: The presence of antioxidants, such as vitamin C and other phytonutrients, helps to neutralize harmful free radicals in the body, potentially reducing the risk of chronic diseases.
Heart Health: The fiber, potassium, and antioxidants found in grapefruit contribute to cardiovascular health by helping to regulate blood pressure, cholesterol levels, and overall heart function.
Blood Sugar Regulation: Some studies suggest that certain compounds in grapefruit may help improve insulin sensitivity and regulate blood sugar levels, which can benefit individuals with diabetes or those at risk of developing it.
Hydroxycitric Acid (HCA): This natural compound found in grapefruit has been linked to potential appetite suppression and weight management.
Citrus Bioflavonoids: These bioactive compounds in grapefruit may have anti-inflammatory and immune-supporting properties.
Eye Health: The antioxidants zeaxanthin and lutein, found in grapefruit, contribute to eye health by helping to protect against age-related macular degeneration and other vision-related issues.
Alkalizing Effect: Despite its acidic taste, grapefruit has an alkalizing effect on the body once metabolized, which can help balance pH levels and promote overall health.
It's important to note that while grapefruit offers numerous health benefits, it can interact with certain medications. If you're taking medications, you should consult your healthcare provider before significantly increasing your grapefruit consumption to ensure it won't interfere with your medication's effectiveness or cause adverse reactions.
Grapefruit Mocktail Recipes
In your pursuit of vibrant refreshment, the combination of grapefruit's tanginess and the artistry of mocktail crafting is really an enticing presentation. Elevate your senses and satiate your cravings as we unveil this grapefruit mocktail recipe collection designed to tantalize your palate while embracing the essence of health-conscious indulgence.
Grapefruit Mocktail With Ginger Beer
This Grapefruit Ginger Beer Mocktail is an excellent substitute for a traditional Moscow mule. This grapefruit drink recipe has the perfect amount of ginger flavor without being overpowering. The grapefruit juice, fresh mint, and lime create an excellent flavor balance!
Ingredients
5-10

mint leaves divided

1

ounce

fresh lime juice

4

ounces

ruby red grapefruit juice

8

ounces

ginger beer

Grapefruit slices and fresh mint leaves (for garnish)
Instructions
In a cocktail shaker, combine the half of the mint leaves and lime juice. Thoroughly muddle the mint leaves.

Add grapefruit juice and a small handful of ice cubes to the cocktail shaker. Shake, shake, shake for 10-15 sec until the outside of the cocktail shaker is frosty.

Fill two cocktail glasses with ice, and the grapefruit mixture is divided evenly between them.

Fill with ginger beer and stir the mocktails gently with a cocktail spoon.

Garnish with a grapefruit wedge and a few fresh mint sprigs. Enjoy!
Healthy Grapefruit Paloma Mocktail
A Grapefruit Paloma mocktail prepared with fresh grapefruit juice, tart lime juice, carbonated water, and a touch of pure maple syrup. This recipe by All The Healthy Things is certain to become a new favorite.
Ingredients
2 oz grapefruit juice
1 oz fresh lime juice
0.5 – 1 oz maple syrup
Sparkling water
Ice
Sliced limes and grapefruit (for serving)
Instructions
Combine the grapefruit juice, lime juice, and maple syrup in a glass.
Fill the glass with ice.
Add sparkling water to the glass, stir to combine, and garnish with a slice of lime and citrus.
Virgin Pink Grapefruit Mojito
This Virgin Pink Grapefruit Mojito by An Alli Event consists of citrus, mint leaves, and flavored water. A cocktail shaker is extremely useful for this. You do not want large pieces of grapefruit floating in your drink, so the filter in the cocktail shaker removes them. The final product is a drink that is ideal for spring and summer.
Ingredients
¼ pink grapefruit, cut into small chunks, seeds removed
2 Tablespoons honey
12 fresh mint leaves, torn
½ cup grapefruit-flavored water
Ice cubes
Mint sprigs (for garnish)
Instructions
In a cocktail shaker, combine the grapefruit, honey, and mint. Using a muddler, mash the fruit until the liquids are released.
Include one cup of ice cubes. Attach the lid and vigorously shake until combined.
Divide between two glasses full of ice.
Add additional flavored water to the glass.
Decorate with mint.
Sparkling Grapefruit Rosemary Mocktail
How to make a Sparkling Grapefruit Rosemary Mocktail with a gorgeous hue that guests will notice? This recipe By Andrea Janssen is simple to prepare, inexpensive, and extremely revitalizing. The perfect recipe for refreshment to include in your cookbook. You can serve this at a baby shower, Mother's Day, or your next summer BBQ.
Ingredients
250 ml water
200 grams sugar
3 sprigs fresh rosemary
500 ml Grapefruit juice equivalent to 6 grapefruits
4 tablespoons rosemary sugar syrup
1000 ml sparkling water
1 grapefruit
100 grams ice cubes
Rosemary (for garnish)
Instructions
If you do not have grapefruit juice from the store, begin by juicing grapefruits. You will need roughly six grapefruits.
While whisking, bring water and sugar to a boil in a saucepan.
Allow it to simmer until the sugar is completely dissolved. Turn off the heat.
Place the rosemary sprigs in the simple syrup and let them marinate for 30 minutes.
Put a sieve in a basin and strain the simple syrup through the sieve. It's recommended to use a coarse sieve.
Pour the simple syrup into a clean bottle or jar and place it in the refrigerator to cool.
Add two pints of grapefruit juice to a jar.
Add a quarter cup of the rosemary simple syrup to the jar.
Fill the jar with carbonated water.
Place in the fridge until it's time to serve.
Add rosemary sprigs, grapefruit slices, and ice to the jar.
Serve and enjoy.
Grapefruit Thyme Fizz
Try this Grapefruit Thyme Fizz if you're looking for a simple mocktail to prepare at home. Something about the combination of citrus and thyme will make you unable to resist it. If grapefruits are available, the Mindful Mocktail recommends that you squeeze fresh grapefruit juice. If they aren't, don't fret; store-bought tastes just as delicious.
Ingredients
1 cup water
1 tablespoon Stevia or sweetener/sugar of choice
½ cup thyme
½ cup grapefruit juice
⅓ cup soda water
Instructions
To make the thyme simple syrup, combine water and desired sweetener/sugar in a small saucepan over medium heat. Stir until the sugar or sweetener is dissolved.
Add thyme and simmer on low heat for 10 minutes.
Remove from heat and allow to rest for at least 30 minutes and up to 3 hours. Strain and cool.
Make the mocktail by combing 1 tablespoon of thyme syrup and half a cup of grapefruit juice in a glass.
Add ample ice, then top with carbonated water and stir gently.
Garnish with additional thyme, then serve.
Spicy Grapefruit Ginger Fizz Mocktail
This Spicy Grapefruit Ginger Fizz Mocktail is brimming with robust, spicy, and fresh flavors, has minimal sweetness, and is simple to prepare in under 5 minutes. So grab some grapefruit if they're in season, or get some grapefruit juice from the store, and make some mocktails with this recipe from Gimme Some Oven!
Ingredients
½ cup 100% grapefruit juice
1 tablespoon fresh lime juice
1 sprig fresh mint
1 to 3 slices fresh jalapeño
1 cup ice
½ cup ginger beer*
Instructions
Crush the lime and jalapeño together. In a cocktail shaker, combine the grapefruit juice, lime juice, mint, and jalapeño slices. Using a muddler or wooden spoon, gently muddle the mint and jalapeño with the juices.
Add ice to a large copper mug or cocktail flute. The grapefruit juice mixture should be strained over ice. Stir the ginger beer occasionally into the mixture before serving.
Decorate and serve. Garnish the cocktail with additional citrus slices, jalapeño, and/or fresh mint, and enjoy!
Grapefruit Tonic Mocktail
This bittersweet Grapefruit Tonic Mocktail by Ricardo Cuisine, complete with a frozen grapefruit juice ball, will quench your thirst and release its flavor slowly. This drink is completely gluten-free and vegan.
Ingredients
1 large grapefruit juice ice sphere
¼ cup pink grapefruit juice
¼ cup tonic water
1 thin wedge grapefruit
Instructions
The grapefruit juice ice ball should be placed in a lowball glass.
Add citrus and tonic water.
Garnish the cocktail with the grapefruit wedge.
Strawberry Grapefruit Mocktail
This Strawberry Grapefruit Mocktail is a straightforward, flavorful mocktail bursting with strawberry and grapefruit notes. Made with an uncomplicated homemade lemon simple syrup, freshly-squeezed grapefruit juice, and mulled strawberries, this mocktail by Orchid + Sweet Tea is perfect for any occasion or holiday!
Ingredients
2 cups filtered water (for clearer ice, it's best to use purified water)
1 cup sliced strawberries, organic
Handful of fresh rosemary sprigs, cut into pieces
1 organic lemon, sliced thin
1 cup filtered water
½ cup raw honey (you can also use organic cane sugar if desired)
1 cup strawberries, stems removed + sliced
¼ cup lemon simple syrup
1 organic pink grapefruit, freshly-squeezed (optional)
Grapefruit soda, for topping
Strawberry rosemary ice cubes
Optional garnish: Strawberry slices, grapefruit wedges, fresh rosemary sprigs
Instructions
To make the strawberry rosemary ice cubes for the mocktail, add sliced strawberries and chopped rosemary sprigs to each section of your preferred ice cube tray, and then fill each with water until full. Continue until each ice cube cavity is filled. Add the tray or trays to the freezer and freeze for three to four hours (or overnight) until ice forms.
Add organic lemon, filtered water, and raw honey to a saucepan over medium-high heat, whisking to combine, and boil for 1 to 2 minutes.
Reduce the heat to medium and continue simmering for approximately 5 minutes. Remove from heat and let your lemon simple syrup settle to room temperature.
Add strawberry slices, grapefruit juice (if using), and chilled lemon simple syrup to a mason jar or bowl, and muddle until the strawberries are completely broken down. Stir.
For each mocktail, fill a good cocktail glass (about 11 ounces) with strawberry rosemary ice crystals, then pour half of the mocktail mixture (with mulled fruit) and grapefruit soda until the glass(es) is three-quarters full.
Add strawberry slices, grapefruit wedges, and rosemary sprigs as garnish if desired.
Grapefruit Elderflower Mocktail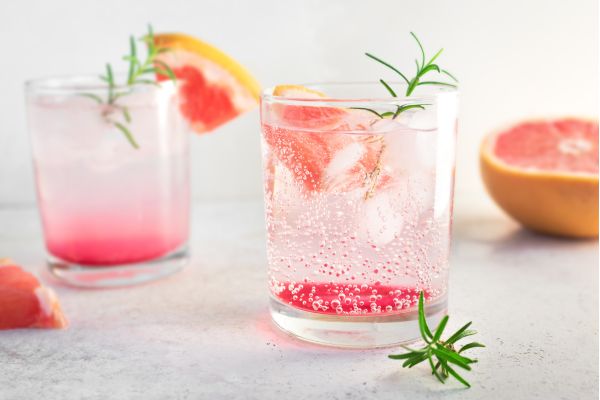 A refreshing Grapefruit Elderflower Mocktail can be one of life's greatest delights when enjoyed in the summer heat. This recipe by Use Your Noodles is loaded with floral elderflower flavor and citrusy grapefruit and lime tang.
Ingredients
⅓ cup elderflower cordial
¾ cup grapefruit pink grapefruit juice
2 tbsp lime juice
1 ½ cups sparkling water
Instructions
Combine elderflower cordial, grapefruit, and lime juice in a glass.
Place ice in four glasses.
Sparkling water should be poured over the mocktail mixture.
Serve immediately.
Ombre Grapefruit Mocktail
This Ombre Grapefruit Mocktail is an extremely basic drink but packs a powerful punch. Due to its sweetness, this is served in champagne flutes. The colors will flawlessly complement your party's theme. The various densities of the ingredients listed by Handmade Mood produce the gorgeous ombré effect.
Ingredients
2 cups grapefruit juice, chilled
1 can Sprite or 7Up, chilled
¼ cup simple syrup
Grenadine
Ice
Instructions
Pour half a cup of citrus juice into each glass.
Add two tablespoons of simple syrup to each glass.
Fill each glass with seltzer and add one teaspoon of grenadine.
You may add a stir stick or straw, but do not stir the drink until after it has been served, or the ombré effect will be lost!
Continue Being Health Conscious With Grapefruit Mocktails
The journey towards mindful choices is unending, and the realm of grapefruit mocktails offers an avenue where health-consciousness and delightful indulgence converge. As we end this exploration, the allure of these refreshing concoctions beckons you to persist on your path of well-being.
Embrace the zestful radiance of grapefruit, let your taste buds revel in the symphony of flavors, and continue savoring the art of healthful living through the refreshing prism of grapefruit mocktails. With each sip, you affirm your commitment to your palate and vitality, discovering that the union of taste and wellness is a journey worthy of pursuit.
Related Articles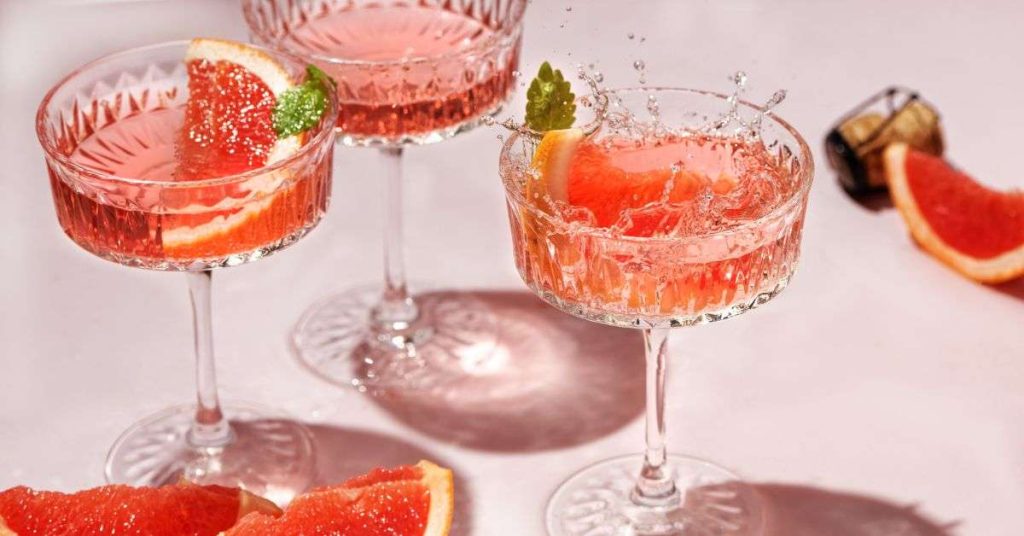 Virgin Paloma recipes and grapefruit mocktails are traditionally made with tequila alternatives and grapefruit juice. Our 4 variations will surprise you.
Simple syrup is just equal parts granulated sugar and water, which more than lives up to its name. Make simple syrup at home instead of buying it from the store using certain ingredients that you might already have.
Grapefruit Mocktails FAQs
What mixes well with grapefruit?
Grapefruit's unique and tangy flavor pairs well with various ingredients, creating a harmonious blend of tastes. Here are some ingredients that mix well with grapefruit:
1. Citrus fruits
2. Herbs
3. Berries
4. Ginger
5. Honey
6. Spices
7. Chiles
Remember to experiment and adjust ingredient proportions based on your taste preferences. Whether you're crafting mocktails, salads, dressings, or desserts, the versatility of grapefruit invites you to explore a diverse range of complementary ingredients to create delightful and palate-pleasing combinations.
Is it better to use grapefruit juice or natural grapefruit extract?
Using fresh grapefruit extracts is generally preferred over grapefruit extract for several reasons. Grapefruit juice might contain artificial flavors, colors, or preservatives to extend its shelf life. Fresh juice eliminates the need for such additives, promoting a more wholesome choice. Fresh grapefruit juice retains the natural vitamins, minerals, and antioxidants present in the fruit. These nutrients contribute to the overall health benefits of consuming grapefruit.
What do grapefruit drinks taste like?
Grapefruit drinks can have a variety of flavors depending on how they're prepared and what ingredients are used. However, the dominant taste characteristic of grapefruit drinks is typically a combination of tangy, slightly bitter, and subtly sweet flavors. Remember that the exact taste of a grapefruit drink can vary based on factors like the variety of grapefruit used, the presence of other ingredients, and personal taste preferences.
What cannot be eaten with grapefruit?
Grapefruit has certain interactions with medications and dietary considerations that you should be aware of. This is because grapefruit contains compounds that can inhibit enzymes responsible for metabolizing drugs. If you're on medication, especially for cholesterol, blood pressure, or certain heart conditions, it's best to consult your healthcare provider before consuming grapefruit.