Bursting with tropical sweetness and a hint of tartness, guava mocktails are the perfect drinks to elevate your mocktail game. Whether you're looking for a refreshing beverage to beat the summer heat or an exotic twist to your drink menu, different variations of guava mocktails will surely delight your taste buds.
In this article, we'll explore 11 delightful variations of guava mocktails that will transport you to a tropical paradise with each sip. From classic combinations to innovative creations, these mocktails showcase the versatility of guava and its ability to harmonize with a wide range of flavors and ingredients.
What Are The Health Benefits of Guava Mocktails?
What are the health benefits of guava mocktails? Well, they offer several health benefits due to the inherent nutritional properties of guavas.
Before divulging its different versions, let's talk about how this kind of drink can benefit you. Here are some of the health benefits you can enjoy when sipping on guava mocktails:
Immune System Support: Guava mocktails, made with the goodness of guava, provide a significant dose of vitamin C. This essential nutrient is known for its immune-boosting properties, helping to strengthen your body's defense against infections and illnesses.
Antioxidant Boost: Guava mocktails infused with guava fruit are rich in antioxidants. These powerful compounds, such as vitamin C, carotenoids, and flavonoids, help neutralize harmful free radicals in the body, reducing cellular damage and the risk of chronic diseases.
Digestive Aid: Guava mocktails can contribute to digestive health due to the high fiber content present in guava. Dietary fiber promotes healthy digestion, prevents constipation, and supports regular bowel movements, ensuring the smooth functioning of your digestive system.
Hydration and Electrolyte Balance: Guava mocktails, combined with hydrating ingredients like coconut or sparkling water, help quench your thirst and maintain proper hydration levels. Additionally, these mocktails can provide electrolytes such as potassium and magnesium, crucial in maintaining fluid balance and supporting various bodily functions.
Heart-Friendly: Guava mocktails, prepared with the fruit's natural goodness, can promote heart health. Guavas are low in saturated fat and cholesterol while rich in dietary fiber and potassium. This combination may help regulate blood pressure levels, support cardiovascular health, and reduce the risk of heart disease.
Weight Management: Guava mocktails, being low in calories and high in fiber, can be a satisfying and guilt-free choice for those aiming to manage their weight. The fiber content promotes feelings of fullness, curbs unnecessary snacking, and aids in maintaining a healthy weight.
Skin Nourishment: Guava mocktails, thanks to their high vitamin C content, can contribute to healthy and radiant skin. Vitamin C plays a vital role in collagen synthesis, promoting skin elasticity and reducing the appearance of wrinkles and fine lines. The antioxidants in guavas also help protect the skin from oxidative stress and damage caused by free radicals.
Mood and Stress Relief: Guava mocktails can provide a refreshing and enjoyable experience, helping to uplift your mood and provide a sense of relaxation. The natural sweetness and flavors of guava can contribute to stress relief, allowing you to unwind and savor the moment.
When enjoying guava mocktails, it's important to consider the overall balance of ingredients and moderation in consumption. By incorporating guava mocktails into your beverage repertoire, you can indulge in a delicious treat while reaping the nutritional benefits that guavas offer. Cheers to your health and well-being!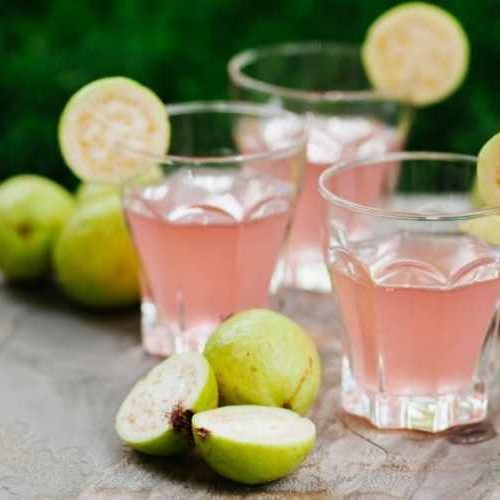 Guava Mocktail
You will absolutely love this Guava Mocktail. It's fruity, sweet and incredibly cooling. And fun for all ages. Your first sip will have you saying "Oh $***!" No kidding.
Ingredients
3

ounces

guava juice

(found in any grocery)

3

ounces

strawberry soda

(like Jarritos or Fanta)

1

ounce

lime juice

(juice from half a lime)
Instructions
Keep all indregients in the fridge before mixing. Build in a glass.

Add ice, guava juice, lime juice and strawberry soda in that order.

Stir and garnish with a lime.
1. Guava Mojito Mocktail
This Guava Mojito recipe by Sweet Tea + Thyme is perfect if you're searching for a tasty and fruity beverage to sip this summer. We're turning this tasty cocktail into a non-alcoholic version for private gatherings or backyard barbecues. You only need non-alcoholic white rum, lime juice, sparkling water, and guava nectar.
Ingredients
4 sprigs fresh mint
2 teaspoon granulated sugar
Juice of 1 lime
3 ounces non-alcoholic white rum
8 ounces guava nectar
Soda water
Mint sprigs (garnish)
Instructions
Mix the sugar, lime juice, and mint leaves in two highball glasses.
Pour 1.5 ounces of non-alcoholic rum into each glass after adding ice.
Each glass needs 4 ounces of guava nectar.
Add soda water or sparkling water to the top of each mojito.
Use a mixer spoon to whisk, then serve with mint for a garnish gently.
2. Spicy Guava Mary Mocktail
For any occasion, a tasty and simple-to-make beverage, like a spicy guava mocktail, is ideal. Instead of customarily sweetened beverages, try this recipe by the Slice of Gourmet for something energizing and nutritious.
Ingredients
½ bottle Sprite
1 tbsp cumin roasted and slightly crushed
2 whole guavas/bottled guava juice
1 tbsp chaat masala
2 tbsp Kashmiri red chili powder
1 black Salt
1 juice of lime
Chile lime seasoning
1 small bunch of mint leaves
Instructions
Combine the guavas, chaat masala, red chili powder, black salt, mint leaves, and Sprite in a blender jar. Blend the ingredients until they make a smooth puree.
Add ice to the mixture and set aside.
Next, split a lime in half and rub the rim of a glass with it.
Pour some of the Chile lime seasoning onto a small plate.
Dip the cup's lime-coated rim into the Chile lime seasoning until thoroughly coated.
Now fill the covered glass with your beverage.
Enjoy with roasted cumin as a garnish!
3. Guava Margarita Mocktail
You can serve this Guava Margarita Mocktail on the rocks or frozen; it is a tropical delight. Aside from being healthy and refreshing, Women's Health made sure that this recipe was simple and quick to make.
Ingredients
½ cup guava nectar
3 tbsp fresh orange juice
2 tbsp fresh lime juice
Lime wedge, for serving
Instructions
Juices should be added to an ice-filled shaker.
Shake and strain into an ice-filled, salt-rimmed glass.
Add a lime slice to the dish.
4. Guava Daquiri Mocktail
Who wouldn't love a classic Guava Daiquiri Mocktail? This delightful and straightforward summer beverage by edible Hawaiian Islands is ideal for the sober and sober-curious crowd.
Ingredients
2 oz. Fresh Guava Juice
¾ oz. Fresh Lime Juice
¼ Agave or Simple Syrup
Instructions
In a shaker, combine all the ingredients with ice.
Pour into a cold Martini glass after straining.
Use a lime wheel as garnish.
5. Pink Guava Mocktail
You will love this Pink Guava Mocktail if you prefer to keep it healthy this year by consuming less alcohol. It's a tad spicy, a whole lotta good. The recipe by Times Foodie could turn any tippler into a teetotaller.
Ingredients
6 tbsp guava juice
4 tbsp watermelon juice
3 tbsp lemon juice
salt-chili combination
Instructions
Crush the ice and fill a glass with it.
Add lemon juice, watermelon juice and guava juice into a cocktail shaker and shake well.
Run a lemon wedge around the rim of the glass.
Dip the mocktail glass's rim in a salt-chili combination.
Pour the mocktail into the glass after shaking it.
6. Guava Coconut Mocktail
It's very simple to recreate this Guava Coconut Mocktail from Recipes From A Pantry. It consists of only guava juice and pure coconut water. To make the drink sweeter, you can experiment with the amounts of each juice you add and additional sugar syrup.
Ingredients
Guava nectar
Coconut water
Instructions
Serve the guava nectar with a 1:1 ratio of coconut water.
7. Guava Lime Kombucha
This refreshing Guava Lime Kombucha Mocktail by The Wooden Skillet is ideal for your next happy hour because it's so light and refreshing and has just the right amount of sweetness.
Ingredients
1 cup guava kombucha
½ cup LaCroix Lime mineral water
1 tsp fresh lime juice (more to taste)
Instructions
Add ice to the glass.
Pour the kombucha in.
Add mineral water on top.
Mix in the fresh lime juice and garnish with lime.
If necessary, taste and add more lime juice.
You can learn how to make a healthy SCOBY kombucha from scratch here:
8. Pineapple-Guava Mocktail
When you serve this delectable ombre mocktail by Martha Stewart, your simple brunch can be transformed into a tropical celebration.
Ingredients
Peeled, cored, and chopped pineapple
Pinch of coarse salt
Ice
½ cup guava or passion fruit juice
1 tablespoon fresh lime juice
2 teaspoons grenadine syrup
Instructions
Pineapple and salt should be pureed in a blender.
Add ice to a pint glass.
Add lime juice and guava or passion fruit juice.
Creme de grenadine syrup added; do not stir.
Add ½ cup of the puree gently with a spoon.
9. Guava Limeade
Learn how to create guava syrup and limeade for a refreshingly unique summer cocktail called the Guava Limeade. A pitcher of this guava mocktail by Garlic & Zest, made with fresh limes, won't last long at a party!
Ingredients
½ cup fresh lime juice
½ cup sugar
1 cup water
1 cup guava vanilla simple syrup
4 cups water or sparkling water
sliced limes
fresh guava
mint leaves
Instructions
Juice the necessary number of limes to make ½ cup of lime juice. Depending on how juicy your limes are, 4-6 limes should be enough. The squeezed limes are added to a pitcher of lime juice.
Water and sugar should be combined in a small saucepan. Stirring occasionally; cook over medium-high heat until the sugar melts. Set aside and allow it cool for about an hour to room temperature.
Take the squeezed limes out of the lime juice and throw them away.
Add lime juice, guava vanilla simple syrup, and the cooled sugar mixture. Stir to blend.
Stir well after adding water or sparkling water to the pitcher.
Add more water, guava simple syrup, or lime juice after tasting the limeade to suit your tastes.
Pour the guava limeade over ice in a glass and serve immediately.
Slices of lime, guava pieces, or a sprig of mint can be used as a garnish. Enjoy!
10. Guava, Strawberry, & Lime Fizz
A refreshing mocktail made with lime juice, strawberry puree, and guava nectar – this Guava, Strawberry, & Lime Fizz by Food in a Minute is quite easy and quick to craft. You can top it with tonic water, but mineral water, soda water, or lemonade would also work well.
Ingredients
½ punnet strawberries, hulled
½ cup ice
400ml guava nectar juice, chilled
1 lime, juiced
300ml tonic water
Water
Ice cubes
Slices of lime
Mint leaves
Instructions
Blend the strawberries in a blender until they are pureed. Blend briefly after adding the guava nectar, lime juice, and ice.
The mixture is added to four small glasses with additional ice cubes.
Fill the glass with tonic water gradually.
Add a lime slice, a mint leaf, and a straw as garnish.
11. Guava Grapefruit Mocktail
No bartending expertise is necessary to prepare this delectable Guava Grapefruit Mocktail by Windy City Dinner Fairy. All you need is a cocktail shaker to blend the remaining ingredients after making the simple rosemary syrup in only a few minutes!
Grapefruit, guava, and rosemary are the ideal blend of acidic, sweet, and herbal flavors. It will undoubtedly become your go-to mocktail this summer! Serve it at a baby shower, consume it in January without alcohol, or consume it at home with seasonal charcuterie and fresh spring rolls.
Ingredients
2 oz guava nectar
2 oz fresh grapefruit juice
1–2 oz tonic water
½ oz rosemary simple syrup
Instructions
Combine the sugar, water, and chopped rosemary in a small saucepan over medium heat to make the rosemary simple syrup. Stirring is necessary to ensure that the sugar dissolves. Cool down.
In a cocktail shaker, combine all the mocktail ingredients.
Pour into an ice-filled glass.
Add a grapefruit slice and a rosemary sprig as garnish.
Unleash The Sweetness and Craft Your Own Guava Mocktail Recipe
Guava mocktails offer a delightful way to explore this incredible fruit's sweetness and tropical essence. With its array of health benefits and refreshing flavors, guava mocktails are a must-try for any beverage enthusiast.
Crafting your own guava mocktail recipe also allows you to control the ingredients, ensuring a healthier and more nourishing beverage. You can choose natural sweeteners, incorporate additional fruits or vegetables for added nutrients, and customize the mocktail to align with your dietary preferences.
Related Articles
Simple syrup is just equal parts granulated sugar and water, which more than lives up to its name. Make simple syrup at home instead of buying it from the store using certain ingredients that you might already have.
You want to order a non-alcoholic drink at a bar but want something other than soda water and Ocean Spray. We've got the list to end all lists!
Guava Mocktails FAQs
What pairs well with guava juice?
Guava juice is a versatile and flavorful ingredient that pairs well with a variety of flavors. Here are some delicious combinations that complement guava juice:
1. Citrus fruits
2. Mint
3. Ginger
4. Pineapple
5. Basil
6. Vanilla
7. Chili pepper
Remember to experiment with these pairings in moderation and adjust the proportions to achieve the desired taste. Whether you're creating mocktails or other beverages, these combinations can help you craft exciting drinks that perfectly complement the unique flavors of guava juice.
Does guava and coconut go together?
Adding coconut water, coconut milk, or coconut cream to guava juice can enhance its creaminess and add a luscious texture to mocktails or beverages.
Whether enjoyed in beverages, desserts, or savory dishes, combining guava and coconut is a popular and delicious choice that showcases the best tropical flavors. The creamy and tropical notes of coconut perfectly complement the sweet and tangy taste of guava, resulting in a harmonious blend of flavors.
Can guava be mixed with banana?
Yes, guava can be mixed with banana to create a delicious and flavorful combination. The sweetness and creaminess of bananas pair well with the tropical and tangy notes of guava, resulting in a harmonious blend of flavors.
It's a versatile pairing that can be enjoyed in various forms, from beverages to desserts. So, don't hesitate to mix these two fruits together and explore the delightful flavors they create.
Is guava juice good for the kidneys?
Guava juice can benefit kidney health due to its properties and nutritional content. However, it's important to note that individual circumstances and medical conditions can vary, so it's always recommended to consult with a healthcare professional for personalized advice.
Guava juice can be a refreshing and nutritious addition to a well-balanced diet that may support kidney health due to its hydrating properties, antioxidants, potassium content, diuretic effects, and nutrient profile.
What citrus goes with guava?
Several citrus fruits pair well with guava, enhancing its tropical flavors and adding a zesty element to the overall taste. 
When using citrus fruits with guava, you can incorporate them in various ways. Squeeze fresh citrus juice into guava-based beverages, sprinkle citrus zest over guava desserts, or add citrus segments to fruit salads that include guava. The citrus flavors will enhance guava's overall taste and aroma, creating a balanced and tantalizing combination.
What do people eat guava with?
Guava is a versatile fruit that can be enjoyed in various ways and paired with various foods. Here are some popular ways people eat guava:
– Fresh
– Fruit salads
– Smoothies and smoothie bowls
– Jams and preserves
– Desserts
– Cheese and charcuterie boards
– Salsas and chutneys
These are just a few examples of how people enjoy guava. Its versatility and unique flavor make it suitable for various culinary creations.