Calling All Eggnog Enthusiasts!
Ready to bring the holiday cheer without the alcohol?
Eggnog, with its rich and creamy texture and warming spice blend, is a beloved holiday tradition. But sometimes, you want to enjoy the festive flavor without the alcoholic kick.
With its rich and creamy texture, Eggnog is a beloved holiday classic that has been cherished for generations.
Traditionally made with a mix of eggs, cream, sugar, and a generous dose of spirits like rum, brandy, or whiskey, eggnog has long been associated with festive celebrations and warm gatherings.
Whether you're abstaining from alcohol, serving a family-friendly version, or simply looking for a non-alcoholic alternative, fear not, eggnog lovers! This guide will show you how to make a delicious non-alcoholic eggnog that everyone at your table can enjoy. 
Let's dive into the non-alcoholic eggnog-making magic!
What Is Eggnog?
The popularity of eggnog during the holiday season can be traced back to a combination of historical, cultural, and culinary factors that have evolved over centuries. While the precise origins of eggnog are somewhat debated, it is widely believed to have its roots in medieval Europe. Here's a brief overview of how eggnog became a beloved holiday tradition:
Medieval Origins: Eggnog's history is intertwined with the traditions of medieval Britain, where a hot, milky ale-based drink called "posset" was popular. Posset was often flavored with spices and sweeteners, making it a comforting beverage during the cold winter. Over time, eggs were added to the mixture, creating a creamy and frothy concoction.
Colonial America: Eggnog made its way to North America during the colonial period, likely brought by European settlers. In the American colonies, ingredients like milk, eggs, and rum were readily available, making it an accessible and festive drink. It was especially popular among the upper classes due to the cost of ingredients like eggs and rum.
Association with Holidays: Eggnog began to be associated with the holiday season for several reasons. First, it was a warm, comforting drink that provided solace during the harsh winter. Second, it often contained spices like nutmeg and cinnamon, which are considered warming and festive. Lastly, adding spirits like rum or brandy made it a celebratory beverage, perfect for toasting to the season.
Social Gatherings: Eggnog became a symbol of hospitality and friendliness, making it a staple at holiday gatherings and parties. It was often served in large communal bowls, where guests would gather around to share stories and raise their glasses in a toast.
Evolution and Adaptation: Over time, eggnog recipes evolved to accommodate regional variations and personal preferences. Some regions substituted rum with other spirits like bourbon or whiskey, while others omitted alcohol altogether. Non-alcoholic versions also gained popularity, making eggnog accessible to a wider audience.
Commercial Production: In the 20th century, the commercial production and distribution of eggnog became widespread. Pre-packaged eggnog became available in grocery stores during the holiday season, making it even more convenient for people.
Today, eggnog continues to be a cherished part of holiday traditions in many parts of the world. Whether served hot or cold, alcoholic or non-alcoholic, it symbolizes warmth, togetherness, and the festive spirit that defines the holiday season.
Non-Alcoholic Eggnog Recipes For Everyone To Enjoy
Eggnog, with its luscious blend of creamy textures and warm, spiced flavors, has long been a hallmark of holiday festivities. Yet, for those who prefer to skip the alcohol or seek a family-friendly version, the world of non-alcoholic eggnog recipes offers a delightful alternative.
This collection of non-alcoholic eggnog recipes invites you to discover the art of crafting this beloved seasonal treat without a drop of alcohol.
Non-Alcoholic Eggnog
Homemade eggnog without alcohol is rich, sweet, creamy, and smooth. This well-known Christmas beverage is stove-cooked and alcohol-free. It's much simpler than you might think to create homemade eggnog from scratch.
Ingredients
2

cups

heavy cream

1½

teaspoons

nutmeg

freshly grated

3

cups

whole milk

1

tablespoon

vanilla extract

3

eggs

room temperature

4

egg yolks

room temperature

⅓

cup

sugar

¼

teaspoon

salt

whipped cream

optional, for topping

ground cinnamon

optional, for topping

extra nutmeg

optional, for topping
Instructions
Combine milk and vanilla in a medium saucepan. Cook while occasionally stirring over medium heat until milk begins to steam and bubbles appear around the edges.

In a separate mixing dish, briskly whisk the eggs, yolks, sugar, and salt, for about 3 to 5 minutes.

Slowly pour the milk in with eggs, 1 cup at a time initially, and whisk to mix. Pour the mixture back into the saucepan and cook it over low heat, continually stirring, for about 6 minutes, or until it reaches 165 F.

Filter into a mixing bowl or picture.

Refrigerate uncovered for at least two hours to cool properly.

Pour eggnog into glasses, only filling them ¾, to serve. Add whipped cream if desired, ground cinnamon, and grated nutmeg on top.
Condensed Milk Eggnog
Condensed Milk Eggnog is the ideal holiday pleasure because it is so thick, rich, and indulgent. Using sweetened condensed milk, this simple homemade eggnog recipe from Country Hill Cottage is expertly spiced with cinnamon, vanilla, and nutmeg. The entire family will love this non-alcoholic eggnog!
Ingredients
4 egg yolks
1 ⅓ cups / 400 g sweetened condensed milk
2 cups milk (or 3 cups for a lighter eggnog)
½ tsp pure vanilla extract
½ tsp ground cinnamon
¼ tsp ground nutmeg
whipped cream (optional, for topping)
ground nutmeg (optional, for topping)
cinnamon sticks (optional, for topping)
Instructions
A big saucepan should be used to mix the egg yolks and sweetened condensed milk. Separate the yolks and fully mix them into the condensed milk.
Add the milk, cinnamon, nutmeg, vanilla, and so forth. Set the heat to medium-low on the stove. For 8 to 10 minutes, simmer. The eggnog is ready When the mixture coats the back of a spoon. The mixture should not be boiling, or the yolks may curdle. It should reach 160°F/71°C if using an infrared thermometer or candy thermometer.
Once thickened, remove the pot from the heat and wrap it in plastic or cling film. Give it time to reach room temperature. When you're ready to serve, pour the eggnog into an airtight bottle or storage container and place it in the refrigerator.
Eggnog can be served hot or cold. Add whipped cream, a cinnamon stick, and a little ground nutmeg as a garnish, if preferred. Enjoy!
Dairy-Free Eggnog
Introducing a light, healthy, and Dairy-Free Eggnog that may be enjoyed guilt-free throughout the holiday season. This recipe from A Sweet Pea Chef is handmade, delicious, and non-alcoholic. Making healthy eggnog is made most simple by using almond milk. And a tasty way at that.
Ingredients
4 cups unsweetened almond milk
6 egg yolks
⅔ cup raw honey
1 tsp ground nutmeg, plus more for topping
1 ½ tsp ground cinnamon, plus more for topping
1 tbsp whole cloves
1 tsp pure vanilla extract
Instructions
Add the egg yolks, raw honey, ground cinnamon, nutmeg, and unsweetened almond milk to a kitchen blender and mix until smooth.
Place the whole cloves in a saucepan or deep pot with the mixture and simmer over medium-low heat.
Cook the eggnog and eggs steadily for 10 to 15 minutes or until the mixture thickens. At first, it will be foamy.
The mixture should heat up but not boil or simmer. If it starts to boil, stir briskly and take the pan off the heat for a while.
Remove the eggnog from the heat after thickening, then mix in the vanilla extract.
Pour the mixture into an airtight container and refrigerate in the refrigerator for 6 to 8 hours, or overnight, after straining the mixture through a fine mesh strainer to remove the cloves.
Sprinkle a little nutmeg and cinnamon on top when it's time to serve.
Banana Eggnog
Now, this non-alcoholic Banana Eggnog recipe is another way to be healthy! Cocktail Ways made this easy to make and very simple, with ingredients that you can easily get from the nearest grocery store.
Ingredients
2 eggs
1 ½ oz sugar syrup
1 banana
3 oz ml milk
Instructions
Eggs and sugar syrup are combined until foamy.
Slice the peeled banana thinly, add it to the mixture, and blend it again with milk.
Serve ice-filled highball cups with a teaspoon.
Gingerbread Eggnog Mocktail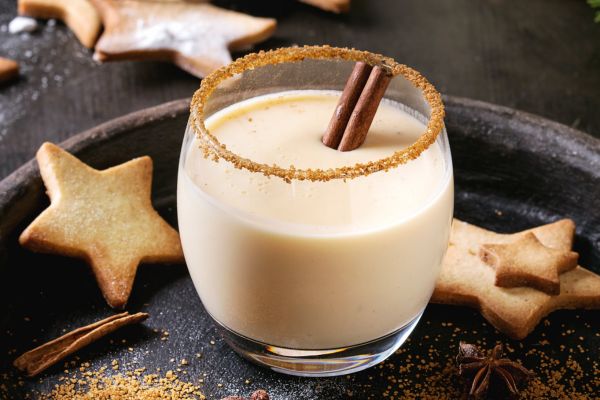 The ideal justification for extending your season-long celebration of friends and family is holiday gatherings. Serve everyone a memorable beverage, like this decadent Gingerbread Eggnog Mocktail by Orchid + Sweet Tea! To keep this drink alcohol-free, you can make a great homemade Kahlua alternative.
Ingredients
For the Kahlua substitute:
1 teaspoon espresso powder
1 tablespoon organic brown sugar
¼ cup water
For the mocktail:
2 cups high-quality eggnog
2 tablespoons molasses
1 teaspoon ground ginger
½ teaspoon ground cinnamon
½ teaspoon ground nutmeg
Instructions
For the Kahlua substitute:
Add the water, espresso powder, and brown sugar to a saucepan over medium-high heat and stir until the sugar is dissolved.
Bring to a very tiny boil, then turn off the heat.
Allow to cool.
For the mocktail:
The eggnog, Kahlua substitute combination, molasses, ginger, cinnamon, and nutmeg should all be blended in a bowl with the eggnog.
Crushed ice should be added to the glass(es), followed by the gingerbread eggnog mixture and whipped cream.
Crush a couple of gingersnap biscuits and add whipped cream as a garnish.
Try A Non-Alcoholic Eggnog Recipe Today
As we bring our exploration of non-alcoholic eggnog recipes to a close, we hope you're inspired to embark on a flavorful journey this holiday season. These recipes offer a taste of the cherished eggnog tradition reimagined without alcohol.
May these recipes add a dash of extra joy to your holiday gatherings, reminding us all that the season's true spirit lies in coming together and celebrating life's simple pleasures. Cheers to a wonderful holiday season filled with love, laughter, and delicious eggnog!
Related Articles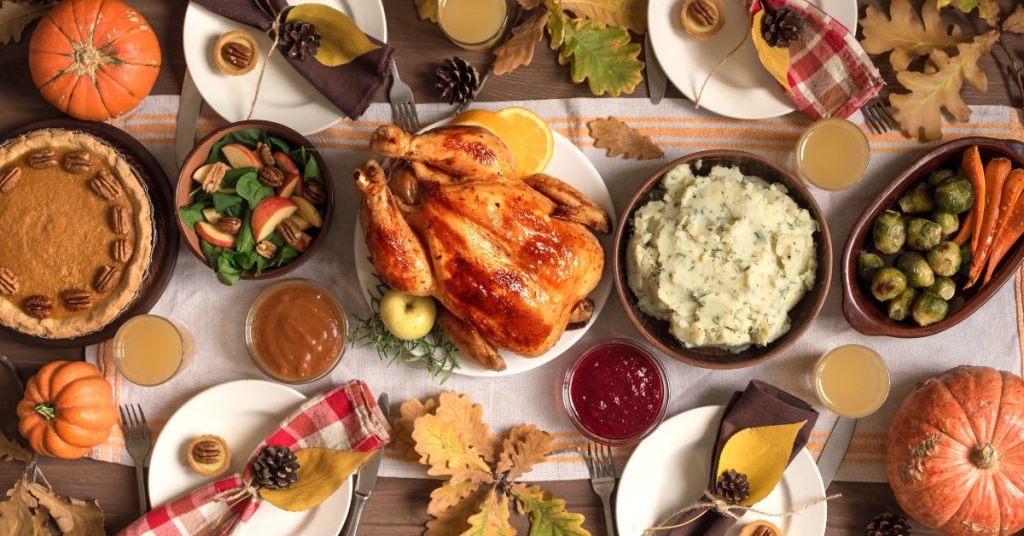 Planning to have a sober Thanksgiving with friends and family? It can look a lot different this year, though. Here are some tips and tricks on preparing for a sober Thanksgiving!
Whatever your reason is for not drinking on a special occasion, here are some delectable non-alcoholic New Year's Eve drinks for the whole family.
How To Make Eggnog Without Alcohol FAQs
Is eggnog safe to drink without alcohol?
Yes, eggnog is absolutely safe to drink without alcohol. In fact, there are many non-alcoholic versions of eggnog available, and they are a popular choice for individuals who prefer not to consume alcohol or for family-friendly gatherings. Non-alcoholic eggnog retains the delicious creamy and spiced flavors of traditional eggnog without the addition of spirits.
What is non-alcoholic eggnog made of?
Non-alcoholic eggnog is typically made with a base of milk, cream, or a non-dairy milk substitute like almond or soy milk. It includes ingredients such as eggs (usually yolks), sugar, and spices like nutmeg and cinnamon for flavor. Some recipes also incorporate vanilla extract for additional depth of taste. Non-alcoholic eggnog may be sweetened with sugar or sweeteners like maple syrup or honey.
What is a good non-alcoholic substitute for rum in eggnog?
If you're looking for a non-alcoholic substitute for rum in eggnog, you have a few options:
1. Rum Extract: Rum extract is a non-alcoholic flavoring that can provide a similar rum-like essence to your eggnog without the alcohol content. You can add a small amount of rum extract to taste.
2. Vanilla Extract: While not a perfect replacement, vanilla extract can add depth and complexity to your eggnog, creating a rich flavor reminiscent of traditional eggnog.
3. Almond Extract: A tiny amount of almond extract can also be used to enhance the flavor profile of your eggnog, giving it a unique twist.
What makes non-alcoholic eggnog taste like eggnog?
Non-alcoholic eggnog gets its distinctive eggnog flavor from a combination of ingredients and spices. Key components include the creamy texture of the milk and cream, the richness of the egg yolks, and the sweetness of sugar. The characteristic eggnog flavor comes primarily from the use of spices like nutmeg and cinnamon, which provide a warm and spiced taste that defines this holiday classic.
How long will non-alcoholic homemade eggnog last?
The shelf life of non-alcoholic homemade eggnog is similar to that of traditional eggnog. When stored in the refrigerator at or below 40°F (4°C), consuming for about 3-4 days should remain safe. However, its flavor and texture may change, so enjoying it within a day or two is best for the freshest taste. Be sure to refrigerate it promptly after preparation and give it a good stir before serving if it has separated.