The Virgin Tom Collins, a timeless classic in the world of non-alcoholic cocktails, has long been celebrated for its crisp and invigorating taste. But what if we told you that there are even more variations of this beloved drink waiting to be discovered?
In this exploration of libations, we invite you to embark on a journey through the world of mixology as we unveil five refreshing twists on the Virgin Tom Collins, each offering a unique and tantalizing experience for your palate.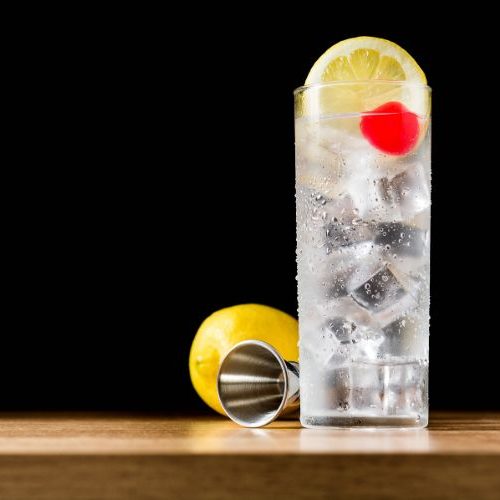 The Classic Virgin Tom Collins Recipe
This Virgin Tom Collins perfectly captures the best qualities of the original recipe. The best part is that it just requires four ingredients (including ice) and is simple to convert to a keto/low-carb recipe. This mocktail is light, sweet, bubbly, and incredibly refreshing with non-alcoholic gin alternative!
Ingredients
2

ounces

non-alcoholic gin alternative

1

ounce

lemon juice

freshly squeezed

½ – 1

ounce

simple syrup

depending on how sweet you like

2 – 3

ounces

club soda

1

cup

ice
Instructions
Ice should be put in a cocktail shaker. Pour the simple syrup, non-alcoholic gin, and lemon juice into the cocktail shaker after measuring them. Cover firmly and shake vigorously.

Ice cubes should be placed in a tall glass. Over the ice, pour the mocktail mixture.

The glass should be filled all the way up with club soda before being topped off, garnished, and served.
Pink Virgin Tom Collins
With this traditional, century-old cocktail, you'll feel as though you've traveled back in time. Due to its simplicity and ideal balance of ingredients, it remains popular today. A Pink Virgin Tom Collins is a tasty beverage that can be offered at any time. Simply combine a pink gin alternative with sugar syrup, lemon juice, soda water, and ice in this recipe by Sans Drinks!
Ingredients
50ml Ms Sans Cherry Blossom Blush
15ml sugar syrup
25ml lemon juice
Top with soda water
Lemon slice to garnish
Fresh cherry to garnish
Instructions
In a cocktail shaker, combine ice, gin, lemon juice, and sugar syrup. Shake vigorously.
Add soda water to the top and strain into a Martini or Collins glass. Add ice.
Add a lemon slice and a fresh cherry as a garnish.
Non-Alcoholic, Sugar-Free Cucumber Tom Collins
With only three ingredients, you can make this healthy, sugar-free Tom Collins mocktail in only 5 minutes. This least sweet and most reviving mocktail you've ever had is just as good as the real thing. All you need is soda water with cucumber and lemon in this recipe by Always Use Butter.
Ingredients
½ cucumber (peeled)
1 lemon juice
3 ounces soda water
Ice cubes
Cucumber and toothpicks (for decorating)
Instructions
Blend the peeled cucumber in a blender until there are no longer any noticeable chunks.
In a shaker, combine the lemon juice and cucumber puree. Shake vigorously for 15 seconds.
The cucumber-lemon mixture should be poured over ice in a highball glass.
Add soda water on top, then add any finishing touches. Serve right away!
Cool Collins (Non-Alcoholic)
This Cool Collins is created essentially the same way as the gin-based variant. The flavor is decent, resembling sparkling lemonade with mint.
The original recipe calls for mixing sugar and mint in a shaker before pouring the mixture into a highball glass. But Jolly Bartender thinks this approach destroys the allure of the minty lemonade. That's why, in this recipe, we use a tiny filter to remove the mint before pouring the remaining liquid over new ice. This sparkling lemonade gives you a refreshing bite that reminds you of the original hard liquor drink.
Ingredients
2 oz. lemon juice
1 tsp. sugar
7 mint leaves
sparkling water
lemon slice
mint sprig
Instructions
Before adding lemon juice and ice to a drink shaker, muddle mint and sugar.
Shake with fresh ice in a Collins glass, and then fine filter.
Add sparkling water on top while stirring.
Lemon slices and mint sprigs are used as garnish.
Raspberry Lychee Tom Collins Mocktail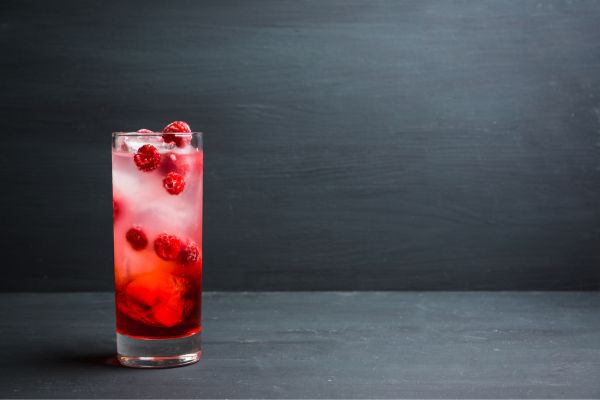 This Sparkling Raspberry Lychee Collins Mocktail by The Sage Apron is tangy, fruity, and fresh! The wonderful fruity explosion and fun pink hue of this beverage are caused by the fresh raspberry and lychee syrup.
Everyone will love sipping on this Raspberry Lychee Collins Mocktail in the spring and summer. It is incorporated with a fizzy dash of soda water.
Ingredients
For the raspberry lychee simple syrup:
20 ounce can of lychee fruit in syrup
1 pint fresh raspberries
1 cup granulated sugar
1 cup filtered water
For the mocktail:
1¼ ounce raspberry lychee simple syrup
1¼ ounce lemon juice, preferably freshly squeezed
Ice as needed for shaking and serving
6 ounces soda water
Raspberries (optional, for garnishing)
Instructions
For the raspberry lychee simple syrup:
Combine the lychee fruit in syrup, raspberries, sugar, and water in a medium saucepan. Over high heat, bring to a boil while stirring occasionally.
Turn down the heat, cover, and simmer for ten minutes. The syrup should be taken off the heat and given some time to cool.
Transfer the syrup into a blender after it has cooled. All components should be well puréed and emulsified after 2 minutes of blending at medium-low speed.
The syrup should be strained using cheesecloth or a fine mesh strainer.
Refrigerate your Raspberry Lychee Syrup until you're ready to use it. The syrup can be prepared in advance and stored in the refrigerator for up to two weeks.
For the mocktail:
The Raspberry Lychee Collins Mocktail materials should be gathered, measured, and prepared as directed. Combine lemon juice and raspberry lychee syrup in a cocktail tin with ice. Shake vigorously for 30 seconds.
Pour the lemon-syrup mixture into a Collins glass (or other suitable cocktail vessel).
After that, pour fresh ice into the glass to serve.
Add soda water to the glass's rim. Gently blend by stirring.
Add more raspberries or a lemon wheel or twist as desired to the Raspberry Lychee Mocktail's garnish. Serve right away and enjoy!
Yuzu Tom Collins Mocktail
On a sweltering summer day, a Yuzu Tom Collins mocktail is ideal. It has a subtle citrus flavor and is tasty and refreshing. It is the ideal beverage for cooling off on a hot day.
You can quickly prepare a delectable summer drink with just two ingredients and a quick mix. This recipe by Casa Desai is quite easy to make and is a wonderful way to enjoy a traditional cocktail without getting wasted or having a full night out.
Ingredients
1.5 ounces non-alcoholic gin
2 ounces Yuzu Sparkling Juice
4 ounces Yuzu Sparkling Water
Ice
Simple Syrup (optional as the juice is already sweetened)
Instructions
Add ice to a Collins glass.
Yuzu sparkling juice and non-alcoholic gin should be added, then whisk.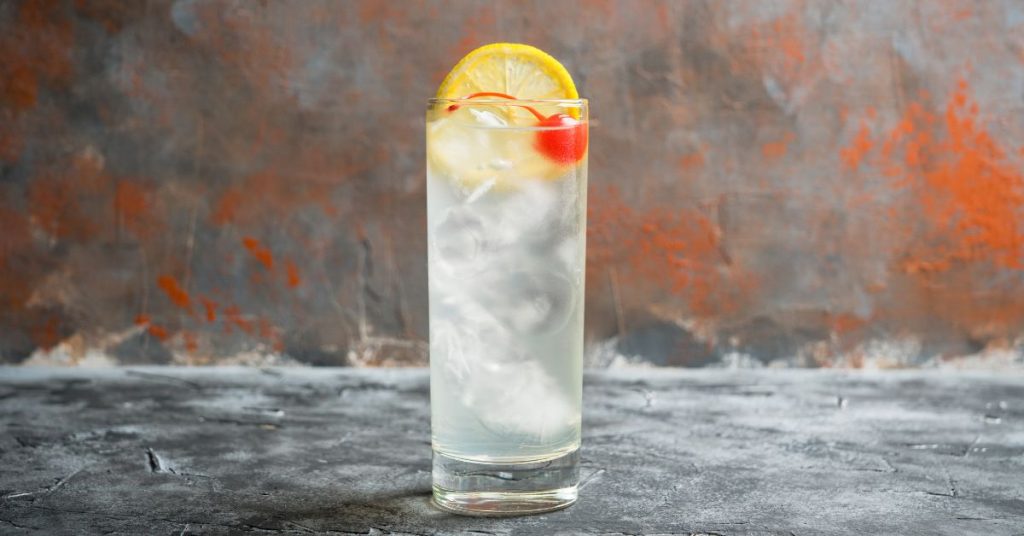 Start Serving Your Virgin Tom Collins Recipe At Parties
Start serving your Virgin Tom Collins recipe at parties, gatherings, and special occasions, and watch as your guests revel in the burst of flavors and the vibrant experience these cocktails offer. This is where every occasion becomes an opportunity to indulge in the art of mixology and share unforgettable moments with those you cherish.
As we've delved into the art of mixology, uncovering exciting twists on this classic, one thing becomes abundantly clear: these delightful concoctions are not just reserved for the bar. It's time to take these tantalizing drinks to the next level and recreate them in your own home. So, why wait?
Related Articles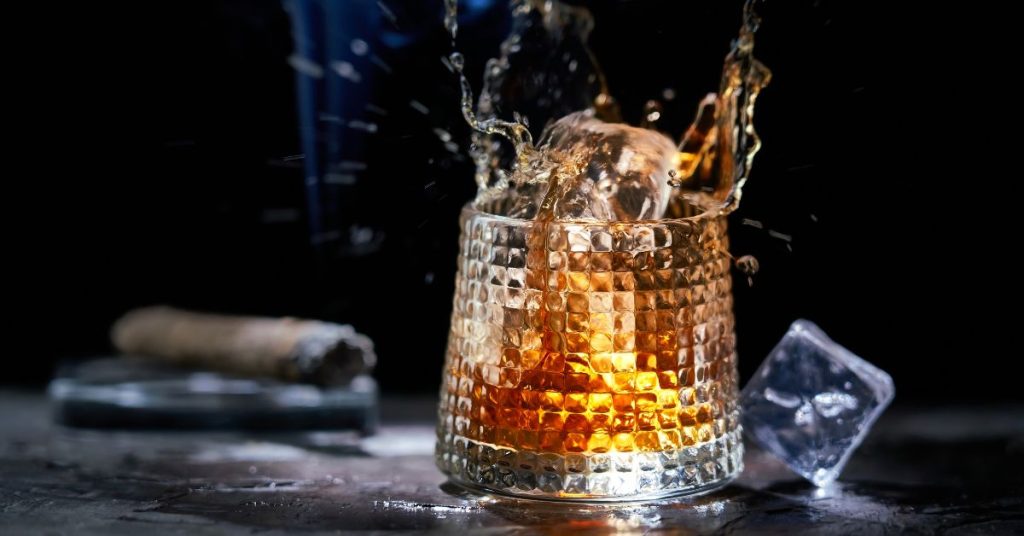 Ritual Zero Proof is one of the fastest-growing brands in the non-alcoholic drink space. Here's what you need to know to prepare your Ritual zero-proof drinks at home.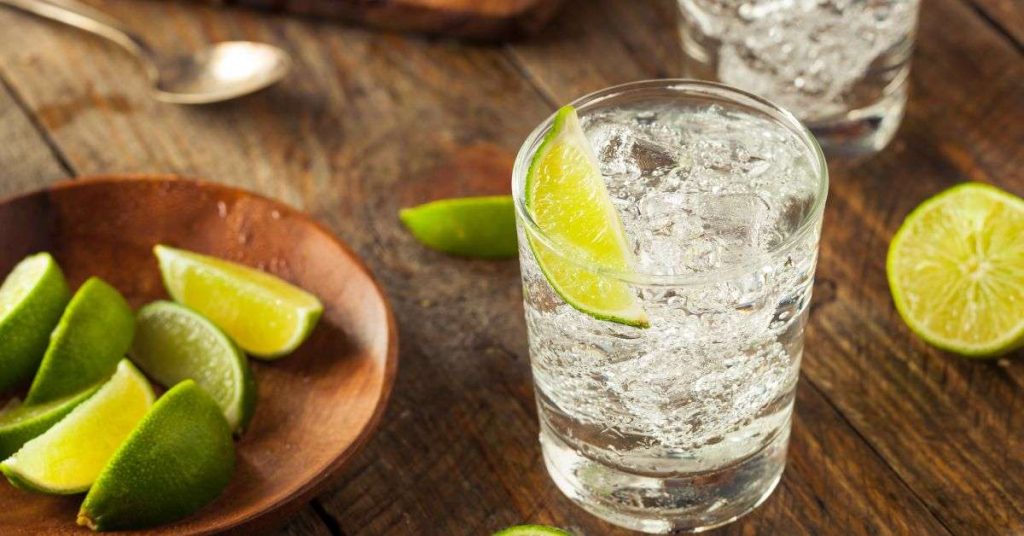 A non-alcoholic gin and tonic mocktail sounds boring. But we use a secret ingredient. It's lavender bitters. Yep. You'll never look at a G&T the same way again.
Virgin Tom Collins FAQs
Why is the drink called a Tom Collins?
The Tom Collins is believed to have originated in the 19th century and was named after a popular hoax that swept through New York City. According to the legend, a prankster would tell people that a man named Tom Collins was spreading false rumors about them at a nearby bar, leading people on a wild goose chase to confront this non-existent Tom Collins. 
How is Virgin Tom Collins served?
A Virgin Tom Collins is typically served in a highball glass filled with ice. Here's a basic recipe:
– Fill the glass with ice cubes.
– Add 2 oz of non-alcoholic gin alternative
– Squeeze the juice of half a lemon into the glass.
– Add 1 oz of simple syrup (sugar syrup) for sweetness.
– Top up with club soda or sparkling water.
– Stir gently to mix the ingredients.
Garnish with a lemon slice and a maraschino cherry, if desired.
Do all bartenders know what a Virgin Tom Collins is?
While the Virgin Tom Collins may not be as widely known as its alcoholic counterpart, most professional bartenders should be familiar with the concept of a "virgin" or non-alcoholic cocktail. However, the availability of specific non-alcoholic gin alternatives and the exact recipe may vary depending on the bar and the region.
What is the best non-alcoholic gin to use in a Tom Collins?
Some popular non-alcoholic gin alternatives include Seedlip, Lyre's, and Ritual Zero Proof. The "best" one often comes down to personal preference, as they can have distinct botanical profiles and flavors. It's a good idea to try a few different options and see which one you enjoy the most in your Tom Collins. Additionally, you can experiment with different brands to find the perfect match for your taste buds.