As the leaves begin to don their vibrant hues and a crispness creeps into the air, pumpkin spice drinks bring aroma and flavor seamlessly to bridge the transition from summer to fall. This beloved seasonal blend of cinnamon, nutmeg, cloves, and ginger has become synonymous with comfort, warmth, and the cozy embrace of autumn.
While pumpkin spice is often associated with lattes and baked goods, its versatile charm extends far beyond caffeinated concoctions. For those who prefer to skip the alcohol without sacrificing the season's essence, a delightful array of non-alcoholic pumpkin spice drinks awaits your creativity and taste buds.
Jump to Recipe
The Origins of Pumpkin Spice Drinks
Pumpkin spice drinks have their ancient origins. The main ingredients of this combination, cinnamon, nutmeg, cloves, and ginger, were revered for their fragrant properties, therapeutic benefits, and culinary potential. These spices have enhanced food with their distinct warmth and complexity since ancient Egypt, India, and China.
The spice trade flourished during the Middle Ages as traders and explorers traveled great distances to get these unusual tastes. Spices were valued as symbols of wealth and prestige because they improved food flavor and worked well as preservatives. The broad range of flavors that we experience today would be made possible by this cross-continental interaction.
European exploration of the Americas resulted in a revolutionary combination of culinary styles. The adaptable and abundant pumpkin crop was a staple of Native American cuisine and various other spices. This fusion of local ingredients and Old World flavors built a bridge across continents and gave rise to the earliest forms of foods flavored with pumpkin spice.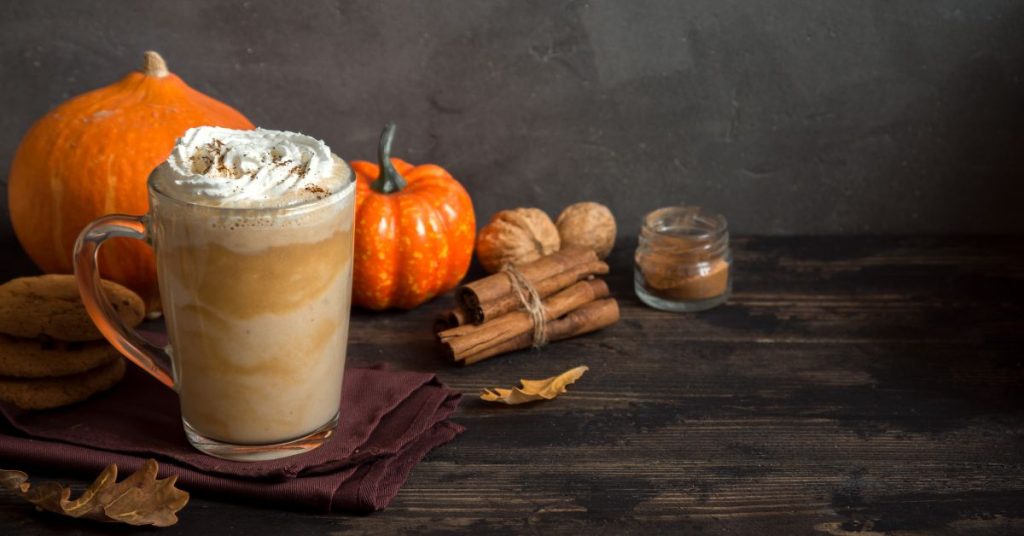 As the years passed, pumpkins and spices appeared in family kitchens and customary harvest feasts. The idea of pumpkin spice cocktails has been circulating for centuries, but it required a contemporary twist to make it a global phenomenon. Starbucks revolutionized how Americans enjoyed fall when it released the Pumpkin Spice Latte in 2003. The drink's popularity sparked a trend that expanded throughout kitchens and coffee shops, inspiring experimentation with pumpkin spice in different beverages.
The appeal of pumpkin spice exceeded its status as a seasonal latte flavor. The enthusiasm spread to include a variety of commodities, including baked goods and scented candles. Every autumn, fans eagerly await the return of goods flavored with pumpkin spice as a sign of the coming of cool weather and changing leaves.
7 Non-Alcoholic Pumpkin Spice Cocktails To Try
For those seeking the essence of autumn in every sip but without the inclusion of alcohol, we present a curated collection of 7 tantalizing non-alcoholic pumpkin spice cocktails. From velvety textures to invigorating blends of spices, these concoctions offer a spirited experience that perfectly captures the magic of fall sans the spirits.
In addition to these amazing pumpkin mocktails be sure to check out this creamy and delicious pumpkin smoothie recipe we found. When it's pumpkin season you can never have too many options!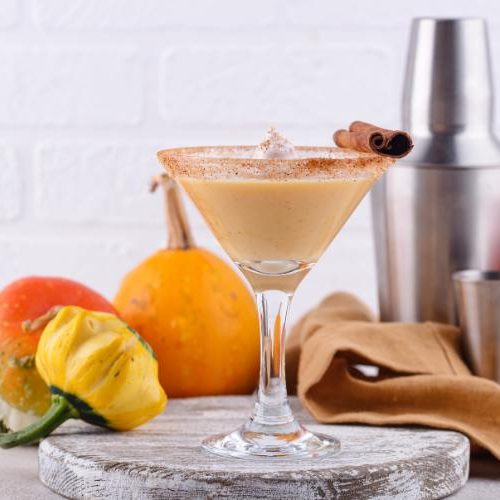 Pumpkin Spice Espresso Martini Mocktail
A pumpkin spice spin on the popular Espresso Martini can contain a real-deal pumpkin, elevated by a sweet syrup, a mix of velvety pumpkin puree and pumpkin pie spice. This Pumpkin Spice Espresso Martini Mocktail is the perfect drink to snuggle up with during cooler months!
Ingredients
1 1/2

ounces

vanilla extract

1

ounce

espresso

1/2

ounce

pumpkin spice syrup

store-bought or homemade

2

ounces

coconut milk

Nutmeg

for garnish
Instructions
Add all ingredients to a cocktail shaker with ice, excluding the nutmeg. Shake for 10 seconds.

Strain the mixture into a martini glass.

Add some nutmeg at the top as a garnish.
Pumpkin Spice White Russian
You must sip on this Pumpkin Spice White Russian Mocktail this season. With the addition of pumpkin spice creamer, this festive fall beverage gives a traditional White Russian mocktail the ideal pumpkin flavor. Since this original recipe by The Cookie Rookie is alcoholic, we will convert this drink into a non-alcoholic one. It's incredibly wonderful, creamy, and dreamy!
Ingredients
3 ounces non-alcoholic vodka
3 ounces pumpkin spice creamer
1.5 ounces coffee syrup
Whipped Cream and pumpkin pie spice (for garnish)
1 teaspoon pumpkin pie spice
1 teaspoon sugar or sparkling sugar
3 tablespoons crushed graham crackers
Instructions
Mix the pumpkin pie spice, sugar, and crushed graham crackers on a small plate. The rims of your glasses should first be wetted, then dipped into the graham mixture. Press the glasses softly to coat.
Put ice in a big cocktail shaker and add the non-alcoholic vodka, creamer, and coffee syrup. Lightly shake until well combined and chilled.
Pour into glasses, then top with pumpkin pie spice whipped cream.
Enjoy!
Pumpkin Non-Alcoholic Irish Cream
This homemade Pumpkin Non-Alcoholic Irish Cream by Cake N Knife is ideal for your usual coffee this fall. Irish cream has a rich, creamy flavor and is infused with comforting spices and hearty pumpkin. Drink it simply over ice, add it to mocktails, or both!
Ingredients
1 can (12-oz) evaporated milk
1 cup heavy whipping cream
½ cup 2% milk
¼ cup sugar
2 Tbsp chocolate syrup
1 Tbsp instant coffee granules
2 tsp vanilla extract
¼ tsp almond extract
½ tsp pumpkin pie spice
¼ cup canned pumpkin puree
Instructions
Add all the ingredients to a blender. Blend until smooth.
The mixture should be put in an airtight container and kept in the fridge.
Mix ½ cup of freshly made coffee with ⅓ cup of the Irish cream mixture. If preferred, reheat in the microwave.
Old Fashioned Pumpkin Soda
Real pumpkin is used in this recipe by Rhubarbarians for Old Fashioned Pumpkin Soda. This is the ideal non-alcoholic fall beverage for children's Halloween parties. Add some sprinkles and whipped cream on top!
Ingredients
For the pumpkin spice syrup:
1 cup water
1 cup sugar
1 tablespoon pumpkin puree
1 teaspoon pumpkin pie spice
For the soda:
72 ounces cold soda water or sparkling water
Whipped cream for topping
Sprinkles for topping (optional)
Instructions
For the pumpkin spice syrup:
In a small pan over medium heat, combine the sugar and water. Stir in the spice after adding the pumpkin puree to dissolve everything. Remove from heat. Give it around 20 minutes to cool.
Pass the mixture through a fine mesh sieve lined with cheesecloth to get rid of the sediment.
For the soda:
Pour 1 ounce of the pumpkin syrup into each glass. Add 6 ounces of soda water to the top. Whipping cream and garnishes go on top as well.
Alternately, combine the soda water and pumpkin syrup in a sizable pitcher. Before serving, stir the soda thoroughly, and let the guests decorate it with whipped cream and sprinkles before consuming.
Pumpkin Punch
Pumpkin recipes are one of the finest things about the fall season. This non-alcoholic Pumpkin Punch recipe by 3 Boys and a Dog is a fun favorite. You'll appreciate the results of this straightforward drink if you're looking for enjoyable, delicious, and uncomplicated pumpkin recipes!
Ingredients
1 cup water
1 cup sugar
¼ teaspoon cinnamon
4 cups apple cider
1 cup orange juice
1 28-ounce can pumpkin puree
2 cups club soda
Sliced orange for garnish
Cinnamon sticks for garnish
Instructions
In a small saucepan, mix the cinnamon, sugar, and water. Cook the sugar until it dissolves over medium heat. Remove from the heat and let cool.
Combine the apple cider, orange juice, and pumpkin puree in a sizable punch bowl. Blend all the ingredients and continue whisking until the pumpkin is creamy.
Club soda and cinnamon syrup should be stirred in gently.
Orange slices and cinnamon sticks are used as a garnish.
Pumpkin Nog
This creamy and rich Pumpkin Nog by Creme de la Crumb is quite different than the original because it's kid-friendly ad egg-free. It is made with simple, healthy ingredients like milk and puréed pumpkin, making it ideal for the holiday season.
Ingredients
2 ½ cups fat-free milk
4 tablespoons real maple syrup
¼ cup pumpkin purée
1 teaspoon vanilla extract
2 teaspoons ground cinnamon
½ teaspoon ground nutmeg
½ teaspoon pumpkin pie spice (plus more for serving if desired)
¼ teaspoon ground ginger
5 tablespoons sugar-free instant vanilla pudding mix
¾ cup canned light whipping cream
Instructions
Blend or process the ingredients until smooth: milk, maple syrup, pumpkin purée, vanilla, cinnamon, nutmeg, pumpkin pie spice, and ginger.
Add the vanilla pudding mix. Once slightly thickened, cover and refrigerate.
Serve immediately, cold, or move to a saucepan and heat until well heated.
Add one tablespoon of caramel sauce and ¼ cup of whipped cream on top.
Add more pumpkin pie spice as a garnish before serving.
Pumpkin Spiced Cider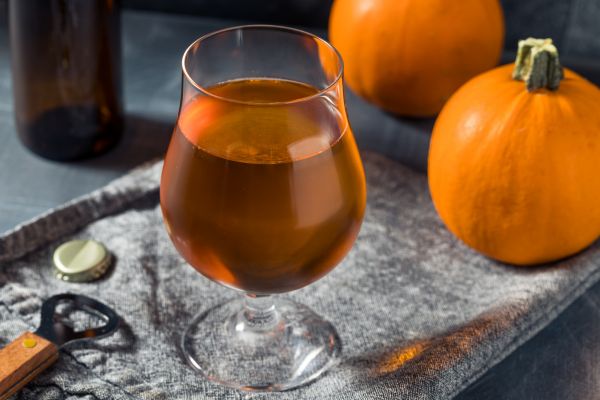 One drink with all the comforting flavors of fall! This wonderful slow cooker-made Pumpkin Spice Cider by Olivia's Cuisine will uplift your mood and fill your home with a joyful aroma.
Ingredients
For the pumpkin syrup:
1 cup pumpkin purée
⅓ cup brown sugar
¼ cup water
1 teaspoons pumpkin spice
1 teaspoon pumpkin spice extract
For the spiced cider:
6 cups Apple cider
1 orange, sliced
15 cloves
3 cinnamon sticks
2 star anise (optional)
Instructions
Bring the pumpkin puree, brown sugar, water, pumpkin spice, and pumpkin extract to a boil in a small saucepan. After it boils, turn down the heat and let it simmer, stirring occasionally, for approximately 10 minutes or until it thickens and turns into syrup.
While you wait, stud the orange slices with the cloves and set aside.
Stirring to mix, add the ingredients and syrup to the slow cooker.
Cook on low for two to three hours or until warm and fragrant, covered.
Slices of orange and cinnamon should be removed, and the drink can now be served.
Enjoy The Fall Flavors With Pumpkin Spice Drinks
In the embrace of autumn's enchanting allure, there's a symphony of flavors that paints the season with its own unique palette. From the first sip to the lingering aroma, indulging in pumpkin spice drinks is like experiencing a sensory journey through the essence of fall itself.
The evolution of pumpkin spice—from ancient traditions to modern-day delights—serves as a reminder of the timeless connection between culture and cuisine. Pumpkin spice drinks evoke scenes of crackling fires, gatherings with loved ones, and the pure joy of embracing the season's magic. Cheers to enjoying fall's flavors, one pumpkin spice-infused drink at a time.
Related Articles
Have you noticed a rise in the popularity of coffee-based cocktails without alcohol? Our non-alcoholic espresso martini collection will have something for everyone. We've taken the best of the best and listed them here.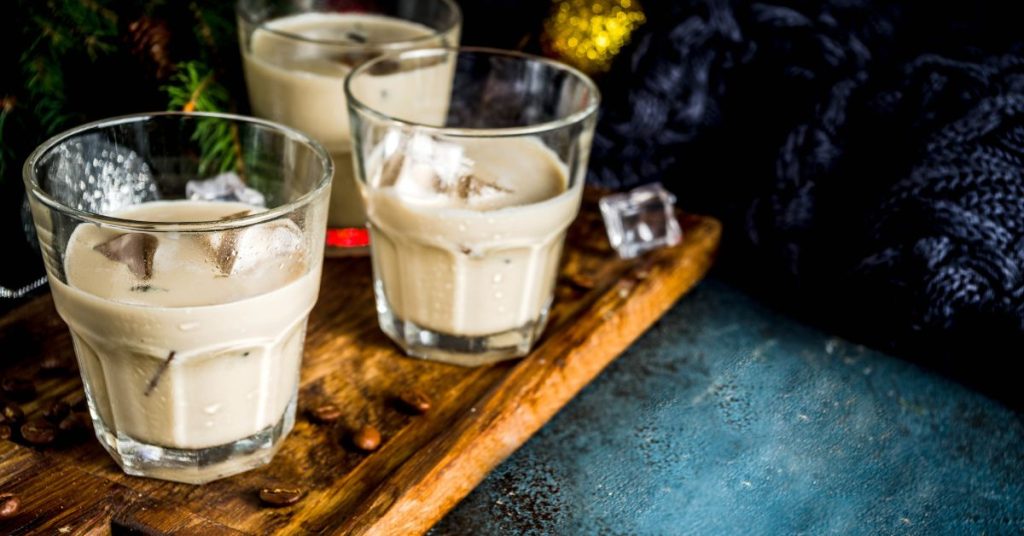 The non-alcoholic Irish Cream recipe we've got for you is a fantastic option if you're giving up alcohol. The drink is ideal for Christmas, Thanksgiving, or just because.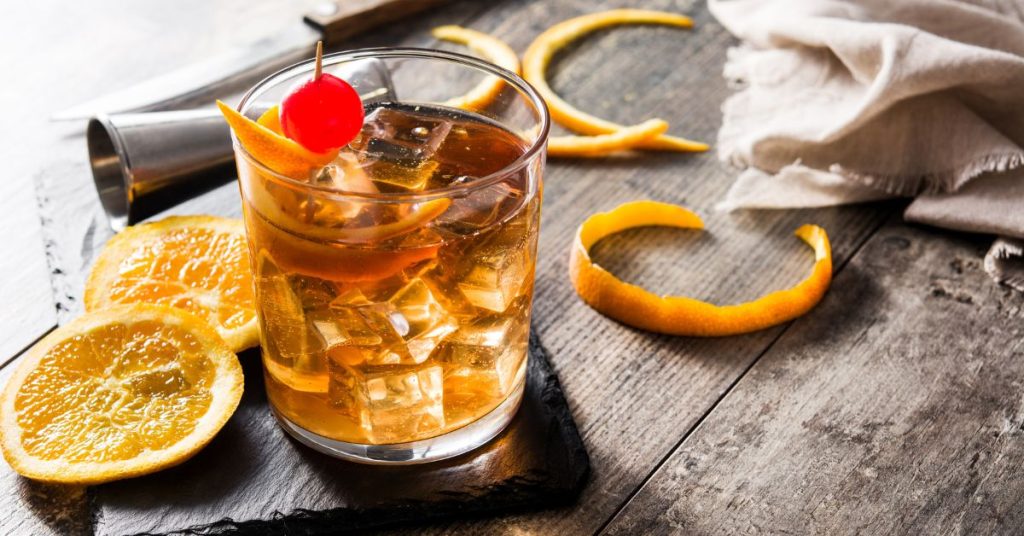 Non-alcoholic Old Fashioned mocktails are as timeless and classic as the traditional ones for their rich and sophisticated flavors. This article explores 8 non-alcoholic Old Fashioned recipes that offer a delightful array of flavor profiles.
Non-Alcoholic Pumpkin Spice Drinks FAQs
What pairs well with pumpkin spice?
Pumpkin spice is a versatile flavor profile that pairs well with a variety of ingredients, enhancing both sweet and savory dishes. Here are some ingredients that pair wonderfully with pumpkin spice:
1. Creamy dairy
2. Coffee and chocolate
3. Nuts
4. Maple syrup
5. Apples
6. Ginger
7. Cinnamon
8. Cloves and Nutmeg
9. Honey
10. Vanilla
11. Oats and Grains
Is pumpkin spice a fall drink?
The popularity of pumpkin spice is particularly noticeable during the fall months, as it has become a seasonal trend to incorporate this flavor into various beverages, such as lattes, hot chocolates, and teas. The Pumpkin Spice Latte, for example, is an iconic fall beverage that has contributed to the widespread association of pumpkin spice with the autumn season.
What is in the average pumpkin spice drink?
Pumpkin spice is not a drink itself but rather a flavor profile that is often associated with fall and is commonly used to create fall-themed beverages and dishes. Pumpkin spice blends typically include spices like cinnamon, nutmeg, cloves, and ginger, which evoke the warm and cozy flavors associated with the autumn season.
What makes pumpkin spice flavor so popular?
The popularity of pumpkin spice flavor can be attributed to a combination of factors that evoke nostalgia, comfort, and sensory appeal. It is strongly associated with the fall season, a time of year that brings cozy feelings, changing leaves, and anticipation of upcoming holidays. Its limited availability during this time creates a sense of exclusivity and excitement.
What pumpkin spice drinks do they have at Starbucks?
Starbucks is known for its extensive range of pumpkin spice-flavored beverages, especially during fall. While the specific offerings can vary from year to year, here are some classic and popular pumpkin spice drinks that Starbucks has featured in the past:
1. Pumpkin Spice Latte
2. Pumpkin Cream Cold Brew
3. Pumpkin Spice Frappuccino