If you're looking to add a burst of flavor and a vibrant twist to your drink repertoire, crafting kiwi mocktails is the answer!
In this blog post, we're excited to present nine refreshing recipes for the perfect kiwi mocktails that will leave you craving more. Each recipe has been carefully crafted to showcase the essence of kiwi while incorporating lively ingredients that will awaken your taste buds and elevate your drinking experience.
Let's sip, savor, and celebrate the perfection of kiwi as the main ingredient of a mocktail!
Are Kiwi Mocktails Healthy?
So, are kiwi mocktails healthy? When made with nutritional ingredients and taken in moderation, kiwi mocktails can be a healthy alternative to alcoholic beverages or sugary cocktails.
Kiwis are high in critical vitamins and minerals such as vitamin C, vitamin K, potassium, and fiber. They also provide antioxidants, which enhance general health and wellness. Kiwis may offer natural sweetness and refreshing flavor to mocktails without excessive amounts of added sugars or artificial chemicals.
To ensure the healthiness of kiwi mocktails, select recipes that emphasize fresh fruits, natural sweeteners such as honey or agave syrup, and minimally processed additions. Consider balancing the flavors and nutrients by adding healthy components like citrus fruits, herbs like mint or basil, and even a splash of sparkling water for extra fizz.
9 Kiwi Mocktail Recipes With The Perfect Twist
Get ready to delight your taste buds with our collection of nine kiwi mocktail recipes, each crafted with the perfect twist to take your beverage game to new heights. With the vibrant essence of kiwi at the forefront, we've added a delightful array of complementary flavors and creative twists to ensure a truly unforgettable drinking experience.
Let's dive into the world of kiwi mocktails and discover the perfect twist that will elevate your sipping adventures to a whole new level.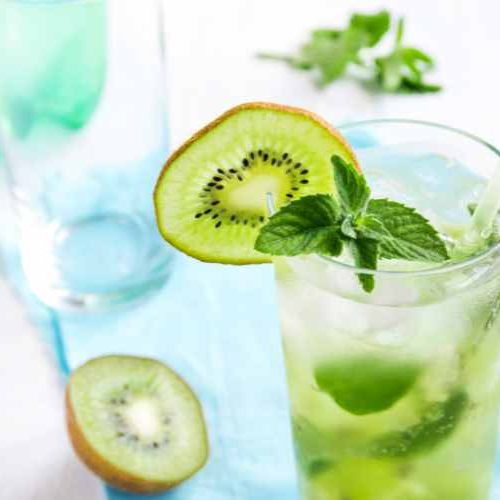 3 Ingredient Kiwi Mocktail
This 3-ingredient kiwi mocktail recipe is so refreshing and so easy to make you can whip one up any night of the week. Also perfect for summer porch parties and BBQs You might have the ingredients in your kitchen already.
Ingredients
2

kiwis

(slice one kiwi wheel for garnish)

6

ounces

Lemonade

2

ounces

soda water or Sprite

Optional mint sprigs for garnish
Instructions
Add kiwi flesh and 2 ounces of lemonade to a shaker tin.

Add ice and remaining lemonade.

Shake, shake, shake for 10 seconds

Add soda water/Sprite to shaker tin DO NOT SHAKE.

Pour into an ice filled glass.

Garnish with Kiwi wheel, enjoy immediately.
Kiwi Mocktail
This 3-ingredient kiwi mocktail recipe from Tesco Real Food can be the perfect creepy cocktail for Halloween. Simply blitz kiwis and lemonade together, then top with blackcurrant squash for an easy two-tone effect!
Ingredients
5 kiwi fruit
200ml lemonade
2 tbsp blackcurrant squash
Instructions
Peel and cut 5 kiwis in half.
In a food processor, combine a huge handful of crushed ice, kiwi fruit, and 100ml of lemonade. Blitz until everything is blended well.
Fill two 250ml glasses halfway with the kiwi mixture. Mix 2 tbsp of blackcurrant squash with another 100ml of lemonade into the remaining lemonade.
Pour the blackcurrant lemonade over the kiwi mixture right before serving.
Kiwi Mojito Mocktail
You'll love this Kiwi Mojito Mocktail recipe from Countdown, a delightful take on the Cuban classic made with kiwifruit, lime, mint, and a little sugar.
Ingredients
3 kiwifruit, peeled
½ cup fresh lime juice
1 tbsp sugar
5 fresh mint leaves, plus an extra to serve
½ cup soda water
Handful of ice cubes
Instructions
In a jug or cocktail shaker, muddle or smash 2 of the kiwifruit, lime juice, sugar, and mint. If you have a blender, blitz a few times to acquire the correct texture, well mixed but not overdone.
Fill two glasses halfway with crushed ice and split the drink between them.
Fill the cups halfway with soda water.
Garnish with the remaining peeled kiwifruit slices and mint leaves.
Refreshing Kiwi Cooler
This Kiwi Cooler is a delicious drink perfect for summer or celebrations. It is a simple recipe from Vismai Food that takes only a few minutes to prepare but tastes delicious.
Ingredients
2 kiwi
3 thinly sliced lemons
2 tbsp sugar
Sprite/Cool soda
7 – 8 ice cubes
Instructions
Combine Kiwi pieces, thinly cut lemons, and ice in a mortar or a tall glass.
After more than half of the mixture has been crushed, add sugar and crush to 80%.
Fill a glass halfway with crushed kiwi and top with ice cubes. Fill the glass halfway with Sprite.
With a spoon, mix from the bottom up.
Orange Kiwi Ginger Mocktail
This Orange Kiwi Ginger Mocktail is created with fresh fruit, orange juice, and ginger beer for fizz and flavor. There is no need for blending or food processing! This mocktail by Orchids + Sweet Tea is also free of refined sugars and vegan.
Ingredients
4 medium kiwis, peeled + sliced
½ cup freshly-squeezed orange juice
3-4 tbsps agave syrup
ginger beer, for topping
Optional toppings: Crushed ice, sliced kiwis, orange wedges, rosemary sprigs
Instructions
Add the sliced kiwis and orange juice to a mixing bowl, mulling (crushing) everything together until the kiwis are mostly broken down.
Stir in the agave until well-mixed. NOTE: If necessary, add more sweetness.
The mocktail can be made in the following ways: Crush the ice in the glass(es), then add 3-4 tbsps of mulled kiwis to the bottom of the glass, followed by 13 cups of the mulled kiwi-citrus mixture, then top with ginger beer until the glasses are ¾ full.
Garnish with sliced kiwis, orange wedges, and rosemary sprigs.
Take a sip and enjoy!
Kiwi and Mint Mocktail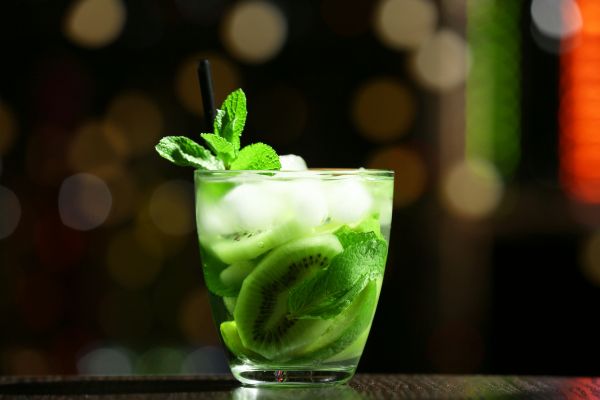 The Kiwi and Mint Mocktail is a simple and delicious soft drink appropriate for any season. Mint, brown sugar, and lime give the drink a Mojito-like flavor that is highly pleasant. This recipe from Cookist is simple: combine all ingredients in a blender and serve as an aperitif. Everyone will enjoy it, even your non-drinking buddies.
Ingredients
2 kiwis
750ml cold water
10 fresh mint leaves
2 lime juice
40g brown sugar
Ice cubes
Instructions
Wash, peel, and cut the kiwis into pieces. Wash and set aside the mint leaves.
Blend the kiwi chunks with the lime juice, brown sugar, 250 ccs of very cold water, and fresh mint in a blender. Blend slowly.
Pour everything into a pitcher and mix in the remaining water.
Your kiwi and mint mocktail is complete. If you prefer, add a few ice cubes and full mint leaves.
Virgin Kiwi Daquiri
Daiquiri is often created with alcohol, preferably rum, citrus fruit, and sugar. CookingWithSapana doesn't incorporate any alcohol in this because it's a non-alcoholic or virgin kiwi daiquiri. If you want to make it old-fashioned, use non-alcoholic rum in the recipe.
Ingredients
4 kiwis chopped
½ cup ice cubes
¼ cup simple syrup
juice of one lemon or as per taste
soda water as required
A few slices kiwi (for garnish)
Instructions
In a blender, combine kiwis, ice cubes, simple syrup, and lemon juice.
Remove any unnecessary pulp by straining.
Fill serving glasses halfway with soda water.
If required, add extra ice cubes.
Garnish with kiwi slices.
Lemon Pineapple Kiwi Sparkling Mocktail
This fruity, refreshing, and ultra-light non-alcoholic drink is ideal for hot summer evenings, pregnant moms, or whenever you need a cool treat. To reduce calories, this mocktail by Physical Kitchness could be sweeter, but you may add extra raw honey if you prefer more sweet than tart.
Ingredients
1 kiwi
3 teaspoons pineapple juice
1 teaspoon (or more if you like it sweet) raw honey
1 can La Croix sparkling lemon water
Optional: ice cubes with fresh mint leaves
Instructions
Place the peeled and sliced kiwi in a small food processor or blender.
Add the pineapple juice and raw honey (the honey should be warmed in the microwave for a few seconds to make it liquid).
Pulse or blend until a thin, well-blended puree is formed.
Fill each glass with ¾ cup sparkling water. Pour the purée into each glass in equal parts.
If desired, serve with mint ice cubes.
Starbucks-Inspired Iced Kiwi Starfruit Refresher
So you like the kiwi starfruit refresher from Starbucks? Then you'll be interested in this delightful limeade kiwi starfruit mocktail by Tia Clara, which is vegan, dairy-free, and caffeine-free. It's a refreshing tropical mocktail made with fresh starfruit, real kiwi pieces, and lime juice that seems like a grown-up drink in itself.
Ingredients
4 starfruit
4 fresh kiwi, peeled
Juice of 2 large lemons or limes (plus lemon or lime slices to decorate)
¼ cup sugar or your preferred sweetener
2 cups sparkling water
2 cups crushed ice
Instructions
2 cups of potable water, starfruit, and kiwi should be combined in the blender vase. Blend until all of the ingredients are juiced.
Fill a pitcher halfway with starfruit and kiwi juice and discard the fruit pulp.
Add the lemon or lime juice and stir to combine.
Sweeten to taste with sugar or sweetener.
If you don't plan to serve it immediately, keep it in the fridge.
When ready to serve, combine the ice and sparkling water in a mixing glass and pour into 6 short glasses or 4 highball glasses.
Garnish with starfruit slices, sliced or diced kiwi, and lemon slices.
The Great Barrier Reef Kiwi Mocktail
This mocktail is curated by Casa Desai after a nice trip to Australia. It is a homage to a drink at Hamilton Island in the Great Barrier Reef. It only takes a few minutes to make this delectable green non-alcoholic mocktail with ingredients you most likely already have in your home.
Ingredients
Half a kiwi
.5 ounce simple syrup
2 ounces non-alcoholic white rum
1 ounce fresh lime juice
3 sprigs mint
4 ounces of club soda
Ice
Instructions
Remove the skin from the kiwi and cut it into medium pieces.
Place the diced Kiwi in the glass and muddle it.
Once the Kiwi has been muddled, combine it with lime juice, honeydew syrup, and non-alcoholic rum.
Fill the glass with ice.
Finish with club soda and enjoy.
Non-Alcoholic Kiwi Drink Recipes: Try Them Now!
With the versatility of kiwi as a base ingredient, you can explore various combinations with fruits, herbs, and even spices to create your signature mocktail. The best part is that you can enjoy these delicious creations without the effects of alcohol, making them a great choice for anyone looking for a non-alcoholic alternative.
So, why wait? Grab some fresh kiwis, gather your favorite ingredients, and mix up these delightful kiwi mocktails. It's time to treat yourself to a refreshing and flavorful experience that will leave you wanting more. Cheers to the wonderful world of non-alcoholic kiwi drinks!
Related Articles
The sober culture is taking the market by storm! And the selection is expanding as more and more non-alcoholic beverages hit the market. It's good to know that there are tons of options for non-alcoholic rum to create your favorite rum-inspired beverage or rum mocktails.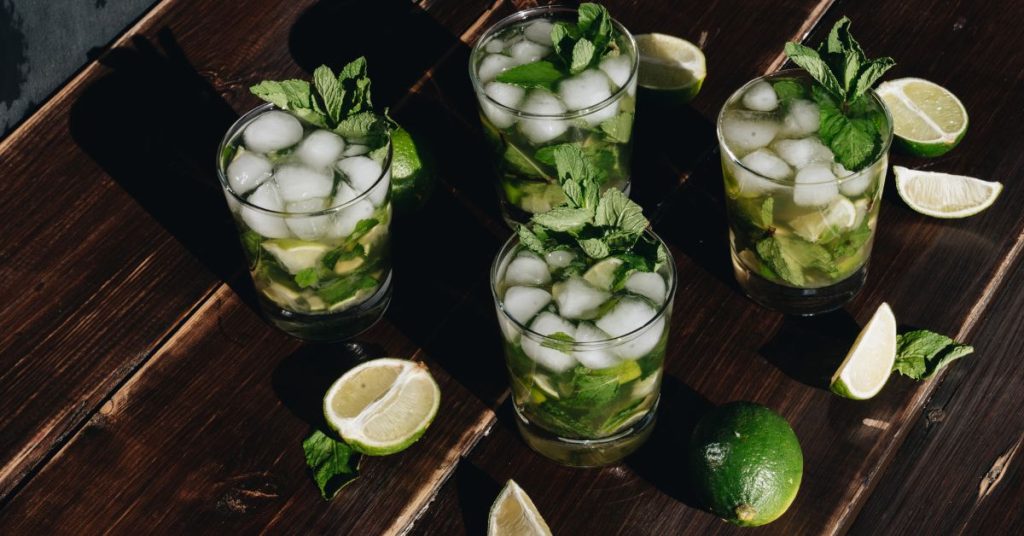 In search of the best mojito mocktail recipes? The mojito is such a traditional cocktail. The entire family will enjoy making these recipes at home because they are so simple and easy to recreate.
Kiwi Mocktails FAQs
What is the flavor of kiwi?
The flavor of kiwi is often described as a delightful blend of sweet and tangy notes. When you bite into a ripe kiwi, you'll experience a burst of tropical sweetness with hints of citrus reminiscent of a combination of strawberries, melons, and bananas. The taste is generally refreshing and juicy, with a slightly acidic tang that adds a unique and vibrant element to the fruit.
Are kiwi mocktails healthy?
When made with nutritional ingredients and taken in moderation, kiwi mocktails can be a healthy alternative to alcoholic beverages or sugary cocktails. 
Kiwis are high in critical vitamins and minerals such as vitamin C, vitamin K, potassium, and fiber. They also provide antioxidants, which enhance general health and wellness. Kiwis may offer natural sweetness and refreshing flavor to mocktails without excessive amounts of added sugars or artificial chemicals.
What is Kiwi Mojito Mocktail made of?
A Kiwi Mojito Mocktail can be made using lime, mint, and a little sugar along with the main ingredient: kiwi. Optional ingredients can include crushed ice for a chilled mocktail, additional fruit garnishes like lime slices or kiwi slices, and a sprig of fresh mint for an appealing visual touch.
The ingredients are gently stirred to combine flavors, and the mocktail is typically garnished with additional fruit and mint leaves before serving.
What is a good kiwi combo?
Kiwi pairs well with a variety of flavors, creating delicious and complementary combinations. Here are some popular and tasty kiwi combos:
– Strawberry and Kiwi
– Kiwi and Banana
– Kiwi and Lime
– Kiwi and Coconut
– Kiwi and Mint
– Kiwi and Pineapple
– Kiwi and Watermelon
Feel free to experiment and explore different combinations to find your own favorite kiwi combo that suits your taste preferences.