The non-alcoholic Negroni, aka NOgroni, aka NAgroni, is a staple cocktail in all non-alcoholic bars. We've got 5 recipes lined up for you. The traditional Negroni is a 1:1:1 ratio of spirits thanks to the basic combination of three ingredients: Campari, Vermouth, and Gin. In the process, new cocktails, including the White Negroni and the Negroni Sbagliato (a sparkling Negroni), were created.
With the emergence of the non-alcoholic negroni, the popularity of the cocktail has moved to an all time high since its creation 100 years ago.
Every cocktail, especially the traditional ones, is up to personal interpretation and has been for decades. Innovation in mixology is driven by interpretation. If bartenders adhered to tradition, we might not have many drinks we enjoy today.
More than most other cocktails, the negroni encourages experimentation. Bartenders can't help but push the limits of the drink by switching out and altering the traditional recipes.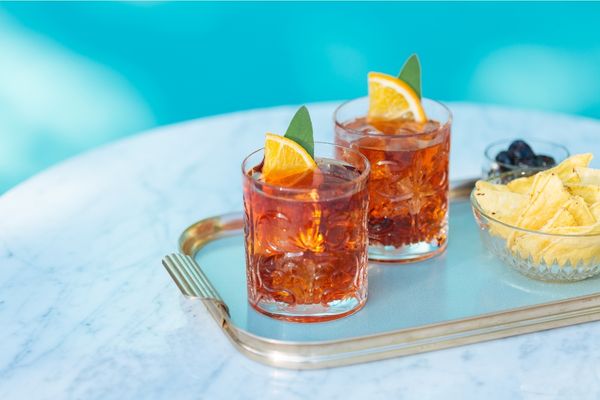 The Best Non-Alcoholic Negroni Recipes To Make At Home
The non-alcoholic Negroni was created in Florence in the early 1900s by the Italian Count Camillo Negroni. He asked the bartender to make his go-to drink, the Americano, a highball made with Campari, sweet vermouth, and soda water, stronger by swapping the soda for gin.
With that one minor adjustment, the Count joined the likes of Old Fashioned and Martini as the creators of some of the most well-known drinks in history.
Non-Alcoholic Negroni Made With Ritual Zero Proof Alternative
Non-Alcoholic Negroni
This Negroni mocktail is made with just these two ingredients of Ritual Gin Alternative and Ritual Aperitif.
Ingredients
1.5

ounces

Ritual Aperitif Alternative

1.5

ounces

Ritual Gin Alternative
Instructions
Combine the two Ritual non-alcoholic alternatives into a glass of ice and stir well.

Strain the mixture over ice in a rocks glass.

Use orange peel as a garnish.
Non-Alcoholic Negroni Sbagliato
The Non-Alcoholic Negroni Sbagliato is a captivating recreation of the beloved classic designed for those who prefer a sober twist. Our non-alcoholic Negroni Sbagliato has been crafted using a fusion of Ritual Aperitif Alternative, Ritual Gin Alternative, and the effervescent Prima Pavé Rosé Dolce.
Ingredients
1 ½ ounces Ritual Gin Alternative
1 ½ ounces Ritual Aperitif Alternative
1 ounce with Prima Pavé Sparkling Rosé Dolce
Cubed ice
Garnish: orange wheel
Instructions
Add cubed ice to a glass. Then add Ritual Gin Alternative and Ritual Aperitif Alternative
Stir until chilled
Strain and pour into a glass with one large ice cube
Top with Prima Pavé Sparkling Rosé Dolce (chef's kiss)
Garnish with orange wheel
Some drinks benefit greatly from alcoholic substitutions. Building N/A drinks with delectable additives like berries, sweetened ginger syrup, or different vermouths will yield the greatest results. Watch this video and see how you can use these additives to spice up your drink.
You can make the ideal non-alcoholic negroni with the aid of some fantastic N/A liqueurs and spirits. We sincerely hope you try it! We also believe you'll enjoy learning other N/A mocktail recipes, regardless of whether it's for a baby shower or Thanksgiving.
Impress your friends by mixing up your own NAgroni (see what we did there?)
With grape juice and syrup made from grapefruit, coriander, and cardamom pods, you can make a non-alcoholic negroni concoction.
Ingredients:
For the syrup
½ grapefruit chopped
One orange slice
1/2 cup caster sugar
Three lightly crushed cardamom pods
A pinch of coriander seeds
Few drops of red food coloring

For the cocktail
Ice
1 ounce white grape juice
One orange slice (optional)

Instructions:
Add orange slice, sugar, 1/2 cup of water, cardamom pods, grapefruit and the coriander seeds to a saucepan. Simmer for 10 minutes.
In the last five minutes of cooking, crush the fruit pieces with a wooden spoon as the combination starts to soften and release its juices.
Take the fruit off the stove and let it cool once it has softened and the white pith has diminished.
You can add a little red food coloring to the syrup.
Discard the spices and fruit bits after straining the syrup mixture when it has cooled.
Add 1/4 cup of the syrup, grape juice, and 1 ounce of the cold water to an ice-filled tumbler.
Gently stir until the tumbler's exterior feels chilly.
If desired, garnish with an orange slice.
Non-Alcoholic Negroni With Lyre's
This traditional aperitif may appear to be a sweet Italian orange treat, but it actually has a sneaky, bitter, and surprising flavor. Lyre's makes this drink vegan, dairy-free, egg-free, nut-free, and gluten-free.
Ingredients:

Instructions:
Stir briefly with ice cubes.
Pour in an Old Fashioned glass.
Garnish with an orange slice.
By meeting the demands of a younger generation, the sober curious person is making history. Like its alcoholic cousin, it has elevated the drink's botanicals to the position of protagonists.
Ingredients:
1 ounce Seedlip Spice 94
1 ounce Æcorn Bitter
1 ounce Æcorn Aromatic

Instructions:
Simply combine the three ingredients with ice and stir
Strain into a rocks glass.
Garnish with an orange slice.
Non-Alcoholic Negroni FAQs
What can I substitute for gin in a Negroni?
Some drinks benefit greatly from the substitution of alcoholic components. Building non-alcoholic drinks with delectable additives like berries, sweetened ginger syrup, or different substitute vermouths will yield the greatest results.
What are the best brands that sell non-alcoholic negroni?
Here is a list of brands that currently sell non-alcoholic negroni in the market:
1. Lyre's
2. Seedlip
3. St. Agrestis
4. Sans Drinks
5. Naked Life
Is there non-alcoholic vermouth?
There are herbal and milder dry non-alcoholic vermouths. Lyre's Dry Vermouth is one example. Lyre's Italian Spritz, a non-alcoholic Spritz (of the Aperol variety), and the non-alcoholic cocktail produced by Sir James 101 Bitter Aperitif are two excellent non-alcoholic aperitifs.
The non-alcoholic vermouths can be combined to make non-alcoholic cocktails or consumed on their own. Check out our article about Non-Alcoholic Vermouth Substitutes.
Can bitters be made without alcohol?
Using spices, long-steeped tea, citrus peels, bitter greens, chicory root, and/or artichoke leaves, you can make your own non-alcoholic aperitivo or bitter syrup.
More non-alcoholic aperitivi, bitter syrups, and sodas with amaro-inspired flavors are available now than ever, and more and more manufacturers are starting to produce non-alcoholic bitters.