In a world where the quest for unique and enticing beverages continues to evolve, Curious Elixirs is one of those winning the game. Drawing inspiration from the art of mixology and fueled by a passion for organic ingredients, Curious Elixirs has revolutionized the notion of beverages by crafting non-alcoholic elixirs that are both enticing and enchanting.
We're giving you tasting notes for all 8 flavors plus what people are saying about them.
In exploring the world's most Curious Elixirs, we delve into how the brand has captured the attention of those seeking innovative alternatives to traditional alcoholic beverages.
About Curious Elixirs
Curious Elixirs was established in 2015, long before the phrase "sober curious" was invented. The brand offers alcohol-free craft cocktails that contain adaptogens to promote relaxation. The drinks are produced from scratch using the finest ingredients and no processed sugar.
Curious Elixirs was created with the thought of non-alcoholic drinks that should be remarkably tasty, expertly made, and excellent for both bodies and souls. Some of us strive to live our best lives sober, while others simply use less alcohol.
Curious Elixirs flavors are strong and designed for the daring. Their team of expert bartenders, herbalists, and food scientists work together to create each flavor. Each elixir also strengthens the body by utilizing the enigmatic qualities of plants, from an ancient botanical that boosts the precursors of serotonin and dopamine to another that boosts circulation and is utilized as an aphrodisiac by the Mayans.
Introducing The Booze-Free Cocktails From Curious Elixirs
Curious Elixirs makes its elixirs by hand in the Hudson River valley using organic juices, spices, herbs, roots, bark, and botanicals. The non-alcoholic beverages are best savored on the rocks with your favorite garnish, whether you choose the floral blend supercharged with ashwagandha or the carbonated concoction cooled with ginseng. Your curiosity will be satisfied because these products are fair trade and free of added sugar, gluten, dairy, and nuts.
In this section, we'll introduce the booze-free cocktails that Curious Elixirs offer for the sober, sober curious, and literally everyone!
Curious Elixir No. 1
The Negroni is one of the favorites when it comes to traditional stirred cocktails, and Curious Elixir No. 1 is an alcohol-free homage to it. This non-alcoholic beverage combines a special superfood and adaptogen blend, which includes gentian and rhodiola, to help you relax. Best served in a rocks glass over a sizable cube, with an orange slice or twist for decoration.
Curious Elixir No. 2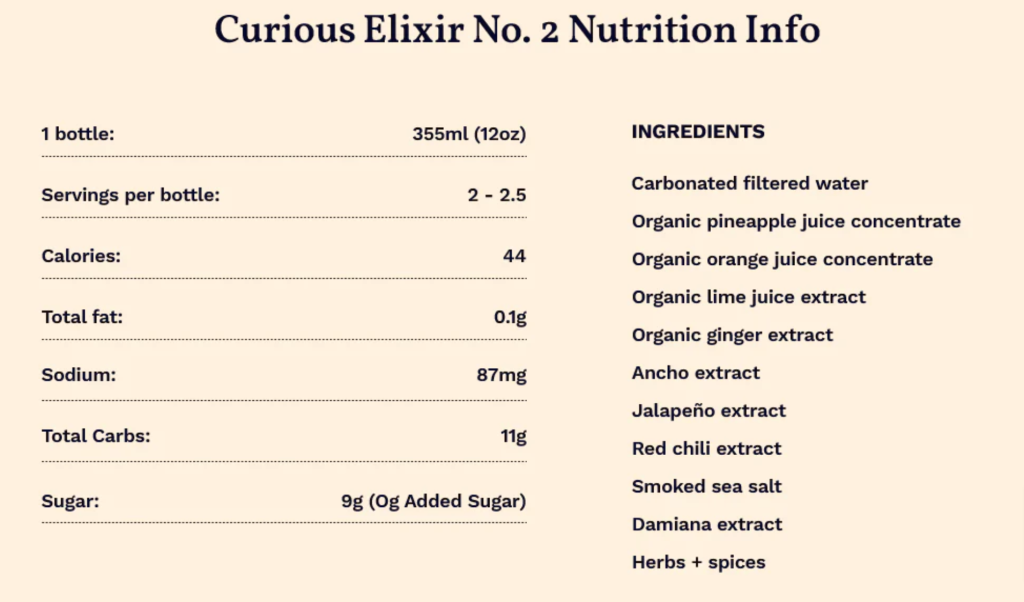 The 100% alcohol-free Curious Elixir No. 2 is the fiery offspring of the Dark & Stormy and the pineapple margarita. Damiana, an ancient Mayan plant, will relax you as citrus, ancho chile, jalapeño, and ginger awaken your taste buds. Use a lime wedge and maybe a sea salt rim to enjoy it on the rocks.
Curious Elixir No. 3
The Cucumber Collins and other popular modern cocktails are the basis for Curious Elixir No. 3, made without alcohol and powered by ashwagandha. This herb has been used in Ayurvedic medicine for over 5,000 years. Alpine herbs, flowers, cucumber, lemon, and ashwagandha extract (125mg per bottle) combine in Curious Elixir No. 3 to soothe your palate and promote relaxation. The best way to consume it is neat, with a lemon peel as a garnish.
Note: Because Curious Elixir No. 3 contains ashwagandha, pregnant women should avoid it. Additionally, people with certain medical conditions should speak to their doctors and other medical professionals before taking ashwagandha.
Curious Elixir No. 4
Curious Elixir No. 4 is an alcohol-free take on traditional Italian aperitifs like the Aperol Spritz. It tastes especially delicious before a fine dinner and is ideal for any social occasion if you want a superior non-alcoholic option.
The exotic citrus flavors of blood orange and green mandarin are combined with non-alcoholic prosecco's mild fizz and the calming effects of American ginseng, turmeric, and holy basil (tulsi) in this elixir. Enjoy neat, in a wine glass, on the rocks, or with an orange slice as a garnish.
Curious Elixir No. 5
Rich dark cherry gives way to dark chocolate and smoky American oak, and a light burn lingers like the best-stirred whiskey drinks. The robust handmade drink Curious Elixir No. 5, which contains neither processed sugar nor alcohol, will make you want another sip in front of the fire and ask, "Why didn't I order more of these?"
Enjoy it with an orange peel, cherry, or rosemary garnish on the rocks. Also, Curious Elixir No. 5 has a canned version with the same ingredients and nutrition.
Curious Elixir No. 6 (Limited Release)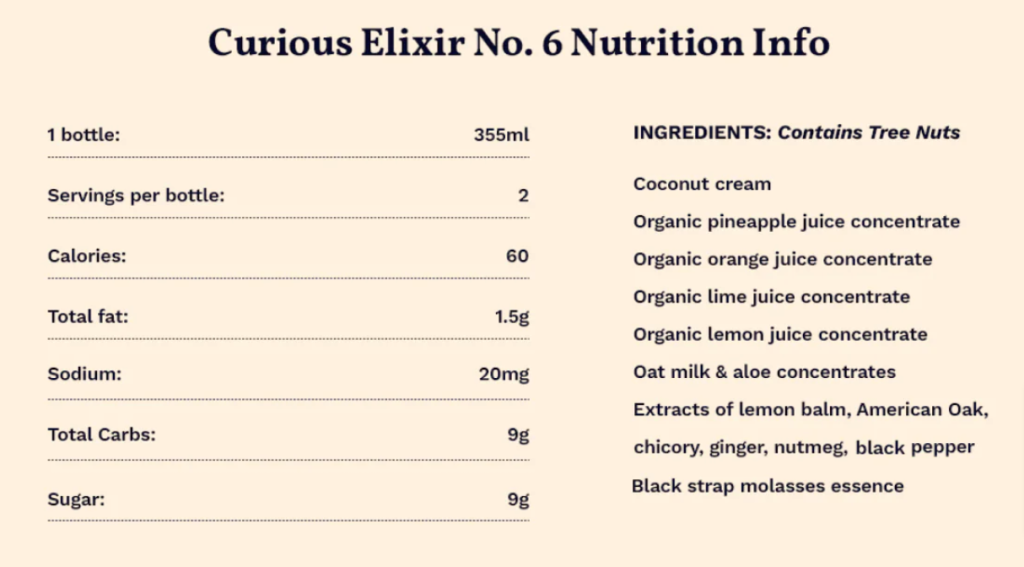 Curious Elixir No. 6, inspired by the Painkiller, one of the variations on the Piña Colada, is best served chilled with freshly grated nutmeg. Sip it slowly like a creamy vegan holiday nog, or picture yourself on the beach at the Soggy Dollar in the British Virgin Islands, where the Painkiller was invented.
Curious Elixir No. 6 is made with just enough coconut and oat milk to give it a velvety, rich flavor while keeping the sugar content low. To give this elixir caramel undertones while keeping the sugar content per serving at 9g, this contains blackstrap molasses essence. The use of aloe makes this elixir a mind-calming beauty booster.
Additionally, since this is the first elixir that comes in a can and isn't carbonated, packing it in your suitcase for a winter getaway to the tropics will be simpler than ever.
Note: Although the oat milk is naturally gluten-free, there could be traces of gluten in it due to processing equipment.
Curious Elixir No. 7 (Limited Release)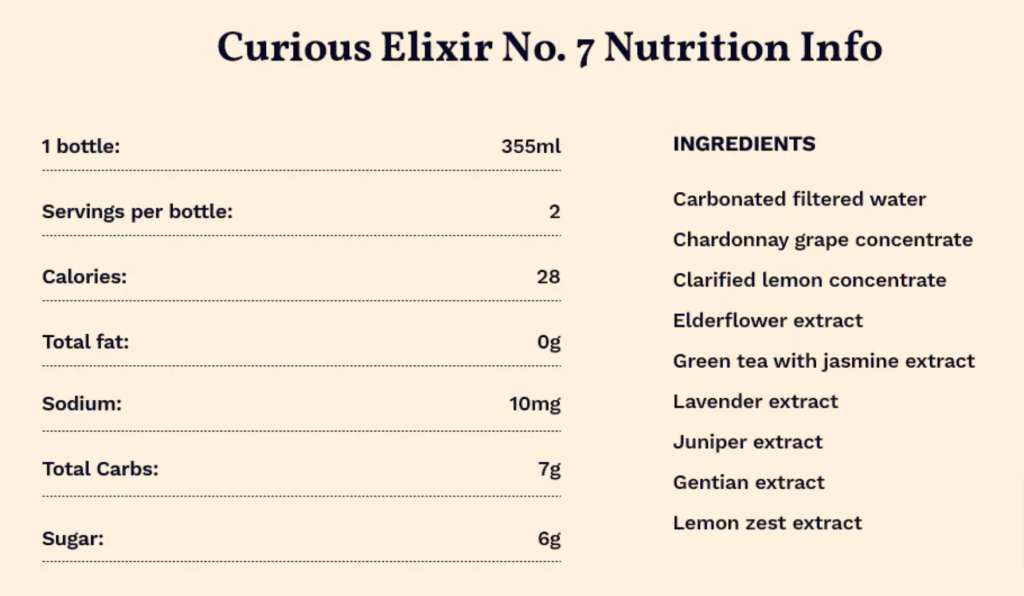 Curious Elixir No. 7, a non-alcoholic twist on the French 77 champagne drink, is ideal for all kinds of events, from weddings to Wednesdays.
Curious Elixir No. 7 was created as an uplifting self-care practice or for special occasions because it contains no alcohol. The ingredient starts with California Chardonnay grapes using elderflower, juniper, lavender, a touch of jasmine green tea, juniper, and gentian root.
Serve it chilled and up in a coupe with a twist of lemon. Add a drop of honey before pouring for an optional sweet touch.
Curious Elixir No. 8 (Limited Release)
The first non-alcoholic spirit from the brand, Curious Elixir No. 8, is for individuals willing to boldly go where no one has gone before. This elixir is for you if you enjoy opulent amaro, port, aperitifs, or digestifs.
This ideal beverage before or after a meal is made from organic blackberry, blueberry, and fig, which combine well with blackstrap molasses, herbs, roots, and spices. The trio of adaptogenic mushrooms—reishi, chaga, and lion's mane—helps you relax and boosts your body's natural immunity behind the richly balanced bittersweet undertones.
Curious Elixir No. 8, which contains no alcohol, will stimulate your body, calm your spirit, and dazzle your senses.
Note: The FDA has not reviewed this product, and it is not designed to treat any disease. Before taking unfamiliar components, especially if you are pregnant, lactating, or have a certain medical condition, please seek advice from a health expert.
Curious Elixirs Review
Given the abundance of non-alcoholic (NA) and ready-to-drink (RTD) companies flooding the market, phrases like "complex booze-free beverages infused with herbs and adaptogens to help you unwind" seem to be commonplace these days. But even before the current crop of rivals debuted on local shop shelves, Curious Elixirs began considering ingredients and their function.
Curious Elixirs swiftly surpassed expectations as the first well-recognized brand of craft beverages without alcohol, and a whole industry has sprung up around it. Here are some review excerpts from different sites.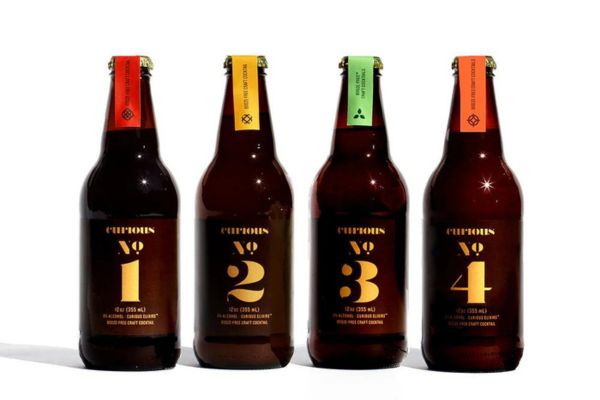 "I ordered the sample pack, and loved both the packaging that they came in and the variety of flavors. A fun alternative to a cocktail that feels more elaborate than simply pouring a can into a glass, but also doesn't require excessive prep."

"After trying all four of these Curious Elixirs I have to say I am surprisingly on board with this. It was nice to have a fancy cocktail with all of the good stuff and none of boozy side effects. I love how carefully crafted these are. I love the flavors. I love the added relaxation and health benefits. These are definitely worth looking into if you are even a little bit curious about alcohol-free cocktails."

"And that's the beauty of these babies—they don't make me feel icky the next morning. The cocktails are satisfying enough for one a night. While no refined sugars are included in these cocktails, they can get a little sweet thanks to the fruit juices and, in the case of No. 5, the touch of coconut sugar."
Curious Elixirs are available for purchase online, through neighborhood N/A liquor stores, and in a few select bars and eateries across the nation. Still not sure what Curious Elixir flavor to get? Take their Flavor Quiz now.
Grab Your Favorite Curious Elixirs In Stores Now
With Curious Elixirs' remarkable lineup of non-alcoholic drinks made with organic ingredients, the possibilities are endless. Curious Elixirs offers a range of flavors to suit every palate, whether you're craving a refreshing blend of botanicals, a tangy citrus infusion, or a complex symphony of herbs and spices.
As you journey through the aisles of your local stores, keep an eye out for the unmistakable allure of Curious Elixirs. With their elegantly designed bottles and commitment to quality, these elixirs are ready to accompany you on your quest for delightful and unique drinking experiences.
Related Articles
You want to order a non-alcoholic drink at a bar but want something other than soda water and Ocean Spray. We've got the list to end all lists.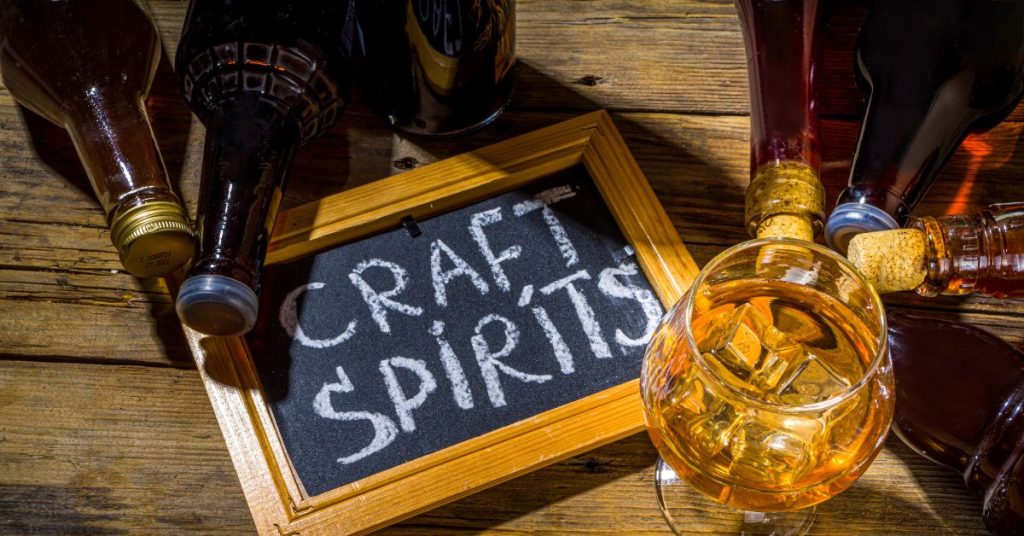 Popular in the non-alcoholic beverage sector, Lyre's non-alcoholic drinks raised the bar for its rivals. Knowing where to start might be difficult when so many choices are available. Let's discuss different non-alcoholic drinks selections from Lyre's and the many ways you can serve them.
Curious Elixirs FAQs
What are the benefits of Curious Elixirs?
Whether you're seeking an alcohol-free option, exploring new flavor profiles, or simply looking to indulge in a tastefully crafted beverage, Curious Elixirs provide an array of benefits that cater to a diverse range of preferences and lifestyles. Here are some of the key benefits of Curious Elixirs:
1. Non-alcoholic options
2. Organic ingredients
3. Unique flavor profiles
4. Versatile usage
5. Elegant presentation
6. Health-conscious option
What are the best Curious Elixirs?
Curious Elixirs offers a range of enticing and flavorful elixirs, each with its own unique character and taste profile. The "best" elixir ultimately depends on individual preferences. 
For example, if you like citrus and fruity blends, Curious Elixir No. 1 is the right flavor profile for you. This non-alcoholic beverage combines a special superfood and adaptogen blend, which includes gentian and Rhodiola, to help you relax.
Is there caffeine in Curious Elixirs?
Curious Elixirs do not typically contain caffeine. These elixirs are crafted to provide a non-alcoholic drinking experience free from stimulants such as caffeine. Instead, they combine organic ingredients, herbs, spices, and botanicals to create unique and flavorful beverages without caffeine. 
This makes Curious Elixirs suitable for those who prefer to avoid or limit their caffeine intake, providing a refreshing and enjoyable option without the stimulating effects of caffeinated beverages.
Do Curious Elixirs relax you?
Some reviews say that they feel relaxed after drinking Curious Elixirs. Here's an excerpt from The Pursuit of Cocktails: 
"The Curious Elixirs did boost my mood and provided a little extra relaxation so they are a great replacement to an alcoholic drink for the nights when all you are seeking is something to mellow out your day but is more than just a hot tea or sparkling water."
Do Curious Elixirs have sugar?
Curious Elixirs are consciously crafted to offer a healthier alternative to traditional sugary beverages. While they contain some sugar, the brand uses minimal amounts and focuses on using natural sweeteners sparingly.
The specific sugar content can vary depending on the elixir variant, but Curious Elixirs are generally made with organic fruits, herbs, spices, and botanicals to impart natural flavors.