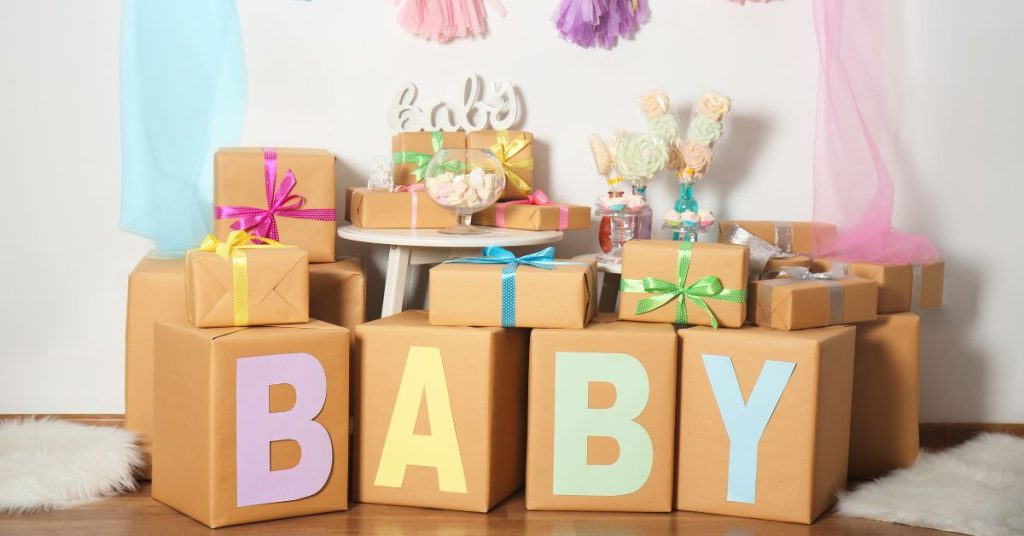 Time to read: 7 minutes
Why choose an alcoholic cocktail when there are many mouthwatering non-alcoholic drinks for baby showers out there? Drinks are one of the most crucial things to think about for a baby shower.
Along with the traditional blue and pink options, there are now a variety of multicolored non-alcoholic drinks. To help you have a killer start to the party, we've got some non-alcoholic drink ideas for baby showers right here.
Mocktails for baby showers are all about getting everyone involved in the excitement. Since you don't need to consume alcohol to appreciate them, they're ideal for occasions where your honored guest cannot consume alcohol.
Do mocktails contain alcohol? Mocktails are imaginative non-alcoholic drinks that can be used as an alcohol substitute. Mocktails are still just as delectable as drinks.
Non-Alcoholic Punch For A Baby Shower
The color blue is enchanting, calming, and revitalizing all at once. You don't have to pick blue for a newborn baby boy shower. No matter what gender your baby will be, you can pick any color. 
In this drink, cranberries and vanilla ice cream combine to make a refreshing beverage best served cold.
Ingredients
A few drops of blueberry-flavored unsweetened Kool-Aid

2L

bottle

lemon-lime flavored carbonated beverage

(like Sprite)

64

ounce bottle

white cranberry juice

8

scoops

vanilla ice cream

(do not skip this step, this is the best part)
Instructions
Pour the cranberry juice, blueberry flavor, and lime-lemon beverage into a large bowl.

Mix the items thoroughly.

Then, add scoops of ice cream so that they melt slightly and float on top of the beverage.
Pink Gin & Tonic Mocktail
Consider decorative drinks like this pink gin & tonic that your guests will love. This recipe is elevated with dried rosebuds and bitters.
Ingredients
2.5 oz non-alcoholic gin
3 oz of excellent tonic water
2 droppers of All The Bitter Aromatic bitters
Dried rose buds and juniper berries
Instructions
Combine 1 huge ice cube, two dashes of Peychaud's bitters, non-alcoholic gin, and some dried rosebuds and juniper berries in a large wine glass.
To incorporate the bitters, stir well.
Take a sip and relax.
Add some rose petals or juniper berries to your ice tray before freezing to make a statement.
Virgin Mimosa
A must-have beverage for daytime events is the mimosa. The best part is that you can customize your mocktail to use ingredients you already have on hand.
Consider having a virgin mimosa bar where guests may mix their own drinks if you want to have even more fun.
Ingredients
½ cup sparkling water, St. Regis Sparkling Brut, or sparkling apple cider
¼ cup of your preferred juice (orange, pineapple, or grapefruit)
Instructions
Pour the sparkling base into a tilted champagne glass.
Add your preferred juice to the top of your beverage. All done!
Sparkling Berry Virgin Sangria
Sangria is simple to customize based on the fruits you have on hand and is ideal for bridal or baby showers. This recipe uses berries to create a floating look.
Ingredients
One bottle of sparkling grape juice or Grüvi Dry Secco
2 ½ cups white cranberry juice
⅓ cup of each berry of your choice for 1 ⅓ total cups (blackberries, raspberries, blueberries, strawberries)
Ice cubes
Instructions
Combine the liquids into a large pitcher.
Give everything a good stir before adding fruit.
Keep chilled until serving.
Serve with ice.
Rainbow Sherbet Punch
Planning a birthday party, bridal shower, baby shower, or both? The party's favorite drink will be this punch!
It is outrageously delicious and bright. Your pals will be gathered around the punch bowl, seeking more, so watch out!
Ingredients
2 liters of chilled Sprite
12 ounces of thawed Minute Maid frozen Orange Juice concentrate
46 ounces of chilled Dole Pineapple Juice (one large can)
8 scoops of Dreyer's Tropical Rainbow Sherbet
Instructions
In a big mixing basin, combine the Sprite, pineapple juice, and orange juice concentrate.
Fill a big punch bowl with the mixture.
Add scoops of sherbet to the punch bowl and top with orange, lime, and strawberry slices for garnish.
Pour servings into mason jar mugs.
Simple Color-Changing Magic Lemonade (Blue-Purple)
Butterfly pea flower makes this simple magic lemonade, which transforms from blue to purple right before your eyes. Kids and visitors will both be impressed by this wonderful mixture! Plus, it only has ten ingredients and uses 100% natural coloring!
Ingredients
A handful of butterfly blue pea flowers
1 cup brown sugar or your favorite natural sweetener
1 cup water to dissolve the sugar (skip if using other natural sweeteners like maple, honey, or agave)
1 cup of filtered water boiling
2 additional cups of filtered water at room temperature
Few drops of Lavender extract optional
I-2 lemons for color change
Ice for serving
Instructions
You must first prepare a simple sugar syrup. To start, melt 1 cup of sugar with 1 cup of water in a small saucepan over low heat for a few minutes, stirring occasionally, until the sugar is dissolved completely. Remove from the heat and set aside to cool.
Simply mix 1 cup of boiling water with a few butterfly pea flowers, and let them steep for about five minutes.
The sugar syrup, steeped blue pea flower liquid, and the two remaining cups of water should all be combined in a big jug.
If you want, you can add a few drops of lavender extract for a calming lavender flavor.
You now have dark blue butterfly pea flower tea. The liquid turns purple as soon as you squeeze some lemon juice into it. It would be great if you give each person half of a lemon so they can squeeze the juice in on their own. To get the whole magical effect, you might also pre-squeeze the lemon juice and let each person add some before stirring the beverage.
Sparkling Spritzer
Use seasonal fresh fruits to create simple mocktails that everyone in your company will enjoy. These simple spritzers go great with anything you're offering as food for your guests to nibble on, from brunch-style appetizers to fancy cupcakes, and are ideal for large groups.
Ingredients
2 cups chopped fresh fruits (like kiwi, strawberries, blueberries, etc.)
1 cup chilled ginger ale/ginger beer or non-alcoholic champagne
½ cup pineapple juice (unsweetened)
½ cup lemonade
Instructions
Fill the bottom of a glass with layers of fruits.
In a different glass, combine the remaining ingredients.
Pour the combined mixture into the glass of fruits.
Kombucha Mocktail
Are there non-alcoholic kombuchas? There certainly are. A kombucha mocktail contains all the good bacteria and antioxidants found but is served as a tasty, bubbly, citrus-infused beverage.
So we've known moms that have had kombucha during pregnancy and all we can say about this one is, it's up to the mama to be and her doctor.
Ingredients
Crushed ice for serving
Salt + sugar + chili powder for the rim
1 lime sliced
1 orange sliced
1/2 grapefruit sliced
2 ounces freshly squeezed orange juice
2 ounces freshly squeeze lime juice
6 ounces grapefruit or citrus kombucha
2 ounces ginger beer
Instructions
On a small plate, combine the salt, sugar, and chili powder. Each glass should be rimmed with a lime wedge and then coated with the salty, spicy sugar mixture.
Crushed ice and a mixture of sliced citrus should be added to the glasses.
Combine the juices and kombucha in each glass. Add ginger beer to the top of each beverage.
Here's a simple tutorial on how to make a non-alcoholic Rainbow Sherbet Punch using only three ingredients.
If there were ever a gathering where you could showcase your mocktail game, it would be a baby shower. With festive beverages that are safe for consumption during pregnancy and breastfeeding and alcohol-free but delicious, you can show off your mocktail abilities.
The ingredients you decide to mix are crucial in creating the best mocktails and savory non-alcoholic beverages. Choose fresh fruits and garnishes rather than adding plenty of simple syrups to your mocktails. For all kinds of festive cocktails you can make for the most entertaining baby shower you've ever thrown, N/A wines can also make a fantastic base for baby shower drinks.
Non-Alcoholic Drinks for Baby Shower FAQs
What drinks should you serve at a baby shower?
Serving mocktails during a baby shower is as suitable as it gets as the expectant guest of honor typically decides not to drink. Serving out a variety of festively themed mixed mocktails and blends for toasts is a common way to indicate a happy occasion. 
Generally, it's best to avoid serving hard liquor at baby showers to keep attendees from overindulging.
What are some nice non-alcoholic drinks?
The temptation to cut costs, lose weight, and avoid hangovers seems to be strong these days. 
Here are some nice mocktail ideas for ensuring that nondrinkers don't miss out despite the fact that it can be difficult to give N/A drinks the same level of sparkle as their alcoholic counterparts.
1. Pretty Pink Punch
2. Cute Blue Punch
3. Virgin Mimosa
4. Sparkling Berry Sangria
5. Rainbow Sherbet Punch
What is the most popular non-alcoholic drink?
While it would be great to offer mocktails for nondrinkers at a baby shower, there are popular non-alcoholic drinks you can also serve at a party. These include:
– Apple Beer
– Italian Soda
– Coffee
– Fruit Coolers
– Iced Tea
– Ginger Beer
– Root Beer
Non-alcoholic wines in decorative bottles are also a lovely addition to your bar.
What is a good non-alcoholic drink to bring to a party?
Some of your guests are presumably not day drinkers, while others might be sober. Unless they have packed their mocktails, these individuals are all too frequently restricted to drinking water. Offer beverages like sparkling water, non-alcoholic kombucha, or a non-alcoholic espresso martini.
Some guests might bring their own N/A drinks, like N/A wines from Target or N/A spirits from Seedlip.