Time to read: 4-6 minutes
There are several non-alcoholic drink ideas for weddings, whether you're planning to serve alcohol on your special day or have a sober occasion. To make your non-drinking visitors feel welcome when everyone raises their glass, it's important to provide them with bevs deserving of the stemware.
With numerous toasts, weddings can have a high champagne factor. Wedding receptions are traditionally filled with lavish drinks and champagne, but your guests may need something different if they don't drink alcohol for whatever reason.
In this blog post, we explore some tasty non-alcoholic beverages that offer an alternative to wine or beer – and can be incorporated into a traditional cocktail hour as well!
Mocktails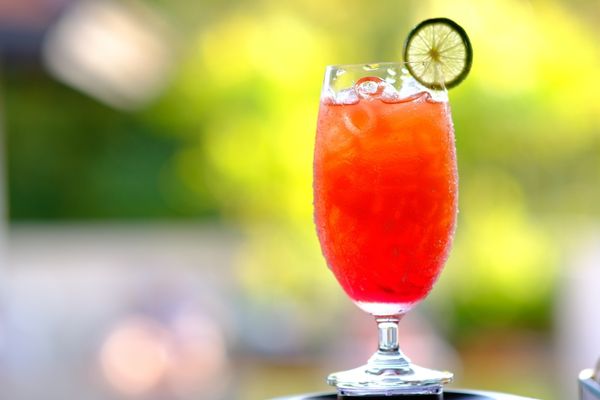 For classy weddings, mocktails are a must-have. Mocktails are created by mixing non-alcoholic beverages with syrups, juices, fruits, and/or cream. Use carbonation-free recipes for making mocktails in advance, and don't forget the garnish.
If you serve alcoholic cocktails, providing a choice of three to five non-alcoholic beverages will ensure that each visitor feels special. Choose mocktails with various flavors, from sweet to bitter to sour. Use stylish signage and allow the guests to select their preferred beverage.
Here are some ideas for mocktail mixes you can serve:
Non-Alcoholic Honeydew-Jasmine Seltzer Cocktail
A Honeydew-Jasmine Seltzer Cocktail is a green-tinted mocktail that consists of melon balls and jasmine tea syrup.
Ingredients
1

Honeydew Melon

2

Liter

Cold Soda Water

1/4

Cup

Jasmine Syrup

Mint sprigs for garnish
Instructions
Add the honeydew melon flesh to the blender. Puree until there are no chunks.

Add jasmine syrup and pulse slightly to mix

Combine the contents of the blender and cold soda water into a clear glass pitcher

Serve from the pitcher immediately
Notes
If you'd like to make this drink ahead of time, you can blend the honeydew and syrup and refrigerate. Refrigerate the soda water separately so it doesn't loose its fizz. If you have a bar, it's best to use canned soda water.
For an incredibly elegant drink, use non-alcoholic sparkling wine like Prima Pavé Blanc de Blancs.
Virgin Daiquiri
A virgin daiquiri an iced drink with vibrant red color made with sugar and strawberries
Rose Lemon Spritzer
A Rose Lemon Spritzer is a sweet pink drink sweet with rose petals as its main component
Cranberry Rosemary Refresher
A Cranberry Rosemary Refresher is a colorful drink is perfect for both summer and winter weddings. To make this drink non-alcoholic, substitute Ritual Zero Proof Whiskey
Raspberry-Jalapeño Fizz
Raspberry-Jalapeño Fizz is a mix of sparking water and fresh lime juice with banana, jalapeño, and raspberry.
An excellent option is to prepare the non-alcoholic beverages in chic carafes so guests can enjoy endless drinks without waiting in line. Here's a tutorial on how to make a Virgin Strawberry Daquiri in the easiest way. You can also add non-alcoholic rum to this recipe.
Fancy Water
Many couples are now opting to serve premium water, flavored water, or sparkling water at their weddings instead of traditional beverages like wine or champagne. This trend is becoming increasingly popular as people become more health conscious and seek ways to make their wedding celebrations more unique. Not only is serving water a healthy alternative, but it can also be a fun and unexpected way to add some excitement to your wedding reception.
Choose still water with little mineral content to go with the meal and sparkling water with more minerals to contrast it. Orange, mint, cucumber, and blueberry-flavored waters are becoming increasingly popular. Choose a high-quality still water, then garnish it with fresh fruit. Adding a little flavor to the water may offer your guests the opulent experience.
Tea & Kombucha
If you want to serve something hip and trendy at your wedding, cold brew tea is a fantastic option. As a probiotic, kombucha is becoming increasingly popular due to its health advantages. They have excellent flavors and stand out from the soda and juice drinking options.
Although it may not be at the top of your list of wedding beverages, kombucha is a great choice to serve at a wedding. Kombucha is the ideal beverage to serve at a wedding with a rustic, elegant theme. There are numerous flavors to pick from, and it's something unique that your visitors will also remember.
Fruit Juices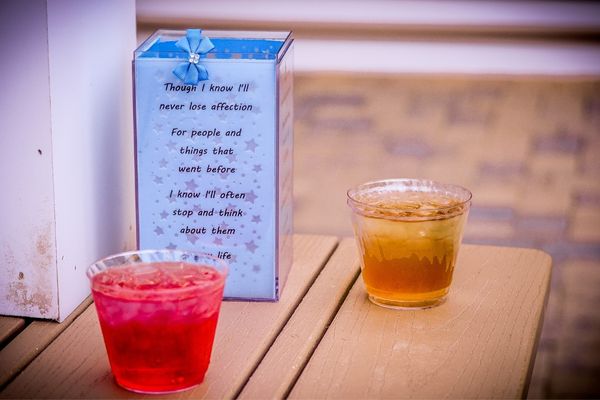 Fruit juice is always a popular option, and you may choose from various exotic fruits, such as pineapple, cherry, and plum. You can choose something more adventurous since it is your special day, not just ordinary orange or apple juice.
You can mix flavors to make something special for your wedding day if you want to add some individuality to the drinks menu. Don't forget that carbonated water or garnish can also be added if you want to add some bubble-infused excitement. Enjoy the experience!
Establish a refreshment area where visitors can enjoy bowls of delectable fruit. Combining various fruits allows you to experiment with colors and flavors to fit your personality and wedding theme. Fruit juice brightens your tables with a variety of colors in addition to its flavor. Children will also enjoy joining in and sipping juice with the grownups.
It also doesn't have to be exclusively fruit! Try herbs and cucumbers. It's preferable to invest a little more and choose freshly squeezed drinks because serving concentrated, diluted juice will detract from the quality of your special day.
Root Beer
If you're giving out an ice bucket of beer, consider giving a bucket of craft root beer or craft sodas as well. It's something that children will enjoy, and perhaps some adults as well.
Another dessert that might seem a bit too straightforward for something as wonderful as a wedding is a root beer float bar. This might be just the thing for your wedding. It's enjoyable, approachable, and whimsical. Let the dance floor come alive with that sugar rush!
If you have guests that are vegan, you can provide a vegan non-alcoholic wine.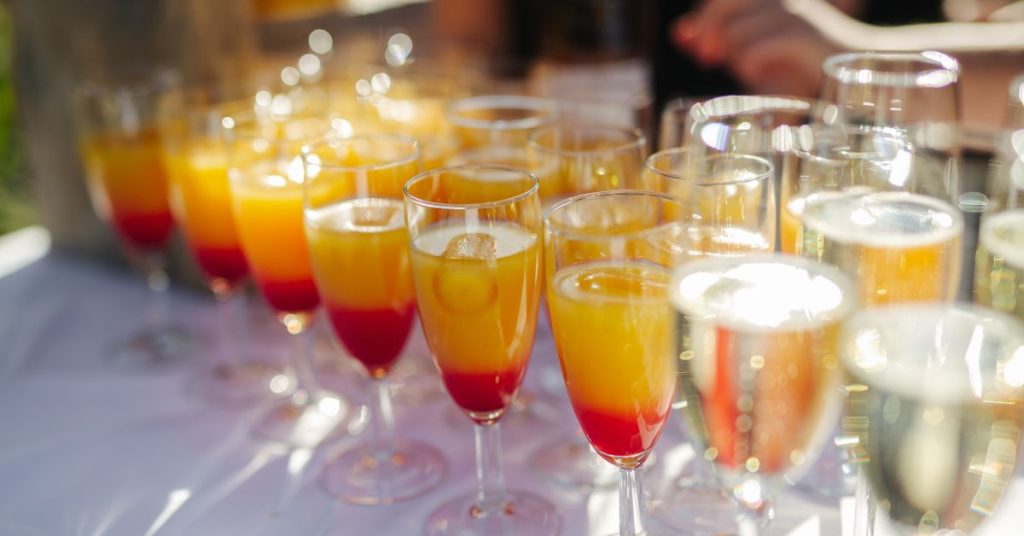 Even if you decide to serve alcohol to your guests, there should always be plenty of non-alcoholic beverage options available. We have provided you with some fantastic alcohol-free options for a sober wedding.
Look for beverages that fit your theme, and pay attention to eco-friendly packaging. Try out different flavors and ask your caterer, chef, or bartender to assist you in combining drinks with the dishes if you want to leave an impression on your guests.
Ask your caterer or the venue for a list of non-alcoholic drinks if you're still at a loss for inspiration; they should have it. It's easy to find many creative ideas online, but it's crucial to try and test your beverages before your wedding day to make sure the flavors work.
There are so many great non-alcoholic drink ideas for weddings! We hope that our list has given you some inspiration for what to serve at your wedding. Whether you're looking for something fruity, refreshing, or even a little bit fancy, there's a non-alcoholic drink out there that will fit the bill. So, get creative with your wedding menu — your guests will appreciate it.
Non-Alcoholic Drink Ideas For Weddings FAQs
What is the most popular drink at a wedding?
Wine is unquestionably the most traditional and well-liked beverage to serve at a wedding or formal event because it appeals to a wide range of guests. A bottle should ideally be purchased for every two persons.
Thus, if you plan to have a sober wedding reception, you can always opt for non-alcoholic wines. Do you know that there are N/A wines at Target? 
What is a non-alcoholic substitute for champagne?
Although non-alcoholic champagne or sparkling wine might seem like a pipe dream, there are actually a ton of delectable substitutes available. It is entirely possible to partake in the frothy fun without the drink or the headache the following day.
Here are some non-alcoholic substitutes you can try instead of champagne.
1. Sutter Home Fre Brut Non-Alcoholic Champagne
2. St. Regis Nosecco/Secco
3. Freixenet Alcohol-Free Sparkling Wine
4. Noughty Alcohol-Free Sparkling Chardonnay
5. Grüvi Bubbly Rosé
6. Sapiens Dealcoholized Sparkling Rosé
What is a non-alcoholic drink I can order at a bar?
You don't have to drink only water or whatever is in the soda fountain if you're abstaining from drinking for Dry January or are the designated driver that evening. Instead, sip on one of the best non-alcoholic cocktails you can find at a bar.
You can try these refreshing drinks instead:
– Virgin Wine Spritzer
– Non-Alcoholic Hot Toddy
– Virgin Bloody Mary 
– Non-Alcoholic Moscow Mule
– Kombucha
– Virgin Piña Colada
What do you drink at a party instead of alcohol?
It can often seem impossible to avoid alcohol because it is a common component of social events and occasions for celebration. Try one of the following non-alcoholic drink options the next time you find yourself in a challenging situation or experiencing a craving to ward off temptation.
– Sparkling water
– Tea
– Club soda with flavored syrup
– Coffee
– Fruit and herb-infused water
– Spiced apple cider