Time to read: 3 minutes
pro tip: bookmark to make later
Our non-alcoholic espresso martini collection will have something for everyone. We've taken the best of the best and listed them here. Want to use a non-alcoholic spirit? Want to make your virgin espresso martini using everyday kitchen staples? Or do you want to get creative but only if it's guaranteed to be a goodie? We've got you covered!
Have you noticed a rise in the popularity of coffee-based cocktails without alcohol? Then, you might also want to try a non-alcoholic Irish coffee.
The espresso martini combines the best of both worlds: a fancy cocktail befitting a night out and a shot of caffeine to counter the drowsiness that follows supper. Born out of the 1980s London bar scene, it is currently having a moment on cocktail menus once more, thanks to a new generation of drinkers infatuated with nostalgia.
They taste wonderful, look fantastic, and energize you, so it's hardly surprising. Of course, all of that is possible without alcohol! Wow your guests with a non-alcoholic espresso martini.
This coffee mocktail combines several flavors into one delectable, eye-catching beverage. The main flavors in a non-alcoholic espresso martini are espresso and vanilla. This alcohol free drink is a wonderful way to celebrate during Sober October, NOvember, Dry January, or any get-together. Enjoy the flavor (and the caffeine).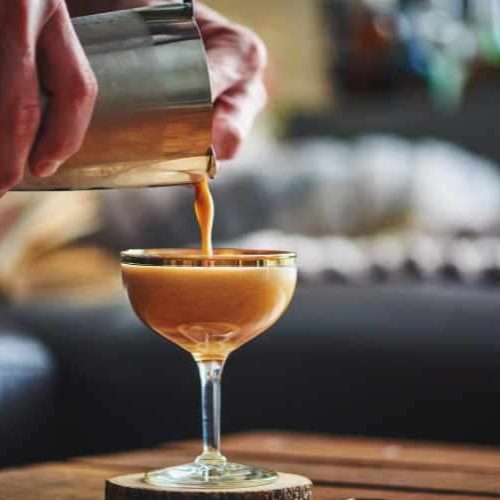 Non-Alcoholic Espresso Martini
Our virgin espresso martini hits the spot right between indulgent and romantic. It's such a gorgeous cocktail. Doesn't it transport you the roaring 20s? If only Jay Gatsby knew. We are using chilled espresso instead of cold brew because get this, espresso has less caffeine that cold brew. I know! It's because more coffee beans are used to make cold brew. And chilled espresso has more rich flavor than regular coffee so we're definitely not using coffee. One sip of this and you'll be making them in the break room before your afternoon meetings. And why not? It's alcohol free!
Ingredients
1 1/2

ounces

chilled espresso

(make it in an Italian press or an espresso machine if you have one)

3/4

ounces

simple syrup 

1

ounce

Optional: Zero Proof Ritual Rum Alternative 

(we love this addition for it's Madagascar vanilla flavor)

2

full droppers

All The Bitter –  Aromatic

(we use this in our espresso tonics too)

3

espresso beans for garnish
Instructions
Add all ingredients to a shaker tin with ice.

Shake, shake, shake for 10 seconds to make it nice and frothy.

Pour into a coupe, a martini glass, or Nick and Nora glass.

Garnish with your beans. Place them in the middle of the drink
For the simple syrup:
Bring 1/2 cup water, 1/2 sugar to a light boil. Reduce to simmer for 5-8 minutes. Let cool. Pour into a bottle and refrigerate.
Ingredients
1 coffee bean
45ml Lyre's Coffee Originale
15ml Lyre's White Cane Spirit
45ml fresh espresso or cold-drip coffee
10ml vanilla syrup
Handful of ice cubes
Instructions
In a cocktail shaker, dry whisk your Lyre's Coffee Originale, Lyre's White Cane Spirit, fresh espresso or cold-drip coffee, and vanilla syrup.
Add half a cup of ice.
Shake vigorously for a little while before straining into a coupette or martini glass.
Add a coffee bean as a garnish.
Ingredients
2 oz Seedlip Spice 94
2 oz Cold Brew Concentrate
½ oz Sugar Syrup
3 coffee beans
Instructions
Combine "vodka", Cold Brew Concentrate, and Sugar Syrup in a shaker.
Stir in the ice.
Pour into coupe glass after two strains.
Add the coffee beans as a garnish.
Ingredients
50ml espresso
Ice cubes
25 ml vanilla syrup
25 ml water
Pinch of salt
Coffee beans (for garnish)
Instructions
50 ml of your choice espresso (1 demitasse) should be brewed and chilled.
Put some ice in the cocktail glass to chill it.
Fill your shaker with the remaining ice (fill it up).
Fill the shaker with water, cooled espresso, vanilla syrup, and a dash of salt.
Shake well and strain the espresso martini mocktail into the glass.
Add one or two coffee beans as a garnish before serving.
Ingredients
For the drink:
1 ½ oz ArKay
1 ¼ oz chilled espresso
¾ oz light brown sugar-rich syrup
3 coffee beans, for garnish
Espresso powder, for garnish
For the light brown sugar-rich syrup
1 cup light brown sugar, packed
½ cup near-boiling hot water
Instructions
For the syrup that contains light brown sugar:
In a heat-safe container, combine the hot water with the light brown sugar and stir until the sugar is dissolved.
Store in the refrigerator for up to two weeks after fully cooling.
For the drink:
To enhance the aeration and prevent over-dilution of the drink, combine the components (apart from the garnish) in a cocktail shaker with about one-third ice.
Fine-strain into a cooled coupe or martini glass. Add some extra foam from your strainer on top of the beverage.
Add some coffee beans as a garnish and sprinkle some espresso powder on top. Serve immediately.
Ingredients
1 oz espresso
1 oz sweetened condensed milk
2 oz skim milk
optional: 1 oz nonalcoholic vodka (add more coffee if you'd like a little more "kick")
Instructions
In an ice-filled shaker, combine all the ingredients and shake vigorously. If you don't have a cocktail shaker, a mason jar or anything else with a tight lid will suffice.
Serve by pouring it into a martini glass.
Ingredients
1 oz non-alcoholic vodka
2 oz non-alcoholic coffee spirit
1.5 oz espresso drip
½ tsp vanilla bean paste
2 tsp maple syrup, adjust to taste
coffee beans to garnish
2–3 tbsp of coconut cream or full-fat coconut milk (optional)
Instructions
While you prepare the remaining ingredients, prepare a fresh serving of drip espresso and let it chill for a moment in the freezer.
Add all the ingredients and shake to blend in an empty shaker. After that, shake vigorously to cool while adding a few pieces of ice.
Pour into a coupe glass to serve, then top with three coffee beans as a garnish.
Lyre's Peppermint Espresso Martini
Ingredients
1 oz Lyre's Coffee Originale
1 oz Lyre's White Spirit Cane
1 oz cold brew concentrate or espresso
.75 oz Torani peppermint syrup
crushed peppermint candy to the rim of your glass
3 coffee beans for garnish
Instructions
Add all ingredients (minus peppermint and beans) to a shaker with ice and shake.
Strain into peppermint rimmed glass. Wet the rim for candies or for extra stickiness use simple syrup.
Et Voilà
Related Articles
Non-Alcoholic Espresso Martini FAQs
What can I use instead of coffee liqueur in an espresso martini?
One of the best modern inventions is the espresso martini. It gives you access to wine and coffee, making it ideal for unwinding with friends or taking a day off.
Instant coffee and brown sugar are great substitutes that you can use instead of coffee liqueur for your non-alcoholic espresso martini.
Is there a non-alcoholic Kahlua?
The old Kahlua brand, DaVinci Coffee Liqueur Gourmet Syrup, has what you need if you're looking for a non-alcoholic version of that same rich flavor. Now, any beverage can taste just as fantastic as Kahlua without any of the negative effects of alcohol.
Add some to your milk, coffee, latte, or hot cocoa! Why not even drizzle it over a piece of your preferred cake? You can pair that cake with your non-alcoholic espresso martini!
Why is there no martini in an espresso martini?
The espresso martini is a cold, caffeinated alcoholic beverage made with espresso, vodka, and coffee liqueur. It is not a true martini because it does not contain gin or vermouth, but it is one of numerous beverages whose names use the word martini.
Meanwhile, you can literally make a non-alcoholic espresso martini by replacing it with N/A beverages and recipes.