Trying to think of bachelorette party ideas for non-drinkers? There are several different ways to enjoy a sober bachelorette party without involving alcohol. Either do a fun activity or show off your own mixology skills by crafting your own non-alcoholic cocktails!
Ritual Zero Proof always has something for everyone, from non-alcoholic gin to non-alcoholic aperitif to mix with your drinks.
Whether the bride is expecting, there will be underage attendees or the guest of honor doesn't drink, these non-alcoholic bachelorette party ideas will lead to nothing but a good time!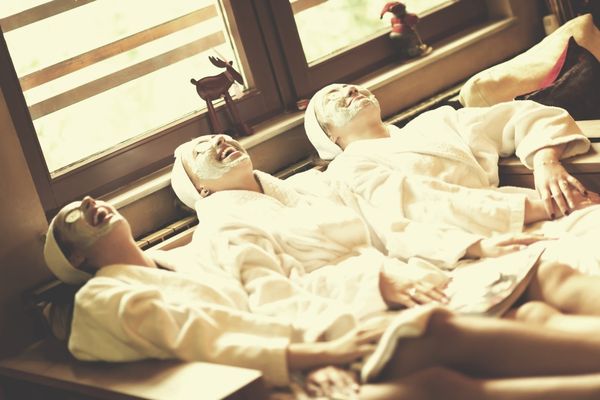 Head To The Spa
All that wedding planning stress leading up to the big day could be massaged away. A day at the spa is a perfect alcohol-free bachelorette party idea that works for a more calmed vibe. Get hot stone massages, mud baths, mani-pedis, and more.
Destination wedding? Check out these spas.
Go Wild On Rides
If you live near a theme park or amusement park, get that rush you crave without alcohol. This is one of the most ideal bachelorette party ideas for non-drinkers but adventurous brides who feel at their best in sneakers while taking in all the thrills.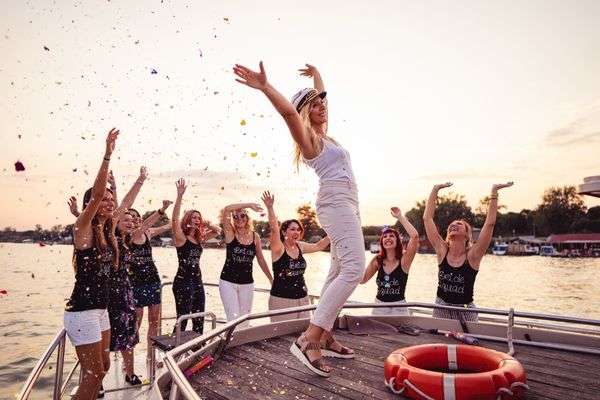 Have An Outdoor Adventure
For brides that love the outdoors, it only makes sense to pick a venue that lets her get back to her roots. Head to the state park for canoeing, hiking, or even rock climbing.
Close to the beach? Consider beach yoga or renting a cabana at one of those beach resorts so they can bring you ice cold water, mocktails, and snacks all day long.
Take A Group Class
Our favorite thing to do with a group is take a cooking class. From cooking to pottery and everything in between, there are so many cool classes you can sign up for as a sober group.
It's a great way to bond together without any alcohol involved.
Make A Break For It With An Escape Room
There may not be a more perfect bachelorette party ideas for non-drinkers than an escape room.
Working together to solve the puzzles and get out of the room on time requires a clear head, making it an ideal bachelorette party idea for non-drinkers.
Host A High Tea
At your home or a beautiful venue, you can have a classy and distinguished high tea. Pull out all the stops with those finger sandwiches, petit fours, macarons, scones, and of course, the tea.
Non-Alcoholic Drink Ideas For A Bachelorette Party
Even though the bride doesn't drink, that doesn't mean you're all stuck with water or boring non-alcoholic beverages. Go beyond the usual sodas and grab something that's healthier with prebiotics and herbs. Poppi and Sunwink are both healthy soda options that promote gut health and taste great.
But if the bride would like a true mocktail, Seedlip is a fantastic non-alcoholic spirit that can be mixed with anything from tonic to fruit juice. You can even make it a bachelorette party game to see which guest can make the bride the best mocktail.
Grab a bunch of ingredients to work with and you could be mixing up a virgin tequila sunrise cocktail, a non-alcoholic espresso martini, or a non-alcoholic negroni. The options are endless for good, clean fun with these bachelorette party ideas for non-drinkers!
Bachelorette Party Ideas for Non-Drinkers FAQs
Is it OK to not have a bachelorette party?
It's not necessary to have a bachelorette party before your wedding. Perhaps you have other pre-marriage plans, such as a lengthy wedding weekend or multiple days. Or perhaps you simply don't want to deal with the trouble of planning a gathering. Then don't go to the bachelorette party!
You most likely won't have a wedding party if you're eloping! Furthermore, you don't want anyone to find out that you are eloping. Consider having a post-wedding party instead; it might be less stressful and more enjoyable since you didn't have a full wedding to arrange.
What can I do instead of a bachelorette party?
Trying to think of bachelorette party ideas for non-drinkers? Forgo the boozy bashes without forfeiting any of the fun.
Whether the bride is expecting, there will be underage attendees or the guest of honor doesn't drink, these bachelorette party ideas for non-drinkers will lead to nothing but a good time!
1. Head to the spa
2. Go wild on rides
3. Have an outdoor adventure
4. Take a group class
5. Make a break for it with an escape room
6. Host a high tea
What is the etiquette for bachelorette parties?
The bachelorette party has changed significantly over the years, going from a low-key dinner or luncheon the day before the wedding to a full-blown destination weekend with matching bikinis, private boat charters, and its own hashtags.
Each bachelorette party participant traditionally foots their own bill for the event and contributes to the bride's tab. It's a great gesture, but not entirely required, to follow suit if the bachelorette party is just one night of dinner or partying.
How do I stop drinking on the Bachelorette?
Regardless of what you order in front of your friends, ask the server to keep bringing you seltzer with lime in a cocktail glass throughout the entire evening. No one will know that you aren't actually drinking vodka sodas all night. A fruity cocktail that has been made without alcohol is another excellent fakeout beverage.
As a bonus, here are some tips to avoid and say no to alcohol.