What better way to beat the summer heat than with refreshing mango mocktails? Because when it comes to tropical flavors, one fruit reigns supreme: the mango. Known for its luscious sweetness and vibrant color, the mango is a beloved fruit that can transform any beverage into a tropical delight. In this article, we'll take you on a journey through the world of mango mocktails, showcasing the top 12 recipes that will quench your thirst and leave you craving more.
#1 Spicy Mango Mocktail
Mango Mocktail Recipe
This Mango Mocktail is sweet and refreshing and can be made spicy with the addition of half a jalapeño. Our recipe contains mango puree (blender), lime and soda. How easy is that?
Ingredients
1

cup

mango puree 

(you can sub fresh mango juice if you want the drink to be thinner)

2

cups

sparkling water or soda

1

tsp

lime juice 

1

tsp

lemon juice 

1/2

tsp

simple syrup

1

lime wheel and mint for garnish

1/2

jalapeño, seeds removed and sliced

optional

coarse salt for the rim

optional
Instructions
Combine all ingredients in a bowl and stir until mixed well. 

Add coarse salt to a plate. Run a lime wedge around the rim of half the glass. Dip the rim of the limed glass in the salt.

Pour your mango mocktail over ice.

Garnish with lime wheel and mint sprigs.
#2 Mango Mojito Mocktail
This Mango Mojito Mocktail recipe by the Mindful Mocktail combines the flavors of mango, mint, and lime and indeed shouts SUMMER! It's the ideal virgin mango mojito mocktail beverage for expecting mothers and for parents when you want to drink less alcohol or avoid it all together. This mango mocktail recipe checks all the boxes when creating the ideal non-alcoholic beverage.
Ingredients
.5 cup mango fresh or frozen
2 tablespoon water
1 lime quartered
6 mint leaves
1 cup soda water or any sparkling drink (kombucha is also great)
Extra mint and lime for garnish
Instructions
To release the juices, muddle lime slices in your glass or pitcher. Use the end of a wooden spoon handle, for example, if you don't have a muddler.
Holding mint in your palms, clap them together until the aroma emerges. Add to the lime. Apply light pressure with the muddler.
To make mango puree, combine mango and water in a small blender.
Gently whisk the mango puree after adding it to the lime and mint mixture.
Ice should be put in the glass. Add sparkling water (or a substitute) on top and gently stir.
Lime wheel and mint are used as a garnish.
#3 Mango Mule Mocktail
The Mango Mule Mocktail perfectly blends the sweetness of mango and the spiciness of ginger to create a zingy and refreshing bevvy. Perfect for porch people watching. You'll have all your neighbors oohing and aahing over this gorgeous drink. Combine cucumber (I know it sounds weird, omit if your unsure), simple syrup, mango puree, fresh lime juice, ginger beer and garnish with mint.
The ginger beer gives the Mango Mule Mocktail recipe by Pink Lotus Power Up just the right amount of oomph to give it a distinctive cocktail-like flavor character. You might think you are on vacation after taking a few sips.
Ingredients
5 slices of cucumber
½ oz of simple syrup
1.5 oz of mango puree
1.5 oz of fresh lime juice
2 oz of ginger beer
Some mint, lime, and cucumber for garnish
Instructions
Combine the cucumber and simple syrup in the bottom of a cocktail shaker.
Shake with ice after adding the mango puree and lime juice.
Fill the glass with the beverage after adding ice.
Add the ginger beer on top, then whisk.
Add a lime slice, a cucumber slice, and a mint sprig as garnish.
#4 Frozen Mango Mocktail Daquiri
This mango mocktail made with pineapple will have you lounging poolside (at least in your mind) in no time. Add Ritual Rum Alternative to give it an oh-so-cocounutty-sweetness.
Ingredients
2 ounces Ritual Rum Alternative
1 ripe mango (about 12-ounce size), peeled, pitted, and coarsely chopped
¼ cup unsweetened pineapple juice
2 tablespoons fresh lime juice
2 tablespoons superfine granulated sugar
3 ice cubes
Instructions
Mango, pineapple juice, lime juice, and sugar should all be combined in a container of an electric blender. Blend until smooth on high.
Add ice cubes and blend until slushy and smooth.
Pour right away into glasses with stems and serve.
#5 Mango Colada Mocktail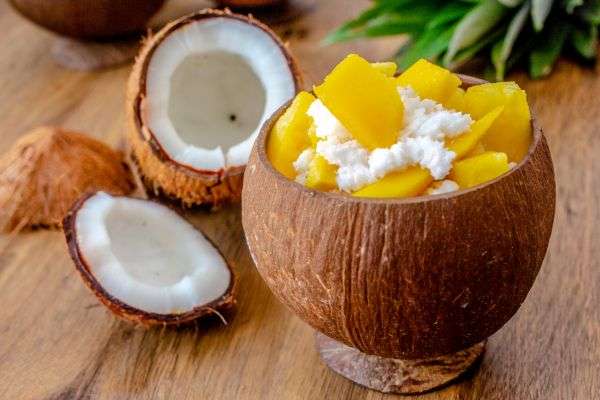 A Virgin Piña Colada is good, but if you think outside the box this time, swapping the pineapple with mangoes can turn out great! Nothing beats sitting in the shade, sipping a cool beverage, wearing your sunglasses, and watching your kids play in the sprinklers in the backyard. And with this Mango Colada Mocktail by Dessert Now Dinner Later, they are welcome to come over and enjoy the drink with you.
Ingredients
1 (16oz) bag frozen mango chunks
½ cup cream of coconut
½ cup coconut milk (plus more if needed)
Juice of 2 limes
1 frozen banana
Instructions
Combine the items together using a blender.
Using more coconut milk if necessary, blend until smooth.
#6 Strawberry Mango Cooler Mocktail
On a sweltering summer day, sweet and refreshing are the ideal flavors. Kids and adults will equally enjoy a Strawberry Mango Cooler by Miss In The Kitchen – a simple punch for cookouts and summer vacations!
Ingredients
2 cups sliced strawberries
½ cup diced mango
¼ cup honey
1 cup mango-orange juice (or regular orange juice)
1 liter of Sprite or club soda
Instructions
Combine the strawberries, mango, honey, and orange juice till smooth in a blender.
Before serving, place in an airtight container and chill.
A little over a third cup of the strawberry-mango mixture should be poured over ice in each glass. Add Sprite or club soda on top and mix well.
Serve right away.
#7 Mango Passion Fruit Mocktail
Looking for a refreshing drink to celebrate the season? This recipe from Countdown for a Mango Passion Fruit Mocktail will become your go-to beverage for this summer. It's sweet, a little sour, and full of fresh flavors.
Ingredients
1 cup mango pieces
1 cup passionfruit pulp
5 fresh mint leaves, plus extra to garnish
1 lime, juice only
300 ml ginger ale
1 cup ice
1 lime for garnish
Instructions
Using a muddler, crush the mango, passionfruit, and mint together in the bottom of your pitcher (or tall glass). If you have a blender on hand, pulse it many times to achieve the desired texture.
Add the lime juice over the smashed fruit after slicing and juicing it.
Fill the pitcher or glass to the top with ginger ale, leaving a small space for ice, and whisk for a minute to combine the flavors.
After stirring, add crushed ice to the top of your beverage. Pour the beverage into serving glasses if you're making it in a pitcher.
Slice a thin round of lime; from the center to the edge, cut halfway through, and slide onto the edge of your glass as a garnish.
Add a mint leaf to the top for an added flourish. Enjoy!
#8 Frozen Mango Margarita Mocktail
A delicious mocktail will allow you to join in the fun even if you don't consume alcohol. On Cinco de Mayo or really any day you want to feel like you have a fun cocktail without the alcohol, this Frozen Mango Margarita Mocktail by Unbound Wellness is the ideal beverage to sip! We add Ritual's Tequila Alternative to spice up this mocktail. With ingredients like blue agave flower, cracked sea salt and mesquite smoke, your drink is sure to be a hit!
Ingredients
1 ¼ cup orange juice
¼ cup lime juice
3 tablespoon honey
½ cup frozen mango
3 cups crushed ice
Sea salt to salt the glasses
1–2 limes, sliced
Instructions
Two glasses should be ready, and their rims should be covered with a lime slide. To coat the rim, dip it into some sea salt. Place aside.
Blend the frozen mango, ice, orange juice, lime juice, honey, and other ingredients in a high-speed blender. 15–20 seconds should be enough to create a thick liquid.
Slices of lime should be added when serving the margarita in the glasses.
#9 Spicy Mint Mango Mocktail
Enjoy this Spicy Mango Mocktail by Cook With Manali at any festive occasion. It works for everyone and it has a kick that comes from jalapeños. Balanced by mango juice, coconut water, ginger, and fresh mint. Serve simply, or add sparkling water on top!
Ingredients
¾ tablespoon grated ginger
2-3 slices jalapeños (use thin slices of jalapeños + more to serve)
Handful mint leaves + more to serve
¼ + ⅛ teaspoon chaat masala
¼ + ⅛ teaspoon kala namak black salt
1 cup coconut water cold
1 ½ cup mango juice cold
Plain sparkling water/soda as needed
Instructions
Ginger that has been grated and jalapeño slices should be added to a cocktail shaker. Jalapeño slices can be added in any number, but the more you add, the spicier your mocktail will be.
Add a few mint leaves to the shaker. Add kala namak and chaat masala as well. To release the juices from the ginger, mint leaves, and jalapeños, mash them with the back of a wooden spoon or, if you have one, a muddler.
Close the shaker after adding the mango juice and coconut water. Once the shaker is shut, shake it several times to thoroughly combine everything.
Pour it into serving glasses at this point, garnish with mint leaves and jalapeño slices as desired, and serve either plain or with sparkling water on top.
Once your serving glass is ¾ full, top it off with plain sparkling water and serve.
Serve the beverage immediately if you add sparkling water to keep the fizz up. If you are serving it plain, you may also serve it later.
However, if you garnish them with jalapeño slices, be aware that the drink will become spicier as time passes by. So either add a garnish before serving or simply add mint leaves.
#10 Mango And Basil Fizz Mocktail
This mango mocktail by Food52 is delicious, vibrant, and quick-to-prepare. No one will miss the booze. Additionally, you can make big batches ahead of time.
Ingredients
1 cup sugar
1 cup water
5 basil leaves, plus more to garnish
4 ounces mango juice per glass of fizz
1 pinch pink Himalayan salt
2 tablespoons basil simple syrup (recipe below)
Ice
4 ounces sparkling water per glass of fizz
Sliced mango for garnish
Instructions
In a small saucepan over low heat, combine the sugar and water for the basil simple syrup and stir until the sugar is dissolved.
Five more basil leaves are added after five minutes of simmering. The basil leaves should be removed once the syrup reaches room temperature and is transferred to a clean plastic squeeze bottle or jar. For up to a week, keep in the fridge.
For the mango basil fizz, fill your chosen number of glasses with the mango juice, salt, and basil simple syrup, and stir well.
Add ice to each glass, then top with sparkling water.
Serve with additional basil leaves and mango slices for garnish.
#11 Aam Panna Mocktail
The Aam Panna is the most popular Indian sparkling summer drink and is loved across the country. the Aam Panna Mocktail is unique as it uses raw mangoes instead of sweet, ripe ones.
Try this recipe by Cookpad.
Ingredients
1 cup raw mangoes (kairi) medium-sized
Salt to taste
4 tablespoons mint (pudina) leaves
2 tablespoons sugar powder
1 teaspoon roasted cumin (jeera) powder
Crushed ice cubes, mint powder, and mint sprigs (for serving)
Instructions
Put the raw mangoes in the pressure cooker, cover them with water, and cook for one whistle.
After 4 minutes of simmering, drain and cool the mangoes. Peel the pulp or mash it.
The mango pulp and 4 cups of water should be blended. Add mint leaves and salt to taste.
In a sieve, strain the mixture.
Add sugar and roasted cumin powder to the mango mixture. Combine well and chill.
Pour the beverage over crushed ice into a glass, top with mint powder, and garnish with fresh mint leaves.
#12 Mango Tango Mocktail
The Mango Tango Mocktail recipe by Times of India is made with milk, mango juice, vanilla ice cream, and healthy mango pulp. On special occasions, try this delicious and simple party beverage!
Ingredients
1 cup mango juice
½ cup milk
2 teaspoon sugar
1 teaspoon lemon juice
5 leaves mint Leaves
½ cup ice cubes
½ cup mango pulp
1 tablespoon vanilla extract
1 scoop vanilla ice cream
1 pinch Sendha Namak
1 slice mango
Instructions
Add ½ cup of crushed ice to the blender along with all the ingredients. Pour into a glass after smoothing in a blender.
Add additional juice or water if the mixture is too thick. Mix in the ice cream.
Mango slices and pulp can be used as decorations.
How To Get The Best Mangoes In The Market
Recreating easy mango mocktail recipes at home starts with picking the best mangoes in the market. We've got tips to help you pick the juiciest, sweetest, and most flavorful mangoes.
Know the Mango Varieties: Familiarize yourself with different mango varieties and their characteristics. Some popular varieties include Alphonso, Ataulfo, Keitt, Tommy Atkins, and Kent. Each variety has its unique flavor profile, sweetness, and texture. Researching and understanding these variations will help you make an informed choice.
Check for Ripeness: Mangoes continue to ripen after they are picked, so it's essential to know how to assess their ripeness. Gently squeeze the mango to feel for slight give without it being too mushy. The color is also an indicator: ripe mangoes often have vibrant yellow, orange, or red hues. Avoid mangoes that have bruises, blemishes, or overly soft spots.
Follow Your Nose: A ripe mango emits a sweet and fragrant aroma at the stem end. Sniff the mango near the stem; if it smells like a tropical paradise, chances are it's a good one. However, if there's no aroma or the scent is off-putting, the mango might not be fully ripe or have started to spoil.
Consider External Characteristics: Examine the skin of the mango for signs of quality. A healthy mango should have smooth and unblemished skin. Some mango varieties have green patches even when ripe, so don't solely rely on color. The skin should be free from wrinkling or shriveling, indicating freshness.
Weight Matters: A juicy mango will feel heavier for its size. Pick up the mango and compare its weight to others of similar size. The weightier one is likely to be juicier and more succulent.
Trust the Season: Mangoes have peak seasons in different parts of the world. When mangoes are in season locally, they are more likely to be fresh and flavorful. Check with local farmers' markets or grocery stores to find out when the best mangoes are available.
Ask for Recommendations: If you need help deciding which mangoes to choose, feel free to ask the vendor or store staff for their recommendations. They are often knowledgeable about the mangoes they sell and can guide you toward the best options.
Remember, even with these tips, there can be some variability in mango quality, so it's always a good idea to taste different varieties and experiment to find your personal favorite. Enjoy the hunt for the best mangoes and relish the tropical delight they bring to your palate!
Find Out The Best Mango Mocktail Recipe For You
The world of mango mocktails offers abundant flavors and combinations to suit every palate. Whether you prefer a tangy twist, a creamy blend, or a tropical explosion of flavors, a mango mocktail recipe is waiting to be discovered just for you. By exploring the variety of recipes available, you can find the perfect concoction that satisfies your cravings and elevates your summer experience.
Experimenting with different ingredients, such as coconut milk, fresh herbs, or chili powder, can take your mango mocktail to new heights of taste and excitement.
Related Articles
Simple syrup is just equal parts granulated sugar and water, which more than lives up to its name. Make simple syrup at home instead of buying it from the store using certain ingredients that you might already have.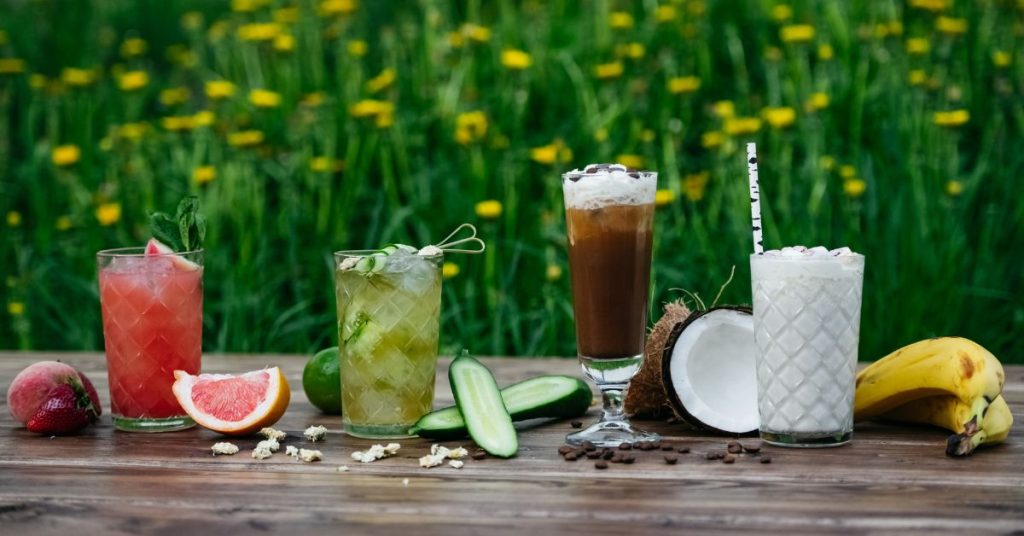 Are you planning a summer party? A backyard barbecue, a picnic in the park, or a day at the beach? Check out these 11 non-alcoholic frozen drinks ideas—we bet you won't miss the booze!
Mango Mocktails FAQs
Are mango mocktails healthy?
Mango mocktails can be a healthier alternative to alcoholic or sugary beverages, especially when prepared with fresh ingredients and mindful choices.
Mangoes themselves are nutritious fruit packed with vitamins, minerals, and dietary fiber. They are a rich source of vitamin C, vitamin A, and antioxidants, which are beneficial for overall health and immune support. Mangoes also offer natural sweetness, reducing the need for added sugars in mocktail recipes.
What can you mix with mango for a mocktail?
Mango is a versatile fruit that pairs well with a variety of flavors, allowing you to create delicious and refreshing mocktails. Here are some popular ingredients that you can mix with mango to create flavorful mocktails:
1. Citrus fruits
2. Coconut
3. Mint
4. Ginger
5. Basil
6. Chili
7. Cucumber
8. Pineapple
9. Sparkling water/soda
10. Vanilla
These are just a few examples of ingredients you can mix with mango to create unique and flavorful mocktails. Feel free to experiment and combine different ingredients based on your taste preferences.
What are the best food pairings for a mango mocktail?
When it comes to food pairings for a mango mocktail, you can consider a range of options that complement the flavors of mango while providing a balanced and enjoyable dining experience. Some of the best food pairings are spicy appetizers, tropical salads, grilled seafood, fresh & light wraps, cheese & charcuterie, and a fresh fruit platter. 
Experiment with different combinations and enjoy the delightful interplay of flavors between your mango mocktail and the accompanying food.