Indulge in a burst of vibrant colors and exotic flavors with our collection of dragon fruit mocktail recipes. As the world of culinary creativity continues to expand, these captivating mocktails have emerged as a delightful fusion of taste and aesthetics. With their striking hues reminiscent of a tropical sunset, dragon fruit mocktails not only tantalize the taste buds but also captivate the eyes.
Discover how to concoct these enchanting mocktails that elevate the allure of the dragon fruit.
What Is A Dragon Fruit?
For those unfamiliar with this tropical crop, you might be wondering, what is a dragon fruit? Dragon fruit, also known as pitaya, is a unique and exotic fruit from several species of cactus plants.
It is native to Central America but is now grown in various tropical and subtropical regions around the world. The fruit has gained popularity due to its striking appearance, vibrant colors, and sweet flavor.
The name "dragon fruit" is believed to have originated from the fruit's appearance, which often features bright, colorful skin with scale-like spikes that resemble the mythical creatures known as dragons. The fruit's outer skin can come in shades of pink, red, yellow, or even white, while the flesh inside can be either white or magenta, studded with tiny black seeds.
Dragon fruit is not only visually appealing but also offers several health benefits. It is a good source of vitamins, minerals, and antioxidants, such as vitamin C, calcium, iron, and dietary fiber. The fruit's mildly sweet taste and refreshing texture make it a popular choice for various culinary uses, including smoothies, desserts, salads, and beverages like mocktails.
Non-Alcoholic Dragon Fruit Cocktails You Can Try Recreating
Create different flavors and enjoy the vibrant hues you can create with this non-alcoholic dragon fruit cocktail collection. These captivating concoctions bring the exotic allure of dragon fruit to life in a symphony of taste and visual delight.
Whether you're seeking refreshing alternatives to traditional cocktails or simply aiming to indulge in a burst of vibrant hues, these mocktail creations provide a delightful experience for all occasions.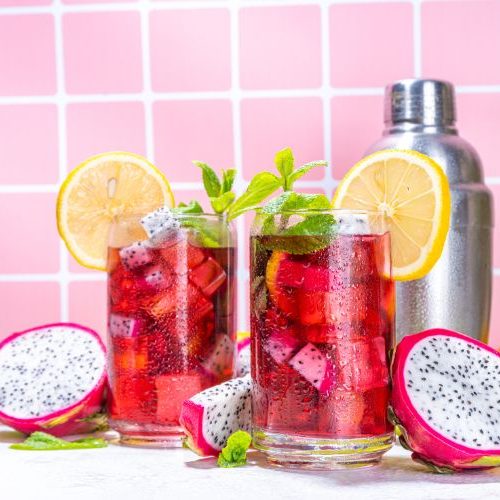 Dragon Fruit Mocktail
The ideal delectable and healthful beverage for spring, summer, or evening happy hour is this Dragon Fruit Mojito Mocktail. This lovely beverage is quite simple to create and is loaded with fresh fruit. One of my all-time favorites, this cool tropical drink is really simple to create and always looks stunning. All the ingredients are available online or at your neighborhood grocery shop.
Ingredients
1

lime

juiced

2

teaspoons

honey

2

teaspoons

pitaya powder

¼

cup

dragon fruit

peeled and chopped

6

mint leaves

1

can

lime sparkling water
Instructions
Use a muddler or the back of a long bar spoon to gently mix the chopped dragon fruit and mint leaves after adding them to the pitcher.

Add the can of lime club soda, then whisk briefly. Take a drink and, if necessary, tweak the flavors.

Pour the mojito mixture into two highball or Collins glasses after filling them with ice.

Enjoy the beverage after adding lime and mint as a garnish.
Dragon Fruit Punch
Bursting with the vibrant hues of dragon fruit and a medley of complementary fruits, this Dragon Fruit Punch Mocktail perfectly embodies refreshment and sophistication. Whether you're hosting a summer soirée or simply seeking a tropical escape, this mocktail by Monin infuses your moments with a touch of exotic allure.
Ingredients
¾ ounce Monin Dragon Fruit Syrup
2 ounces cranberry juice
1 ounce fresh sour mix
1 ounce pineapple juice
Instructions
Place plenty of ice in the serving glass.
In the order stated, add the ingredients to a mixing glass with ⅔ ice.
Cap, shake, and strain into an ice-filled serving glass.
Serve after placing garnish.
Dragon Fruit Delight Mocktail
Something about dragonfruit makes it hard to resist. It tastes as good as it looks—beautiful and tropical!
Making this Dragon Fruit Delight Mocktail is as simple as combining and serving the ingredients. It's also a terrific dragon fruit drink for youngsters, increasing their daily fruit intake. Your first impression of this non-alcoholic dragon fruit cocktail by Mindful Mocktail will be its stunning color, which makes it ideal for any season.
Ingredients
1 cup mango
1 cup frozen pink dragonfruit pieces
2 cups coconut water
Juice of 1 lime
6-8 mint leaves
Instructions
Use a high-speed blender to combine all the ingredients.
Serve with a garnish (flower or lime wheel).
Dragon Fruit Margarita Mocktail
Due to the lime and a hint of orange juice, this deliciously sweet Dragon Fruit Margarita Mocktail by Unrefined Junkie has a margarita-like hint of sourness. But thanks to a honey simple syrup, it's still sweet!
Ingredients
3 tablespoons water
3 tablespoons honey
1 ½ cups ice (divided)
2 ounces lime juice
2 ounces orange juice
1 tablespoon dragon fruit powder
3 ounces Topo Chico (or other sparkling water)
Coarse Sea Salt or Margarita Salt (optional)
Lime Wedges and Zest (optional)
Instructions
Warm the water and honey in a small pot over the heat to make a simple syrup. Remove from heat and let cool once the honey has thoroughly dissolved in the water.
If using lime and salt: Combine approximately ½ cup of salt and ½ tablespoon of lime zest on a plate or other flat surface. The area of the glass you will use for serving should be "wet" with a lime wedge. Set the salt/lime zest combination with the wet part of the glass.
Fill the glass with 1 cup of ice. In a mason jar or a drink shaker, add the remaining ice.
Fill the glass with the Topo Chico. Place the shaker or mason jar with the lime juice, orange juice, simple syrup, and dragon fruit powder inside. Shake to blend after sealing the jar or shaker.
Pour the "margarita" mixture from the shaker into the serving glass.
Add a wedge of lime as garnish.
Dragon Fruit Cucumber Limeade
Sip on some easy-to-make, energizing, and colorful Dragon Fruit Cucumber Limeade this spring or summer. This adaptable recipe from Moody Mixologist can be made for one person or in bulk for a party, with still or sparkling water, or alcohol or no alcohol.
This limeade benefits from the mild flavor and vibrant color of dragon fruit, but you can also use frozen strawberries, blueberries, or raspberries to create a similar delightful and eye-catching beverage.
Ingredients
For the dragon fruit syrup:
1 cup sugar
1 cup hot water (does not need to be boiling)
100 g frozen pink dragon fruit (about 1/2 cup)
For the dragon fruit drink:
1 oz dragon fruit syrup
1 oz fresh lime juice
½ baby cucumber (or 3 slices large cucumber)
1 slice jalapeño (optional)
4-6 oz still or sparkling water (to taste)
Instructions
For the dragon fruit syrup:
Frozen dragon fruit, hot water, and sugar should be combined in a heat-resistant jar or other container. Stir to help the fruit melt and the sugar dissolve.
After the sugar has broken down and the fruit has fully defrosted, let the mixture settle for a few minutes. Remove the seeds and any extra pulp by straining through a fine mesh strainer.
Any syrup that is left over can be kept in the fridge for up to two weeks in a sealed container.
For the dragon fruit drink:
Muddle the cucumber and jalapeño in a cocktail shaker.
If using still water, fill the shaker with ¾ full of ice and add the syrup, lime juice, and 4-6 ounces of water.
Shake the mixture until it is cooled, then pour it over ice into a highball glass with a cucumber garnish.
Lychee Dragon Fruit Mocktail
Lychee Dragon Fruit Mocktail stands as a testament to the art of crafting extraordinary non-alcoholic beverages. This enchanting concoction by Sanjeev Kapoor takes you on a journey through tropical landscapes, capturing the essence of two exquisite fruits in a captivating sip.
Ingredients
8 tablespoons Lychee flesh
Lychee juice for topping
1 large dragon fruit (halved)
Fresh mint leaves
Ice cubes
Drinking soda
Instructions
Scoop out the dragon fruit and divide them equally among the four serving glasses.
Each glass should contain 3-4 ice cubes, 5-6 mint leaves, and 2 tablespoons of lychee flesh.
Add some lychee juice and Coke on top.
Serve immediately.
The Exotic World Of Non-Alcoholic Dragon Fruit Drinks
The allure of the dragon fruit, with its captivating appearance and delicate sweetness, has become a canvas upon which mixologists and enthusiasts alike paint their masterpieces. The versatility of dragon fruit, combined with other carefully chosen ingredients, has given birth to a collection of mocktails catering to a wide range of palates, occasions, and preferences.
From the enchanting hues to the tantalizing tastes, these non-alcoholic dragon fruit drinks have redefined mocktails, inviting us to explore the uncharted territories of taste without the influence of alcohol.
Related Articles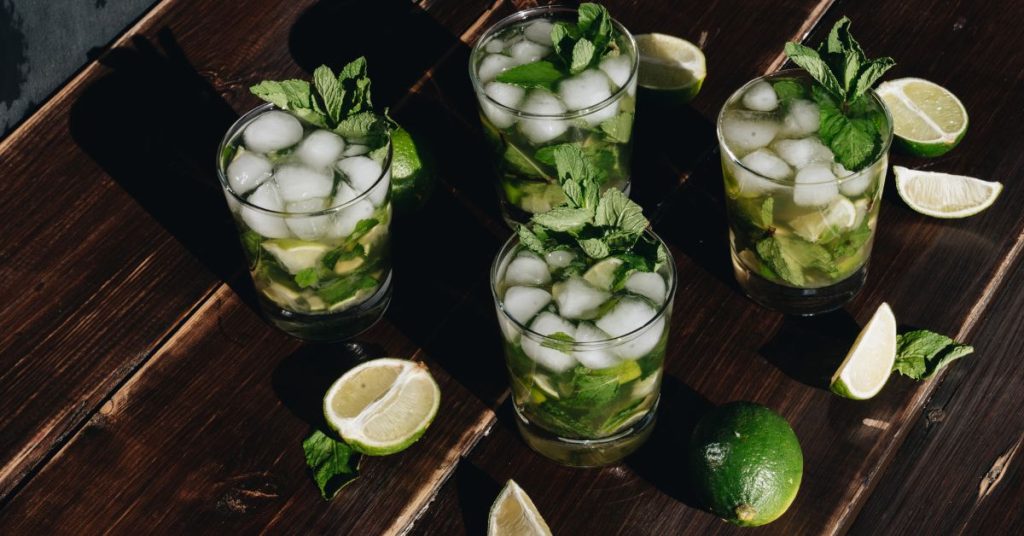 Looking forthe best non-alcoholic mojito mocktail recipes? We've tasted, and we've rounded up the best virgin mojito mocktails out there.
A non-alcoholic margarita makes the ideal party drink for everyone and for all occasions. Whip up your virgin margarita at a baby shower or New Year's Eve party and certainly a backyard bbq (because sometimes you need to dry out).
Dragon Fruit Mocktail FAQs
What can I do with dragon fruit?
Dragon fruit offers a versatile canvas for culinary creativity. You can enjoy it in various ways, such as:
– Eating it fresh by scooping out the flesh with a spoon.
– Adding it to fruit salads for a burst of color and flavor.
– Blending it into smoothies for a refreshing and nutritious drink.
– Using it as a topping for yogurt bowls or desserts.
– Incorporating it into sorbets, ice creams, and popsicles.
– Creating visually appealing mocktails and beverages.
What can you put on dragon fruit to make it taste better?
To enhance the flavor of dragon fruit, you can:
1. Squeeze a touch of lemon or lime juice over the flesh to brighten the taste.
2. Drizzle honey or agave syrup for a subtle sweetness.
3. Combine it with other complementary fruits like berries, kiwi, or mango.
4. Sprinkle a pinch of salt to balance the flavors.
5. Create a fruit salsa by mixing dragon fruit with diced cucumber, cilantro, and red onion.
Are dragon fruit drinks healthy?
Yes, dragon fruit drinks can be healthy, depending on how they are prepared. Dragon fruit is low in calories, rich in vitamins (especially vitamin C), and a good source of antioxidants and fiber. When used in drinks, especially non-alcoholic mocktails, it can contribute to a refreshing and nutritious option. However, keep in mind that adding excessive amounts of sweeteners or sugary ingredients can affect the overall healthiness of the drink.
What makes dragon fruit sweeter?
The sweetness of dragon fruit is influenced by its ripeness and variety. To make dragon fruit taste sweeter, you can:
– Choose fully ripe fruits with vibrant colors and slightly soft skin.
– Opt for varieties known for their sweetness, such as the white-fleshed Pitaya Blanca.
– Enhance its natural sweetness by pairing it with other sweet fruits or a drizzle of honey.