A glass of pure autumnal joy that's about to become your go-to non-alcoholic party potion – the Apple Cider Mule Mocktail. But wait, we're not stopping at just mixing and sipping. No way! We're turning this mocktail into a star-studded affair with six different ways to serve it for your guests or your own at home!
Now, I know what you're thinking – you, surrounded by friends, clinking glasses filled with the crisp, fall goodness of apple cider mule mocktails. Don't worry; we have Instagram-worthy presentations right here so you can show everyone your masterpiece, whether it's the holiday season or just a regular day (who cares? It's non-alcoholic!).
Apple Cider Mule Mocktail
This easy Apple Cider Mule Mocktail is sweet and bubbly with a fizzy hint of ginger spiciness!
A delightfully simple Christmas mocktail that is equally lively and celebratory without alcohol; discover combining ginger beer, apple cider, and lime juice to create a faux Moscow Mule. This vibrant fall beverage combines the acidic and zippy flavors of lime and cider with the zest of ginger beer (which is not alcoholic, despite its name).
Ingredients
3

ounces

apple cider

4

ounces

ginger beer

½

ounce

lime juice

freshly squeezed if possible

candied ginger

for garnish

apple fan

for garnish
Instructions
Pour the ginger beer, lime juice, and apple cider into an ice-filled glass.

Gently stir to mix in. Note: A chopstick can serve as a good substitute for a thin tool like a bar spoon, which is ideal for this to avoid disturbing the ginger beer's bubbles.

Add a fan of thin apple slices and some candied ginger on a skewer as garnish.
Apple-Ginger Moscow Mule Mocktail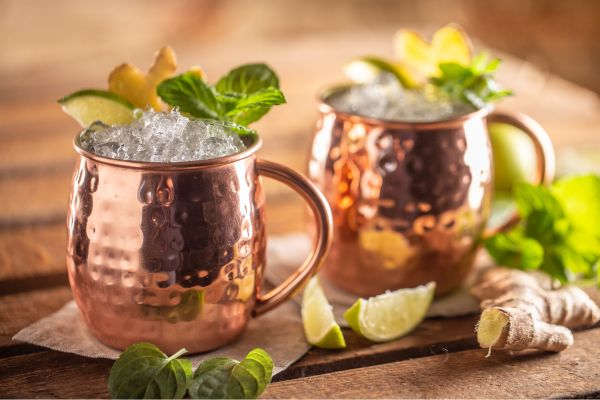 According to EatingWell, legend has it that three businesspeople who were down on their luck—a vodka businessman, a ginger beer maker, and a copper mug saleswoman—invented the Moscow Mule. Although the copper mug might only seem ornamental, some claim it's essential to keeping your mule cooler for longer periods of time and even adds a hint of flavor.
Now, let's try this Apple-Ginger Moscow Mule Mocktail in its zero-proof goodness.
Ingredients
4 ounces apple cider
½ ounce lime juice
Pinch of ground cinnamon
Pinch of ground nutmeg
4 ounces ginger beer
Apple slice, cinnamon stick & lime wedge for garnish
Instructions
Mix cider, lime juice, cinnamon, and nutmeg together in a cold copper mug or tumbler.
Pour ginger beer on top and add ice cubes. Mix well to blend.
Garnish with a lime wedge, a cinnamon stick, and a piece of apple if preferred.
Apple Pie Moscow Mule Mocktail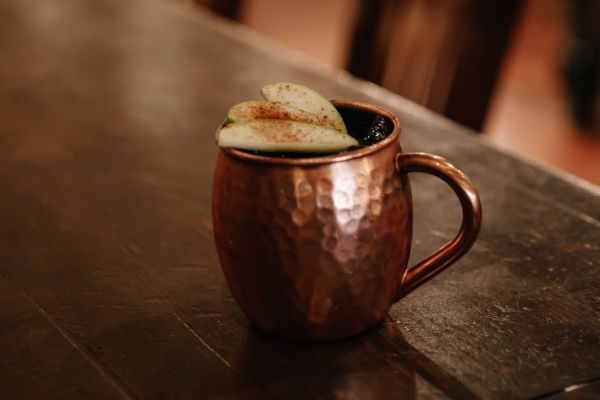 This recipe by The Cookie Rookie originally contains alcoho, but it's very easy to turn into a non-alcoholic drink.
Can you blame people for loving anything with the word "apple pie" in its name? It reminds us of our homes and families, the holidays, and delicious food. And it turns out that apple and ginger go together like clockwork, which is why these Apple Pie Moscow Mules are a hit – such a lovely combination.
Ingredients
4 ounces apple cider
1 bottle ginger beer
cinnamon sticks and apple slices for garnish
Instructions
Pour crushed ice into two copper mugs.
Fill each mug halfway with apple cider and to the brim with ginger beer.
Add apple slices and cinnamon sticks as garnish.
Serve and enjoy!
Cinnamon Cider Mule Mocktail
Everybody is excited about pumpkin spice this autumn. But guess what? Apple cider was the original seasonal flavor before PSLs. You'll like this Cinnamon Cider Mule Mocktail – a simple holiday drink made with apple cider, non-alcoholic whiskey, and homemade cinnamon syrup, even if you're not a fan of pumpkin spice!
This perfect combo by Some Good Clean Fun includes cinnamon, apple, and the flavors found in non-alcoholic whiskey! Since it's a mocktail, you can keep asking for more. The ginger beer transforms it into a "mule" and kicks it.
Ingredients
For the cinnamon syrup:
1 cup sugar
1 cup water
5-6 cinnamon sticks
For the mocktail:
2 oz apple cider
1 oz cinnamon simple syrup
Ginger beer, to taste
Instructions
For the cinnamon syrup:
In a saucepan over medium heat, combine the sugar and water and slowly simmer, stirring occasionally to dissolve the sugar.
After adding the cinnamon sticks, cook with a lid on for seven to eight minutes.
Take off the heat and allow to cool.
Pour into a glass jar and store in the refrigerator for a maximum of 14 days.
For the mocktail:
Pour apple cider, cinnamon syrup, and non-alcoholic whiskey into a glass.
Stir in the ice, then refrigerate after combining.
Add ginger beer on top.
Add a cinnamon stick as a garnish.
Apple Butter Old Fashioned Mule Mocktail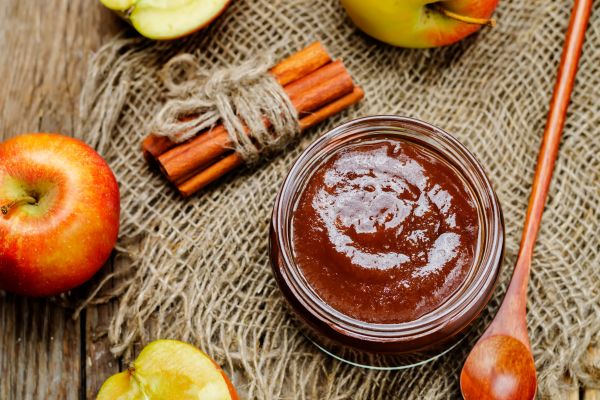 A copper mule mug is the ideal companion for this Apple Butter Old Fashioned Mule Mocktail. This refreshing autumn drink by Geeky Hostess is perfect for those pining for crisp autumn air, crisp leaves, apples, pumpkins, cinnamon, and cozy sweaters.
Ingredients
Brown sugar for the rim
1 cup apple cider
1 tablespoon of lemon juice
Dash of orange bitters
1 tablespoon apple butter
Ginger beer or ginger kombucha
Sliced apples and cinnamon for garnish
Instructions
Turn a copper moscow mule mug upside down over a plate of brown sugar after rubbing some simple syrup or lemon juice around the cup's rim.
The apple cider, lemon juice, orange bitters, and apple butter should all be combined in a mason jar or cocktail shaker. Mix by shaking.
Pour into an ice-filled copper mug.
Add some ginger kombucha or ginger beer on top.
Enjoy with apples and cinnamon as garnish!
Maple Apple Cider Mule Mocktail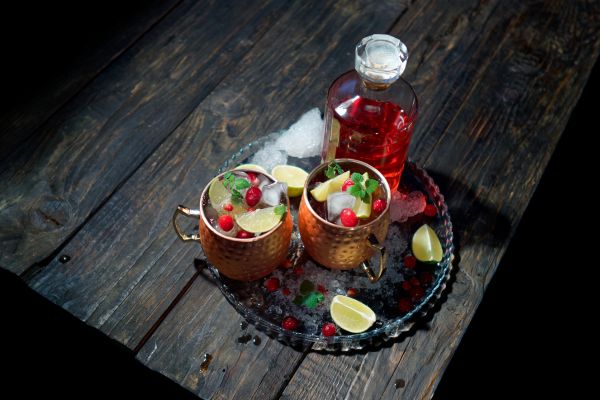 This Maple Apple Cider Mule mocktail is the ideal way to enjoy the fall season. The popular Maple Apple Cider tea from Stash, maple syrup, and a hint of spiciness from the apple cider vinegar come together to create this delectable mocktail that is "zero-proof" and can be considered quite healthy as well.
Ingredients
5 tea bags of Maple Apple Cider tea
2 cups near-boiling water
2 teaspoons real maple syrup
2 teaspoons apple cider vinegar
Small ice cubes
8 oz ginger beer
1 cinnamon stick (optional)
Apple slices, for garnish (optional)
Instructions
After adding five tea bags of Maple Apple Cider tea to almost boiling water, steep the tea for five minutes. Let it cool.
Stir together apple cider vinegar, tea, and real maple syrup. After mixing thoroughly, transfer the ice to two copper mugs or highball glasses.
Pour mixture into glasses halfway. Pour some ginger beer on top.
Slices of apple are added as a garnish after stirring with a cinnamon stick.
Experiment With A Non-Alcoholic Apple Cider Mule Recipe
In a world that's constantly buzzing with trends, we've just proven that the coolest thing to sip on doesn't need to come with a buzz. Trust me, you're about to make sobriety the coolest trend since avocado toast took over brunch. Who knew that a Non-Alcoholic Apple Cider Mule could be the life of the party? Spoiler alert: we did, and now you do too!
Remember that in the kitchen, just like on social media, the real magic happens when you put your own spin on things. So go ahead, remix the recipe, add your signature flair, and let your taste buds be the DJ of this flavor-packed recipe combination.
Related Articles
Apple Cider Mule Mocktail FAQs
What is good to mix with apple cider?
Try mixing apple cider with ginger beer for a classic Apple Cider Mule, or get adventurous with cranberry juice, cinnamon, and a splash of sparkling water. It's like a flavor fiesta in a glass!
Why is non-alcoholic Moscow Mule so good?
A non-alcoholic Moscow Mule brings the zingy ginger kick and refreshing lime goodness without the hangover. It's like a party in your mouth without the morning-after regrets!
Is apple cider just apple juice?
While both come from apples, cider is made by crushing apples and then pressing out the juice. It's unfiltered and often has a more robust flavor with a touch of spice. Think of apple juice as cider's more refined cousin.
Does apple cider go bad?
Like any good thing, it does have its limits. Fresh, unpasteurized cider can go bad within a week or so, especially if not refrigerated. However, most commercially bought apple cider is pasteurized, giving it a longer shelf life. If you have apple cider at home, this is your sign to try experimenting with it and turning it into a fizzy mocktail.
How do you drink apple cider?
Whether you're warming it up with spices, mixing it into a mocktail, or just enjoying it chilled, there's no wrong way to indulge in the goodness of apple cider. Just grab a mug or a fancy glass, and enjoy!