Crisp autumn air, cozy sweaters, and a glass of pure joy in your hands – I know what you might be thinking – apple cider mocktail? Yep, that's the vibe we're going for!
Trust me, it's not just a fancy fall phrase. It's a whole experience waiting to happen. But here's the kicker: we're not just here for the taste (although, spoiler alert, it's amazing). We're here for the health kick, too.
Apple cider isn't just a trendy beverage; it's a powerhouse of goodness. And when you kick out the booze and make it a mocktail? Boom, you've just upgraded to the healthiest level of cool.
Now, let's blend the most crisp, cool, and captivating apple cider mocktails to warm your spirits!
Apple Cider Mocktail
This Apple Cider Mocktail is a straightforward, delectable mocktail that is bursting with warm, comforting spices and a strong apple cider flavor. It consists of freshly squeezed orange and lemon juice, an easy homemade apple syrup, and your favorite bubbly on top – the perfect addition to any holiday meal or weekend celebration! Plus, every ingredient is vegan.
Ingredients
For the homemade apple syrup:
1

Gala or Honeycrisp apple

sliced with skin on

⅓

cup

organic brown sugar

1

cup

filtered water

1

teaspoon

ground cinnamon

½

teaspoon

ground nutmeg

¼

teaspoon

ground allspice
For the mocktail:
1

cup

apple cider

homemade or store-bought

¼

cup

homemade apple syrup

½

lemon

freshly squeezed

1

orange

freshly squeezed

Lemon soda or ginger beer

for topping

Crushed ice

Apple slices

for garnish

Fresh thyme sprigs

for garnish

Cinnamon sticks

for garnish
Instructions
For the homemade apple syrup:
Combine all ingredients in a saucepan over medium-high heat, stirring to mix, and boil for one to two minutes.

Simmer for about five more minutes after lowering the heat.

Take it off the burner and let it cool fully.
For the mocktail:
Combine the apple cider, orange juice, lemon juice, and cooled apple syrup in a mason jar or cocktail shaker. Add a small amount of crushed ice and shake until everything is well blended, about one to two minutes.

For every mocktail, half-fill a nice cocktail glass (about 11 ounces) with crushed ice, add half of the mocktail mixture, then top with your favorite fizzy beverage (ginger beer or lemon soda) until the glass(es) is ¾ full.

If desired, garnish with apple slices, cinnamon sticks, and thyme sprigs.
Sparkling Apple Cider Mocktail
Are you looking for a fun and simple drink to make for your holiday party? How about a mocktail made with sparkling apple cider? This tasty beverage by What's Gaby Cooking is easy to prepare and appropriate for any setting.
A Sparkling Apple Cider Mocktail is perfect for creating a really simple holiday mocktail for kids. All you need is some pomegranate seeds, sparkling apple cider, and a squeeze of lemon juice to brighten things up!
Ingredients
4 ounces sparkling apple cider
1 ounce pomegranate juice (optional)
Squeeze of fresh lemon juice
Pomegranate arils and lemon twist for garnish
Instructions
Pour the apple cider and a squeeze of fresh lemon juice into an ice-filled glass. To add a festive hue, add pomegranate juice if preferred.
Gently whisk in pomegranate seeds and a twist of lemon.
Sparkling Spiced Apple Cider Mocktail
This is the ideal mocktail to serve at the last minute on Thanksgiving or Christmas It tastes like a cozy dream and is loaded with fall flavors that can somewhat be nostalgic.
This Sparkling Spiced Apple Cider Mocktail by Yes to Yolks also yields a huge batch that can be easily adjusted to suit your needs. People take their servings, so you may focus on entertaining instead of spending all day mixing individual drinks.
For a fun pairing with this delicious mocktail check out this recipe for German Apple Cake!
Ingredients
For the spiced syrup:
1 cup water
½ cup sugar
¼ cup honey
2 cinnamon sticks
1 star anise
2 inches fresh ginger, peeled and thinly sliced
For the mocktail:
3 cups apple cider
1½ cups ginger beer (or ginger ale)
1½ cups plain seltzer water (orange-flavored seltzer would also be great here)
The spiced syrup (start with ½ cup and add more to achieve your desired sweetness)
2 large apples, thinly sliced
½ cup pomegranate arils
½ cup frozen cranberries
Instructions
For the spiced syrup:
In a small saucepot, combine the water, sugar, and honey; place over medium heat. After continuously stirring to bring to a boil, lower the heat to a simmer. Cook, stirring occasionally, for a few minutes or until the sugar and honey are completely dissolved.
After adding the spices, turn off the heat source. After the syrup has cooled to room temperature, let the spices steep in it. Remove the spices using a strainer and throw them away (or preserve them to add to the mocktail).
If preparing beforehand, refrigerate in an airtight container.
For the mocktail:
Combine the apple cider, ginger beer, seltzer, and spiced syrup in a punch bowl or pitcher. The greatest results come from chilling all of the ingredients in advance. To taste, add extra syrup. Add more seltzer if the ½ cup of syrup is too sweet.
Incorporate the apple slices and pomegranate seeds. Place in the fridge until you're ready to serve.
Incorporate the frozen cranberries right before serving.
Pour into glasses with ice.
Sparkling Apple Cider Berry Mocktail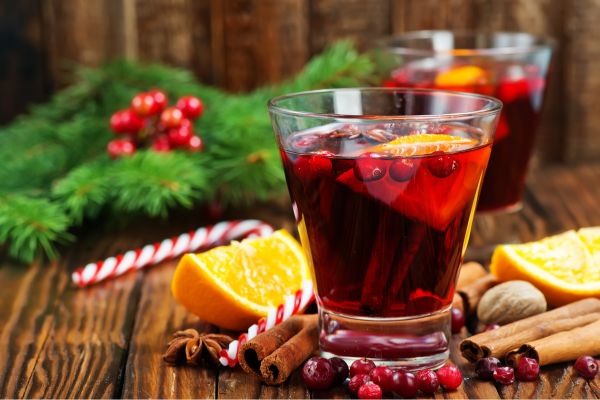 This will be your favorite mocktail for occasions when you don't want any alcohol in your drink – Sparkling Apple Cider Berry! Three ingredients are needed to make this mocktail by The Little Epicurean: apple cider, sparkling water, and berry syrup. The resulting syrup made from berries will be thick, and you can flavor lemonades or sweeten iced teas with it.
Everyone of all ages can enjoy this non-alcoholic beverage! It's ideal for baby showers and brunch.
Ingredients
For the mixed berry syrup:
12 ounces frozen mixed berries
¾ cup granulated sugar
For the mocktail:
½ ounce mixed berry syrup
3 ounces apple cider
3 ounces sparkling water
Instructions
For the mixed berry syrup:
Add sugar and frozen berries to a heavy-bottomed sauce pot. Place on medium heat and boil. Simmer until the mixture thickens and the berries have softened.
Sift the mixture. Let it cool at room temperature.
After transferring, store in the refrigerator for up to two weeks in an airtight container.
For the mocktail:
Fill a serving glass with apple cider and berry syrup.
Add ice, then pour sparkling water on top.
Stir before serving.
Apple Mimosa Mocktail
With just four ingredients and less than five minutes to prepare, this simple Apple Mimosa Mocktail is ready to drink in no time. This delectable apple cider mocktail by The Mindful Mocktail, made with alcohol-free sparkling wine and fresh apple cider (or cloudy apple juice), is ideal for fall. It's easy to prepare and suitable for serving a large gathering, especially with the optional rich caramel and cinnamon rim.
Ingredients
½ cup apple cider
½ cup non-alcoholic sparkling wine
Caramel cinnamon rim (optional)
Dried apple or cinnamon stick for garnish (optional)
Instructions
Fill your glass halfway with non-alcoholic sparkling wine and apple cider, then top with a cinnamon stick or a few dried apples.
Apple Cider Mocktail Mule
This Apple Cider Mocktail Mule will become a seasonal favorite due to its blend of traditional apple acidity and warm maple sweetness, as well as a startling bite at the end that will make you doubt its zero-proof claim. This is the perfect beverage to pair with fall if that's the greatest season ever (Tablespoon.com believes it to be; that's why they shared this recipe).
Ingredients
2 ounces apple cider, chilled
1 teaspoon real maple syrup
1 teaspoon apple cider vinegar
Small ice cubes
4 ounces ginger beer, chilled
Instructions
Combine apple cider, maple syrup, and vinegar in a copper Moscow mule cup or a highball glass.
Mix well to blend.
Add ice all the way to the rim.
Add ginger beer on top.
Non-Alcoholic Autumn Harvest Punch
Are you trying to make a fun fall recipe? You only need to look at this delectable Autumn Harvest Punch, created with sparkling water, apple cider, orange juice, and lemonade. Add some fruit, maple syrup, and rosemary on top. Hence, this non-alcoholic punch by Five Spot Green Living is sure to please everyone, whether you're hosting a party or just want to savor the tastes of fall.
Ingredients
3 cups lemonade
5 cups apple cider
1 cup orange juice
5 cups sparkling water
¼ cup maple syrup
3-4 rosemary sprigs
3 apples
1 orange
Instructions
Combine the apple cider, orange juice, and lemonade in a tall pitcher. Set aside.
Slice the oranges and apples, then add them to the pitcher.
Add the rosemary sprigs and stir in the maple syrup.
Place the cover on and chill for at least two hours in the refrigerator.
Stir in the sparkling water.
Serve and enjoy!
Pumpkin Apple Cider Mocktail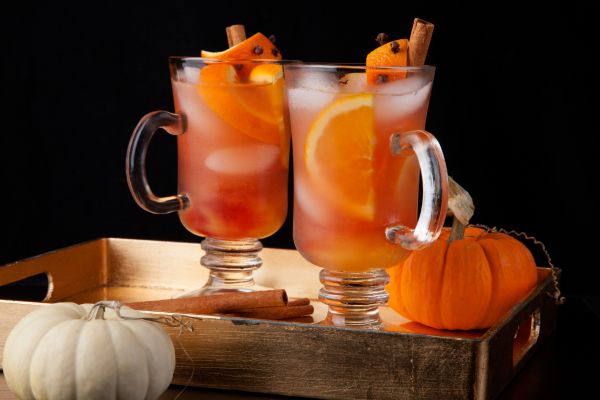 With real pumpkin, apple cider, pumpkin spice, vanilla, and a dash of kombucha, this Pumpkin Apple Cider Mocktail can easily be crafted! This non-alcoholic cocktail recipe by Healthy Little Vittles is great for all of your fall celebrations, and both adults and kids will love them!
Ingredients
Ice
¼ cup pure pumpkin puree (not pumpkin pie mix)
¼ teaspoon pumpkin pie spice
½ teaspoon pure vanilla extract
½ cup apple cider
Splash of apple/lemon ginger kombucha, sparkling water, or ginger ale
Coconut sugar for the rims
1 apple, for garnish if desired
Instructions
Fill a cocktail shaker with ice, add all the ingredients, and shake until well blended.
After wetting the rims of your glasses with a slice of apple, sprinkle coconut sugar over them.
Transfer the mocktail into glasses, allowing space for a dash of ginger ale or sparkling water on top. Alternatively, you may use kombucha.
Enjoy after adding a tiny piece of apple on top!
Non-Alcoholic Apple Butter Cinnamon Cocktail
This recipe by Some Good Clean Fun features an abundance of both apples and cinnamon, which are synonymous with fall and winter! Thus, fall is the perfect season for a warm and creamy Non-Alcoholic Apple Butter Cinnamon Cocktail.
Although apple butter is available all year round, its best quality is achieved in the fall. You can purchase it pre-made from any farm-fresh market in your area, or you can make it yourself using apples straight from the farm. It goes very well with non-alcoholic rum as well. Additionally, apple butter is an excellent substitute to add thickness and richness to drinks made with apple cider, as you can only add dairy with its curdling.
Ingredients
Instructions
Everything should be thoroughly shaken in an ice-filled cocktail shaker.
Strain over ice in a rocks glass.
Add a fan of apple slices as a garnish.
Rim: An alternative is to coat the glass's rim with caramel before dusting it with powdered sugar.
Citrus Apple Mocktail
Without the alcohol, this Citrus Apple Cider Mocktail resembles a crisp hard cider. Rather, it uses basic components like sparkling fruit juice and fresh citrus. This drink by Mitten Girl is unexpected and light since it doesn't have characteristics typically associated with apple cider, such as caramel, nutmeg, cinnamon sticks, or other spices.
Ingredients
3 ounces sparkling apple cider
1.25 ounces ginger simple syrup
1 ounce fresh orange juice
0.5 ounce fresh lemon juice
1 – 2 inch piece of orange peel
Raw sugar (for garnish)
Instructions
Transfer the raw sugar to a small bowl. Run a slice of orange or lemon along the glass's rim, then dip it into the unrefined sugar. Fill the glass with ice, then place it aside.
Cut a long strip of orange peel from the orange using a vegetable peeler. Set aside.
Put orange and lemon juices, ginger syrup, and ice in a cocktail shaker.
Give it a good shake, then strain it into the glass you've ready. Add sparkling apple cider on top.
To release the orange peel oil into your beverage, squeeze the orange peel over the glass.
Add a slice of apple or an orange peel as a garnish.
Mix, drink, and enjoy!
Fizzy Rosemary Cider Mocktail
Many mocktail varieties are heavy in sugar, but this simple Fizzy Rosemary Cider Mocktail uses club soda and a sugar-free simple syrup to reduce the calories and carbohydrates. Learn how to make this healthy non-alcoholic by EatingWell.
Ingredients
For the sugar-free rosemary simple syrup:
½ cup water
½ cup granulated sugar substitute
1 sprig rosemary
For the mocktail:
4 ounces apple cider
4 ounces club soda or seltzer
1 tablespoon sugar-free simple syrup
1 sprig fresh rosemary (Optional)
Instructions
For the sugar-free rosemary simple syrup:
In a small saucepan, mix the sugar substitute, water, and rosemary.
Stir and cook over medium heat for approximately one minute or until the sugar substitute is completely dissolved.
After turning off the heat, wait 30 minutes to cool.
Take out and throw away the sprig of rosemary.
For the mocktail:
In a highball glass, mix the cider, club soda (or seltzer), and simple syrup. You can save any leftover simple syrup for a different use.
If preferred, garnish with a sprig of rosemary.
Mint Julep Mocktail With Apple Cider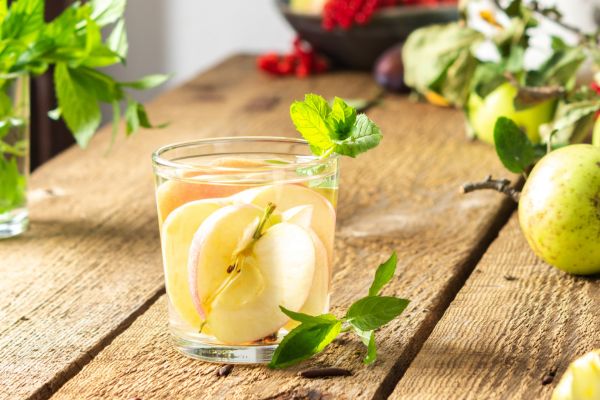 Imagine the classic charm of a mint julep, but now, add the crisp, autumnal notes of apple cider into the mix. This mocktail by Martinelli's is a refreshing symphony of cool mint and the sweet, tangy embrace of apple cider—it's like a breath of fresh air for your palate.
No alcohol needed – this Mint Julep Mocktail With Apple Cider is the epitome of guilt-free indulgence.
Ingredients
4 cups sparkling cider or apple cider
1 cups pineapple juice
1 cups orange juice
¼ cups lemon juice
Instructions
Start with a few cups of apple cider or sparkling cider.
For some tartness, stir in the orange, pineapple, and lemon juices.
Combine ingredients and pour into tall glasses with ice.
Add some mint leaves on the top.
Warm Your Spirits With Apple Cider Mocktail
One thing's for certain: these crisp, cool, and captivating apple cider mocktails have the power to warm not just your taste buds but your entire spirit. The combination of the fall favorite, apple cider, with the creativity of mocktail mixology is a match made in non-alcoholic heaven.
Packed with goodness and bursting with that signature fall zest, it's the ultimate cool kid on the block other than the Pumpkin Spice Latte that's always been trending.
No alcohol? No problem! Who needs it when you've got the wholesome, feel-good vibes of apple cider mocktails? You've got yourself a guilt-free party in a glass!
Related Articles
Apple Cider Mocktail FAQs
What should I mix with apple cider?
Mix apple cider with sparkling water for a refreshing spritzer, or add a splash of cranberry juice for a tart twist. Feeling adventurous? Try ginger ale for a bit of spice, or experiment with different fruit juices like orange or pomegranate for a fruity kick. The possibilities are as endless as your taste buds!
Is apple cider a non-alcoholic drink?
Apple cider is the non-alcoholic sibling of hard cider. It's basically pure, unfiltered apple juice with all the deliciousness and none of the alcohol. So feel free to indulge without worrying about a buzz—unless, of course, you decide to turn it into a mocktail party.
Is cider considered beer?
Nope, cider and beer are like distant cousins at the family reunion. While beer is made from fermented grains, cider is crafted from fermented apple juice. So, even though they might share the cool beverage category, they each have their unique flavor profile, and apple cider proudly wears its fruity distinction.
What to eat while drinking an apple cider mocktail?
Snack on some crisp apple slices or dive into a plate of cheese and crackers to complement the sweet and tangy notes of your mocktail. You can also go for a classic pairing with warm cinnamon donuts or indulge in a caramel apple treat.
What is the best way to drink an apple cider mocktail?
Serve that mocktail ice-cold. Fill your glass to the brim with ice cubes to enhance the crisp and refreshing nature of the drink. Trust me; it's like a winter wonderland for your taste buds.