Ritual Zero Proof is one of the fastest-growing brands in the non-alcoholic drink space. Ritual non-alcoholic spirits are at the forefront of it along with other brands, like Seedlip. People are looking for sophisticated, grownup alternatives to alcohol. In fact, Ritual's tagline is "Enjoy The Ritual". And why shouldn't we? Why would it make sense for the sober and sober curious to miss out on making craft cocktails? It doesn't. At least, not anymore.
There are loads of reasons someone would be abstaining from drinking alcohol, whether it's for their health, during pregnancy, or just to try something new. We no longer need to settle for boring.
Here's what you need to know to prepare you Ritual zero-proof drinks at home.
How Ritual Zero Proof Was Established
Ritual Zero Proof was born when Marcus Sakey started experimenting with non-alcoholic options for himself and his pregnant wife. The brand made its debut in Chicago in the fall of 2019 and ran for over a month before selling out. Ritual, developed with cocktails in mind by Marcus Sakey, GG Sakey, and David Crooch, promises to be a one-to-one alternative to each spirits alcoholic cousin (sounds like an SNL skit).
Given that the typical avenues for customers to learn about new drinks (bars, tasting events) were curtailed during COVID-19 lockdowns, the following year could have been disastrous for the new brand.
But, consumer interest in Ritual Zero Proof was very high. According to their exec team, the company saw a 241% increase in revenue in 2020 and was on track to surpass those revenues.
Then, Ritual Zero Proof announced an investment from Diageo, the world's largest beverage alcohol company, through Distill Ventures. By backing Ritual's entry into retail and investing in its direct-to-consumer business, the investment will aid in accelerating Ritual's expansion in the United States. The Ritual founders will have access to Distill Ventures' specialized non-alcoholic drinks practice in addition to the monetary investment to help grow the company over the ensuing years.
Distill Ventures, the first independent drinks accelerator in the world, was established in London in 2013 with the goal of assisting business owners in building and growing their brands for upcoming customer generations.
In Europe, Asia, and North America, the corporation operates in both classic spirits and developing drinks categories. Ritual is the first publicly traded non-alcoholic brand from the United States to join the company's expanding portfolio of non-alcoholic brands from across the world, accounting for 25% of the portfolio.
Ritual first encountered resistance from establishments wary of purchasing non-alcoholic bottles priced similarly to lower-end alcoholic beverages. Still, this perception is changing, in part due to economics.
Ritual Zero Proof's Initiatives You Should Know About
One of Ritual's main ideals is environmental responsibility. The initiative to become the non-alcoholic beverage industry's most environmentally friendly firm started with sustainable packaging. The company goes to great lengths to ensure that every aspect is taken into account from the standpoint of sustainability, from their box to the bottle to their label.
To reduce emissions caused by foreign shipping, Ritual uses glass made in America. They even switched to a sugarcane cap that is biodegradable and created using a carbon-negative process, which is good for the environment overall.
Health and safety is another one of Ritual's guiding principles. They've taken control of the plastic situation in their bottles by collaborating with CleanHub, a group dedicated to cleaning up the pollution caused by plastic on Earth. Enough plastic will be gathered, sorted, and recycled by CleanHub to replace the neck covers on Ritual's bottles entirely.
By removing more plastic from the environment than creating packaging through this cooperation, Ritual proudly declares itself as a plastic-neutral+ firm. To reduce waste, they have constantly reorganized the supply chain and shortened the distance between manufacturing and distribution locations.
Ritual's BPG, or bottles delivered per gallon of fuel, has been one particular data item that has received attention. They have worked with their freight partners to improve the supply chain's effectiveness, resulting in a 59% increase in BPG and 15,000 gallons of gasoline saved annually. These environmentally friendly improvements will result in the delivery of more of the product you love with even fewer emissions.
Get To Know The 5 Ritual Non-Alcoholic Spirits
Ritual Zero Proof has created the most often used base spirits for for non-alcoholic cocktails. It provides rum, tequila, whiskey, gin and NEW aperitif substitutes. Although the substitute spirits may not taste exactly like rum or tequila on their own, they do a superb job of bridging the gray zone and offering non-drinkers a recognizable flavor profile in a cocktail.
Ritual Zero Proof is an alcohol-free brand of liquor. They are created with natural components and have a volume alcohol content of 0%. (ABV). Numerous pregnant women enjoy the products because they are free of allergens and alcohol. Simply use Ritual Zero Proof's substitutes for alcohol in an equal amount to create a non-alcoholic daiquiri or Old Fashioned.
Watch this video on how to make non-alcoholic Old Fashioned using Ritual Zero Proof Whiskey Alternative.
Ritual Tequila Alternative
You can experience tequila's grassy flavor, smokey scent, and blazing fire, without the calories or alcohol. A crisp burn balances green pepper aromas and grassy flavors with a touch of rock salt. With 98 Points, Ritual Tequila Alternative is the world's best-rated spirit substitute and was created for margaritas.
Ritual Rum Alternative
Without the alcohol or calories, dark rum still has all the toasted spice, warm vanilla, and velvety deliciousness. Ritual Rum Alternative has the typical dark rum flavor profile rich in toasted spices. This goes well with cloves and star anise with ripe banana and burnt orange.
Ritual Whiskey Alternative
The Ritual Whiskey Alternative has the alcoholic variant's comforting flavors of wood, smoke, caramel, and warmth without calories or alcohol. A delightful heat follows vanilla and oak undertones and hints of stone fruit and caramel.
Ritual Gin Alternative
With no calories or alcohol, just the crisp, this Ritual Gin Alternative has a refreshing bite of gin. Cucumber and juniper intensify the vivacious botanical tones. With bright and tangy flavors, it can replace vodka in many cocktails because it is adaptable.
Ritual Aperitif Alternative
Ritual Aperitif Alternative has 0 calories per serving. Do you hear me? ZERO calories per serving! Add Prima Pavé rose for a 25 calorie non-alcoholic aperol spritz (which is exactly what I'm drinking right this very minute).
Bright, full of botanicals and bittersweet citrus with a spiced finish. This non-alcoholic aperitif combines the assertive bitterness of Italian aperitivo with the complex sweetness of French vermouth. Perfect mocktail for working late.
We love Ritual Zero Proof's entire line, which is why we have decided to carry it in our shop. Which one is our favorite? We'll never tell. Ritual's non-alcoholic line is not only good for your health but good for your waistline also. There's zero guilt here. All taste.
The Process Of Making Ritual Non-Alcoholic Spirits
Ritual Zero Proof uses organic, all-natural plant flavors whenever possible. The botanicals are individually distilled to preserve their most natural flavor before being expertly combined to create a subtle profile. They use water that is first softened, followed by carbon, and finally, RO filtration.
Because recreating the alcohol burn is so difficult, the team at Ritual looked through more than 500 recipes. A sophisticated mixture of organic botanicals was the answer, designed to deceive your taste buds. Some ingredients provide heat, while others keep it under control, producing a pleasing glow that acts as the backbone of an appropriate cocktail.
The brand employs the essences that go into creating the spirits you adore, from Siberian pine to Mexican blue agave to American oak. Each bottle is date-stamped for freshness, and the batches are microfiltered. The outcome is a delectable substitution for the delectable originals.
Ritual Zero Proof's Nutritional Information
A 1 ounce shot of an alcoholic spirit is between 70 – 100 calories. There is no quicker way to pack on empty calories than to combine that with mixers and multiply by several drinks.
There are no calories in the gin, tequila or aperitif substitutes. The rum and whiskey have roughly 5 calories, according to nutrition labels.
Similar to the sweetness of aged whiskey and rum, that sweetness is derived from natural sugars, is gluten-free, and doesn't contain peanuts or tree nuts.
Because drinking alcohol is so ingrained in our culture, it may feel strange or awkward to interact with others in a bar or party environment without having a drink in your hand. Ritual enables you to choose a better option without settling for club soda or worrying about standing out. You are free to consume your own non-alcoholic cocktail as well.
Craft Your Own Mocktails Using Ritual Non-Alcoholic Spirits
Ritual non-alcoholic spirits are used for non-alcoholic versions of well-known drinks like mojitos and mai tais, creative mixology, straightforward drinks with juice or soda, and everything in between. These alternatives were created specifically to swap out traditional spirits 1:1 in the drinks you're already familiar with and enjoy. Ritual non-alcoholic spirits aren't designed to be drunk neat or straight; they're made for cocktails.
Here are some recipes for families and friends on Thanksgiving, weddings, and any other occasion.
Apple Cider Spiced Rum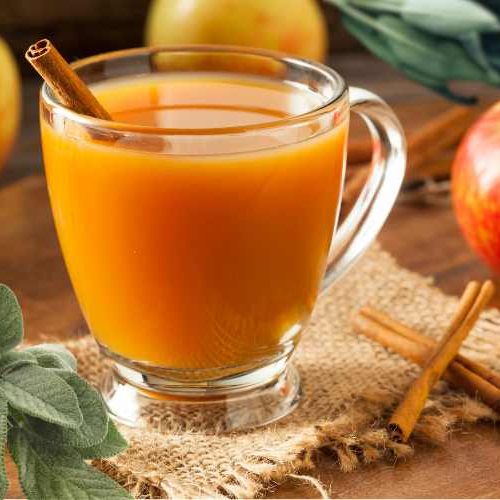 Ritual Mocktail
Ritual's non-alcoholic apple cider drink is a seasonal favorite. This apple cider spiced rum mocktail can be made hot or cold. Ritual's Rum Alternative should be used to make this drink because the flavors of the star anise and toasted cinnamon compliment the apple cider perfectly. You won't even miss the booze.
Ingredients
2

cups

apple cider

3

ounces

Ritual Rum Alternative

1/4

tsp

ground ginger

1/4

tsp

ground nutmeg

2

cinnamon sticks

1

large orange

1

tsp

 cinnamon or pumpkin pie spice for the rim (optional)

Sage leaf for garnish (optional)
Instructions
To enjoy chilled:
In a pitcher or extra-large cocktail mixer with ice, combine apple cider, Ritual Rum Alternative, ground ginger, ground nutmeg, and cinnamon sticks. Stir well. 

Orange should be cut in half. Then the interior should be run along the rims of two Old Fashioned glasses. 

Sprinkle cinnamon or pumpkin pie spice on the moist rim (this step is optional). 

Serve your mocktail in a prepared glass with ice and add fresh orange juice. 

Enjoy it chilled, and maybe garnish it with sage.
To enjoy hot:
In a sauce pan, combine apple cider, Ritual Rum Alternative, ground ginger, ground nutmeg, and cinnamon sticks. Stir well. Use heat safe glasses or mugs.
Pomegranate Ginger Paloma
This drink tastes like autumn and is crisp and aromatic. The fresh ginger stimulates the taste buds, which balances off the grapefruit and pomegranate's acidity. By substituting the Ritual Tequila Alternative for the alcohol, your can produce your zero-proof version without sacrificing the alcohol's burn.
Ingredients
For the ginger syrup
1/2 cup honey
1 inch fresh ginger chopped
Mint leaves
For the mocktail
Crushed ice
1.5 oz Ritual Tequila Alternative
1.5 oz pomegranate juice
1.5 oz grapefruit juice
.5 oz lime juice
2-4 tablespoons ginger syrup
Ginger beer or sparkling water to top
Instructions
For the ginger syrup
Honey, ginger, and water are brought to a boil.
Add mint, and remove from heat after 1 to 2 minutes of simmering.
Mint and ginger should be strained out after 10 minutes.
For the mocktail
Ice should cover half of your glass.
Juices from pomegranates, grapefruits, limes, and lime syrup should be added, along with Ritual Tequila Alternative.
Add ginger beer to the top after combining everything.
Mint is a good garnish. Enjoy!
Holiday Egg Nog
A drink of eggnog is a must-have throughout the Christmas season. And now you may have "spiked" eggnog without the alcohol.
You can make your drink zero-proof by replacing the strong liquor with a whiskey substitute. It has the same taste you would associate with a whiskey spike and is rich and indulgent. Now that you know how to handle the festive work rush tomorrow, you can drink all the eggnog you want to celebrate the holiday.
Ingredients
1 c. heavy cream
1 inch piece ginger, sliced
2 tsp. pure vanilla extract
8 whole cloves, crushed
6 allspice berries, crushed
2 cinnamon sticks, broken
¼ tsp. freshly grated nutmeg, plus more for serving
4 c. whole milk, divided
8 large eggs, separated
¾ c. granulated sugar
Pinch kosher salt
Instructions
Mix 2 cups milk, heavy cream, ginger, vanilla, cloves, allspice, cinnamon, and nutmeg in a medium saucepan. Cook for 2 to 3 minutes at medium heat or until little bubbles start to form around the pot's edge (do not allow to boil). After 30 minutes, remove from heat and let soak.
Egg yolks should be blended by beating them with an electric mixer at medium speed. Add salt and sugar gradually while beating. Set the mixer to high and beat for two to three minutes or until the mixture is thick and extremely pale in color.
Return to the pot after straining the spiced cream mixture and removing the spices. Whisk one cup of the warm cream mixture into the yolk-sugar mixture slowly and at low speed before adding it back to the pot. Using a rubber spatula, stir continuously over medium heat for 12 to 15 minutes until the mixture reaches 170°F and coats the spatula.
Place the saucepan over a sizable bowl of ice water, and allow it to cool for 20 to 30 minutes while stirring regularly. Add Ritual Zero Proof Whiskey Alternative.
Just before serving, use an electric mixer to whip egg whites on medium-high speed until soft peaks form, about 1 to 2 minutes. Then, fold the egg whites into the eggnog. Serve with nutmeg on top.
Blueberry Gin Sour
This berry-infused twist on a traditional sour cocktail is light, tangy, and foamy. It is a combination that is ideal for sunny summer nights!
Ingredients
2 oz. Ritual Gin Alternative
1 cup fresh blueberries (or frozen, defrosted)
1 oz. simple syrup
2 oz. fresh lemon juice
1 egg white
2 dashes Angostura Bitters (optional)
Instructions
Combine blueberries, lemon juice, and simple syrup (or sugar) in a shaker.
Add the egg white, gin, and bitters. Intensely shake it until foamy.
Shake for a few more seconds after adding ice.
Pour the cocktail over ice in a rocks glass.
Add a lemon peel or wheel as a garnish.
More than a dozen prestigious locations in Chicago, including major beverage merchants, pubs, and Michelin-starred restaurants, provide ritual whiskey and gin substitutes. Both the brand's website and Amazon have access to the merchandise online.
There are indications that more people are seeking sober alternatives outside of just one month a year as Dry January gains popularity each year. However, folks who wish to drink less frequently might not necessarily want to quit mingling or give up cocktails completely.
Ritual Zero Proof is the first American substitute for a spirit that mimics the flavor, aroma and burn of booze without adding calories or alcohol. It attempts to fit into the space where individuals may desire to consume alcohol but are more conscientious about their actions.
Ritual non-alcoholic spirits can be distinguished from regular liquor in the same way as a top-notch veggie burger can be distinguished from a cow. However, Ritual has successfully encapsulated the flavor of classic whiskey, gin, tequila, and rum. Additionally, it has the bite that makes a good drink from scratch. Both provide fantastic experiences in the end.
Now all you have to do is choose.
Ritual Non-Alcoholic Spirits FAQs
Does Ritual Zero Proof have alcohol?
Ritual Zero Proof is an alcohol-free brand of liquor. They are created with natural components and have a volume alcohol content of 0%. (ABV). Numerous pregnant women enjoy the products because they are free of allergens and alcohol.
Is Ritual Zero Proof any good?
The spiciness that gradually develops as you sip Ritual Zero Proof is undoubtedly its most notable feature. It tastes wonderful and works well to make you drink more slowly.
Ritual non-alcoholic spirits aren't designed to be drunk neat or straight; they're made for cocktails.
Does Ritual Zero Proof taste like alcohol?
Although the substitute spirits may not taste exactly like rum or tequila on their own, they do a superb job of bridging the gray zone and offering non-drinkers a recognizable flavor profile in a cocktail.
Simply use Ritual Zero Proof's substitutes for alcohol in an equal amount to create a non-alcoholic daiquiri or Old Fashioned.
Is Ritual better than Seedlip?
In contrast to Seedlip, Ritual Zero Proof provides a far more approachable introduction to non-alcoholic spirits. When compared to Seedlip, which has made tremendous attempts to provide a variety of gin substitutes with distinct personalities, Ritual keeps things straightforward with just four different types of spirits.