With their luscious sweetness and exotic aroma, lychee mocktails offer a delightful twist to standard Happy Hour. Imagine sipping a cool, refreshing lychee-infused mocktail as you relax by the pool or gather with friends on a warm summer evening.
The unique flavor profile of lychee adds a touch of sophistication to any drink, making it the perfect choice for those who seek something beyond the ordinary. From vibrant and colorful concoctions to elegant and refined sips, we have gathered a collection of recipes that will awaken your senses and leave you craving more.
Classic Lychee Mocktail
Classic Lychee Mocktail
This Classic Lychee Mocktail is ideal for summer get-togethers, bridal showers and elegant enough for the bride and groom's signature AF cocktail. It's very light because of the soda water and the mint makes it refreshing.  It's such a gorgeous non-alcoholic drink made with sweet lychee and fragrant elderflower syrup. Whip it up in no time!
Ingredients
Canned lychee in syrup

1

Tbsp

Bacanha elderflower syrup

1

Tbsp

Mint leaves

2-3

Ounces

Soda Water
Instructions
Combine 8 lychee and a tablespoon of the syrup from the can, elderflower syrup, and mint leaves in a shaker. Muddle.

Add ice and shake, shake, shake for 15 seconds to make it nice and cold.

Strain in a lowball glass with fresh ice.

Stir, garnish with a mint sprig.
Easy Lychee Mocktail Martini
A fancy drink does not require the use of alcohol. Try this Lychee Mocktail Martini and taste it for yourself.
It's a non-alcoholic take on the sophisticated and delectable lychee martini that's crisp, fruity, and oh-so-beautiful. It also comes together quickly with just a few simple ingredients.
This recipe from Chelsea Dishes is perfect for a refreshing non-alcoholic cocktail with a wonderful balance of sweetness and acidity. Lychee's delicious, flowery flavor is enhanced by a splash of lime juice and a lot of shaking in your cocktail shaker.
Ingredients
2 ½ oz lychee nectar or lychee juice
1 ½ oz lychee syrup from a can of lychee
½ oz lime juice
1 tsp grenadine
1 lychee fruit pitted, preferably canned
Instructions
Place your martini glass in the freezer to cool while you assemble and combine your mocktail components. This step is optional.
Combine the lychee nectar, syrup, and lime juice in a shaker cup with ice. Shake vigorously until the shaker cup is completely cold.
Fill your chilled martini glass with one lychee fruit and a teaspoon of grenadine. Pour the chilled mocktail. (To eliminate small ice chunks, strain twice through a Hawthorne strainer and a fine mesh strainer.) Cheers!
Creamy Coconut, Lime & Lychee Mocktail
This creamy, fresh, zingy, simple Coconut, Lime, and Lychee Mocktail is ideal for winding down or enjoying with friends and family at a get-together. All you have to do is combine the ingredients in a blender and blitz until smooth. If you want to elevate the presentation, make a lime coconut glass rim, and it will look like a drink you ordered at a bar.
This recipe from Heartful Table contains no artificial flavors or additives and only a few wholefood components.
Ingredients
300g / 10.58 ounces lychee, skinned and deseeded (fresh or frozen, about 16 lychees)
2 cups / 460ml light coconut milk
½ cup / 120ml lime juice (freshly squeezed is best)
¾ cup / 250g rice malt syrup (aka brown rice syrup)
2 cups / 500ml water
Instructions
Combine all of the ingredients in a blender and blend until smooth.
Grate lime zest into a small flat dish with dried coconut to produce the coconut lime rim. Stir it briefly to distribute the lime zest. Run a lime wedge along the rim of the glass to make a damp surface for the coconut and lime to adhere to. Turn the glass over and down on the plate a couple of times.
Combine ice, and a splash of water, and pulse a few times in a high-speed blender.
Rim each glass with lime coconut, then fill with crushed ice (or ice cubes) and the mocktail combination.
Strawberry Lychee "Nojito"
It's not difficult to make a round of "nojitos", but it requires a little more effort than, say, breaking open a can of sparkling water that tastes like the essence of a fruit. But this recipe from Grateful is worth the time for friends and loved ones who aren't trying to get boozed up.
Ingredients
1 can (20 ounces) lychees in syrup, with juice reserved
1 pint strawberries, stemmed
1 bunch fresh mint
2 bottles (20 ounces) club soda, seltzer, or clear carbonated drink such as 7Up
Instructions
Muddle 2 strawberries, 2 lychees, and 3-5 mint leaves in each glass until well blended and fragrant.
Fill each glass almost to the brim with soda water.
Add 1-2 teaspoons lychee syrup to each glass and adjust sweetness with lychee syrup to taste.
Lychee Watermelon Mocktail
This Lychee Watermelon Mocktail by Simply Delicious is by far the most delicious drink you can create at home and is an excellent choice for alcohol-free pleasure. Add a dash of non-alcoholic vodka, tequila, or gin if preferred. It's a terrific drink to serve at baby showers or children's parties, and it's also a good option if you're trying to consume less alcohol.
Ingredients
6 cups watermelon
2 cups lychee juice (alternatively, use canned lychees with their canning juice)
½ cup fresh basil leaves
1-2 tbsp fresh lemon juice
Instructions
Watermelon should be cubed and frozen in freezer bags for at least 6 hours.
Combine the watermelon, lychee juice, or canned lychees (with syrup), a handful of fresh basil, and a large squeeze of lemon juice in a blender.
Blend until smooth, then serve in serving glasses.
Simply strain the mocktail before serving if you don't want any pulp in it.
Lychee Lemonade
Lychee Juice Lemonade is a delightful cold drink that can be consumed on its own or used as a base for mocktails or cocktails. Litchee or lychee has a sweet, fresh, flowery, and tangy flavor. This simple recipe from Some Indian Girl can be made with either fresh or canned lychees.
Ingredients
¾ cup cold water
5 lychees (litchees)
3 tbsp lemon juice 1½ small lemons juiced
3-4 tbsp sugar adjust for preferred level of sweetness
Instructions
Juice the lemons.
Lychees should be blended. If you don't like the texture of the pulp, strain it.
Combine the water and sugar. Mix in the lychee puree and lemon juice. Pour in the ice.
Sugar can be adjusted to achieve the desired level of sweetness.
Orange Lychee Mocktail
This summer, refresh yourself with this cool and revitalizing Orange Lychee Mocktail recipe from Flavors of Mumbai. Make as many as you like at home!
Oranges are high in Vitamin C, and most of us are aware of the benefits of oranges. Lychees are also high in vitamin C, which is linked to cancer prevention and heart health. It also contains carbohydrates and fiber, which are vital to the body.
Ingredients
2 cups fresh or canned lychee juice
2 cups fresh or canned orange juice
1 glass lemonade
Few sprigs of mint for garnishing
Few ice cubes
Instructions
For freshly squeezed juice, the oranges and lychees should be peeled. Separately, deseed and crush them in a food processor.
Using a strainer or a cloth, filter the juice, then remove the pulp.
Fill each glass with 12 cups of lychee juice.
Pour 12 cups of orange juice into each glass. Add some ice cubes.
Finally, pour a little lemonade into each glass. Be cautious not to spill your faux tail. Add a splash of lemonade and wait for it to settle.
Serve cold, garnished with a few mint sprigs.
Lychee Ginger Mint Fizz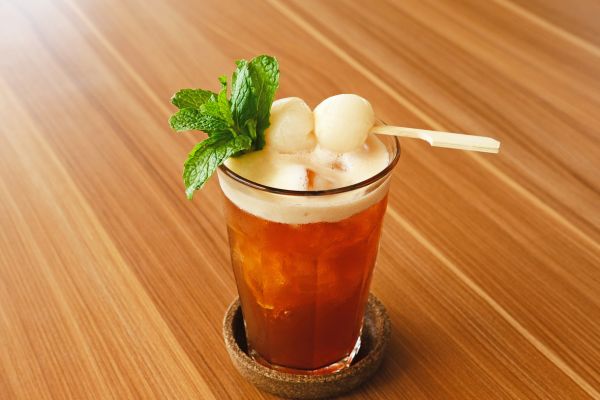 Fizzy ginger and bright, fresh mint, sharp lime juice, and sweet lychee fruit complement each other perfectly. With 2 ounces of non-alcoholic rum alternative, this recipe from Broke and Cooking can easily be transformed into a mocktail that mimics Mojito or Caipirinha.
Ingredients
Juice of ½ – 1 lime, to taste
Fresh mint leaves
Ginger beer or soda water
2 oz Lychee juice
Lychee fruit
1 oz ginger simple syrup
Ice
1 part water
1 part sugar
1 inch of fresh ginger, peeled
Instructions
Make the ginger simple syrup. Peel about 1″ of fresh ginger with a paring knife or spoon. Bring equal parts water and sugar to a boil in a saucepan, then add the ginger knob. Boil the mixture until it is clear and syrup-like. Set aside and allow to cool.
Muddle a bouquet of mint leaves and 4-5 pieces of lychee fruit in a glass. Top with crushed ice, 2 oz lychee juice, 1 oz ginger simple syrup, and ½ – 1 lime juice to taste.
Top off the drink with soda water, ginger beer, or, if available, ginger ale.
You can serve these in rimmed glasses for a festive touch or keep it simple.
Lychee Mule Mocktail
In this Lychee Mule Mocktail recipe from Cravings Journal, you can replace regular vodka with non-alcoholic alternatives. Place the drink in copper mugs to keep it cool for longer. This mocktail is incredibly refreshing with a slight spice because of the ginger beer.
Ingredients
2 parts non-alcoholic vodka
½ part lime juice
6 parts ginger beer
1 part lychee syrup from a can
1 lychee
Instructions
Combine all of the ingredients in a glass with plenty of ice.
Sakura Lychee Fizz
This sparkling and mildly flowery Sakura Lychee Fizz is flavored with authentic cherry blossom syrup. Cherry blossoms are pink and white flowers that grow on ornamental cherry trees, which are also known as sakura or Japanese cherry. This drink by Sift & Simmer is quite simple to make.
Ingredients
Ice
2 tablespoon cherry blossom syrup or to taste
1 tablespoon lychee syrup (or canned lychee syrup) or to taste
carbonated/sparkling water chilled
Instructions
Fill a glass halfway with ice cubes.
Pour in the lychee syrup and cherry blossom syrup.
Garnish with lychee and more cherry blossom, and top with carbonated/sparkling water.
Serve right away.
Non-Alcoholic Matcha Lychee Mojito
Amp up a basic mojito's sweet and sour tastes with these daring ingredients. The greatest part about this recipe from Tenzo is that it is non-alcoholic, making it suitable for everyone. Using lychee juice instead of honey is highly recommended, but either way, you'll receive a delicious rush of sweetness.
Ingredients
1 tbsp of honey or 4 oz. of canned lychee syrup
3-4 mint leaves
5-6 pieces of lychee
½ lime
Carbonated water
1 scoop of matcha
1 scoop of ice
Instructions
Whisk one scoop of matcha with hot or cold water. If you're using boiling water, leave it aside to cool. This results in a matcha shot.
Make thin slices of lime.
Muddle the mint and honey with the lime segments. If you don't want to use honey, substitute bottled lychee syrup.
Pour in the ice. Mix in the lychee. Pour in the carbonated water. Finish with a matcha shot.
Stir well and serve.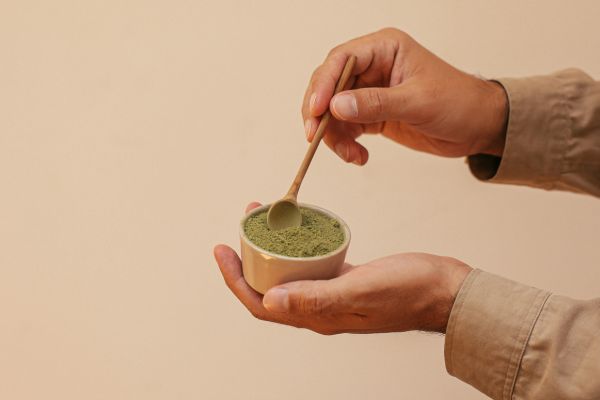 Lychee-Thai Chili Lemonade
Lychee-Thai Chili Lemonade is a unique and refreshing twist on the classic lemonade, infused with the exotic flavors of lychee fruit and Thai chili. This refreshing beverage by SugarLaws offers a compelling combination of sweet, tangy, and spicy notes to awaken your taste buds.
Ingredients
1 lb. lychees (peeled and seeded, about 1 ½ cups lychee flesh)
12 lemons
1 cup juice
¾ cup sugar
1 pinch salt
½ Thai chili (small red)
3 cups cold water
1 qt. ice
Instructions
Combine 1 cup lychees, lemon juice, sugar, salt, and Thai chili in a blender. Blend on high for 1 minute or until smooth.
Strain into a pitcher using a fine mesh strainer. Solids should be discarded.
Whisk in the cold water to mix. Add the leftover lychee flesh to the pitcher in ¼-inch chunks. Pour in the ice.
If preferred, serve in glasses filled with ice and garnished with more whole chilis.
Raspberry Lychee Fizz
This Raspberry Lychee Fizz is a delicious drink with flowery undertones. It's made with blended fresh raspberries and lychees, homemade lychee syrup, and fizzy water. You can substitute different types of berries, and they will still taste delicious. This cocktail is simple to make and takes only a few minutes to prepare.
Ingredients
170 g fresh raspberries (1 punnet)
8 fresh lychees peeled
1-2 tablespoon lychee syrup
1 C ice
sparkling/fizzy water
¼ teaspoon rose water (optional)
Instructions
In a blender, combine the raspberries and lychees until smooth.
Fill a large glass halfway with lychee syrup (or to taste).
Pour in 4 tablespoons of the raspberry-lychee puree.
Pour in the ice cubes.
Fill the glass halfway with sparkling water.
Insert a straw, give it a quick stir, and serve immediately.
The unique and enticing flavor of lychee can transform an ordinary mocktail into a remarkable experience, leaving a lasting impression on yourself and your guests. By incorporating lychee into your mocktails, you've discovered a delightful ingredient that adds a touch of sophistication and exoticism to your happy hour.
Cheers to the sweet symphony of lychee mocktails and the joy they bring to our palates. May your future happy hours be filled with delightful sips, laughter, and moments of pure enjoyment.
Lychee Mocktails FAQs
What tastes good with lychee?
When it comes to creating mocktails with lychee juice, there are numerous ingredients that pair exceptionally well and enhance the flavor profile. You can use citrus fruits, mint, coconut, sparkling water, ginger, cucumber, and pineapple. 
Remember, these are just a few suggestions, and you can always experiment with different combinations to find your favorite flavor profiles. The key is to balance the sweetness of lychee with complementary ingredients that bring contrasting or complementary flavors.
What is lychee drink made of?
A lychee drink is typically made using lychee fruit or lychee juice as the primary ingredient. Lychee is a tropical fruit with a sweet and floral flavor. To make a lychee drink, the fruit is often peeled, deseeded, and pureed, or commercially available lychee juice is used.
It's important to note that the specific ingredients and proportions may vary depending on the desired taste and recipe being used.
What are 5 ways to use lychee?
Lychee is a versatile fruit that can be used in various ways to add sweetness and tropical flavor to your culinary creations. Here are five popular ways to use lychee:
– Fresh snack
– Fruit salad
– Smoothies and shakes
– Cocktails and mocktails
– Desserts
Be mindful of its delicate flavor and texture when using lychee in recipes. It is best to pair lychee with ingredients that complement its sweetness and allow its unique taste to shine.
What is lychee Japanese drink?
A lychee Japanese drink you can make is the Sakura Lychee Fizz. This sparkling and mildly flowery drink is flavored with authentic cherry blossom syrup. Cherry blossoms are pink and white flowers that grow on ornamental cherry trees, which are also known as sakura or Japanese cherry.
The Sakura Lychee Fizz balances elegance, refreshment, and a touch of whimsy, transporting your taste buds to a world of delicate flavors and floral beauty.
Is lychee drink healthy?
Lychee is a nutritious fruit that can be part of a healthy diet when consumed in moderation. It contains several essential nutrients, including vitamin C, B6, potassium, and copper. Additionally, lychee is a good source of dietary fiber and antioxidants, with various health benefits.
If you're adding sugary syrups, high-calorie mixers, or excessive amounts of sweet fruit to your lychee drink, the overall healthiness of the drink may be compromised.