Looking for a good and tasty alternative to serve at gatherings or mix up for yourself? Well, let's explore 11 low sugar mocktails and the glorious perks of sipping on these guilt-free concoctions.
Now, I know what you're thinking. "Low sugar and non-alcoholic? Is this some kind of a scam?" Fear not, because we're about to debunk the myth that low sugar equals low fun. It's like having your cake and not feeling guilty about it, too—because, let's be real, we've all had those moments of dessert regret.
Yes, my friends, it's time to upgrade your beverage game; think glowing skin and boosted energy levels…
What Are The Benefits Of Drinking Low Sugar Mocktails?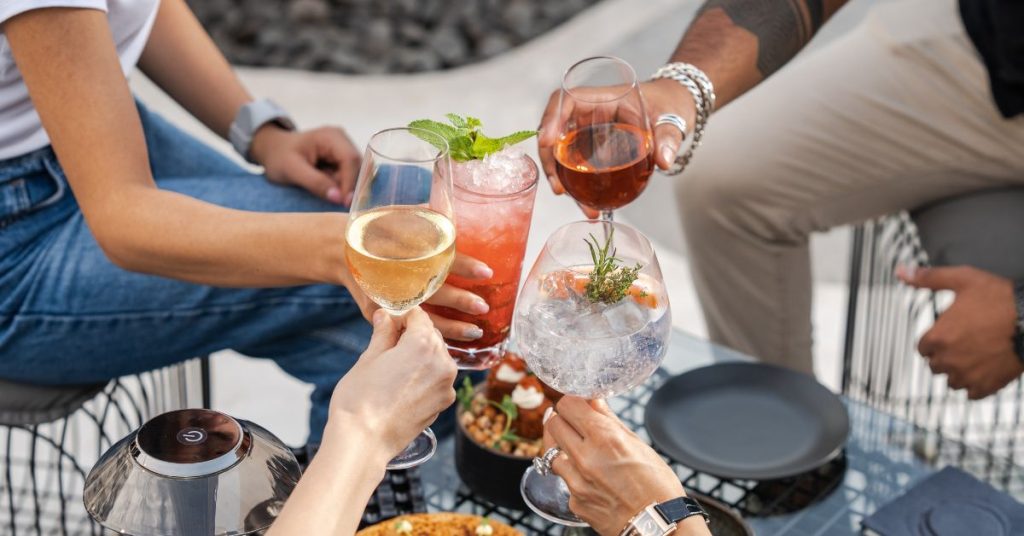 Firstly, you might ask, "What are the benefits of drinking low sugar mocktails?" Low sugar mocktails aren't just about what you're not getting (ahem, excessive sugar). They're about what you're gaining—energy, glow, good vibes, and a whole lot of deliciousness.
These mocktails aren't just beverages; they're a lifestyle upgrade, a guilt-free indulgence, and a ticket to a flavor-packed journey that your taste buds will thank you for. Here are some noteworthy benefits of drinking low sugar mocktails:
Energy Boost Without the Crash: Have you ever experienced that sugar rollercoaster where you're up, up, up, and then suddenly crashing down? Well, low sugar mocktails are your ticket to a sustained energy buzz without the dramatic nosedive. Say goodbye to the sugar-induced siesta!
Guilt-Free Sipping: Imagine enjoying a delicious beverage without the nagging guilt of empty calories. Low sugar mocktails are like the superheroes of guilt-free indulgence, allowing you to treat yourself without compromising your wellness goals.
Glowing Skin Vibes: Your skin deserves a spa day, too, right? Low sugar mocktails often pack a punch of vitamins and antioxidants that can contribute to that coveted radiant complexion. Get ready for your skin to thank you with a healthy glow that rivals a skincare influencer's morning routine.
Mood-Boosting Mixture: Forget about feeling sluggish and irritable. The carefully curated ingredients in low sugar mocktails can actually elevate your mood. It's like a happiness potion without the questionable side effects.
Hydration Celebration: Staying hydrated is key, and these mocktails are here for it. You can quench your thirst and keep your body happy with refreshing flavors and hydrating elements. It's like a hydration party, and everyone's invited!
Instagram-Worthy Elixirs: Let's consider the power of aesthetics. Low sugar mocktails are not only good for the taste buds but also for your social media game. Snap a pic of that vibrant, Insta-worthy drink and watch those likes pour in. #MocktailGoals, anyone?
So there you have it! The benefits of low-sugar mocktails extend beyond the glass. It's like making choices that not only tantalize the taste buds but also nourish your soul and your body. Now, after knowing all these things – these benefits – let's dive into some mocktail recipes you can try crafting at home.
11 Ideas For Low Sugar Mocktails
If you thought cutting down on sugar meant bidding farewell to delicious sips, think again! This isn't your average mocktail recipe list; it's a treasure trove of creativity, taste explosions, and guilt-free indulgence. See below for a spectrum of flavors that redefine the idea of mocktail crafting!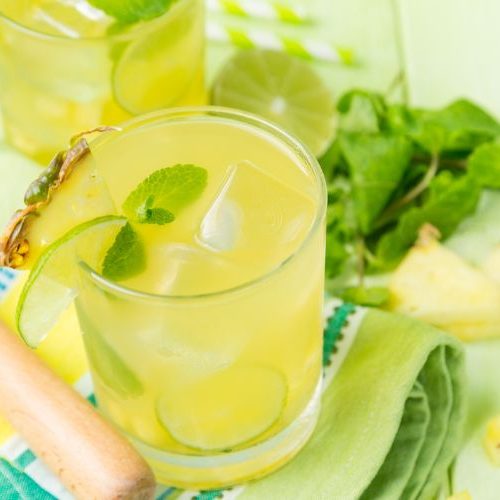 Pineapple Mint Ranch Water
This cool Pineapple Ranch Water Mocktail will quickly become your favorite summertime beverage! It's a tasty twist on the traditional ranch water recipe that combines delicious pineapple juice, zero-proof tequila alternative, fresh lime juice, and fresh mint with seltzer water. It could be an ideal refreshment by the pool!
Ingredients
12

ounces

pineapple juice

¼

cup

fresh mint leaves

3

tablespoons

fresh lime juice

1½

cups

your favorite non-alcoholic tequila

I'm using Ritual Tequila Alternative

6

ounces

mineral water

like Topo Chico
Instructions
In a blender, add all the ingredients except the mineral water. Pulse to blend, giving the mint leaves around 60 seconds to incorporate into the drink fully.

Fill rocks glasses with mixture, then top with mineral water.

Add fresh mint, pineapple pieces, and a lime wedge as garnish.
Dirty Banana Mocktail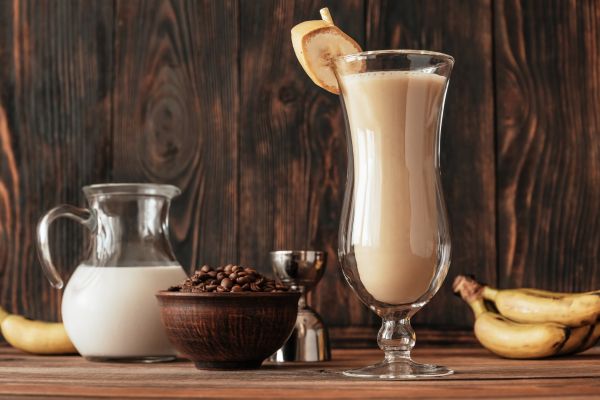 A refreshing mocktail with a Caribbean flair, this Dirty Banana Mocktail is ideal for dessert, a backyard barbecue, or just when you need a little taste of island life! Spirit substitutes like Ritual Zero Proof, which has zero calories and real ingredients, are the ideal way to re-invent your favorite drinks while still being good for your body.
Ingredients
1 cup cold coffee
2 frozen bananas
1 cup chocolate almond milk
½ cup coconut cream
Ice
Instructions
In a blender, combine all the ingredients and process until smooth.
If preferred, garnish with whipped cream, cacao nibs, and a cherry.
Mango Lime Agua Fresca
Mango Lime Agua Fresca is a fruity and refreshing summer beverage that goes well with meals or snacks. Why not grab something with some extra advantages beyond basic hydration instead of grabbing for a cola, even a diet one? If you also get excellent flavor, then better!
Ingredients
7 honey mangoes
1 cup sugar
1 tablespoon lime juice
10 cups water
Instructions
Juice the limes and prepare the mangos (peel and deseed).
Mix the components in a blender.
Transfer into glasses and serve right away. Any leftovers should be refrigerated. If it settles, reblend or mix before serving.
Watermelon Rose Cooler
Savor this refreshing Watermelon Rose Cooler during the sweltering summer months! Lime and rose water are spritzed over fresh watermelon juice. This drink is simple to make for guests, requiring only four ingredients and five minutes to prepare.
Ingredients
26 ounces watermelon juice (½ small watermelon)
5 ounces water
½ ounce lime juice
½ ounce rosewater
ice, mint sprigs, dried rose petals, watermelon wedges for serving
Instructions
Smoothly blend the pulp of ½ of a small watermelon. Strain the juice in a pitcher.
Fill the pitcher with water, lime juice, and rose water; whisk to mix.
Serve cold over ice. Add watermelon wedges, dried rose petals, and mint sprigs as garnish.
S'Mores Mocktail
Now, you might be wondering if a S'mores-flavored drink can be low in sugar. This S'Mores Mocktail uses a natural sweetener, so it's perfectly fine! With ingredients like homemade toasted marshmallow simple syrup, gluten-free graham cracker crumbs, chocolate sauce, and Ritual Whiskey Alternative, this s'mores drink is the ideal zero-proof beverage to enjoy by the fire. 
Ingredients
For the toaster marshmallow simple syrup:
1 cup water
9 marshmallows toasted
¼ cup maple syrup
1 tbsp vanilla
For the mocktail:
4 ounces Ritual Whiskey Alternative
4 ounces Toasted Marshmallow Simple Syrup
1 ounces Oat Milk or milk of choice
½ cup gluten-free graham cracker crumbs
Chocolate sauce for drizzling
Instructions
For the toaster marshmallow simple syrup:
Heat the water in a small saucepan over medium-high heat.
Grease and line a baking sheet with tin foil while boiling the water. Using a toaster oven, arrange nine marshmallows on a baking sheet and broil for three to five minutes or until the marshmallow tops are golden brown. Take great care to ensure they don't burn.
While the marshmallows are toasting, mix the hot water with the maple syrup.
After the marshmallows are roasted, remove them off the baking sheet using a silicone spatula sprayed with your preferred pan spray. After lowering the heat to low, whisk three marshmallows at a time into boiling water until they dissolve. It is important to take caution when adding many mallows at once, as they may expand and spill into the heated liquid.
Once every marshmallow has dissolved, mix in 1 tablespoon of vanilla.
Move to a covered, heat-resistant container and refrigerate for up to a month. Make sure the syrup cools completely before using.
For the mocktail:
Pour chocolate over the rim of your glass and into the glass itself.
Roll the glass from side to side along the rim after dipping it into the graham cracker crumbs to make sure the entire rim is covered. Place the glass in the refrigerator to set the chocolate while you mix the mocktail.
Combine oat milk, toasted marshmallow simple syrup, and Ritual Whiskey Alternative in an ice-filled cocktail shaker. Give it a good shake to blend.
Pour into cold glasses and enjoy!
Green Juice Mocktail
How healthy can your low sugar mocktails get? Take out your juicer and give those sugar-filled cocktails a serious competition.
Ginger and jalapeño, two sugar-free anti-inflammatory ingredients, give this Green Juice Mocktail the ideal natural kick. Although it's easily customizable, five ingredients are actually all you need! You'll wake up feeling hydrated and well instead of hungover.
Ingredients
1 large cucumber, juiced
1-2 limes or lemons, juiced
½-inch slice of ginger
2 leaves of kale, juiced
¼ – ½ cup ginger-flavored kombucha
Instructions
Juice the kale, cucumber, citrus, and ginger.
After adding crushed ice to a glass, top the ice with green juice.
Mix in the optional sweetener and Kombucha. Stir until thoroughly mixed. Try it out and tweak the flavor as necessary.
You might choose to add more ingredients as garnish and pour seltzer on top. Serve and enjoy!
Low-Sugar Strawberry Kombucha Mojito
A typical mojito has roughly 24 grams of cane sugar in it. To put it into context, that is equivalent to six tablespoons of sugar! But all we wanted was a cool drink.
You can rest assured that this Strawberry Mojito Kombucha mocktail won't contain that much sugar. In place of all that sugar, fresh strawberries and effervescent non-alcoholic kombucha help us make this mocktail less sugary yet still sweet enough.
Ingredients
4 mint leaves, stems removed
¾ cup fresh strawberries, stems removed and sliced
2 tablespoons lime juice
4 ounces sparkling water
12 ounces kombucha
1 cup ice
Berries, lime wedges and mint leaves for garnish, optional
Instructions
Using a mortar and pestle, muddle the strawberries, mint leaves, and lime juice in a small bowl until the strawberries become pureed. Alternatively, purée in a food processor or blender.
Spoon the purée into each of the two cocktail goblets.
Pour 6 ounces of kombucha and a dash of sparkling water into each glass. Add in the remaining ice.
Mix and drink.
Sour Green Apple And Lime Mocktail
This healthful, hydrating, and tangy Green Apple and Lime Mocktail is ideal for any time of day! It's bright green in color, naturally delicious, and devoid of artificial coloring and added sugar.
Ingredients
1 cup fresh green apple juice (2 – 4, depending on your juicer)
1.5 cups carbonated water (still water works well too)
2 tablespoons freshly squeezed lime juice
Dash of spirulina powder
1 lime or apple for garnish (optional)
Instructions
You must first prepare fresh green apple juice. You will need roughly three to four apples to create one cup of green apple juice using a speed juicer. You might just need one or two apples, though, if your juicer is slow. You can use a blender in place of a juicer if you don't have one! Just puree your apples, then transfer the pulp to a colander with fine mesh. To remove extra juice, press the pulp. Plant milk bags will also work well!
To avoid oxidation, you should add the lime juice as soon as your fresh green apple juice is ready. All this does is keep the juice from browning, which happens to apples when they come into contact with oxygen. If oxidization does happen, though, there's no reason to be concerned. Once the spirulina and lime juice are added, the color will brighten back up without affecting the taste.
Pour one cup of freshly prepared green apple juice into a pitcher or container and stir in the lime juice. Next, incorporate two teaspoons of the extracted lime juice.
Add a small pinch of spirulina powder. You can whisk it in or pulse it for about 30 seconds in a smoothie blender.
Add 1.5 cups of carbonated water containing the apple and lime juice mixture into the pitcher. You can adjust the sourness of your homemade Green Apple Soda by adding extra water. Add as much or as little as necessary to get your desired flavor.
By serving this drink in a martini or cocktail glass and adding an apple or lime slice as a garnish, you can make it look especially elegant! If you're adding apple slices as a garnish, be sure to pour some lemon or lime juice over them to keep them from browning and oxidizing.)
Frozen Raspberry Cheesecake Mocktail
Silky and velvety, this Frozen Raspberry Cheesecake is a fantastic low-carb, keto-friendly drink that tastes wonderful even without the alcohol!
Ingredients
8 ounces raspberry seltzer
½ cup frozen raspberries
½ teaspoon vanilla
2 tablespoons cream cheese
3 tablespoons of your preferred sweetener
6 ice cubes
Pinch of xanthan gum, optional, helps prevent separation
Instructions
In a blender, combine all the ingredients and process until smooth.
Pom Passion Tea "Sangria" Mocktail
Who doesn't enjoy a glass of fruity sangria at a gathering? Pomegranate juice and red wine go hand in hand, but to truly make this Pom Passion Tea "Sangria" Mocktail one pop, let's pair it with a fruity herbal tea concentrate. No added syrups or sugars are necessary. It's easy to make and quite popular.
Ingredients
2 ounces Tazo passion tea concentrate
2 ounces pomegranate juice
1 ounce fresh-squeezed orange juice (about ¼ of a medium orange)
1–2 ounces club soda
garnishes: blackberries, orange slice
Instructions
Add ice to a wine glass.
Pour in passion tea concentrate, pomegranate juice, and orange juice. Stir thoroughly.
Top with club soda.
Add blackberries and a piece of orange as garnish.
Frosty Coconut Mint Green Tea Mocktail
Do you need a little refreshment? You'll feel pampered and well-hydrated with natural coconut water in a Frosty Coconut Mint Green Tea Mocktail!
You may have something to drink all day long with just three easy ingredients! Paleo, vegan, and gluten-free – a beverage for all ages for the summer!
Ingredients
500 milliliters natural coconut water
4 fresh mint leaves
1 green tea bag
6-8 ice cubes
Liquid Stevia (optional, to taste)
Instructions
Tear off two mint leaves and add them to the bottle of coconut water along with the green tea bag.
After an hour, place the bottle in the refrigerator.
Pour the contents of the bottle into a blender with the ice cubes and the remaining 2 mint leaves.
Blend until you have a refreshing, icy beverage!
Low Sugar Mocktails Don't Mean Low Fun
Who says cutting down on sugar means sacrificing the fun? Low sugar mocktails are here to prove that you can have your mocktail and drink it too—without the sugar overload. These mocktails bring the party to your taste buds without the guilt trip.
So hopefully, we have busted the myth and you've realized by now that low sugar mocktails don't mean low fun; in fact, they're about to take your sipping experience to a whole new level of enjoyment.
Related Articles
Low Sugar Mocktails FAQs
Do mocktails have sugar in them?
Mocktails can vary, but yes, some do contain sugar. However, the beauty of the low sugar mocktail trend is that many recipes focus on using natural sweeteners, and sugar substitutes, or simply rely on the inherent sweetness of fresh fruits and juices to enhance the flavor without the need for excessive sugar.
Which mocktail has the least sugar?
The mocktail with the least sugar often includes ingredients like fresh herbs, citrus fruits, and sugar substitutes like stevia or monk fruit. A classic example is a Virgin Mojito made with muddled mint, lime juice, and a sugar substitute.
What non-alcoholic drinks have no sugar?
Non-alcoholic drinks with no added sugar can include infused water, herbal teas, and black coffee. Additionally, simple concoctions like sparkling water with a splash of citrus or a splash of cranberry juice can be refreshing options without added sugars.
How can a drink be sweet without sugar?
Drinks can be sweet without sugar by using natural sweeteners such as honey, agave nectar, or maple syrup in moderation. Alternatively, incorporating naturally sweet fruits like berries, pineapples, or mangoes can provide a delightful sweetness without the need for refined sugar.
What is the healthiest mocktail?
The healthiest mocktail often includes a combination of fresh, whole ingredients. A mocktail with a base of sparkling water or herbal tea, infused with natural flavors from fruits, herbs, and spices, tends to be a nutritious and hydrating choice. Adding antioxidant-rich ingredients like berries or citrus can boost both flavor and health benefits.