As the frosty season settles in, there's no better way to embrace the chilly days and long nights than with a collection of winter mocktails designed to delight your senses. Whether you're celebrating the holidays, hosting a cozy gathering, or craving a non-alcoholic indulgence, these mocktails promise to be your perfect companions.
From the soothing embrace of spiced apple cider to the enchanting allure of cranberry sparkle, each sip is a journey into the heart of winter flavors. Take a peek at our collection of 14 winter mocktails that will elevate your home's atmosphere.
Winter Mocktail Recipe-Vegan Caramel Eggnog Mocktail
Of course, we have to start with the most popular winter holiday drink – Eggnog.
The ideal amount of sweetness comes from the homemade caramel syrup in this velvety Vegan Caramel Eggnog Mocktail, which is dairy-free and excellent for the holidays. In terms of flavor, rich, and creamy texture, it does not let down even without alcohol.
Ingredients
For the homemade vegan caramel sauce:
1

cup

organic brown sugar

6

tbsps

vegan butter

½

cup

full-fat canned coconut milk

Pinch of sea salt
For the mocktail:
4

cups

dairy-free eggnog

homemade or store-bought

1½

tsps

ground cinnamon

1

tsp

ground nutmeg

Crushed ice
For garnishing:
Coconut whipped cream

Pinch of ground nutmeg

Cinnamon sticks

Caramel sauce
Instructions
For the homemade vegan caramel sauce:
Using a rubber spatula, continuously whisk the brown sugar over medium-high heat in a medium skillet until clumps form. After adding the vegan butter and stirring constantly, everything will have melted and taken on a deep, "amber" hue. Stir continuously for another two to three minutes or until completely melted and bubbling.

At this point, gradually whisk in the coconut milk until the sauce has thickened completely. Before using, remove it from the heat and let it cool. Set aside.
For the mocktail:
Combine the eggnog, ½ cup of the cooled caramel sauce, nutmeg, and cinnamon in a bowl, and whisk until smoo

Pour crushed ice halfway into an 8-ounce glass for each drink. Pour in the eggnog mixture until the glass is nearly full, then top with piped coconut whipped cream, vegan caramel sauce, nutmeg, and a cinnamon stick.
Video
Hot Ginger Turmeric Toddy
This Hot Ginger Turmeric Toddy by Mistress of Mocktails is perfect for foggy winter nights. The drink is super healthy and ideal to drink while huddling around the fireplace.
Ingredients
2 cups water
½ tsp ground turmeric
½ tsp chopped fresh ginger
½ tsp ground cinnamon
1 tbsp honey
Dash of lemon juice
Lemon zest to garnish
Instructions
In a little saucepan, bring the water to a boil.
Add the lemon, honey, cinnamon, ginger, and turmeric.
Turn the heat down to medium.
Simmer for ten minutes.
Pour into a tall glass and garnish with lemon zest.
Christmas Pudding Mocktail
Mindful Mocktail's Christmas Pudding Mocktail is a treat for people who love puddings and mocktails. It contains citrus, spices, mixed fruit, pomegranate juice, and cranberry juice. It's simple to prepare and may be done a day or two in advance, saving you work on the day of preparation.
This can be served hot in a large, cozy mug for those having a white Christmas. It also tastes great when served cold over ice with a few additional orange slices.
Ingredients
1 cup cranberry juice low-sugar
1 cup pomegranate juice
½ cup dried mixed fruit
2 teaspoons orange zest
4 slices orange
1 teaspoon lemon zest
2 slices lemon
2 whole cloves
½ teaspoon mixed spice
¼ teaspoon grated nutmeg (fresh or ground)
1 tablespoon fine desiccated coconut (for garnish)
Instructions
Combine everything into a big basin or jug.
Put the cover on and refrigerate overnight.
Pour the mixture through a cheesecloth or equivalent fine strainer and into a glass or jug that has been cleaned.
Serve warm in a mug or over ice in a glass.
Add a piece of orange, a cinnamon stick, and any kind of decoration as garnish.
Cinnamon And Clove Cranberry Mocktail
The Cinnamon and Clove Cranberry Mocktail is ideal for hosting a few friends for the evening or holiday gatherings with kids. In this recipe by The Healthy Consultant, the surprising inclusion of clove balances the traditional cranberry, orange, and cinnamon flavors. If you are hosting a bigger gathering, you could prepare a larger quantity and place it in a presentable drink dispenser.
Ingredients
1 cup fresh or frozen cranberries
¼ cup honey
½ cup water
1 T clove buds
4 cinnamon sticks
3 cups unsweetened cranberry juice
2 medium organic oranges, each cut into 8 wedges
3 cups sparkling water
Instructions
Combine the cranberries, honey, water, cinnamon sticks, and cloves in a small saucepan. Stir the mixture over medium heat.
Simmer for 8 to 10 minutes, stirring periodically, or until the honey has melted and the spices have a strong aroma.
Take off the heat and move to a big glass or similar non-reactive bowl.
Add in the orange wedges and cranberry juice.
Refrigerate for several hours or overnight.
Once completely chilled, remove them from the refrigerator and squeeze each orange wedge into the bowl to extract the juice before throwing them away.
Using a fine-mesh strainer, drain the mixture and throw away the sediments.
To serve, add enough of the seasoned cranberry juice mixture to each serving glass (approximately ⅓ full) after filling them with ice.
Pour sparkling water into each glass, then whisk to mix.
If desired, taste and add more honey to make it sweeter.
Serve right away after adding cinnamon sticks or rosemary skewers as garnish.
Peppermint White Russian Mocktail
White Russians have a tinge of sweetness and are creamy and cold. Similar to the taste of iced coffee, but with a hint of spice and a touch more coziness. In order to maintain a well-balanced and tasty drink, you must ensure that you have the appropriate substitutes.
For a festive winter drink, this Peppermint White Russian Mocktail by Art From My Table is ideal. It's creamy, cool, and energizing.
Ingredients
2 ounces strong brewed coffee
¼ teaspoon vanilla extract
⅛ teaspoon peppermint extract
2 ounces heavy cream or a little more to fill the glass
1 peppermint stick (optional garnish)
Instructions
Depending on your preference, adjust the amount of peppermint extract to use. Keep in mind that peppermint and mint extracts are not the same. Brands can also have different strengths.
Pour in the cream and whisk if you don't want it to float. Or, you may combine everything in a cocktail shaker.
Add simple syrup, sugar, or your preferred sweetener if you want something sweeter.
You can use half-and-half cream, milk, or almond milk in place of the heavy cream.
Green Grasshopper Mocktail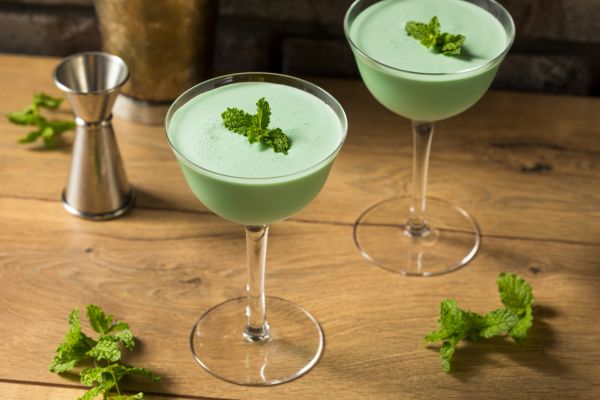 The well-known Grasshopper Cocktail is also available as a non-alcoholic beverage – the Green Grasshopper Mocktail. You're in for a treat if you've never had a Grasshopper. This recipe by Food Meanderings is a creamy, delectable mint chocolate beverage!
Ingredients
6 tablespoon white hot chocolate mix
6 tablespoon boiling water
1 ½ cups half-and-half cream
1 cup 1% milk
½ teaspoon peppermint extract
½ teaspoon almond extract
1 teaspoon green food coloring
whipped cream
fresh mint leaves
Instructions
Add three tablespoons of hot water each and the white chocolate mix in two glasses. Whisk to dissolve the powder in the water.
Divide the milk, cream, extracts, and green food coloring into the two glasses, then stir until well combined.
If desired, add ice.
Add some whipped cream and fresh mint as garnish.
Mock Hot Buttered Rum
Hot Buttered Rum mocktail is an appealing winter beverage. It is the perfect comfort food for the coldest days of the year because it is warm and sweet at the same time. This recipe by Cocktail Contessa is delicious and simple to create without alcohol, making it a great choice for non-drinking friends, kids, and family members who must avoid strong drinks.
Ingredients
2 tablespoons hot buttered rum mix
1 oz salted caramel syrup, the kind for coffee, not ice cream
½ tsp rum extract
A drop or two of almond extract
8-10 oz hot apple cider
Garnish: whipped cream, cinnamon stick, salted caramel drizzle
Instructions
Add the butter mixture, steaming apple cider, salted caramel, and extracts to a heated, heat-resistant cup.
Mix everything and stir until the butter has melted.
Enjoy!
Sparkling Apple Cider Punch
With its blend of pineapple juice, ginger ale, and cider, this Sparkling Apple Cider Punch recipe is surprisingly light and refreshing while packing a big flavor punch. This easy-to-make drink by Always Eat Dessert can be made for a small gathering or an intimate evening. Finding a light and refreshing mocktail recipe can be difficult, but this one strikes the perfect balance.
Ingredients
2 cups apple cider
2 cups ginger ale
2 cups pineapple juice
Ice cubes
Sliced apples (optional garnish)
Cinnamon sticks (optional garnish)
Star anise (optional garnish)
Pineapple slices or leaves (optional garnish)
Instructions
Combine pineapple juice, apple cider, and ginger ale in a punch bowl or pitcher. Mix well to blend.
Include any garnishes and ice.
Serve right away.
Ginger Beer Mocktail
You should try this Ginger Beer Mocktail if you like the flavor of ginger. This recipe by Savor The Flavor is easy to make, nutritious, and ideal for your next gathering.
Most of the drinks and the simple syrup can be prepared the night before. When serving, pour in the ginger beer. Slushies can also be made with this beverage or any version if the ingredients are frozen.
Ingredients
3 tablespoons maple syrup
⅓ cup orange juice, chilled
4 tablespoons simple syrup, chilled
¼ teaspoon Angostura orange bitters
2 tablespoons freshly squeezed lime juice
1 cup ginger beer, chilled
2 tablespoons water
2 tablespoons granulated sugar
1 teaspoon cinnamon
1 lime wheel per glass, for garnish
Instructions
Pour the water into a small dish before rimming the glasses. Combine the cinnamon and white sugar in a separate bowl. After dipping the glass's rim in water, twirl it in the sugar mixture.
Carefully add all ingredients—aside from the carbonated drink—to the glass to assemble the drink.
After stirring, pour the ginger beer on top. Slightly stir.
Serve right away, garnishing each glass with a lime wheel.
Jack Frost Mocktail
The ideal drink for winter and Christmas is this recipe by Laura The Gastronaut for ice-blue mocktails! Jack Frost Mocktail's pineapple, orange, and coconut tastes evoke those of a tropical winter. The cocktail glass looks like a wintry paradise when it is rimmed with coconut flake.
Ingredients
8 ounces pineapple juice
3 ounces orange juice
3 ounces cream of coconut plus more for the rim
2 ½ cups ice cubes
10 drops blue food coloring
Sweetened coconut flakes for the rim
Instructions
Blend pineapple juice, orange juice, coconut cream, ice cubes, and blue food coloring in a blender. Process till frosty and smooth.
Cocktail glass rims should be coated with coconut by dipping them into a little amount of coconut cream and rolling them in a pile of coconut flakes.
Fill the glasses with the mocktail mixture. Cheers!
Spicy Jalapeno Mule Mocktail
With the green hues of the jalapeño and lime, the bubbles from the ginger beer, and the touch of golden brown from the agave nectar, this Spicy Jalapeño Mule Mocktail is a really pretty drink. Therefore, Mighty Mrs serves it in a lowball glass—also called a rocks glass. If you prefer that traditional and iconic copper mug look, you may serve this mule mocktail in a copper mug.
Ingredients
8 oz ginger beer
Juice from ½ lemon
1 tablespoon agave nectar
4 slices jalapeño pepper
crushed ice
Instructions
Crushed ice should be poured into a lowball cocktail glass or copper mug.
Pour the agave nectar, ginger beer, lemon juice, and jalapeño slices into the glass.
Serve after giving it a little stir.
Roy Rogers Drink
There aren't many simple and widely liked mixed drinks like the well-known Roy Rogers. This non-alcoholic beverage recipe by The Spruce Eats is essentially just a tall glass of cola dressed up, but it tastes so good and is so refreshing that everyone will like it.
The Roy Rogers, like the Shirley Temple, is a classic soda shop beverage. Soda fountains persisted in American society even after they closed. Long before the name "mocktails" was coined, you could order these non-alcoholic mixed beverages at almost any pub or restaurant.
Ingredients
½ – 1 ounce grenadine, to taste
6 ounces cola
Maraschino cherry, for garnish
Instructions
Pour the grenadine into an ice-filled Collins glass.
Add cola on top.
Mix thoroughly.
Add a maraschino cherry as a garnish.
Winter Kiss Mocktail
Picture the tartness of cranberry meeting the subtle citrus notes of lime, creating a symphony of taste that tingles with a hint of minty freshness. Topped with club soda, this Winter Kiss Mocktail recipe by Wildberry Lodge is definitely a favorite winter drink.
Ingredients
1 oz white cranberry juice
½ oz simple syrup
½ oz lime juice
1 oz pomegranate juice
club soda
Instructions
Combine all ingredients in an ice-filled glass. Pour club soda on top.
Winter Spiced Orange Mocktail
Enjoy this sparkling, slightly bitter Winter Spiced Orange Mocktail before dinner for the ideal non-alcoholic pre-dinner beverage! Squash (the cordial), along with flavors of orange, cinnamon, anise, and spices, is used to recreate this recipe by Simply Recipes.
Made from sugar, water, and fruit juice, squash is a concentrated syrup that isn't alcoholic. It's usually used with alcohol (for a cocktail) or carbonated water (for a mocktail). Squash can also be thought of as a delicious syrup or a cordial.
Ingredients
For the Bitter Orange and Spice Squash Syrup:
Zest from two Seville oranges
1 cup orange juice from 4-5 medium-sized Seville bitter oranges
1 cup sugar
½ cup water
4 2-inch cinnamon sticks
2 star anise
4-5 allspice berries, lightly crushed
3-4 cloves
For the mocktail:
1 ounce Bitter Orange and Spice Squash Syrup
3-4 ounces club soda, chilled
1 dash orange bitters
Orange slices for garnish
Instructions
For the Bitter Orange and Spice Squash Syrup:
Mix the bitter orange juice, zest, sugar, water, star anise, cinnamon sticks, allspice berries, and cloves in a small saucepan over high heat.
Stirring regularly, bring to a boil before reducing heat to a simmer. After letting the pan simmer for five minutes, turn off the heat. For ten more minutes, let the pan remain covered and steep.
Pour the mixture through a fine-mesh strainer (or a coffee filter if you used ground spices) and store it in an airtight jar with a wide mouth. If not using right away, set it aside or chill. You can store the syrup in the refrigerator for up to one month.
For the mocktail:
To serve, add one ounce of the Bitter Orange and Spice Squash Syrup to a rocks glass filled with crushed ice, top with club soda, and add a dash of orange bitters or orange oil.
Mix lightly.
Add a slice of orange as a garnish.
Why Choose Winter Drinks That Are Non-Alcoholic
There's a compelling magic in opting for drinks that keep spirits at bay. Choosing non-alcoholic winter drinks is not just about maintaining a clear head; it's a celebration of diverse flavors, inclusivity, and the joy of creating memorable moments without the influence of alcohol.
With their intricate blends and festive garnishes, these winter mocktails prove that you don't need spirits to elevate the winter experience. Going alcohol-free opens up a world of creativity and indulgence, whether for health reasons, family-friendly gatherings, or simply a personal preference.
Related Articles
With its rich and creamy texture, Eggnog is a beloved holiday classic that has been cherished for generations. In this guide, we will explore how to make eggnog without alcohol, ensuring that everyone at your table can enjoy the comforting flavors of this seasonal treat.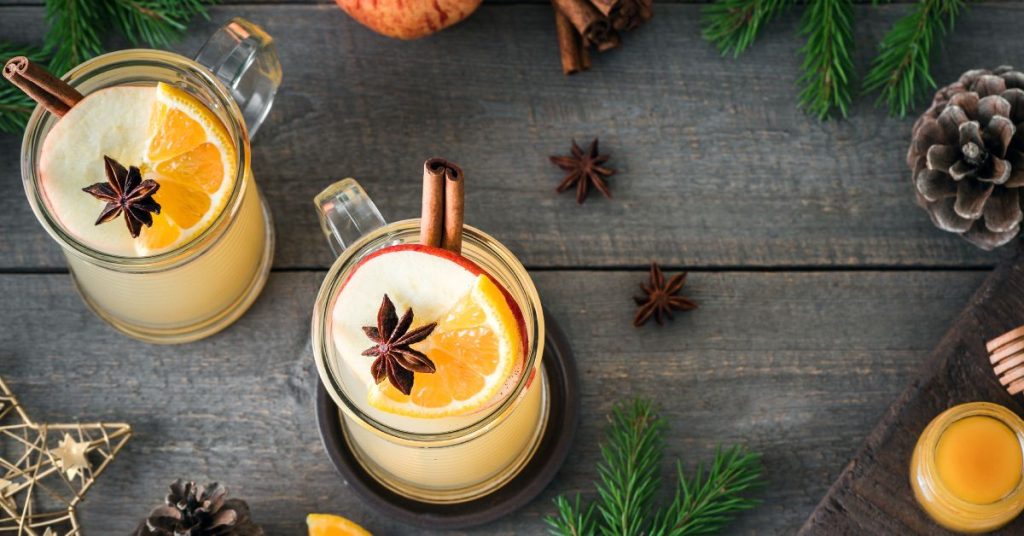 The hot toddy is excellent, but occasionally you just want that cozy, comforting mixture without the alcohol. A non-alcoholic hot toddy is simply a cup of warm tea that has been improved. It's a great beverage, though, and ideal for chilly nights.
Prepare to be dazzled by a kaleidoscope of flavors, ranging from spicy citrus combinations to herb-infused treats designed to tickle your taste buds and leave a lasting impression. Whether you're throwing a party or simply seeking a refreshing drink, these 13 variations of mocktails with cranberry juice will impress your guests.
Winter Mocktails FAQs
What is a winter mocktail?
A winter mocktail is a non-alcoholic beverage crafted specifically to evoke the flavors and ambiance of the winter season. These drinks often feature festive ingredients such as spices, fruits, and herbs, offering a delightful and refreshing alternative for those who prefer not to consume alcohol.
What is the easiest winter mocktail to recreate?
The Roy Rogers drink is the easiest mocktail to recreate because it only requires two simple ingredients: cola and grenadine. Just pour cola over ice and add a splash of grenadine for a sweet and refreshing non-alcoholic beverage. You can also add a garnish, depending on your preference.
What is a good winter mocktail to order at a bar?
The Sparkling Apple Cider Punch is a fantastic winter mocktail to order at a bar because it combines the familiar warmth of apple cider with the effervescence of sparkling water. Its sweet and bubbly profile makes it a crowd-pleaser, and most bars have apple cider and sparkling water readily available. It's a festive and flavorful choice, embodying the spirit of winter celebrations without the need for alcohol.