What better way to refresh on a hot summer day than to indulge in a watermelon mocktail? Watermelons have long been a favored fruit for beating the heat since they are hydrating and deliciously sweet. But did you know you can take your watermelon indulgence to the next level by making delectable mocktails?
We've lined up 11 easy watermelon mocktail recipes that are meticulously developed to capture the essence of summer and boost your beverage game, from classic pairings to inventive twists. So, what are you waiting for? Let's dive in with a classic.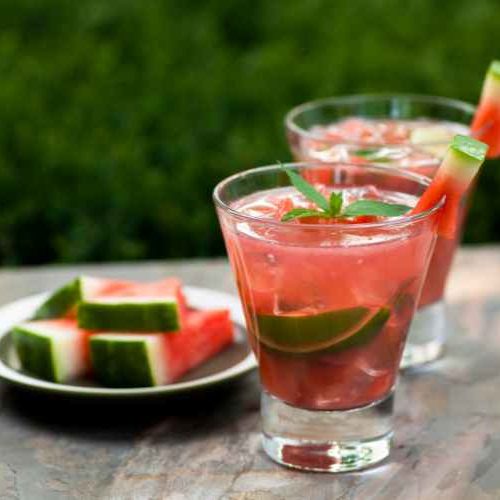 Watermelon Mocktail
Our watermelon mocktail is such a simple mocktail recipe. We love the flavor that's created from combining watermelon and jalapeño. But, if you're not a fan, you can easily kick it to the side with a pair of steel toed boots and this is still an amazing drink. This recipe is for one but if you're planning a party, you can increase your ingredient amount. It's not an exact science.
Ingredients
2

cups

watermelon flesh

1

ounce

lime juice

1/2

ounce

simple syrup

(or 1 ounce agave syrup)

1

mint sprig (leave a few leaves back for a garnish)

1

tsp

jalapeño pieces
Instructions
For the watermelon mocktail:
Muddle the mint leaves and jalapeño with lime juice in a shaker tin.

Shake, shake, shake for 15 seconds, until your shaker tin is nice and cold.

Strain into a rocks glass with a small amount of ice or into a coupe cup with no ice at all.
For the simple syrup:
Bring 1/2 cup water and 1/2 sugar to a low boil. Stir often for 8 minutes. Let cool. Store in the fridge for up to a month.

Want to make jalapeño simple syrup? After you remove syrup from the heat, add 1 tbsp minced jalapeño bits, slices or chunks. Allow to steep for 1-3 hours.
Watermelon Mint Mojito Mocktail
Watermelon Mint Mojito Mocktails are made with watermelon, lime, sweetener like agave syrup and fresh mint. They are refreshing, tangy, colorful, and fruity ice-cold drinks to beat the heat.
This Watermelon Mint Mojito Mocktail from Plant Based Jess is a great way to cool off on a hot summer day. Fresh watermelon, limes, mint, and sparkling water… so easy, beautiful, and tasty!
Ingredients
For the watermelon lime juice:
2 cups watermelon – rim removed and cubed
2 limes – juiced
1-2 tbsp sweetener (maple syrup, agave nectar, or granulated sugar) – optional
15-20 leaves of fresh mint
For the mocktail:
sparkling water
ice cubes
fresh mint
slices of lime
Instructions
For the watermelon lime juice:
Blend until smooth the watermelon, lime juice, mint, and sugar (if using).
Transfer to a jar and refrigerate for a few hours or use immediately.
This can be made ahead of time and refrigerated until your guests come!
For the mocktail:
When ready to serve, muddle a few more mint leaves with a slice of lime in the bottom of your glass and pour around 12 cups of the watermelon mixture (enough for 4 glasses).
Then, add a few ice cubes and a splash of sparkling water (approximately 12 to 34 cups each glass).
Taste and adjust the sweetness, then garnish with extra watermelon and lime slices. Cheers!
Sweet Watermelon Mint Summer Spritzer Mocktail
Watermelon mocktails also make quick and easy Watermelon Spritzers. This watermelon mocktail spritzer recipe by The Wooden Skillet is ideal if you're searching for a refreshing non-alcoholic drink this summer. A tasty, light, and refreshing mocktail! It is made with real, simple ingredients such as fresh watermelon, mint leaves, lime, and a dash of honey for sweetness!
Ingredients
4 cups fresh watermelon
2–3 fresh mint leaves
juice of 1 lime
4 teaspoons honey (more to taste)
1 tablespoon club soda (or more)
Instructions
Cut up 2-3 cups of watermelon, removing as many seeds as possible.
Combine 2-3 mint leaves, lime juice, and honey using a blender.
Blend until completely liquid.
Taste and, if desired, add a small amount of honey at a time until you get the desired sweetness.
Strain the watermelon mixture to produce a smooth consistency.
Fill a glass with 3 cubes of watermelon (approximately 11 inches) and numerous ice cubes.
Pour the watermelon mixture over the top, leaving about ½ inch at the top.
Mix in a dash of club soda or sparkling water.
Garnish with more mint leaves and a lime slice.
Watermelon Mocktail Agua Fresca
This Watermelon Agua Fresca is a popular drink in Mexico. It can be made with a variety of fruits. This variation by Allrecipes is tasty and refreshing.
Ingredients
4 cups cubed seeded watermelon
½ cup water
½ cup white sugar, or to taste
4 slices lime
24 fresh mint leaves
8 cups ice, or as needed
Instructions
In a blender, combine watermelon and water until smooth. Add sugar to taste.
Half the lime slices. Fill each glass with a half-lime slice and three mint leaves.
Fill each glass with 1 cup of ice and crush with a cocktail muddler.
Before serving, add the watermelon agua fresca and mix.
Watermelon Mocktail That's Low-Calorie and Low-Sugar
This watermelon mocktail by Mindful Mocktail is light and refreshing with low calories and low sugar and can be one of your favorite summer drinks. These low-sugar watermelon mocktails with mint and lime are ready in 5 minutes. It's a refreshing, sweet drink ideal for pregnancy, kids, and sobriety.
Ingredients
1 cup diced watermelon (fresh or frozen)
1 ounces lime juice
10 mint leaves
½ cup soda water or kombucha
Splash of apple cider vinegar
Instructions
Muddle the watermelon and lime in a shaker or mason jar until all of the juice is out. If the watermelon compacts at the bottom of the shaker, you may need to stir a little more.
If you don't have a shaker, a mason jar or anything with a tight-fitting lid will suffice.
Clap the mint leaves in your palms to release the aroma before adding them to the watermelon mixture.
Replace the lid, add a few ice cubes, and shake vigorously.
Fill an ice-filled glass halfway with the watermelon mixture.
Add soda water or kombucha to taste. Optionally, add a dash of apple cider vinegar. Gently stir.
Garnish with a lime wheel and additional mint if desired.
Pineapple Watermelon Mocktail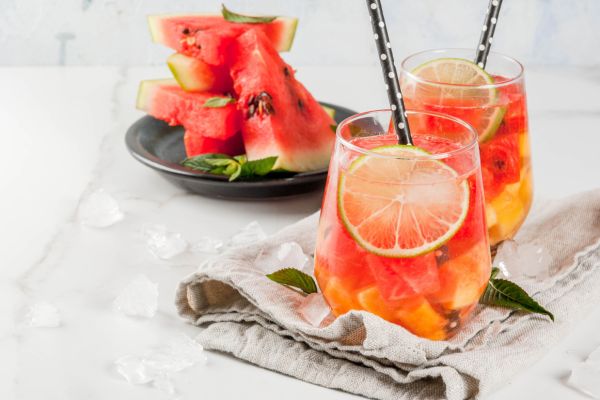 Pineapple Watermelon Mocktail is a refreshing drink made from pineapple juice, watermelon, sparkling water, and lemon slices. This non-alcoholic recipe from Times of India is delicious, and everyone would appreciate it.
Ingredients
2 cup pineapple juice
2 cup watermelon
2 cup sparkling water
2 lemon slices
Instructions
Combine pineapple juice and watermelon in a blender. Blend or process until smooth while covered.
Pour the sparkling water into each of the four cups and whisk to mix.
Serve chilled, garnished with a lime slice in each glass.
Lychee Watermelon Mocktail
Enjoy this delightful watermelon and lychee drink with your friends and family. This Lychee Watermelon Mocktail from ProCook is wonderfully sweet, with flowery undertones from the lychee – an excellent drink for summer parties.
Ingredients
8 cups watermelon, cut into cubes
3/4 ounce fresh lime juice
1 lime, sliced
4 ounces lychee syrup
Non-alcoholic sparkling wine
Instructions
Lychee Syrup
Lychee, water, and sugar should all be combined in a pan over medium-high heat.
Cook for 20 minutes, stirring occasionally, until the fruit is mushy.
Bring to a boil. Reduce heat to a simmer.
Avoid pressing down on the lychee as you strain them from the simple syrup. If not, your syrup will be hazy.
Enjoy the lychee simple syrup after chilling it in the refrigerator for a few hours or until it is cold.
Mocktail
Blend the prepped watermelon in a blender until smooth.
Fill your pitcher halfway with pureed watermelon.
Stir in the lychee syrup, lime juice, ice, and lime slices until completely combined. Use a cocktail jigger for a more precise measurement of the lychee syrup.
Before serving, top up with non-alcoholic sparkling wine and stir.
If desired, garnish with cut limes in the pitcher.
Berry Watermelon Limeade Mocktail
This watermelon and strawberry mocktail, made with fresh strawberries and luscious watermelon, is a simple and delightful way to enjoy some of summer's greatest flavors. This is the ideal summer drink, thanks to the abundant watermelons and strawberries around that time.
Whether you quadruple this recipe from Inspired by Charm for a party or just make a single batch to sip on the veranda with a friend, you and your guests will love it.
Ingredients
2 cups fresh strawberries hulled
2 cups chopped watermelon
2 cups limeade
2 limes juiced
Ice cubes, lime slices, and strawberries to serve
Instructions
Puree the strawberries, watermelon, limeade, and lime juice in a blender until smooth.
Pour into an ice-filled glass to serve.
Garnish with a lime slice and a strawberry.
Spicy Watermelon Jalapeño Mocktail
This Spicy Watermelon Jalapeño Mocktail by Food Banjo is fizzy, dazzling, and perfect for summer. They're garnished with fresh watermelon and mint for a drink ideal for entertaining at summer BBQ parties.
Ingredients
2 cups diced watermelon
2 teaspoon diced jalapeno seeds removed
1 teaspoon simple syrup
1 can sparkling water
ice
salt
mint (optional)
Instructions
In a blender, combine the watermelon, jalapeño, and simple syrup. Add a pinch of salt to taste. Blend until completely smooth.
Fill four small glasses with ice. Divide the watermelon mixture evenly among four glasses.
Finish with sparkling water. To blend, use a spoon or straw to stir.
If desired, garnish with additional watermelon and mint.
Watermelon Margarita Mocktail
Watermelon, lime, and simple syrup combine to form a delicious summer drink that will make you forget about tequila. This recipe from The Pioneer Woman will make you want to crave the lifestyle of drinking margaritas by the pool (but without the booze!)
Ingredients
For the simple syrup:
For the mocktail:
8 cup cubed ripe seedless watermelon
½ cup simple syrup
½ cup fresh lime juice
Limes (for garnish)
Pink Himalayan Salt or Kosher or plain sea salt (for rimming glass)
Ice
Instructions
For the simple syrup:
In a saucepan, combine sugar and water.
Stir occasionally until the mixture reaches a boil.
Simmer for 1 minute, stirring occasionally, before removing from heat. The solution should be clear.
Pour into a jar and chill for several hours or until cold.
For the mocktail:
Mix diced watermelon in a blender. Blend for about 45 seconds or until the mixture is smooth and frothy on top.
Combine ½ cup of cool simple syrup and fresh lime juice in a blender. Blend for a few more seconds.
Place salt on a plate. Lime juice should be rubbed on the rims of the glasses. Pour the sea salt over the glasses.
Fill the glasses halfway with ice. Pour the margarita mix over the ice.
The glasses should be garnished with a wedge of lime.
Refrigerate any leftover margarita mix. To refresh, mix in a blender.
Orange Sunset Mocktail
This watermelon and orange mocktail recipe from BetterButter perfectly combines two juicy and refreshing fruits that create a delightful beverage. Kids will surely love this drink!
Ingredients
4 cups watermelon, diced
1 cup fresh orange juice
½ tsp lemon juice
½ tsp black salt
8-9 mint leaves
2 tbsp soda water (optional)
Instructions
Add the watermelon cubes, black salt, lemon juice, and mint leaves to a blender jar and blend until smooth.
After that, strain the juice and stir in the orange juice.
Serve chilled with soda water and lemon slices dipped in juice on top.
Elevate Your Mocktail Recipes With Watermelon
Watermelon has proven to be a versatile and delectable fruit that adds a refreshing twist to any beverage. Incorporating watermelon into your mocktail recipes can elevate your drink-making skills and create a delightful experience for yourself and your guests.
So, the next time you want to elevate your mocktail game, look no further than the enticing flavors of watermelon. Explore the possibilities, experiment with different combinations, and enjoy the refreshing and satisfying outcome of watermelon mocktails.
Related Articles
With their luscious sweetness and exotic aroma, lychee mocktails offer a delightful twist to standard Happy Hour. Imagine sipping a cool, refreshing lychee-infused mocktail as you relax by the pool or gather with friends on a warm summer evening.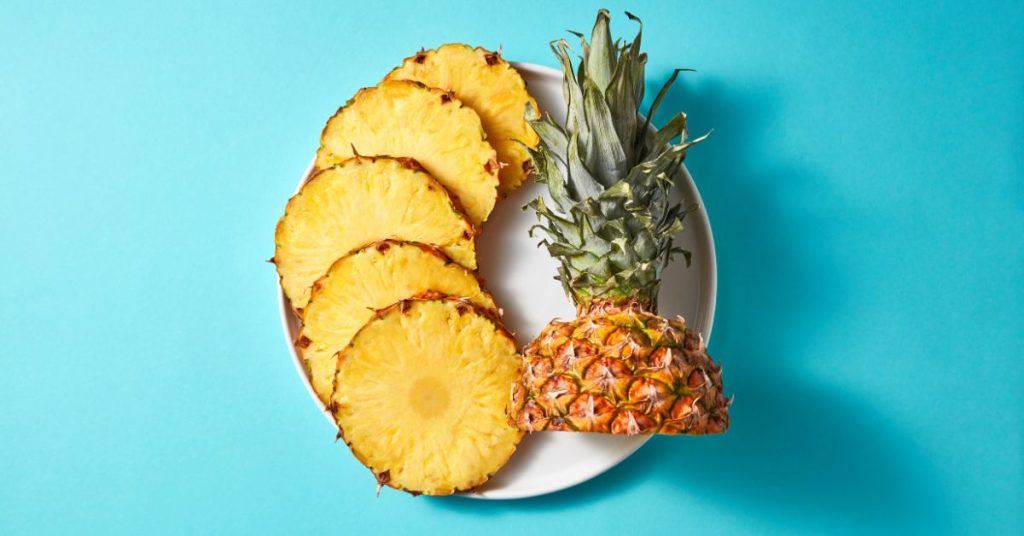 Home bartenders always create delectable mocktails with orange juice, so they must have oranges on hand for parties and events, whether creating a mimosa or utilizing an orange wheel or wedge as a garnish. If you're looking for that happy place where simplicity meets delicious, you've found it! We've gathered a collection of drink recipes to help you make your favorite mocktails with orange juice.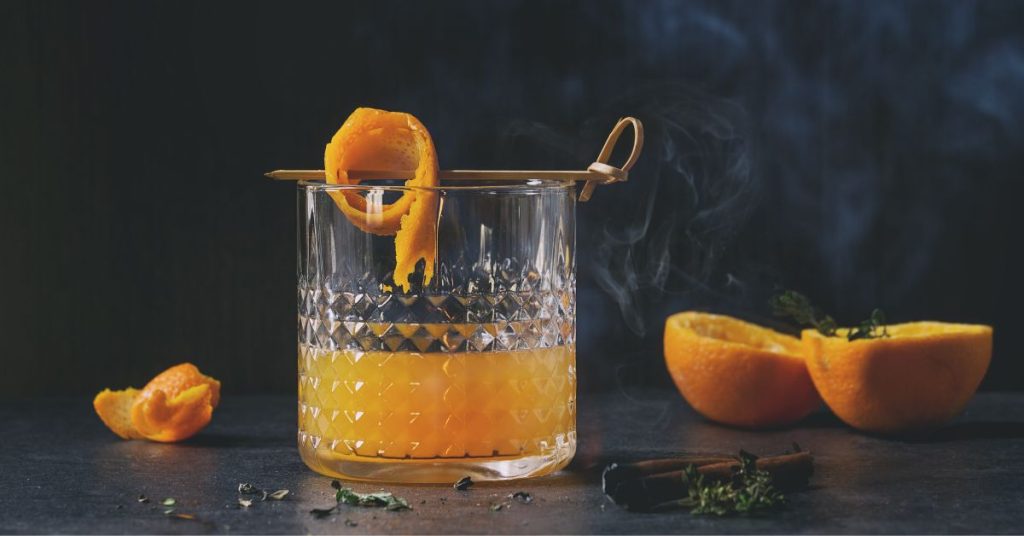 With their luscious sweetness and exotic aroma, lychee mocktails offer a delightful twist to standard Happy Hour. Imagine sipping a cool, refreshing lychee-infused mocktail as you relax by the pool or gather with friends on a warm summer evening.
Watermelon Mocktail FAQs
What tastes good mixed with watermelon?
Watermelon pairs well with a variety of flavors, both sweet and tangy. Here are a few ingredients that taste delicious when mixed with watermelon:
– Mint
– Citrus fruits
– Berries
– Cucumber
-Basil
These are just a few suggestions but feel free to get creative and experiment with different flavors to find your perfect combination. Watermelon's versatility allows it to be paired with a wide range of ingredients, so don't hesitate to explore and discover your favorite mixtures.
How to make cube watermelon?
Making cubed watermelon is a simple and easy process. Here are 3 simple steps you can follow:
1. Place the watermelon on a cutting board and carefully slice off the green rind using a sharp knife.
2. Once the watermelon is free of the rind, cut it into slices of your desired thickness.
3. Then, stack the slices and cut them into equal-sized cubes. Aim for cubes that are approximately 1 to 1.5 inches in size.
What does a non-alcoholic watermelon mojito contain?
A non-alcoholic watermelon mojito, also known as a virgin watermelon mojito or a mocktail version of the classic cocktail, typically contains the following ingredients:
– Watermelon
– Lime
– Mint leaves
– Sugar or simple syrup
– Sparkling water or soda water
– Ice
The result is a delightful and thirst-quenching mocktail that captures the essence of a classic watermelon mojito without the addition of alcohol.
What doesn't mix well with watermelon?
While watermelon is a versatile and delicious fruit that pairs well with many flavors, a few ingredients may need to be mixed better with its taste or texture. Please note that these are general guidelines because taste preferences can vary from person to person. Here are a few examples:
1. Overly acidic fruits
2. Strongly flavored herbs or spices
3. Savory ingredients with strong flavors
4. Dairy products
5. Alcohol in large quantities
What gives watermelon more flavor?
Watermelon already has a naturally sweet and refreshing flavor, but a few ways exist to enhance and intensify its taste.
Adding some fresh herbs like mint or basil can add a subtle, aromatic note to the watermelon's flavor profile. Squeezing a bit of citrus juice, such as lime or lemon, over the watermelon can provide a tangy flavor that complements its natural sweetness. The citrus adds a refreshing twist and balances the taste.