We've listed the top 25 non-alcoholic drinks for your summer BBQ. From non-alcoholic beer to fun and fruity mocktails, there's something for everyone, even the kiddos.
Is it your turn to host the neighborhood BBQ this weekend? Serve your guests some refreshing non-alcoholic drinks. And nothing hits the BBQ-spot like a cold beer or a mixed drink.
To beat the summer heat, offer your guests tasty frozen summer mocktail. It's good fun for all, especially the kids. These cool summer drinks go great with a dip in the pool or a sizzling feast right off the grill.
Ready To Drink Mocktails
Elevate your summer BBQ experience with a range of ready-to-drink mocktails. Savor the vibrant medley of flavors as you indulge in zesty citrus twists, luscious fruit infusions, and a burst of herbal infusions, all meticulously crafted to enliven your taste buds. Whether lounging by the pool or at the grill, these convenient mocktails bring a splash of sophistication to every moment, ensuring your BBQ is a vibrant and flavorful celebration of summer.
Parch Prickly Paloma
Parch's Prickly Paloma ready-to-drink mocktail is a blast of citrus with bittersweet notes that showcase the lively pairing of Organic Blue Weber Agave, Prickly Pear Cactus Fruit, Grapefruit & Orange Bitters, Lime juice, floral-tart Hibiscus and Desert Botanicals.
Not only is it incredible served over ice or with a splash of Ritual's Zero Proof Tequila Alternative, it's also infused with adaptogens like L-Theanine, Ashwagandha, and American Ginseng.
All natural, no preservatives & never artificial. Vegan and Gluten Free.
Parch is Hispanic and Female Owned and donates 1% of their profits to organizations that are all about desert preservation.
De Soi Ready To Drink Mocktail
Ready-to-drink De Soi creators Katy Perry and Morgan McLachlan teamed up to make a more considered choice for happy hour.
As creative professionals and busy moms with a shared love for a spritz, they wanted a drink that was bubbly and delicious, but that didn't get in the way of early mornings and long nights. Bold flavor and feel-good adaptogens.
De Soi has a range of non-alcoholic apéritifs.
We love Parch and De Soi so much that we created a bundle. Because sometimes you want options.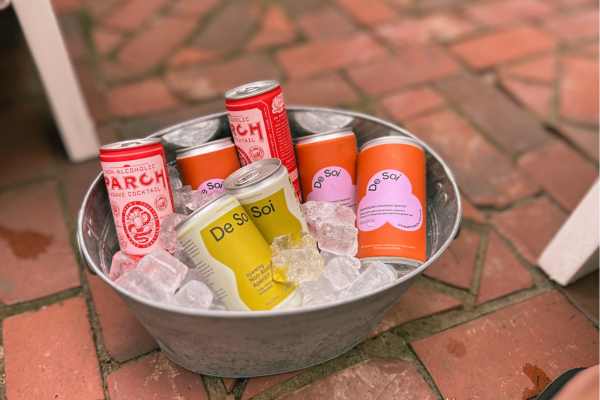 Non-Alcoholic Beers For A BBQ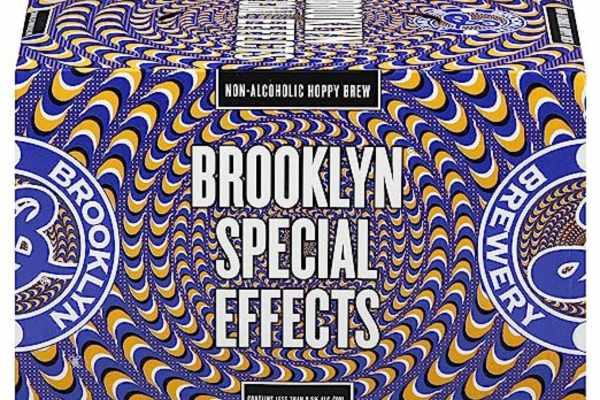 Brooklyn Brewery Special Effects IPA
In Brooklyn Brewery's Special Effects IPA, they achieve the typical IPA notes of resin and grapefruit peel in a darker color and deeper taste than most others on the list. With a sip of this bitter N/A IPA, you'll be ready for a beach bonfire at sunset, which is ideal because it comes in beach-ready cans.
Athletic Brewing Free Wave Hazy IPA
Athletic Brewing has you covered if you like hazy IPAs. Their Free Wave NA Hazy IPA is the closest approximation to the actual thing. Tropical hop flavors blend with a rich mouthfeel to give the juicy experience that hazy IPA enthusiasts seek.
Athletic Brewing Run Wild Non-Alcoholic IPA
Athletic Brewing Company's Run Wild Non-Alcoholic IPA is made with five different types of hops. The intense bitterness and citrus smells are unmistakably IPA but without the alcohol. They make a refreshing drink that is perfect for hiking, bicycling, or simply hanging out outside.
Athletic Brewing All Out Extra Dark Stout
Athletic Brewing All Out Extra Dark Stout was a big success as one of the first non-alcoholic dark beers on the market, selling out in stores and winning significant accolades. Extra Dark, formerly known as All Out Stout, is a porter/stout-style non-alcoholic beer. There are flavors of roasted grains, followed by a robust coffee flavor and a hint of dark chocolate in the drink.
Heineken Non-Alcoholic 0.0
Heineken is a summer staple at outdoor sporting events and picnics. With Heineken 0.0, you can enjoy the familiar aromas all day without the alcoholic aftereffects. It is completely alcohol-free, unlike several non-alcoholic beers that contain very tiny levels of alcohol by volume.
Heineken 0.0 at Summer BBQ
Samuel Adams Just the Haze
Sam Adams Just The Haze is a good option if you're searching for a tasty and refreshing non-alcoholic beer to mix with your BBQ. Sam Adams, one of the country's top craft brewers, has created this hazy IPA with a prominent citrus fragrance of grapefruit and orange and tropical fruit flavors like mango.
Grüvi Golden Lager
The flavor profile of this crushable barley beer by Grüvi is simple yet delightful, merging traces of honey and bitterness to create a light, crisp, and well-balanced taste. Furthermore, it is gluten-free, making it an excellent choice for individuals who must avoid gluten. Grüvi also makes a great Prosecco.
Bravus Brewing Co. White Ale Non-Alcoholic
Nothing says summer more than this drink. Bravus Brewing's White Ale recreates that sensation. This wheat beer contains coriander and sweet and bitter orange peels for a citrus and spice flavor, but no alcohol.
Partake Blonde
It's critical that summer-appropriate drinks don't weigh you down. Partake Blonde is one of the lightest beers on the list, but it still sips like a pint of beer, not sparkling water. This beer has only 15 calories per can, demonstrating its light and crispness.
Partake Pale
Partake Pale is hop-forward without being overpowering, masterfully balancing bitterness and malt sweetness. Hop-forward enough for the hopheads in your party while being approachable for the others.
Refreshing Mocktails For Summer
Non-Alcoholic Watermelon Mojito Mocktail
This watermelon mojito mocktail looks and tastes amazing and is so simple to make. It's absolutely perfect for BBQs and front porch parties. We're using Ritual Rum Alternative because is has a delicious spicy vanilla flavor that really enhances the watermelon, not overpowers it.
Ingredients
4

ounces

Ritual Rum Alternative

8

Watermelon Chunks (1-2" Each with Seeds Removed)

8

ounces

Club Soda

1

Lime (juiced)

30ish

Fresh Mint Leaves

Ice
Instructions
Combine the watermelon chunks, lime juice and about 20 mint leaves in a blender and blend until smooth. Or, muddle in a shaker tin.

Strain drink and pour into glasses. Add in Ritual Rum Alternative and club soda. Stir.

Garnish with fresh mint leaves lime wheels and enjoy immediately.
Honeydew Lime Cooler
For a refreshing drink, serve a crisp glass of this zesty blend of lime sherbet and honeydew melon. You'll love to drink this in the afternoons, but it's also great for breakfast or brunch.
Ingredients
4 ½ cups cubed honeydew (about 1 small melon)
1 ½ cups lime sherbet
2 tablespoons lime juice
5 fresh strawberries
Instructions
Place melon cubes on a 15x10x1-inch baking sheet; cover and freeze for 15 minutes or until solid. Set aside five cubes of melon.
Combine the sherbet, lime juice, and remaining frozen melon in a food processor; cover and process until smooth.
Garnish with strawberries and conserved melon in glasses.
Carrot Lemonade
A simple, delicious cordial made using leftover carrots. And don't throw away the grated carrots after steeping; instead, make a lovely carrot cake.
Ingredients
150g carrots, grated
juice 5 lemons
juice 1 orange
150g golden caster sugar
ice
sparkling water
Instructions
Combine the carrot, lemon juice, orange juice, and sugar in a mixing bowl.
Refrigerate for at least one hour, stirring regularly to dissolve the sugar.
Strain the mixture through a sieve into a large jug to remove the pulp.
Pour 25ml-50ml (depending on how sweet you want it) carrot mixture into each glass, add some ice, and top with 200ml sparkling water.
Cranberry-Basil Spritzer
This spritzer's refreshing combination of cranberry and lime hits the spot on a hot summer day while also incorporating ingredients often savored in cooler times for a distinctive warm-weather drink.
Ingredients
1 c. water
1 c. sugar
½ c. basil leaves
2 c. unsweetened cranberry juice
¼ c. fresh lime juice
1 liter chilled club soda
4 slice lime
1 c. fresh cranberries
½ c. basil leaves
Instructions
Bring water and sugar to a boil in a medium saucepan over medium-high heat. To dissolve the sugar, stir it in.
Remove the pan from the heat and soak the basil leaves for 20 minutes.
Allow syrup to cool for at least 1 hour after straining.
Combine the syrup, unsweetened cranberry juice, and fresh lime juice in a big pitcher.
Pour cold club soda into a pitcher, then add lime slices, fresh cranberries, and ½ cup basil leaves.
To serve, pour the spritzers over ice, top with club soda, and garnish with basil.
Pineapple Iced Tea
A Guide to Making Pineapple Iced Tea
If you have a large family, beverages go through quickly. This thirst-quenching tea is easy to make and has a refreshing citrus flavor that everyone enjoys.
Ingredients
4 cups water
7 tea bags
2 tablespoons sugar
1 cup unsweetened pineapple juice
⅓ cup lemon juice
Pineapple wedges, lemon slices, and fresh mint leaves (optional)
Instructions
Bring water to a boil in a large saucepan; remove from heat. Add tea bags and steep for 3-5 minutes, covered, according to taste.
The tea bags are then discarded. Stir in the sugar until it dissolves.
Transfer to a pitcher and allow it to cool.
Mix in the fruit juices.
Refrigerate overnight, covered.
Serve with ice. Garnish with chosen garnishes.
Mulled Grape Cider
Instead of creating the typical grape jelly for dessert, why don't you try creating a lovely grape syrup? This non-alcoholic drink recipe can be a nice autumn drink with spices.
Ingredients
5 pounds Concord grapes
8 cups water, divided
1 ½ cups sugar
8 whole cloves
4 cinnamon sticks (4 inches)
Dash ground nutmeg
Instructions
Combine grapes and 2 cups water in a large saucepan; bring to a boil, stirring constantly.
Strain through a strainer, reserving the juice and discarding the skins and seeds.
Pour the juice into a 5-quart slow cooker through a double layer of cheesecloth.
Combine the sugar, cloves, cinnamon sticks, nutmeg, and remaining water in a mixing bowl. Cook on low for 3 hours, covered.
Remove the cloves and cinnamon sticks.
Icy Watermelon Granita
If lemonade is known as the drink of summer, watermelon is certainly the fruit! This granita blends the two to create the perfect summer refreshment.
Ingredients
2 tbsp. sugar
Kosher salt
2 large lemons
6 lb. seedless watermelon, rind removed, cut up
Instructions
In a small saucepan, combine the sugar, ¼ cup water, and ¼ teaspoon salt and heat until the sugar dissolves, for 2 to 3 minutes.
Take the pan off the heat.
Squeeze ½ cup lemon juice and finely grate lemon zest.
Mix the zest and juice into the syrup.
Working in batches, purée the watermelon with the lemon syrup in a blender.
Freeze in a metal loaf or square pan until set, about 8 hours.
Scrape the surface into large flakes when ready to serve using a fork.
Cucumber, Lemon, and Mint Fizz
This ginger ale and tea concoction combines the light, fresh aromas of cucumber, lemon, and mint. It's ideal for non-fruit enthusiasts because the lemon is more of a supporting actor than the main one.
Ingredients
8 bags black or green tea
4 sprigs fresh mint
1 lemon
½ seedless cucumber
4 c. ginger ale
Instructions
In a medium saucepan, bring 4 cups of water to a boil.
Take the pan off the heat and add the tea bags, mint, and half of the lemon. Allow to steep for 4 minutes, stirring twice.
Remove the tea bags and let the tea aside to cool.
Remove the mint and lemon slices from the iced tea concentrate.
Combine the cucumber and the remaining lemon juice in a mixing bowl.
Pour in the ginger ale.
If preferred, serve over ice with more mint.
Sparkling Coconut Grape Juice
This sparkling beverage is a refreshing alternative to lemonade and party punch. The combination of lime, coconut, and grapes is really refreshing.
Ingredients
4 cups white grape juice
2 teaspoons lime juice
Ice cubes
2 cups coconut-flavored sparkling water, chilled
Lime wedges or slices (optional)
Instructions
Combine grape juice and lime juice in a pitcher.
Fill 6 tall glasses halfway with ice. Fill glasses halfway with the juice mixture and top with sparkling water. Stir everything together.
If desired, garnish with lime wedges.
Citrus Cider Punch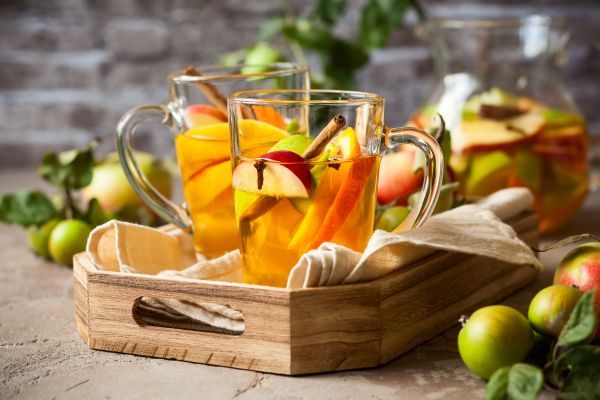 You can share this non-alcoholic summer drink recipe with your visitors! It's ideal for fall and holiday events.
Ingredients
1 gallon apple cider, chilled
1 can (12 ounces) frozen lemonade concentrate, thawed
1 medium lemon, sliced
4 spiced apple rings
Instructions
Combine the cider and lemonade in a large punch bowl.
Serve with lemon slices and apple rings.
Scarlet Sipper
This sweet, tangy, and mildly non-alcoholic party beverage is a favorite. The vibrant hue creates a festive atmosphere, and the flavors merge harmoniously.
Ingredients
4 cups cranberry-apple juice, chilled
1 cup orange juice, chilled
¼ cup lemon juice, chilled
1 liter ginger ale, chilled
Fresh cranberries and orange and lemon wedges (optional)
Instructions
Combine juices in a pitcher; mix in ginger ale.
Serve with ice.
Garnish with cranberries, orange, and lemon wedges, if desired.
Ginger-Peach Soda
This fruity, fizzy refresher is ideal for a hot summer day, particularly for a summer BBQ party with the people close to you!
Ingredients
1 c. sugar
2 tbsp. minced fresh ginger
2 very ripe peaches (about ⅔ pound), halved, pitted, and thinly sliced
2 liters seltzer, chilled
16 fresh mint leaves for garnish
Instructions
Bring one cup of water, sugar, and ginger to a gentle simmer in a medium saucepan over medium-low heat, whisking to dissolve the sugar.
Remove the simple syrup from the heat, cover, and set aside for 30 minutes to steep.
Pour syrup through a fine-mesh sieve over a medium bowl, pressing minced ginger against the sieve with a spoon to extract flavor.
Remove the ginger.
Refrigerate until well cooled, covered with plastic wrap.
Divide the peach slices evenly among 8 tall glasses.
To release the juice from the peaches, lightly press them with the back of a wooden spoon in each glass.
Two teaspoons of cooled syrup should be poured over the peaches (Remaining syrup can be stored in the refrigerator for up to two weeks.) Top with seltzer and ice cubes.
Stir to distribute the syrup, peach juice, and seltzer equally.
Add two mint leaves to garnish.
Strawberry-Lavender Infused Water
A little lavender goes a long way, so don't go overboard! This lovely combination shouts summer, but you can dry the lavender and enjoy it at any time.
Ingredients
1 cup sliced fresh strawberries
3 fresh lavender sprigs or 1 tsp. dried culinary lavender
2 quarts water
Instructions
In a large glass carafe or pitcher, combine all of the ingredients.
Refrigerate for 12-24 hours while covered, then serve.
Iced Sparkling Honey-Lime Red Tea
This sparkling iced tea is ideal for enjoying on the patio. It can also be served as a refreshing drink during hot BBQ parties.
Ingredients
red tea bags (such as Red Zinger)
honey
fresh lime juice
Club Soda
Lime slices for garnish
Instructions
Brew red tea according to package directions, then whisk in honey and set aside to cool.
Stir together the tea and lime juice in a big pitcher, then top with club soda.
If preferred, serve over ice with lime slices.
Tangerine and Thyme Infused Water
Tangerine has a bright and juicy flavor that everyone enjoys. The addition of thyme completes this infused water.
Ingredients
2 quarts water
2 tangerines, sliced
3 fresh thyme sprigs
Instructions
In a large glass carafe or pitcher, combine all of the ingredients.
Refrigerate for 12-24 hours, covered.
Strain before serving.
Non-Alcoholic Drinks For Summer BBQ FAQs
What non-alcoholic drink goes with BBQ?
To beat the summer heat, offer your guests tasty non-alcoholic beverage options. A homemade summer cocktail is a terrific way to include everyone: kids, grandparents, sober people, and others. 
Cold beers also go well with a party. Fortunately, there is now a wide range of non-alcoholic beers in the market today that are produced by small to large breweries.
Can I serve virgin cocktails at a BBQ party?
Yes, you can. If you don't drink any alcohol at all and you want other guests to feel included in the BBQ party, serve non-alcoholic cocktails. These mocktails are perfect for kids and adults alike, even for the elderly, as they can be made healthy.
Most mocktails are completely made of healthy fruits, vegetables, and spices, so they are definitely a healthier alternative to alcoholic drinks.
What are good non-alcoholic drinks to bring to a party?
You can bring non-alcoholic beers to a BBQ party, which is perfect for everyone. Here's a list of N/A beer options you can bring:
1. Brooklyn Brewery Special Effects IPA
2. Athletic Brewing Free Wave N/A Hazy IPA
3. Athletic Brewing Run Wild Non-Alcoholic IPA
4. Athletic Brewing All Out Extra Dark Stout
5. Heineken Non-Alcoholic 0.0
6. Samuel Adams Just the Haze
7. Grüvi Golden Lager
8. Bravus Brewing Co. White Ale Non-Alcoholic
9. Partake Blonde
10. Partake Pale