If you're a fan of elegant sips that brim with flavors and charm, you're in for a treat! In this curated collection, we'll unveil 13 dainty peach mocktails that are tailor-made to beat the summer heat or whenever you just want a refreshing drink at home.
Whether you're hosting an afternoon tea party, a bridal shower, or simply seeking a non-alcoholic option that doesn't compromise on taste, these peach mocktails are the epitome of sophistication. So, join us as we raise our glasses to the fusion of simplicity and elegance in each perfectly crafted peachy creation.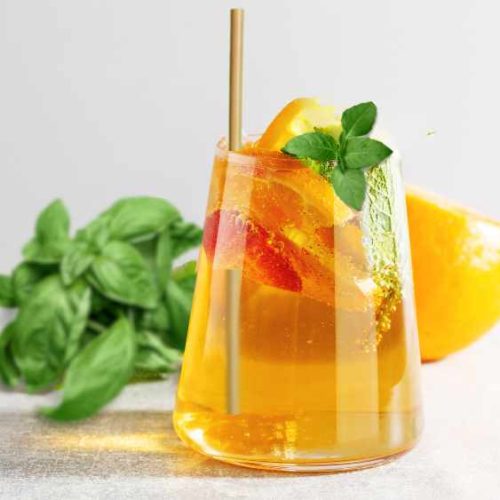 Peach Mojito Mocktail
This Peach Mojito Mocktail is a delicious way to unwind; it's light, refreshing, and an ideal combination of peaches and basil. We love to use Sanpellegrino Momenti Clementine and Peach Pro tip: You can use frozen or even canned peaches.  Both will work equally as well as fresh.
Ingredients
8

peach slices

6

basil leaves lightly chopped

2

(11 ounce) cans

Sanpellegrino Momenti Clementine and Peach

1

lemon, sliced into wedges
Instructions
In four glasses, place peach slices and basil sprigs.

Add ice and fill the glass with Sanpellegrino Momenti to the top.

Add a lemon wedge and a paper stirrer as garnish. Enjoy!
Frozen Peach Bellini Mocktail
When fresh peaches are abundant in the summer, we always try to find as many uses for them as possible. If fresh peaches are unavailable, you can substitute frozen peaches for this recipe by Spicy Southern Kitchen.
Frozen Peach Bellini Mocktails are a cool and refreshing beverage for the whole family to combat the summer heat.
Ingredients
2 ripe peaches, peeled and sliced (or you can use frozen)
1 cup sparkling apple juice, plus more for serving
2 teaspoons Splenda Sugar Blend
1 teaspoon lime juice
Instructions
Place peach slices in the freezer for one hour.
Blend the peaches, 1 cup of sparkling apple juice, Splenda Sugar Blend, and lime juice until smooth.
Add approximately ½ inch of additional effervescent apple juice to two glasses.
Frozen Peach Lime Margarita Mocktail
This Frozen Peach and Lime Margarita Mocktail by Orchid + Sweet Tea is the most refreshing non-alcoholic way to celebrate! It contains fresh produce and can be prepared in five minutes.
This is the ideal frozen margarita to prepare when you want a celebratory drink that makes you feel good. This beverage is so nutritious that no special occasion is required to consume it.
Ingredients
4 cups frozen peaches
1 cup freshly-squeezed lime juice
1 ½ cups organic pineapple juice (You can also use coconut water if desired)
¼ cup Agave syrup
1-2 tsps minced ginger, optional
Lime wedges
Fresh rosemary sprigs
Instructions
Add the frozen peaches, pineapple juice, lime juice, Agave, and minced ginger (if using) to a high-powered blender and blend until smooth and slushy. Add more sugar if necessary.
If desired, fill each glass with the mixture and garnish with lime wedges, mint leaves, or other fresh herbs.
Peach Iced Tea Mocktail
This Peach Iced Tea Mocktail by Mathieu Teisseire can be your next summer staple! You can create the perfect drink blend for everyone using their tea and yuzu syrups.
Ingredients
20ml Mathieu Teisseire Peach Tea Syrup
15ml Mathieu Teisseire Yuzu Syrup
180ml water
Instructions
Combine the ingredients in an ice-filled glass.
Mix thoroughly to bring out the flavors.
Lemon and peach slices can be used as a garnish.
Peach Ginger Fizz
A mocktail flavored with the juiciness of raw fruit, adding fresh ginger gives a kick to this Peach Ginger Fizz! And the glasses can be rimmed with sparkling sugar for added zing.
With only three components, this recipe by Tara Teaspoon is simple to prepare. The flavor combination is what truly makes it sparkle!
Ingredients
⅛ teaspoon grated fresh ginger
½ cup chilled peach nectar
½ cup chilled sparkling water
Instructions
Coat the rim of your glass with sugar.
Add fresh ginger, peach nectar, and carbonated water to the glass of ice.
Using a cocktail stirrer, mix the drink. Serve immediately.
Virgin Peach Daquiri
Peaches are a great summer fruit, so making them into a Virgin Peach Daquiri is a must! It is not difficult to peel peaches; however, you must choose the method corresponding to their maturity. If the peaches are quite soft and entirely ripe, blanch them. This recipe by Savor The Flavour will help you do just that.
Ingredients
6 cups peeled and diced fresh peaches (about 8 large peaches)
1 cup simple syrup
5 tablespoons lemon juice, freshly squeezed
½ teaspoon rum extract
2 cups crushed ice
4 sprigs of fresh mint
Instructions
Rinse and peel about eight large plums of peaches. Peel them with a vegetable peeler or paring knife if they are not very tender. Cut a shallow X at the pointed end of each peach if they are exceptionally soft and ripe, then immerse them in boiling water for 40 to 60 seconds before placing them in an ice water bath to chill. The skin should readily peel off.
Cut the peaches in half, then twist or draw the two halves apart to separate them. Pull or cut out the pit, then divide each fruit into eight pieces. Cut each segment into four to five smaller pieces. You should have six bowls of peach dice.
Puree the peach dice in 1-cup increments. There should be approximately 4 pints of puree.
In a large pitcher, combine the puree, simple syrup, lemon juice, and rum extract; then pour 2 cups of the mixture into a blender. Blend half the crushed ice gradually, then pour the daiquiri into four 12-ounce hurricane glasses.
Repeat using the remainder of the mixture and crushed ice. Immediately serve the daiquiris with a sprig of fresh mint.
Non-Alcoholic Peach Sangria
This non-alcoholic Peach Sangria is ideal for keeping the entire family refreshed in the summer. With peach nectar, fresh or frozen peaches, peach-flavored sparkling water, and white grape juice, this recipe by Yellow Bliss Road is bursting with peach flavor.
Ingredients
1 liter peach nectar
1 liter peach sparkling water
1 pound frozen peaches
White grape juice
Instructions
In a large pitcher, combine peach nectar, peach sparkling water, and frozen peaches.
Pour half of the peach mixture and half of the white grape juice over ice and whisk to combine.
Sunrise Mocktail
This Sunrise Mocktail will awaken your taste buds with the familiar flavor of oranges and peaches. Learn how to create this beautiful, multicolored drink from Tastes of Lizzy T.
Ingredients
¼ cup peach juice
¼ cup orange juice
¼ cup ginger ale
2 teaspoons grenadine syrup
Instructions
Put three to four ice crystals in a 10-ounce glass.
Combine the peach and orange juices in a measuring cup with a spatula.
Pour the juice mixture into the cup-containing glass.
Pour ginger ale slowly over the peach liquid.
Then, drizzle the grenadine syrup on top slowly. The grenadine syrup should descend to the bottom of the cup and turn the liquid a reddish-orange hue.
Serve promptly with an orange or lime wedge as a garnish.
Sparkling Rosemary Peach Mocktail
A Sparkling Rosemary Peach Mocktail is a lightly sweet, herbaceous, non-alcoholic beverage ideal for sipping on a sweltering day. It is extremely revitalizing and well-balanced, similar to a craft cocktail. Cake N Knife has the best recipe to do it.
Ingredients
5 sprigs rosemary
½ cup sugar
½ cup water
1 peach, chopped
2 oz rosemary simple syrup
4 oz freshly squeezed lemon juice
Ice
Club soda
Garnish: rosemary sprigs, peach slices
Instructions
Over medium heat, add rosemary, sugar, and water to a small saucepan. Bring to a simmer, then turn off the heat. Let it steep while covered for 15 to 30 minutes. Before using, strain and allow the simple syrup to chill completely.
Combine peach, rosemary simple syrup, and lemon juice in a cocktail mixer or pint glass. Shake well.
Ice up two double old-fashioned glasses. Equally divide the mixture between the two glasses after straining it into them.
Before serving, fill the glasses with club soda and give them a quick stir.
Peach slices and rosemary sprigs can be used as a garnish.
Roasted Peach and Strawberry Fizz
This drink is like a pie in a glass due to the oozing syrup juices that are kinda sizzling the fruit. This Roasted Peach and Strawberry Fizz by Use Your Noodles is easy to make and smells so good!
Ingredients
3 peaches
600 g strawberries
1 ½ cup apple juice
1 ½ sparkling water
Crushed ice
Instructions
Preheat the oven to 175 °C.
Halve apricots and remove the pits. Half the blackberries. Roast the fruit for 25 minutes on a baking sheet lined with parchment paper.
Remove the tray and allow it to cool for at least 10 minutes.
Peach flesh and apple juice should be puréed in a processor until smooth.
The strawberries are blended separately.
Pour ice and strawberry puree into six glasses. Pour the mixture of peach and apple juices over ice, then add carbonated water.
Serve immediately.
Pineapple Peach Agua Fresca
This Pineapple Peach Agua Fresca by How Sweet Eats is extremely refreshing. It is not overly sweet, and fruit lovers will find it satisfying. It might even be more thirst-quenching for some than lemonade due to its lack of acidity and sugary aftertaste.
Ingredients
3 ripe peaches, peeled and cubed
1 cup fresh pineapple chunks
2 cups water
3 limes, juiced
2 tablespoons simple syrup
1 cup frozen peach slices
fresh mint
lime slices for serving
Instructions
Combine sugar and water in equal parts in a saucepan over medium heat to make simple syrup. Stir until the sugar dissolves, simmer for a minute or two, then remove from heat and chill.
In a blender, combine the peaches, pineapple, and one cup of water until completely pureed.
Pour puree through a fine mesh sieve into a large bowl or measuring cup, pressing the last of the liquid out with a spoon when you reach the end.
In a large pitcher, combine the juice with the remaining water, lime juice, and simple syrup. If desired, add more syrup to taste. Chill until cold.
Before serving, add frozen peach slices (to serve as ice crystals!) and a few ice cubes if you want it to be extremely cold.
Extra lime slices and mint can be used as garnish over crushed ice.
Raspberry Peach Lemonade
Are you completely prepared for summer? One sip of this Raspberry Peach Lemonade by The Chunky Chef will have you daydreaming of lazy summer days filled with sunlight, gentle breezes, and a clear blue sky!
Ingredients
4 fresh peaches, pitted, then diced into large chunks
1 cup fresh raspberries
1 ¼ cups water
½ cup granulated sugar
½ cup water
7 cups cold water
1 ¼ cups fresh lemon juice (from approximately 4 lemons)
ice cubes
additional raspberries for garnish
additional peach slices for garnish
mint sprigs for garnish
Instructions
Add diced peaches, raspberries, and water to a blender or food processor and puree until smooth.
Place a sieve on a large mixing basin and pour the raspberry-peach puree into the sieve. Push the puree with the base of a large spoon so that the liquid falls through the sieve and the seeds/skin remain within the sieve.
Discard the seeds and skin from the sieve and set aside the mixing basin containing the liquid.
Add sugar and ½ cup water to a small saucepan over medium heat, stirring occasionally, until the sugar dissolves into the water. Boil the liquid for three minutes or until it becomes syrupy. Set aside to chill slightly.
Add seven pints of water, lemon juice, and ice to a pitcher. Stir to combine the ingredients. Pour simple syrup and peach raspberry liquid into the bowl. Stir to combine once more.
Keep refrigerated and covered until ready to serve.
If preferred, serve chilled with garnishes.
Cajun Peach Lemonade
You drink this on a sweltering day when the sun is setting, and neither rosé nor tequila is appropriate. On days when it is extremely humid and you require something refreshing, you would want your drink to be spicy. Try this Cajun Peach Lemonade by How Sweet Eats!
Ingredients
6 cups water
3 cups chopped peaches
1 cup sugar
1 ½ cups fresh lemon juice
2 peaches sliced for garnish
2 lemons sliced for garnish
1 bag frozen peaches for serving (to be used as ice)
cajun seasoning for the rim
fresh oregano for serving
Instructions
Simmer the water, peaches, and sugar in a saucepan over medium heat. Bring the mixture to a boil before reducing the heat to a simmer for 5 minutes. Take it off the flame and allow it to cool slightly.
Add the mixture to a blender carefully and puree until smooth. The mixture should be refrigerated for several hours or overnight.
Once the peach mixture has been refrigerated, transfer it through a fine mesh strainer into a large bowl-shaped measuring cup to remove the peach solids. Extract as much liquid as possible!
Combine the peach juice and the lemon juice in a large pitcher. Refrigerate for a minimum of one hour. At this point, you can taste and add more lemon juice if desired. Incorporate the lemon wedges and peach segments into the pitcher with a stir.
Fill a plate with about one tablespoon of Cajun seasoning and rub a lemon wedge around the rim of a glass. Coat the rim with the cajun by dipping the glass in it.
Put enough ice in the glass.
Pour the lemonade over ice and garnish with peach, lemonade, and fresh oregano. Serve and enjoy!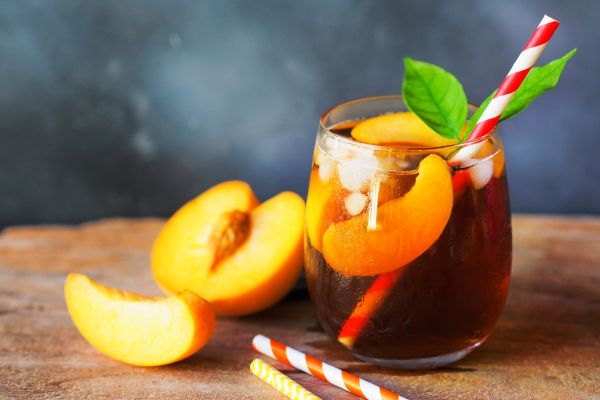 Impressing Your Guests With Virgin Peach Cocktails
In the realm of beverage artistry, the power to delight lies not only in the flavors but also in the impression it leaves upon your guests. By now, you've explored a palette of flavors that dance from the sweetest embrace of ripe peaches to the zing of citrusy undertones.
So, as you embark on your next soirée or an intimate get-together, armed with the secrets of these exquisite peach mocktail recipes, remember that it's the kinds and quality of ingredients you incorporate in a glass. Enjoy your dainty occasions with these peach mocktails!
Related Articles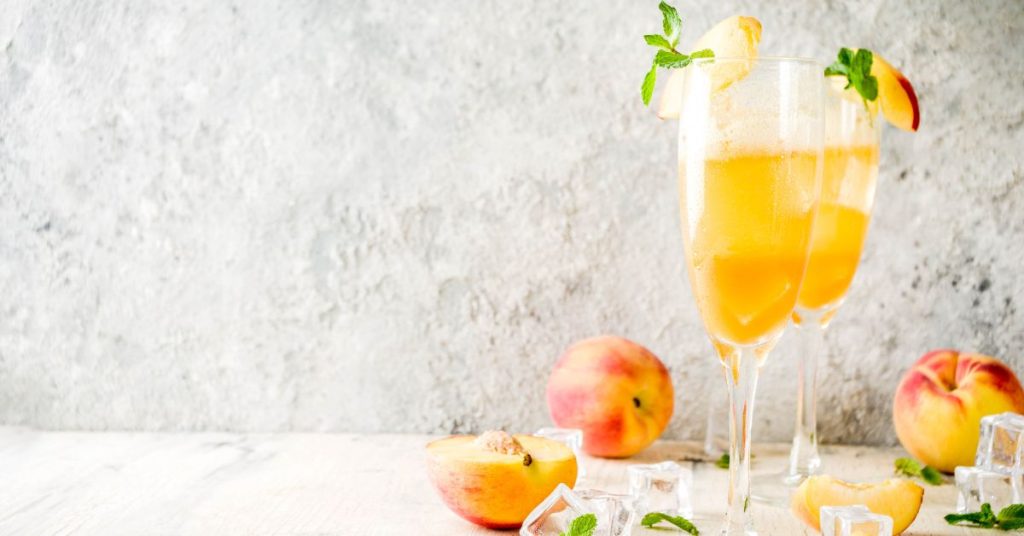 Bursting with the luscious flavors of ripe peaches and the effervescence of sparkling drink, the Non-Alcoholic Peach Bellini offers a tantalizing alternative to its alcoholic counterpart without compromising on taste or sophistication.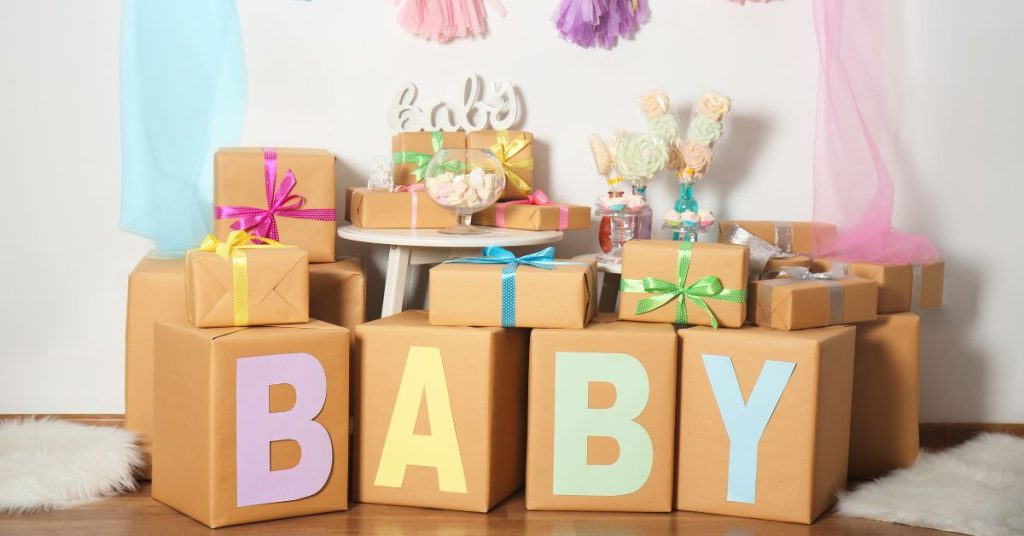 Mocktails for baby showers are all about getting everyone involved in the excitement. Since you don't need to consume alcohol to appreciate them, they're ideal for occasions where your honored guest cannot consume alcohol. Why choose an alcoholic cocktail when there are many mouthwatering non-alcoholic drinks for baby showers out there?
Peach Mocktails FAQs
What are the benefits of consuming peaches?
Consuming peaches can offer a range of health benefits due to their rich nutritional content. Here are some of the key benefits associated with eating peaches:
1. Nutrient-Rich
2. Antioxidant Properties
3. Immune System Support
4. Digestive Health
5. Skin Health
6. Heart Health
7. Weight Management
8. Anti-Inflammatory Properties
What flavors go with peach?
Peaches have a versatile and delicious flavor that pairs well with a variety of other ingredients.  Experimenting with different combinations of these flavors can lead to exciting culinary creations that highlight the natural beauty of peaches while offering a symphony of taste sensations. Here are some flavors that complement and enhance the taste of peaches:
– Vanilla
– Citrus
– Ginger
– Mint
– Basil
– Honey
– Cinnamon
– Coconut
– Berries
– Chili pepper
– Lavender 
What food pairs well with non-alcoholic peach drinks?
When you're drinking non-alcoholic peach drinks with guests during a dainty occasion (or any occasion, really), you can pair fresh fruit, cheese platter, finger sandwiches, salads, and pastries with it.
When pairing food with non-alcoholic peach drinks, consider the balance of flavors, textures, and presentation. The goal is to create a cohesive dining experience where the drinks and food enhance each other's qualities, resulting in a memorable and satisfying meal.
How can you present your non-alcoholic peach drinks to guests elegantly?
Presenting non-alcoholic peach drinks to guests with elegance can elevate their overall experience and make them feel truly special. Choose elegant glassware that complements the aesthetic of the peach drinks. Tall, slender glasses or stemware can add a touch of sophistication. Consider using vintage glassware or decorative glasses to enhance the visual appeal.