Strawberry Agua Fresca embodies the essence of summer in every sip. Bursting with fresh strawberries' natural sweetness and vibrant red hue, this drink has become a cherished favorite across various cultures and regions. But why stop at just one version when you can explore a world of flavors?
Make not one, not two, but seven variations of Strawberry Agua Fresca.
Strawberry Agua Fresca
Looking for something refreshing to drink with little effort? Try strawberry water from Mexico. Agua frescas, which translates to "fresh water" in Spanish, is a popular light fruity drink in Mexico. Perfect for a warm spring or summer day, this recipe is ideal for the whole family, even with kids.
Ingredients
2

cups

strawberries

sliced

½

cup

sugar

4

cups

water

1

lime

sliced for garnish

Few sprigs of mint

for garnish
Instructions
Combine sliced strawberries, sugar (or monkfruit sweetener), and 1 cup water in a medium bowl. Place the cover on and refrigerate for four hours.

Blend the strawberry combination on high speed until it becomes smooth after giving it a good stir.

Pour through a strainer over a bowl or jug. Stir to blend after adding the remaining water.

Store in the refrigerator until you're ready to serve, or serve right away over ice.

Add some mint and lime wheels as garnish. To add a little acidity, you can squeeze in some lime juice just before serving.
Strawberry Agua Fresca Con Leche
Delicious and simple to prepare, this Strawberry Agua Fresa Con Leche by Maricruz Avalos is ideal for a hot day or as a sweet treat. This drink, also known as strawberry milk water, is a version of agua de fresca that incorporates milk to provide a creamier and richer beverage.
It's a favorite among kids and adults alike for its creamy and fruity flavor, and it's a terrific way to hydrate and enjoy the flavor of fresh strawberries.
Ingredients
1 lb fresh strawberries (hulled)
1-12 oz can evaporated milk
½ cup condensed milk
6 cups water
½ cup sliced fresh strawberries (for serving)
ice cubes
Instructions
Put two cups of water and the strawberries into a blender. Process on high speed for one to two minutes or until the strawberries are perfectly pureed.
Pour the strawberry mixture straight into a large pitcher or leave it unstrained.
Stir in the condensed milk and the evaporated milk.
Add the remaining water and stir thoroughly.
After the drink reaches your preferred sweetness, taste it and add more sugar or condensed milk if necessary.
Pour some ice into glasses, top with a few strawberry slices, and serve.
Strawberry Watermelon Agua Fresca
You may probably find agua fresca for sale at any taqueria. The common varieties are horchata (rice and cinnamon), jamaica (hibiscus), and tamarindo (made with tamarind). However, you can prepare agua fresca, a cool, pleasant beverage, with practically any delicious fruit. Just like this exceptional Strawberry Watermelon Agua Fresca by Simply Recipes.
Ingredients
1 pound diced seedless or seeded watermelon (without rind), about 3-4 cups
8 ounces strawberries, stems removed (about a pint)
1 tablespoon lemon or lime juice
1 tablespoon sugar
¼ to ½ cup cold water
Instructions
Combine the ingredients together in a blender until they are smooth.
To remove any pulpy bits that the blender could not break up, you can filter the purée using a mesh sieve.
Adjust the ingredients based on your taste preferences.
Strawberry Lime Agua Fresca
Although you can add as much fruit, herbs, or even edible flowers as you like in an agua fresca, a sure family's favorite way to enjoy this cool beverage is with just strawberries and lime.
If you want to add something extra special to Taco Tuesday dinners, this is a really entertaining drink to serve. Learn this recipe by Good Life Eats.
Ingredients
For the simple syrup:
4 tablespoons water
4 tablespoons sugar, agave, monk fruit sweetener
For the agua fresca:
1-lb. fresh, ripe strawberries
4 cups water
¼ cup fresh squeezed lime juice
2-4 tablespoons simple syrup, according to your preference
Fresh Strawberries (for garnish)
A sprig of Fresh Mint (for garnish)
A sprig of Fresh Basil (for garnish)
Lime Slices (for garnish)
Instructions
For the simple syrup:
In a small saucepan, mix the sweetener and water together. Over medium heat, bring to a simmer.
After that, remove from the heat, stir, and allow it to cool to room temperature.
For the agua fresca:
Remove the stems of your fresh strawberries.
Add the strawberries, 3 cups water, and lime juice in a blender. Puree on high speed until the mixture is completely smooth, discarding any lumps.
To extract the seeds, strain the purée through a fine-mesh strainer placed over a big pitcher.
To help push everything through, pour the remaining 1 cup of water through the rest of the puree.
Toss the strained seeds aside.
Transfer the strained strawberry mixture into a large pitcher and top with any leftover water. Stir to combine well.
If desired, add simple syrup after tasting for sweetness.
Serve over ice. Decorate with one of the optional garnish suggestions, if preferred.
Strawberry Hibiscus Agua Fresca
This sweet Strawberry Hibiscus Agua Fresca will quench your thirst. The two refreshing components are the ideal ingredients for a refreshing drink. Learn how to make this recipe by California Strawberries.
Ingredients
5 cups of water
1 cup hibiscus flowers
6 Tbsp sugar
½ cinnamon stick
1 ½ cups strawberries chopped
4 cups ice
½ cup mint leaves
Instructions
Bring one cup of strawberries, water, hibiscus, sugar, and cinnamon in a medium saucepan to a boil for five minutes.
Remove from the heat and allow it to cool for 5 to 8 minutes.
Remove the strawberries and hibiscus from the mixture by straining it.
Pour into an ice-filled pitcher, then stir in the remaining ½ cup chopped fresh strawberries and mint leaves.
Pour into 6.5-ounce glasses. Add a mint garnish and savor.
Strawberry Agua Fresca With Passionfruit
You can up your summertime drink game with this non-alcoholic Strawberry Agua Fresca with Passionfruit. The ideal agua fresca has exactly the right amount of sweetness and water to make it drinkable. Try this recipe by Beyond Mere Sustenance!
Ingredients
425 grams of strawberries, hulled and cut in half
1 ripe passionfruit, removed from its exterior and strained
¼ cup passionfruit pulp
1 juicy lime (about 2 tablespoons of fresh juice)
2 tablespoons sweetener (amount can be adjusted)
2 cups water
ice
Instructions
Slice the lime in half, hull and slice the strawberries, cut the passionfruit in half if using the whole fruit, and gather your sweetener.
Combine strawberries, passionfruit pulp, sugar, and water in a blender. Blend until smooth on high speed.
Taste for acidity and sweetness. Adjust as needed.
Transfer into glasses and decorate with fresh mint leaves and passionfruit seeds, if you like. Enjoy!
Strawberry-Cantaloupe Agua Fresca
Agua fresca is a colorful, lovely, and revitalizing flavored water that is a perfect choice for summertime and any outdoor gatherings you might be throwing. Feel free to experiment with different combinations like Summer + Sauce did.
This is a fantastic drink to remain hydrated and cool. Prepare a quantity and store it chilled for those sweltering summer afternoons.
Ingredients
1 cup strawberries, trimmed and cut in half
2 cups cantaloupe, cubed
2 tablespoons agave
1 lime, juiced
3 cups cold water
ice
Instructions
Put the strawberries, cantaloupe, agave, lime juice, and water into a kitchen blender. Blend for one to two minutes on high.
Strain the juice into a serving pitcher using a fine chinois. Serve after adding a couple of handfuls of ice.
Choose The Best Strawberry Agua Fresca Recipe For You
Variety truly is the spice of life. After exploring seven different versions of this beloved beverage, you are now equipped with various options to suit your palate and preferences. Whether you lean towards the classic simplicity of a traditional Strawberry Agua Fresca, crave the zing of a citrus-infused twist, or prefer the exotic allure of basil and balsamic, there's a recipe waiting to delight your taste buds.
The beauty of Strawberry Agua Fresca lies not only in its taste but also in its versatility. It's a canvas for creativity, a reflection of seasonal bounty, and a celebration of diverse flavors.
Related Articles
Although everyone enjoys a good margarita, a wide variety of non-alcoholic Mexican drinks are so far outside the spectrum of tequila-based citrus drinks. This selection of non-alcoholic beverages has something for everyone if you want to cut back on booze.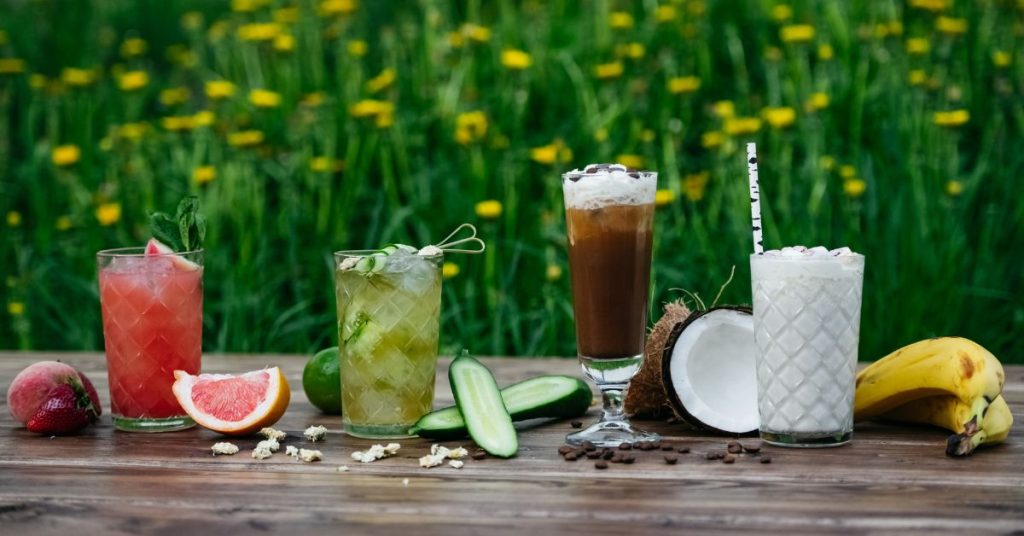 Are you planning a summer party? A backyard barbecue, a picnic in the park, or a day at the beach? It's time to chill and refresh yourself with non-alcoholic frozen drinks that everyone can enjoy.
Strawberry Agua Fresca FAQs
What is strawberry agua fresca made of?
Strawberry agua fresca is typically made from a simple combination of fresh strawberries, water, sugar, and often a touch of lime juice for added brightness. Some recipes may also incorporate mint leaves or other flavor-enhancing ingredients, but the core components remain strawberries, water, and sweeteners.
What does agua fresca taste like?
Agua fresca translates to "fresh water" in Spanish, and its taste can vary depending on the fruit or flavoring used. In the case of strawberry agua fresca, it has a sweet and refreshing taste, with the dominant flavor being the natural sweetness of ripe strawberries. The addition of sugar and lime juice (if used) can balance the sweetness and provide a slightly tart and citrusy note, making it a well-rounded and thirst-quenching beverage.
Are aguas frescas unhealthy?
Aguas frescas can be a healthy beverage choice, especially with fresh, natural ingredients. To make a healthier agua fresca, reduce sugar or use natural sweeteners like honey or agave nectar. Additionally, opting for aguas frescas made with real fruit and minimal additives is a better choice for those seeking a healthier option.
What is the most popular agua fresca flavor?
The popularity of agua fresca flavors can vary by region and personal preference. However, some of the most popular and widely enjoyed flavors include watermelon (sandía), hibiscus (jamaica), tamarind (tamarindo), and of course, strawberry (fresa). Strawberry agua fresca is a classic favorite, appreciated for its sweet and summery taste, but the most popular flavor can differ from place to place and season to season.