Bursting with the luscious flavors of ripe peaches and the effervescence of sparkling drink, the Non-Alcoholic Peach Bellini offers a tantalizing alternative to its alcoholic counterpart without compromising on taste or sophistication.
In this article, we'll reveal how to choose the ripest peaches, make a delicious peach puree, and add just the proper amount of fizz for a wonderfully bubbly finale. Additionally, we'll look at some imaginative additions and garnishes that take this traditional mocktail to a whole new level and make it a wonderful staple for any event.
Picking The Ripest Peaches On The Market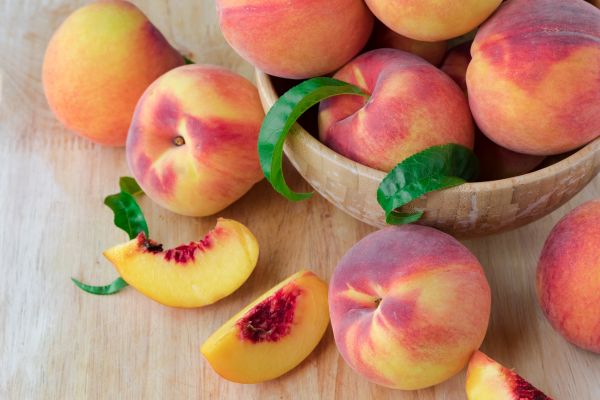 Selecting the ripest and best peaches ensures your Non-Alcoholic Peach Bellini is bursting with sweet, juicy flavors. Here are some tips to help you pick the perfect peaches:
Look for Color: A ripe peach should have vibrant, rich color. This could be a mix of yellow, orange, and red blush depending on the variety. Avoid peaches with green patches, as they are underripe.
Feel the Texture: Gently press the peach with your fingers. A ripe peach should yield slightly to gentle pressure but not feel mushy. Avoid peaches that are too hard or too soft.
Sniff the Aroma: Ripe peaches should have a sweet, fragrant aroma. Give them a sniff near the stem end. If they smell fragrant, it's a good sign they are ripe.
Check the Stem: The stem area of a ripe peach should be fragrant and give slightly when touched. The stem may indicate an overripe peach if it is dry or shriveled.
Size and Weight: Larger peaches don't necessarily mean they are better. Focus on the other factors mentioned above, but also consider the weight. Ripe peaches are usually heavier for their size.
Avoid Bruises and Soft Spots: Inspect the peach for any bruises, blemishes, or soft spots. Such areas can indicate damage or decay.
Firmness Around the Pit: When gently pressing around the stem area, the flesh around the pit should give slightly without feeling too hard or overly soft.
Ripening at Home: If you can't find perfectly ripe peaches at the store, you can buy slightly underripe ones and let them ripen at home. Place them in a paper bag at room temperature for a day or two until they reach your desired ripeness.
Remember that peaches are delicate fruits, and their ripeness can change quickly, so buying them a day or two before you plan to use them for your Peach Bellini is best. Once you have the ripest and juiciest peaches in hand, you're well on your way to creating a mocktail masterpiece!
The Best Virgin Peach Bellini Recipes You Can Make
A Peach Bellini is a popular and elegant cocktail that originated in Venice, Italy. It is traditionally made with two main ingredients: pureed white peaches and sparkling wine, typically Prosecco. The cocktail is known for its sweet and fruity flavor profile, with a delightful effervescence from the sparkling wine.
Whether you're hosting a brunch, celebrating a special occasion, or simply craving a refreshing mocktail, these handpicked recipes will guide you through a journey of creativity and taste, ensuring that each sip is a moment of pure bliss.
Classic Non-Alcoholic Peach Bellini Recipe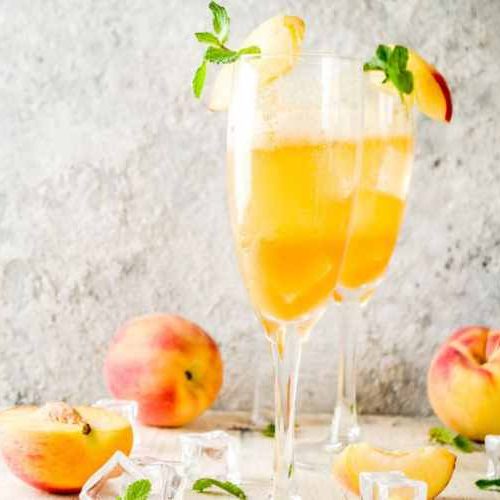 Non-Alcoholic Peach Bellini Mocktail
Bellinis are a loved drink during summer and for brunch. But what if you don't like the typical Bellini's alcohol content? What if all you want from a Bellini is the flavor of fresh peaches—not the overpowering alcohol that goes along with it? Try this non-alcoholic Peach Bellini recipe.
Ingredients
2

peaches, peeled, pitted and sliced

2

cups

peach juice

2

cups

sparkling apple cider

Mint for garnish
Instructions
Blend the fresh peach slices and peach juice until extremely smooth in a blender.

The sparkling apple cider should only be combined with the juice after being added to the blender and briefly pulsed. Avoid over-mixing to prevent the cider from losing its fizz.

Pour the Peach Bellini over ice into chilled glasses.

Add mint leaf as garnish. 
Peach Bellini Recipe With Non-Alcoholic Sparkling Wine
This Virgin Peach Bellini recipe from Surely adds a twist by substituting raspberries for the classic Bellini peach. With this one, feel free to play with the garnishes you have available as well because mocktails can be playful too!
Ingredients
2 cups Surely Brut
1 cup peaches
Honey or agave syrup
1 cup ice
Mint for garnish
Instructions
Blend the ice, Brut, peaches, and honey in a powerful blender.
Mix thoroughly on high speed.
Put drink portions into glasses.
If preferred, garnish with fresh mint and peach pieces.
Non-Alcoholic Frozen Peach Bellini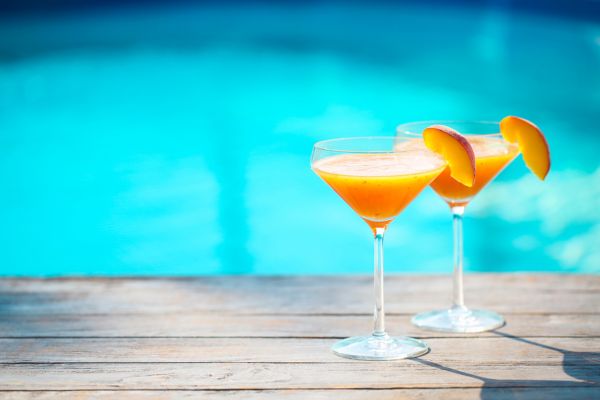 This tasty and energizing Frozen Peach Bellini mocktail by Food Banjo is made without alcohol. Use peaches, fresh or frozen, to make a simple treat. Additionally, it makes the ideal bellini for kids!
Ingredients
1 ½ cups fresh or frozen peaches peeled and pitted, about the equivalent of 3 peaches
2 tablespoon sugar
1 cup ice cubes
1 ¼ cups club soda
Fresh thyme for garnish
Instructions
Peaches, sugar, and ice cubes should all be placed in a blender. Blend everything thoroughly.
Blend in the club soda after.
Pour into champagne glasses and, if preferred, garnish with a few fresh thyme sprigs.
Peach Bellini Mocktail Punch
Everyone can appreciate this simple recipe from Liz On Call for a Peach Bellini Mocktail Punch. Mix up some of this for your next brunch to add an outstanding dish to your menu aside from all the delectable cuisine you will serve.
Ingredients
15 oz can sliced peaches in syrup
½ gallon (64 oz) bottle Peach Mango juice
2 liter bottle ginger ale
Fresh peach slices for garnish (optional)
Ice
Instructions
Blend the entire peach can with the syrup in a blender until it is smooth.
Fill a big pitcher with pureed peaches.
Mix in the peach mango juice from the bottle in the pitcher.
Add ginger ale to the pitcher when you're ready to serve.
Pour over ice, then top with a peach slice as a garnish.
Non-Alcoholic Breakfast Bellini
Food.com says this Breakfast Bellini recipe comes from a 2009 cookbook, "Zero-Proof Cocktails." It is very specific and straightforward when it comes to ingredients and the process of making it.
Ingredients
¼ cup peach nectar, well-chilled
½ cup sparkling grape juice, white, no-sugar-added, well-chilled
1 lime twist
Instructions
In a champagne flute or juice glass, pour the peach nectar.
Serve with a lime twist as a garnish after gently stirring the sparkling white grape juice.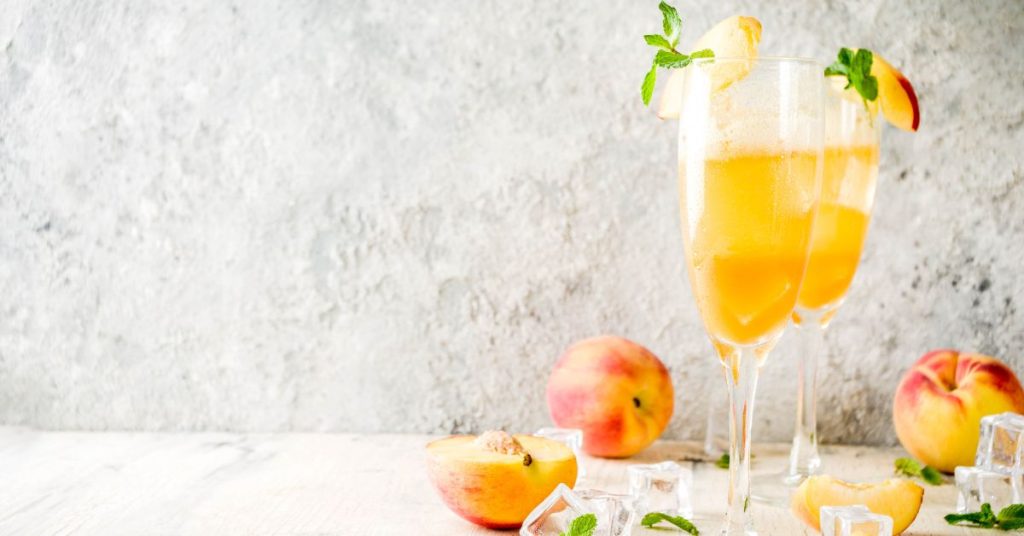 Craft A Homemade Bellini Recipe That's Easy And Non-Alcoholic
With these easy, non-alcoholic, homemade Peach Bellini recipes, you can savor the classic cocktail's essence without needing alcohol. By mastering the art of selecting the ripest peaches, creating a luscious peach puree, and adding the perfect amount of fizz, you can experience the same refreshing and delightful taste of a traditional Bellini.
Whether you're hosting a gathering, enjoying a moment of relaxation, or simply seeking a delicious mocktail option, these recipes allow you to indulge in the flavors of summer in a sophisticated and alcohol-free manner.
Related Articles
Surely non-alcoholic wine is less than .5% ABV and 20 calories per 8-ounce glass. It's one of the most popular non-alcoholic wines on the market. But how does it taste?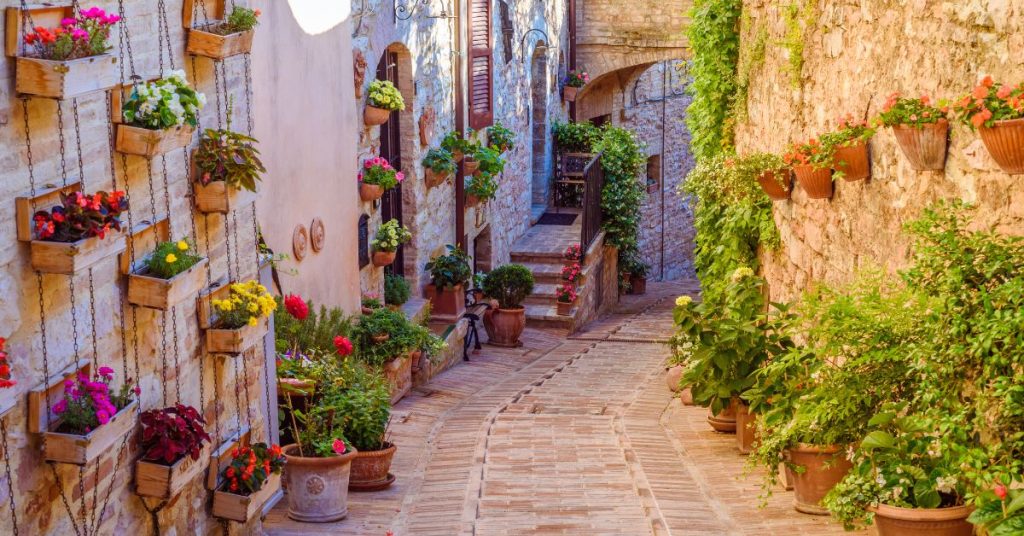 Of course, Italy is renowned for its wide variety of wines and liqueurs. But aren't you curious about the non-alcoholic Italian drinks that the country has to offer?
Non-Alcoholic Peach Bellini FAQs
Is there non-alcoholic peach Schnapps?
Yes, there is! The alcohol-free Schnapps is crafted using premium ingredients, offering a delightful experience whether enjoyed neat, on the rocks, or as a creative addition to mocktails. Ideal for non-alcoholic mixology, it provides a perfect alternative to traditional Schnapps while maintaining the same exceptional taste and versatility.
This version is highly recommended if you're creating non-alcoholic Peach Bellini.
What are alternatives to Bellini?
If you're looking for alternatives to the classic Bellini mocktail, there are numerous delicious options to explore. These alternatives offer a variety of flavors and ingredients, ensuring there's something for everyone. Here are some delightful alternatives to the Bellini mocktail:
– Virgin Peach Mojito
– Pineapple Sparkler
– Raspberry Lemon Fizz
– Cranberry Orange Spritz
– Watermelon Mint Cooler
– Ginger Pear Sparkler
– Strawberry Basil Lemonade
– Blueberry Lavender Fizz
– Hibiscus Lime Spritzer
– Non-Alcoholic Sparkling Wine
Is a Bellini always peach?
Traditionally, a Bellini cocktail is made with peach puree and sparkling wine (usually Prosecco). The classic Bellini is indeed peach-based, and this combination of peach and sparkling wine gives the cocktail its signature sweet and bubbly flavor.
However, over time, the concept of the Bellini has inspired variations and adaptations that explore different fruit flavors. For instance, Surely has a recipe for a non-alcoholic Peach Bellini with a twist – using raspberries.
Why is it called a Bellini?
The Bellini cocktail is named after the renowned Italian Renaissance painter Giovanni Bellini. However, the origin of the cocktail's name is linked to a famous bar in Venice, Italy, called "Harry's Bar." The bar was founded by Giuseppe Cipriani in 1931 and quickly became a popular gathering spot for celebrities, artists, and socialites. In the 1940s, Giuseppe Cipriani created the Bellini cocktail in honor of Giovanni Bellini.