French 75 Mocktail is an exquisite and refreshing beverage that has stood the test of time. Originating from the early 20th century, this mocktail has become a beloved classic in the world of mixology.
Its perfect balance of flavors and effervescence has captivated the palates of many, making it a popular choice for those seeking a sophisticated and alcohol-free alternative. In this article, we delve into the world of the French 75 Mocktail, exploring its traditional recipe and venturing into the realm of its diverse twists.
Jump to Recipe
Non-Alcoholic French 75 Recipe: The Classic
Let's start with the classic, shall we? This classic French 75 Mocktail recipe by JCP Eats will soon be your favorite non-alcoholic drink. The sparkling water in this drink can be exchanged for tonic water or any other mixer of your choosing. This mocktail would also taste great with sparkling water that has lemon flavoring!
Ingredients
2 oz. lemon juice
2 oz. simple syrup
Sparkling Water
San Pellegrino Limonata Soda
Ice
Lemon Twists
Instructions
In a glass, combine lemon juice and simple syrup. Stir after adding the ice.
Add San Pellegrino Limonata Soda and sparkling water to taste. Mix the combination.
Add a lemon twist as a garnish and wipe a lemon peel around the glass rim.
Enjoy!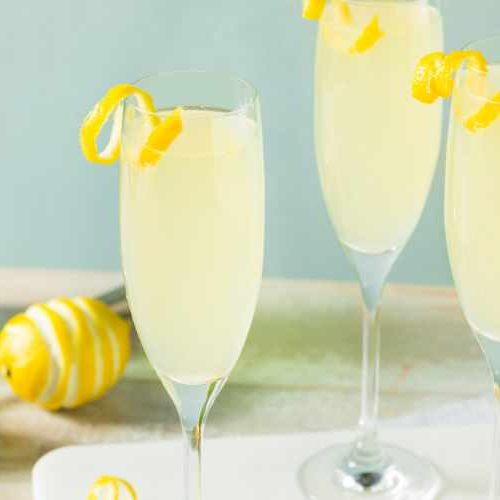 French 75 Mocktail
Ceder's, gives a unique twist to French 75 Mocktail ingredients by adding elderflower cordial. Elderflower cordial is a sweet and fragrant syrup made from the flowers of the elderberry tree. It pairs really well the Ceder's juniper, coriander, and citrus notes. Its unique and delicate flavor profile has gained popularity, often described as floral, honey-like, and slightly fruity.
Instructions
Add Ceder's Classic AF Gin, Bacanha Organic Raw Elderflower Syrup, lemon juice and ice to a shaker tin and shake for 5 seconds.

Strain into your favorite champagne flute.

Add Prima Pavé Blanc de Blancs to your glass.

Good thing these babies are non alcoholic because they go down quick.
Rosemary-Ginger French 75 Mocktail
This traditional zesty Rosemary-Ginger French 75 Mocktail is given a tasty upgrade with rosemary and ginger, and a splash of champagne is added on top for a celebratory beverage. This recipe by EatingWell involves alcoholic components, but we're going to turn it into a non-alcoholic one by using a gin alternative and non-alcoholic wines.
Ingredients
For the simple syrup:
1 ½ cups water
½ cup honey
1 sprig fresh rosemary
5 slices fresh ginger (¼-inch)
For the mocktail:
1 ½ ounces gin alternative
2 tablespoons lemon juice
2 tablespoons rosemary-ginger honey simple syrup
¼ cup non-alcoholic champagne or prosecco
Instructions
For the simple syrup:
Mix the water, honey, rosemary, and ginger in a small saucepan. Heat to a rolling boil over medium-high.
Reduce heat to maintain a strong simmer, then simmer for 15 to 25 minutes or until the liquid has reduced by roughly half. Cool down.
For the mocktail:
Ice should be half-filled with a secure lid in a cocktail shaker or jar.
Shake briskly for 30 seconds, adding 2 teaspoons of rosemary-ginger honey simple syrup and gin alternative.
Pour through a strainer into a Champagne coupe.
Add non-alcoholic champagne (or non-alcoholic prosecco) on top.
If preferred, garnish with a lemon twist and/or rosemary.
Berry French 75 Mocktail
This recipe from DOLE includes various fruits that are healthy and refreshing. In crafting this Berry French 75 Mocktail, you can use other kinds of fruits like cherries, grapes, and/or chopped pineapple. Feel free to experiment!
Ingredients
½ juiced lemon (about 2 tablespoons)
1½ teaspoons agave nectar
12 Blueberries
8 Raspberries
4 Blackberries, halved
Ice
1¼ cups sparkling water
Fresh basil leaves for garnish (optional)
Instructions
Combine the lemon juice, agave nectar, and berries in a medium bowl. Stir with a wooden spoon or muddler to combine. This yields roughly ½ cup.
Ice should be added to 4 Champagne flutes, followed by the lemon juice mixture and sparkling water over the top.
Basil can be used to garnish the mocktails if desired.
Apple Cider French 75 Mocktail
An Apple Cider French 75 mocktail riff is the refreshing fall beverage you've been waiting for, with or without non-alcoholic gin. You're already more than halfway to a sparkling apple cider mocktail if you pick up a bottle at your neighborhood orchard or while grocery shopping. Recreate this recipe by LoveToKnow now!
Ingredients
1 ounce nonalcoholic gin
¾ ounce freshly squeezed lemon juice
½ ounce simple syrup
Ice
Sparkling apple cider to top off
Lemon peel and cocktail cherry for garnish
Instructions
Cold-press a Champagne flute.
Combine ice, non-alcoholic gin, lemon juice, and simple syrup in a cocktail shaker.
Stir to cool.
Strain into a cold glass.
Add sparkling apple cider to finish.
Lemon peel and cocktail cherries are used as a garnish.
Pomegranate French 75 Mocktail
For this Pomegranate French 75 Mocktail recipe by The Fresh Market, alcoholic components are involved once again. But you can omit or replace gin with a non-alcoholic gin alternative and replace sparkling wine with a non-alcoholic one or sparkling water.
Ingredients
1 pomegranate
2 tbsp sugar
2 tbsp water
1 tsp lemon juice
3 oz non-alcoholic wine or sparkling water
lemon peel and pomegranate arils for garnish
Instructions
Trim the pomegranate's top by about one inch. Cut through the entire outer layer and the white membrane as you vertically score the pomegranate's sides into four halves. Use the scored lines to guide the pomegranate into four halves while holding it over a sizable dish. Discard the membrane and outer skin after removing the arils from the husk and placing them in the basin.
For garnish, set aside about one tbsp of the arils.
Pomegranate seeds, sugar, and water should all be combined in a blender. Blend on medium-low speed for approximately 10 seconds (reserving 1 tbsp for garnish). You should avoid grinding the inner seed of the arils; therefore, avoid blending at high speed or for an extended period.
Discard solids after pouring through a fine wire mesh strainer.
Combine the non-alcoholic gin alternative, lemon juice, and 1 tbsp of the blended pomegranate syrup in a cocktail shaker.
Add ice, and shake vigorously until thoroughly cold.
Add non-alcoholic wine or sparkling water on top after straining into a champagne flute.
Add a lemon twist and a few of the pomegranate seeds you saved for garnish.
Blueberry French 75 Mocktail
A Blueberry French 75 Mocktail is the ideal summer libation because it is elegant, effervescent, tropical, and citrus. This French 75 recipe by Mixop is particularly good because of the gin and blueberries' sweet, herbaceous mix, but you know how it is – let's make it non-alcoholic!
You can replace the champagne with non-alcoholic sparkling wine or apple cider.
Ingredients
1 ½ oz non-alcoholic gin
6-8 fresh blueberries
¾ oz fresh squeezed lime juice
½ oz simple syrup
Non-alcoholic sparkling wine or apple cider
Instructions
A cocktail shaker should be used to combine non-alcoholic gin, fresh blueberries, lemon juice, and simple syrup.
Gently stir everything until well combined, and shake hard for 8 seconds to get it cold.
In a flute glass, stir the mixture.
Non-alcoholic sparkling wine or apple cider should be used to fill up the glass. Garnish and enjoy!
Related Articles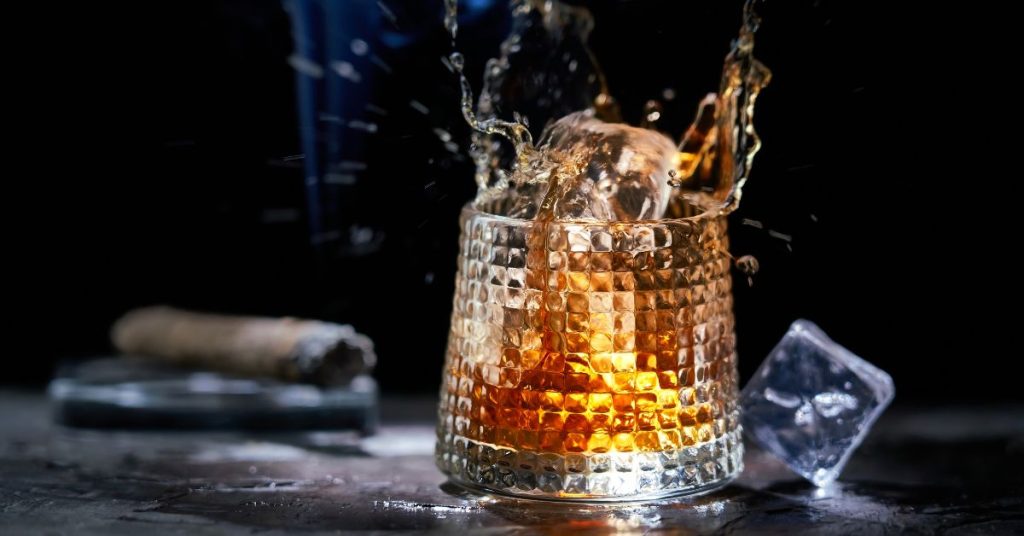 Ritual Zero Proof is one of the fastest-growing brands in the non-alcoholic drink space. Ritual's tagline is "Enjoy The Ritual." And why shouldn't we?
Although drinking non-alcoholic champagne or sparkling wine might seem like a pipe dream for sober or sober curious individuals, there are actually a ton of delectable options available. Learn more about non-alcoholic champagne, how it's made, its characteristics, and where to get it.
Simple syrup is just equal parts granulated sugar and water, which more than lives up to its name. Make simple syrup at home instead of buying it from the store using certain ingredients that you might already have.
French 75 Mocktail FAQs
Why is the drink called a French 75?
The drink known as the French 75 is believed to have been named after a French artillery piece, the Canon de 75 modèle 1897, which was widely used by the French military during World War I. The name is said to have been inspired by the powerful and explosive nature of the artillery cannon, drawing a parallel to the drink's potency and ability to pack a punch.
What glass is a French 75 served in?
The French 75 is typically served in a Champagne flute or a coupe glass. Both glassware options are commonly used to enhance the visual appeal and effervescence of the drink.
The Champagne flute is a tall, narrow glass with a slender stem and a tapered bowl. It also allows for an elegant presentation of the drink.
What food goes with French 75 Mocktail?
The French 75 Mocktail pairs well with a variety of food options, particularly those that complement its flavors and offer a balance of tastes. Here are some food suggestions that can be enjoyed alongside a French 75 Mocktail:
1. Canapés
2. Cheese and Charcuterie Platter
3. Fresh Seafood
4. Light Salads
5. Fruit Skewers
6. Lemon Tarts or Citrus Desserts
Can I use non-alcoholic gin and non-alcoholic champagne in a French 75 Mocktail?
Yes, you can absolutely use non-alcoholic gin and non-alcoholic champagne in a French 75 Mocktail. To make a non-alcoholic French 75 Mocktail, substitute traditional gin with a non-alcoholic gin alternative.
Non-alcoholic spirits and sparkling beverages have become increasingly popular, providing options for those who prefer alcohol-free alternatives while still enjoying the flavors and experience of classic cocktails.