We've listed the top 7 dealcoholized wines on the market. You might be wondering what a dealcoholized wine is. Is it just the same as a non-alcoholic wine? Where can you find one? This article will help you understand what it is and is not.
Dealcoholized wine is standard wine with nearly no alcohol remaining. Despite the minuscule quantity that may still be present, less than 0.5 percent by volume qualifies as "alcohol-free" according to regulatory standards.
Dealcoholized wine should contain around the same amount of polyphenols as regular wine, although having less alcohol (usually 13%–14% by volume) than regular wine. This is why it might have some positive health benefits. However, since the majority of studies on the health advantages of wine involve normal wine, it is challenging to know for sure.
We're jumping right in and telling you the most popularand award-winning brands on the market.

Best Dealcoholized Wine
Dealcoholized wines are widely marketed. Dealcoholized wines can be found at Publix, Trader Joe's, liquor stores, eateries, online merchants, and occasionally at grocery and convenience stores, depending on local laws.
Dealcoholized wine should be clearly labeled as such and state the percentage of alcohol by volume that it contains.
Although it varies between brands, several popular varieties of dealcoholized wine have less than 1% alcohol by volume.
Here are our top picks for dealcoholized wine:
Prima Pavé
The best alcohol free and dealcoholized wine we've found is Prima Pavé. We also love using Prima Pavé in our non alcoholic Aperol spritz recipe.
Ariel
This dealcoholized wine is mild in sweetness, with a sharp acidity and a lovely straw hue. Ariel Blanc is the ideal wine for an afternoon sip and the ideal partner for spicy foods due to its floral characteristics of peach, lavender, and lychee. Try it with baked chevre, Greek salad, tikka masala, and Pad Thai.

Sovi
This California-based canned wine company first entered the market with a canned rosé that contained no alcohol. Their new red blend, which has a touch of fizz, tastes excellent for a dealcoholized wine.
Leitz
One of Germany's biggest Riesling producers is Leitz. They are a fantastic company with a well-known reputation for providing good dealcoholized wine. German riesling and pinot noir grapes are the brand's specialties. The company has also released a Blanc de Blancs available in both still and sparkling versions.
Surely
Rosé, pinot noir, and sauvignon blanc without alcohol are available, along with sparkling variations, thanks to Surely's a collaboration with Sonoma winemakers. Along with a few canned spritzes, the company also sells a canned brut wine with notes of lemon, peach, and custard. While the Coconut Passion Fruit Spritz blends its non-alcoholic rosé with fresh juice, the Lemon Ginger Spritz uses its non-alcoholic brut.
Thomson & Scott
100% Chardonnay and Tempranillo Rosé is one of the effervescent dealcoholized wines in Thompson & Scott's "Noughty" collection. Compared to other non-alcoholic sparkling lines, each bottle has roughly half the sugar and only 14 calories per glass.
Teetotaler
Spanish wines made by the Canadian company Teetotaler are alcohol-removed. The Spanish native Airén grape is used to make the crisp white wine, which has aromas of apples and roses. The red, produced in Spain entirely from tempranillo grapes, hints of cherry, plum, and oak.
How Can Wine Be Dealcoholized?
Dealcoholizing wine, also known as ethanol removal, removes all or part of the alcohol present in normal wine. It may taste and smell different from conventional wine and lack alcohol. Although dealcoholized wine won't make you feel drunk, you can still use it in all the same ways as ordinary wine.
Industrial techniques, like reverse osmosis, are frequently used to remove alcohol. Reverse osmosis involves pushing full-strength alcohol against a semipermeable membrane at high pressure. Alcohol and water are forced to separate from the other components of the wine by pressure exerted against the membrane.
Dealcoholized wines are referred to as having less than 0.5% ABV in a select few countries worldwide, including the USA, South Africa, and the UK. The human body cannot process it at this level, making it unnoticeable and keeping the drinker sober.
What Are Polyphenols?
The skins of grapes and other fruits, vegetables, seeds, and nuts contain natural plant chemicals called polyphenols. These substances function as antioxidants and may guard your cells against oxidative damage.
Due to the removal of the grape skins before manufacturing white wines, red wines contain more polyphenols than white wines.
According to several epidemiological research, drinking modest to moderate amounts of red wine is associated with a decrease in mortality from cardiovascular disease. Although the antioxidant capabilities of these polyphenols are thought to be the primary cause of the potential health benefits, alcohol may contribute in some little way to the protection.
The Difference Between Dealcoholized Wine and Non-Alcoholic Wine?
Non-alcoholic or dealcoholized wine is a wine that has gone through a vinification process, been fermented with yeast, and then had the alcohol removed.

Ever pondered the distinction between non-alcoholic and dealcoholized wines? You're not alone; many people are perplexed as to why several spellings of what fundamentally sound the same exist.
You can choose the best options for you and the people you are catering to by using the straightforward response to this issue provided below.
Differences
Dealcoholized Wine
Non-Alcoholic Wine
Alcohol content
Dealcoholized and non-alcoholic wines typically have less than 0.5% ABV. They are considered alcohol-free if the alcohol concentration is less than 0.05%. Anything above 0.5% is referred to as a low-alcohol wine.

Whatever method is employed, wineries must aim to meet the standard to properly label their goods and alert customers to the trace amounts of alcohol present.

Dealcoholized and non-alcoholic wines won't cause hangovers despite the minute amount of alcohol in each bottle. They are a perfect substitute for those who cannot consume alcoholic beverages owing to dietary constraints, religious convictions, or medical concerns because they do not contain alcohol.

Production process
Wines that have been dealcoholized start the same as regular wines. Grapes are picked, pressed, and crushed to produce juice that will undergo fermentation.

Following fermentation, the wine is put through one of the three most used methods for eliminating alcohol: vacuum distillation, reverse osmosis, or spinning cone technology.

The first method boils wine in a vacuum at carefully controlled, low temperatures to remove the alcohol. The wine is pumped and filtered numerous times using the second technique to separate the alcohol from the taste and fragrance ingredients. The third method separates the alcohol from the remaining wine by allowing it to evaporate through centrifugal force.

The fermentation process is not completed in non-alcoholic wines. Instead, alcohol production is decreased during fermentation, or fermentable carbohydrates are reduced before fermentation.

Juice can be diluted with water or filtered to remove part of the fermentable sugars before reducing them. Utilizing glucose oxidase, which causes fermentable carbohydrates to oxidize and reduces the amount of ethanol produced, is another technique.

Furthermore, there are three ways to reduce alcohol during fermentation. One is to purposefully stop the fermentation process once the required ethanol concentration has been reached. This procedure requires either lowering the fermentation temperature or introducing sulfur dioxide to the wine to stop the fermentation.

Another strategy involves limiting yeast biomass to produce low sugar fermentation rates, producing low ethanol. Utilizing modified yeast strains with reduced ethanol-producing capacities is the final technique.

Ingredients
White wines are produced from green grapes, whereas red wines are derived from dark grapes. Red and white grapes make several other wines, such as rosé.

With dealcoholized wines, the idea is the same.

Non-alcoholic wines don't give much information on the grapes they utilize. They only use the terms red, white, sparkling, or juice to describe their bottles.
Taste
Dealcoholized wines are typically de-alcoholized slowly to preserve as many of the polyphenols that give the wine its distinctive flavors and aromas. Additionally, they are fermented with little to no leftover sugars, resulting in flavors that are more complex rather than merely sweet.
Non-alcoholic wines are not fully fermented, thus, they tend to be on the sweeter side. Because they lack the sharpness, smell, and rich flavors of wine, some people may even mistake them for grape juice.
Price
Most dealcoholized and non-alcoholic wines are equally as expensive as alcoholic wines, if not even less expensive while incurring additional costs for removing alcohol or altering the fermentation process.

While luxury ones can cost up to $30, inexpensive bottles can cost anywhere from $5 to $15.
Labeling Of Non-Alcoholic And Dealcoholized Wines
To give customers relevant information, product labeling is crucial. Dealcoholized or "alcohol-removed" wines have had their alcohol removed after being fermented.
The Food and Drug Administration (FDA) also mandates that the label include a disclaimer stating that the wine has less than 0.5% ABV to clarify further for buyers. Furthermore, the FDA doesn't object to the terms "non-alcoholic" and "dealcoholized" being used together on wine labels since it deems beverages with less than 0.5% ABV to be "non-alcoholic," whether they are wine, juice, or soda.
Non-alcoholic wines do not contain zero alcohol, despite what some individuals who are unaware of this alcohol threshold may believe. To prevent consumers from being misled, the FDA does not permit the only modifier "non-alcoholic" to be used to describe wines that have genuinely been dealcoholized.

The term "non-alcoholic" is frequently found on the labels of non-alcoholic wines produced using techniques other than dealcoholization. Instead of "wine," however, the descriptor is replaced with "sparkling beverage," "juice," or "drink."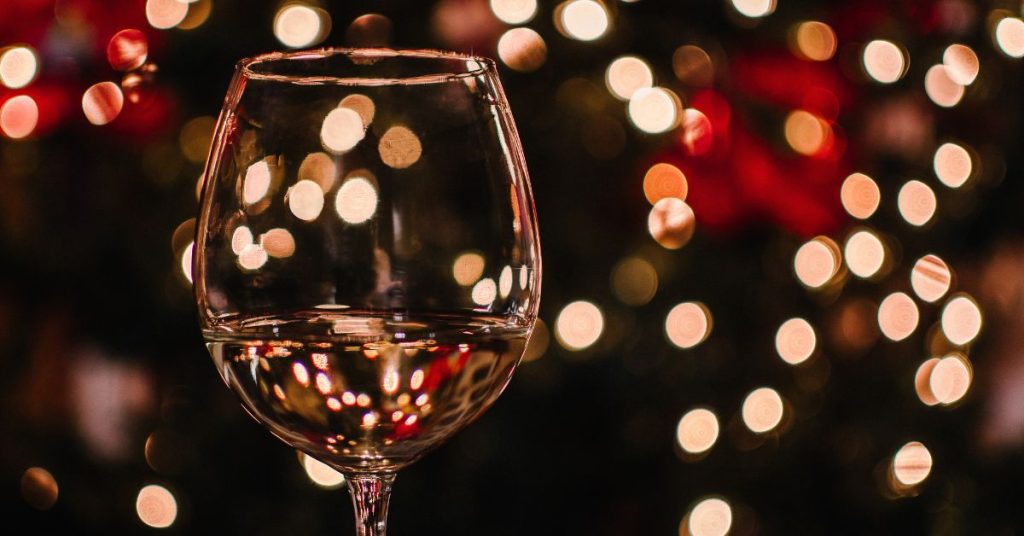 Alcohol-free drinks are the greatest option if you want something delicious and suitable for people who don't drink, expectant mothers, and even kids.
Now that you know the differences, you may choose wisely when making your next purchase for a holiday or just a simple date night. Take comfort in knowing that neither you nor your guests will get an uncomfortable buzz from alcohol by checking the AVB on the label to determine what you are purchasing.
Non-alcoholic vegan wines also exist (if you're curious)!
Dealcoholized Wine FAQs
What does dealcoholized wine mean?
Dealcoholized wine is standard wine with nearly no alcohol remaining. Despite the minuscule quantity that may still be present, less than 0.5 percent by volume qualifies as "alcohol-free" according to regulatory standards.
Is it OK to drink dealcoholized wine while pregnant?
An alcohol-free pregnancy is the safest option for you and your baby. If you would like something to drink and you don't want to risk your baby's health, you can create your own drinks, like mocktails.

We recommend that you try non-alcoholic kombucha due to its many health benefits. You can buy kombuchas from retailers, or you can make your own at home.
What is the difference between alcohol-free and dealcoholized?
Alcohol-free drinks are the greatest option if you want something delicious and suitable for people who don't drink, expectant mothers, and even kids. On the other hand, dealcoholized and non-alcoholic beverages are the ones to try if you're looking for anything that tastes like alcohol but has only a trace of it.
What brands sell dealcoholized wine?
Although it varies between brands, several popular varieties of dealcoholized wine have less than 1% alcohol by volume.
Here are five different brands that offer dealcoholized wine:
– Sovi
– Leitz
– Surely
– Thomson & Scott
– Teetotaler
Where can I buy dealcoholized wines?