Do you know that there's a wide selection of non-alcoholic wine at Publix? Since its opening in 1930, Publix has expanded from a single location to become the biggest employee-owned grocery company in the country. The grocery store chain emphasizes providing excellent customer service, giving back to the community, and being a great place to work and shop.
You may visit a Publix store in Florida, Georgia, Alabama, South Carolina, North Carolina, Tennessee, or Virginia the next time you are there.
The History of Publix
Sunshine days, tempting beaches and Publix stores are three things that Floridians adore; and possibly not in that order. If all the Facebook posts are to be believed, Floridians frequently appear to bemoan the loss of Publix when they make the unfortunate decision to leave the Sunshine State.
What, then, is it about a chain of grocery stores that can inspire such loyalty? Here is some background on some of Publix's most cherished customs.
Publix has grown significantly for more than 90 years. What began as a small grocery store in 1930 has grown to include more than 1,200 stores across seven states. In Winter Haven, Florida, on September 6, 1930, George Jenkins inaugurated the first Publix establishment, known at the time as Publix Food Store. The Publix Super Market was established at that point and has kept expanding ever since.
The 1950s saw the continuation of the art deco store designs from the 1940s, but this decade also saw the arrival of Publix-branded goods on the shelves. The Publix staff and stores underwent some visual alterations throughout the 1990s. Coral and teal green was updated for uniforms and retail interiors. Plato the Publixaurus, the mascot, joined the Publix family in 1992.
For the brand, the 2000s were years of expansion. If you like Publix Aprons, you might be pleased to know that Aprons kiosks initially appeared in 2000, and the first cooking school debuted in Tampa, Florida, in 2001. In 2003, the first Publix Liquors was established.
With the acquisition of GreenWise Market, which debuted in Tallahassee, Florida, in 2018, the brand expanded once more. These brand-new concept stores emphasize niche, organic, and natural goods.
If you're interested in learning more about Publix, Pat Watters' 1980 book "Fifty Years of Pleasure" was released by Publix.
The Non-Alcoholic Wine Selection At Publix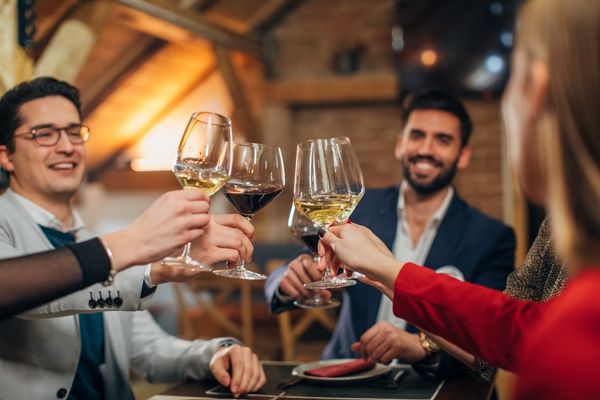 The Publix Supermarket has a significant historical presence in Florida. If you live in Florida and frequent one of Publix's hundreds of locations throughout the state, you will feel right at home. The huge V that framed the entryway made them easy to spot at all times.
The fact that the business is primarily owned by its staff is another distinctive aspect of it. Your bag guy and checkout clerk may be stockholders.
It's also not surprising to know that there's a wide range of non-alcoholic wine selections at Publix. This just goes to show that the store chain really caters to everyone! Here are some non-alcohol wines you can get from the store:
Ariel Blanc
Premium Chardonnay and fragrant white grape types are used to create Ariel Blanc. This dealcoholized wine is mild in sweetness, with a sharp acidity and a lovely straw hue. Ariel Blanc is the ideal wine for an afternoon sip and the ideal partner for spicy foods due to its floral characteristics of peach, lavender, and lychee.
Try it with baked chevre, Greek salad, tikka masala, and Pad Thai.
Fre Chardonnay
Fre's alcohol-free Chardonnay is the epitome of elegance with its rich golden color and vibrant tropical fruit flavors. Rich, creamy apple flavors blend with fresh citrus notes on the palate before a delightfully tart finish. This Chardonnay pairs well with seafood dishes, grilled veal chops, creamy pasta dishes, salads, and mild cheeses.
Fre Merlot
Fre's alcohol-free Merlot has a rich, opulent flavor and a stunning crimson color, and a lot of style and grace. This Merlot is wonderfully smooth, with a long, rich finish and enticing black plum scents and flavor. You can pair it with pizza, hearty stews, delicious hamburgers, and lamb chops with herb crust.
Fre Red Blend
Fre's alcohol-free Red Blend has a deep ruby red hue and starts off smelling like ripe black cherries. Rich and silky on the palate, with vibrant fruit aromas, it has a light smoky flavor and a long finish. This Red Blend matches well with grilled salmon, roast chicken, mushroom risotto, pasta made with tomatoes, and glazed ham.
Fre Moscato
Fre's luxurious Moscato, which has had the alcohol removed, starts off with delightful scents of peaches and rose petals. It is followed by a palate of sweet, creamy flavors and a lovely, lingering finish. Try this with spicy Asian food, mild and light cheeses, and fruit-based sweets.
Fre White Zinfandel
Fre's White Zinfandel is reminiscent of a warm summer day with its exquisite rose color and sweet flavor. Fresh flavors of luscious berries are preceded by fragrant strawberry and cranberry smells, followed by a pleasing, lingering aftertaste. This non-alcoholic wine is a lovely aperitif or picnic pour and is best served properly chilled.
Crab cakes, creamy pasta dishes, grilled chicken, spicy Asian food, and tapas go well with this drink.
Fre Sparkling Brut
Any occasion is elevated by Fre's alcohol-free sparkling wine's cascading bubbles and subtle effervescence. A crisp taste of apple and strawberry contrasts the aromatic bouquet of green apple and juicy pear. This bubbly has a dry, energizing finish and is expertly balanced.
Sushi, fried chicken, creamy seafood pasta, nutty cheeses, caviar-topped potato blinis, or just plain potato chips are some great pairings for this drink.
Fre Cabernet Sauvignon
Fre alcohol-removed Cabernet Sauvignon has a deliciously juicy finish that follows a rich palate of berries and spice, which frames the dark cherry scents. This robust wine goes well with a juicy steak topped with blue cheese. You can also use this wine to make a non-alcoholic mulled wine for any occasion.
The ground-breaking spinning cone column allows Cabernet Sauvignon production with no residual alcohol. At low temperatures, the spinning cone makes it easier to remove and protect delicate wine aromas and tastes, while at slightly higher degrees, it helps to remove the alcohol.
The dealcoholized base wine is then combined with unfermented grape juice after the wine essences have been reintroduced. The result is a pleasant, fresh beverage with distinctive flavors and aromas of fine wine. Fre has half the calories of ordinary wine and less than 0.5% alcohol by volume.
More Reasons Why Shoppers Love Publix
Of course, if there are a number of alcoholic and non-alcoholic drinks to choose from at Publix, there's also delectable food!
You can always rely on Publix to offer clean facilities, a wonderful deli with dinners and sandwiches, fresh vegetables and seafood, as well as just about everything else you need while traveling around Florida.
Subs
In 1992, "Pub Subs" were introduced. In southern supermarket chains, made-to-order sandwiches are still uncommon, and each ardent Pub Sub lover has a personal preference. (For optimal flavor, get them pressed by the deli crew.)
You would be mistaken in believing that these two customs originated in Lakeland, the hometown of Publix. The Atlanta market saw the introduction of these delicious subs initially.
Fried Chicken
Many fans of Publix start drooling as soon as they smell the fried chicken. The chain's well-known chicken was first prepared on a Rotiss-O-Mat in the 1950s. Then came fried chicken in the 1970s, and in 1992 the modern recipe was finally made public.
Are the iconic chicken tenders something you enjoy? It's not just you. Even a Twitter account is dedicated to customers who want to know if the chicken tender subs are on sale.
Deli
Regular Publix shoppers can be identified by the volume of Publix-branded items in their trolleys. Do we see a gallon of Publix sweet tea in your shopping cart? Your taste is excellent. It will go well with your diet Pepsi from Publix, your Dijon mustard from Publix, and your contact lens solution from Publix.
Bakery
If children simply approach the counter and ask, they will receive a free cookie from the Publix bakery. Although the exact start date of this custom is unknown, it may have started when the chain's first bakery originally opened in 1957. By the way, the early bakeries were housed in independent structures rather than Publix stores.
In the business, Publix's promise to never willfully let down customers is renowned. Customer satisfaction continues to be the goal of the store chain. The respect, worth, and job security of Publix's associates are a top priority.
You can also get non-alcoholic beers at Publix. If there are no Publix stores anywhere near your location, you can always get non-alcoholic wines at Target.
Non-Alcoholic Wine At Publix FAQs
Is there non-alcoholic wine at Publix?
It's not surprising to know that there's a wide range of non-alcoholic wine selections at Publix. This just goes to show that the store chain really caters to everyone! You can buy Ariel and Fre wines at Publix.
Is non-alcoholic red wine just as good for you?
It's really easy to switch to wine without alcohol, and doing so has enormous health advantages. Along with many other advantages, this simple behavior modification can decrease your risk of developing cancer, lower blood pressure, aid in weight loss, and enhance sleep.
Is alcohol-free wine completely alcohol-free?
Non-alcoholic wine contains alcohol, but it's so insignificantly that it can be labeled as such. For instance, the ABV of Sutter Home Fre Chardonnay is less than 0.5%. A wine that is not alcoholic often has an ABV of less than 0.5%.