Our easy to make non-alcoholic margarita recipe has 4 ingredients. Ritual Tequila Alternative, one lime, agave syrup, All The Bitter Orange bitters. Buy the kit. WOW your guests.
A non-alcoholic margarita makes the ideal party drink for everyone and for all occasions.
Whip up your virgin margarita at a baby shower or New Year's Eve party and certainly a backyard bbq (because sometimes you need to dry out). Our favorite non-alcoholoc tequila is Ritual Zero Proof Tequila Alternative because we love the smoky spicy flavors it adds to our drink.
How To Make A Non-Alcoholic Margarita
Non-alcoholic margarita recipes can sometimes turn you off if they have too many ingredients. A good non-alcoholic margarita only needs a few ingredients to please everyone. Many people are choosing not to drink less alcohol these days or choosing to just take breaks from it. Regardless of the reason, it shouldn't prevent you from savoring a well-made margarita.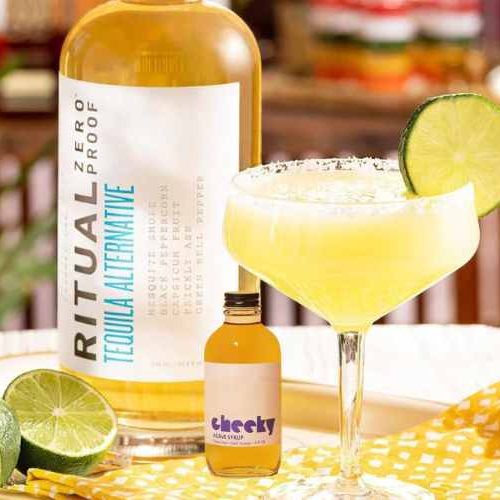 Cheeky Agave Margarita Mocktail
Cheeky Agave balances out the tartness of the lime juice and enhances the spicy smoky flavor of Ritual Tequila Alternative. Our Cheeky Agave non-alcoholic margarita is shaken to give it some froth.
Ingredients
2

Ounces

Ritual Zero Proof Tequila Alternative

1/2

Ounce

Cheeky Agave

1

Juice of one lime

5

Full Droppers

5 All The Bitter Orange bitters

Small pinch of salt

Optional: add 2-3 ounces of soda water to give it some fizz
Instructions
Combine all ingredients in a shaker with ice (including Bitters)

Pour into a cocktail glass with fresh ice

Garnish with a lime wheel
It's pretty easy to convert a favorite cocktail, like the margarita, into a non-alcoholic version; you simply need to get inventive to get a similar flavor.
This non-alcoholic margarita recipe doesn't require any special bartending knowledge or challenging-to-find ingredients.
With a hint of lemon and orange to round out the zesty flavor, the drink is stirred in the glass and primarily made up of lime juice. The drink is given a spicy tequila-like flavor by adding Ritual Tequila Alternative. Agave nectar balances out the tartness of the fruits.
There are a few non-alcoholic tequila alternatives on the market today. These are different kinds of spirit alternatives you can try:
Here are some basic ingredients when making non-alcoholic margarita:
Lime juice
Orange juice
Agave nectar or simple syrup
Your choice of tequila alternative
Check out this video on how to make the perfect non-alcoholic margarita.
When Is The Good Time To Drink A Non-Alcoholic Margarita
A non-alcoholic margarita is a superb dinner beverage and excellent for gatherings and a light afternoon refresher. The flavors can even balance a meal of rich or fatty foods. Serve it during backyard barbecues with the family or on Taco Tuesday. You can't go wrong with tortilla chips and pineapple salsa!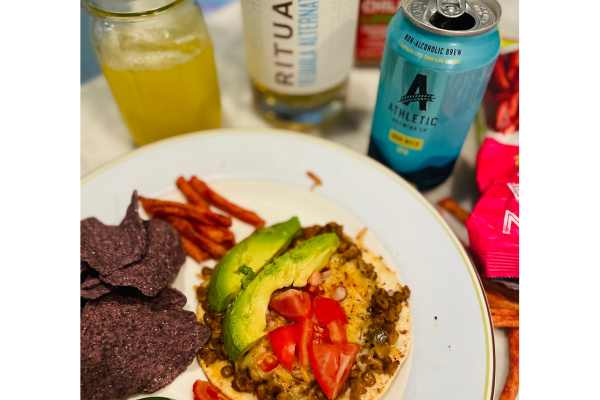 Bring this non-alcoholic margarita to potlucks, festivities, or parties, and double or triple the batch.
Non-Alcoholic Margarita Tips and Tricks For Your
The best non-alcoholic margaritas must be made using freshly squeezed juices. Simply put, the bottled versions lack the same sharp flavor; many are sweetened or contain other substances.
When shaken, your virgin margarita mocktail is frothy and delicious: combine the juices, agave nectar, tequila alternative and ice in a cocktail shaker. Shake for about 10 seconds. Then strain into the glass with the salt rim, top with fresh ice, and top with soda if desired. I find soda water cuts the richness of the flavors.
For the rim, coarse kosher or sea salt is also great.
You can also customize your non-alcoholic margarita with different flavors of fruits. Combine 1 cup of fresh or frozen strawberries, lime juice, orange juice, and agave or tequila spirit alternative to make a virgin strawberry margarita on the rocks. Pour over ice in a glass, then sip. On a hot day, a slushy frozen margarita mocktail is incredibly cooling. Simply combine all the juices, agave, and one or two cups of ice in a blender and serve it frozen (depending on how slushy you like).
Non-Alcoholic Margarita FAQs
Can you buy non-alcoholic margarita?
You can buy Stirrings Simple Margarita, which is known for its low calories. It has a premium flavor and low-calorie ingredients, such as real juice, no added sugar, and no preservatives. You can feel comfortable behind the bar or serving Stirrings to visitors in your house. It actually has the flavor of homemade mixers that you made in the afternoon.
What is a non-alcoholic substitute for tequila?
The drink is given a tequila-like flavor by adding agave nectar, which also balances out the tartness of the fruits.
Keep in mind that there are now non-alcoholic tequila alternatives in the market today. These are different kinds of spirit alternatives you can try:
– Lyre's Agave Reserva Spirit 
– CleanCo Mix Pack Spirit Alternatives
– FLUÈRE Smoked Agave
Can you make a non-alcoholic margarita ahead of time?
Up to a day in advance, combine all the juices with the agave or your choice of tequila alternative and store them in the refrigerator in an airtight container or sealed jar. Give the mixture one last swirl just before serving, and then top each glass with sparkling water.
How to make a big batch of non-alcoholic margaritas?
You can double or quadruple the recipe if you're making it for a large group. Simply combine the ingredients in a pitcher and mix. Add the sparkling water just before serving the mocktails. If your visitors would rather salt their rims, leave a platter of salt and lime wedges available.