If you're searching for refreshments that transport you to a tropical paradise, look no further than a Blue Lagoon Mocktail. This vibrant and utterly delightful non-alcoholic concoction offers a symphony of flavors and colors reminiscent of a serene, crystal-clear lagoon.
Whether you're hosting a party, lounging by the pool, or simply craving a momentary escape from the everyday, this selection of the 5 Blue Lagoon Mocktail recipes you can make at home promises to elevate your sipping experience to a whole new level.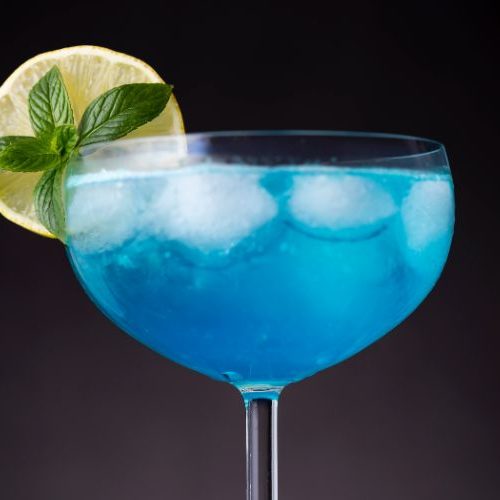 Blue Lagoon Mocktail With Non-Alcoholic Alternative
A classic Blue Lagoon Mocktail is made with vodka, lemonade, and blue curaçao, which means it's high in sugar and alcohol. If "drink yourself healthy" is your mantra, it doesn't really fit well.
This gorgeous, non-alcoholic blue mocktail tastes as good as it looks. A classic and healthy version with a non-alcoholic gin alternative (or alcohol-free vodka) allows you to enjoy this Virgin Blue Lagoon however you want.
Ingredients
1

tablespoon

blue curaçao syrup

1

cup

lemonade

30

mL

alcohol-free gin or vodka

Fruit or flowers

for garnish
Instructions
Fill your glass with the blue curacao and your non-alcoholic spirit of choice.

Top off gradually with lemonade.

Add ice, stir gently, decorate, and serve.
3-Ingredient Blue Lagoon Mocktail
Making this Blue Lagoon-Inspired Mocktail only takes two minutes and three ingredients. It's a really tasty, simple summer beverage that tastes wonderfully refreshing with each sip!
To make this easy drink by Salt & Baker, you only need what you already have; you don't need any costly bartending equipment.
Ingredients
2 tablespoons lemon juice
3 tablespoons blue curaçao syrup
12 oz 7 UP
Instructions
Fill a big cup with ice.
Add the 7 UP, blue syrup, and freshly squeezed lemon juice and stir.
Serve right away.
5-Minute Shaken Blue Lagoon Mocktail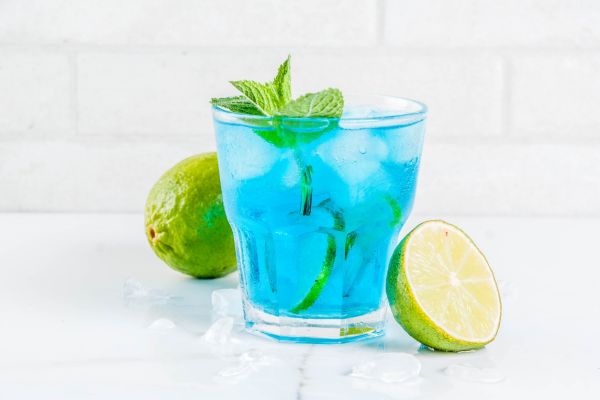 You must have a Blue Lagoon Mocktail if you want your day in the pool or beach to get ten times better! Though it may be a copy of the original blue curaçao cocktail, this simple mocktail recipe by Cup of Zest is just as vibrant, sweet, and refreshing.
Poolside perfection meets refreshing citrus flavor in this Blue Lagoon Mocktail. Its stunning ocean blue color makes it a standout beverage.
Ingredients
4 inches orange peel
6 ounces lemonade
1 ounce Blue curaçao syrup
8 ounces sparkling water
Garnish: maraschino cherries, orange twists
Instructions
In a cocktail shaker, muddle the orange peel well.
Pour in the blue curaçao syrup and lemonade. Fill with ice, then shake it for about 30 seconds to get it cold.
Pour the ingredients evenly into two ice-filled glasses. Four ounces of sparkling water should be poured into each glass and then gently stirred to blend.
Serve with an orange twist and a maraschino cherry as a garnish.
Blue Lagoon Mocktail (Under The Sea)
Made with blue curaçao syrup, lemon-lime soda, and lemonade, the Blue Lagoon Mocktail by Simply Made Recipes is a straightforward, kid-friendly drink topped with maraschino cherries floating on an umbrella and Swedish fish.
Though it would also work well for other party themes like Under the Sea, why have an event? The stunning blue color has some amazing mermaid party vibes. On a hot summer's day, these mocktails would also be perfect to sip by the pool.
Ingredients
Ice
2 Tablespoons blue curaçao syrup
½ cup lemonade
½ cup lemon-lime soda
2 Swedish fish
1 maraschino cherry
Instructions
Fill the glass with ice.
Add the blue curaçao syrup and lemonade. Mix.
Pour a half cup or so of lemon-lime soda on top.
Add one or two Swedish fish.
Place the cocktail umbrella inside after putting a maraschino cherry in a glass.
Complete the decorations with a fancy straw.
Frozen Blue Lagoon Mocktail
This refreshing take on the traditional Blue Lagoon Mocktail uses lemon sorbet instead of lemonade to make a frozen treat, and we'll also add non-alcoholic vodka instead of its alcoholic counterpart. Add some cream coconut as well for an additional layer of creamy texture and tropical taste.
Served with whipped cream, a maraschino cherry, and a lemon wedge, this frozen mocktail by Belly Full is the ideal way to cool off on a hot summer's day.
Ingredients
2 ounces non-alcoholic vodka
2 ounces blue curaçao
2 ounces cream of coconut
1 cup lemon sorbet (about 2 big scoops)
1 cup ice
whipped cream, small lemon wedge, and maraschino cherry (for garnish)
Instructions
Place all of the ingredients in a blender.
Blend until smooth and well integrated.
Transfer into a dessert glass and decorate with freshly piped whipped cream. Add a lemon slice and a maraschino cherry as a garnish.
Enjoy and serve with a straw!
Get Your Tropical Escape With Blue Lagoon Mocktails
If you've been yearning for a tropical escape but find yourself grounded at home, look no further than the enchanting world of Blue Lagoon mocktails. These delightful and versatile concoctions offer a passport to paradise, allowing you to embark on a sensory journey with each sip.
With these easy Blue Lagoon Mocktail recipes you can make at home, you can transform any moment into a getaway, whether you're lounging by the pool, hosting a gathering, or simply craving a flavorful escape from the everyday.
Related Articles
You want to order a non-alcoholic drink at a bar but want something other than soda water and Ocean Spray. We've got the list to end all lists.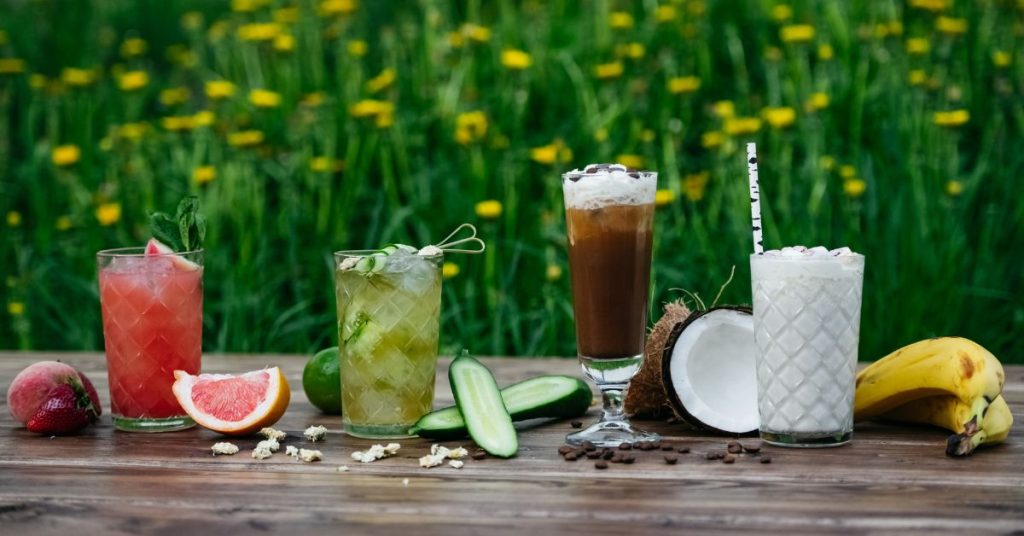 Are you planning a summer party? A backyard barbecue, a picnic in the park, or a day at the beach? It's time to chill and refresh yourself from the summer heat with non-alcoholic frozen drinks that everyone can enjoy.
Blue Lagoon Mocktail FAQs
What is Blue Lagoon flavor made of?
The classic Blue Lagoon mocktail is typically made with a combination of lemonade or lemon juice, blue curaçao syrup (which gives it a vibrant blue color), and sometimes a splash of lime cordial. It has a citrusy, slightly sweet flavor profile with a striking blue hue.
Where did the Blue Lagoon mocktail originate?
The exact origin of the Blue Lagoon mocktail is somewhat unclear, but it's believed to have been popularized in the mid-20th century. It's often associated with tropical and beach-themed cocktails, and its name likely derives from the captivating blue color reminiscent of tropical lagoons.
Are Blue Lagoon mocktails sweet?
Blue Lagoon mocktails are typically sweet due to the addition of lemonade or lemon juice and blue curaçao syrup. The level of sweetness can be adjusted to suit individual preferences by varying the amount of sweeteners used.
Why is Blue Lagoon mocktail water blue?
The striking blue color of the Blue Lagoon mocktail comes from the blue curaçao syrup, which is a vibrant blue liqueur made from the dried peels of the citrus fruit. It's used primarily as a coloring and flavoring agent in cocktails and mocktails.
How do you serve a Blue Lagoon mocktail?
Blue Lagoon mocktails are typically served in a tall glass filled with ice cubes. First, the blue curaçao syrup is added to the glass, followed by lemonade or lemon juice. It's usually garnished with a slice of lemon or a maraschino cherry. A cocktail stirrer or straw is often provided for mixing.
How can you make your Blue Lagoon mocktail special?
To make your Blue Lagoon mocktail special, consider experimenting with unique variations, as mentioned earlier. You can add different fruits, herbs, or spices to create a personalized twist on the classic recipe. Additionally, the presentation can make a difference, so think about creative garnishes, colorful glassware, or even rimming the glass with colored sugar for extra flair. Remember to adjust the sweetness and tartness levels to suit your taste preferences.