Time to read: 6 minutes
tip: bookmark to return to later
Are you running out of groomsmen gift ideas for non-drinkers? You're at the right place!
However, doesn't it seem like every present for the groomsmen is always something that relates to drinking?
When you stop to think about it, it is absolutely true. Many suggestions for groomsmen gifts are for drinkers!
What last groomsmen gift do you recall seeing? It was probably a shot glass, a bottle opener, a flask, a whiskey set, a flight of beers, or perhaps a club for artisan brews of the month.
However, not everyone drinks, and maybe others only rarely drink alcohol, so they don't need a complete set of whisky glasses and a decanter. Herein lies the value of this gift guide.
However, if you are looking for a non-alcoholic whiskey alternative, we've got you covered there.
The top 27 groomsmen gift ideas for non-drinkers are included in this list. These thank-you gift suggestions are ideal to give at a wedding, and you might even prefer them to the customary presents for your friends. Here is the list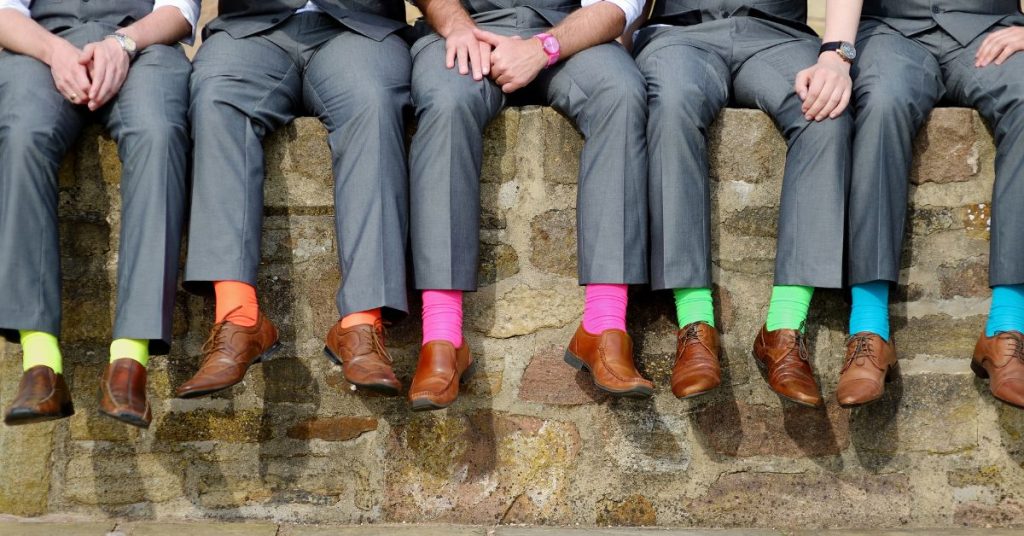 1. Personalized Pocket Watch
When it comes to groomsmen presents, certain alternatives are regarded as classics. An inexpensive approach to turning a common gift—like a watch—into a special remembrance is to have one made just for the receiver. Although watches make wonderful presents, why not try something more unique, like a customized pocket watch? With intricate features and presented in a gift box, it can be an ideal thank you gift. This pocket watch is engraved and less than $20.
2. Toiletry Bag
A destination wedding demands some advanced planning. Giving a non-alcoholic gift like a toiletry bag is a brilliant way to assist the forgetful people at your party. An ideal gift to make sure your guys look their best on your special day.
You can also get it customized. A toiletry kit is a carry-all that guys use to keep necessities like tweezers, soap, fragrance, beard oil, and razors. It will be a fantastic object for travel.
3. Cufflink Set
Your groomsmen will like this exquisite traditional gentleman's gift package. A gift box with a tie clip, money clip, and cufflinks. These cuff links can be made of metal. It can also come with the hand-stamped initials of the groomsman or best man, together with the wedding date.
4. Custom Mug
Nothing beats a mug when looking for a simple and affordable method to give a groomsman proposal. Offer this bespoke gift option as an easy and elegant way to pop the question.
Creating a photo collage mug can also be an original approach to locating the ideal gift for non-drinkers. Your guys will love a collage mug, whether you choose images from your most memorable experiences or amusing ones.
5. Pocket Knife
All guys should own a pocket knife since it is a necessary and masculine accessory. Giving this typical gift option a personalized twist makes the gift stand out. The ideal wedding gift for your groomsmen, especially those who love the outdoors, can be created if you can come up with a clever message to incorporate.
Another cheap strategy to find gifts that will meet your demands without breaking the bank along the road is to buy a tactical pen. This present is a more contemporary version of the pocket knife and is ideal for several uses.
6. Leather Wallet
A new wallet is always useful! An engraved leather wallet is another traditional option for a gift for your groomsmen. These leather wallets make excellent groomsmen presents without booze. Simply choose a color and style that complements each man's personality.
His cash, cards, and IDs can be kept in a chic and elegant leather wallet. It might also be a leather passport wallet for a man who travels.
7. Personalized BBQ Set
Men enjoy grilling. A BBQ set is a way to go if you're looking for a somewhat unique and affordable present. This can also be a fantastic choice if you're looking for a gift for your guys that aren't alcoholics.
8. Customized Gift Box
Gift boxes are the perfect solution if you're having trouble finding the perfect groomsmen presents. No gift bundle could be more strongly suggested than this one. This box is anything but ordinary because it contains goods with a sophisticated air of luxury. This box's assortment will definitely wow your group.
On the other hand, a sensible way to approach groomsmen presents for a bunch of guys who have served in the military together is by embracing this theme. A traditional alternative for a present with genuine sentimental meaning is a personalized ammo box.
You can also consider a Birchbox subscription if you're looking for a last-minute present idea for the men in your group. Everything a man needs to feel and look his best while venturing out into the world is included in this gift box.
9. Leather Journal
Another inexpensive option for finding non-alcoholic gift ideas is a leather diary. With a straightforward and stylish gift like this, you may help your boys keep track of their thoughts, ideas, travel adventures, and significant events.
10. Wooden Bow Tie Set
It can be enjoyable to receive a present that complements your chosen theme if you're planning a rustic wedding. A wooden bow tie set is one of the best gifts you can choose for non-drinkers in a rural setting. An excellent choice that harmonizes with the aesthetic of your special day.
11. Personalized Poker Set
An engraved poker set is the best option for many guys who enjoy playing cards anytime they can get together. Discover a way to commemorate your favorite pastime using this unique, personalized gift idea.
12. Leather Catchall Tray
Using a leather catchall tray as your groomsmen's gift is another popular option. By allowing quick access to everything in a fashionable manner, this straightforward piece of decor can be used to aid the males in your wedding party in remembering important stuff.
13. Hot Sauce Gift Set
When they eat, some guys can't get enough heat. A hot sauce gift set will make a great party gift if the guys at your big day believe that spicy sauce is the greatest. This present is unquestionably a blazing hot offer and can be packed with tastes that your squad will love.
14. Engraved Lighter
Enjoying a few cigars while commemorating a significant occasion, such as a wedding, is common practice. Grab your groomsmen's engravable lighters if you want to give this occasion a little more sophistication. This is a kind of present that is also very functional.
Some cigar accessories can be smart if you intend to smoke a few cigars with your brothers throughout your wedding. A gift set with a cigar cutter and a few other essentials is unquestionably a practical choice. It also makes a wonderful present for your best man.
15. Sports Gift
A football gift is another excellent option to take into account when it comes to presents for non-drinkers. When you and your pals share a favorite team or game, choosing sports-related gifts is simple.
16. Tactical Pen
Another cheap strategy to find gifts that will meet your demands without breaking the bank along the road is to buy a tactical pen. This present is a more contemporary version of the pocket knife and is ideal for a number of uses.
17. Men's Loafers
It can be difficult to top a good pair of shoes. A pair of loafers for the wedding is a fantastic option to experiment with if you want to pick out some straightforward and inexpensive presents that your groomsmen will enjoy.
18. Beard Care Kit
Many men in contemporary fashion are growing their facial hair. A beard care package is a terrific gift if any of the men in your group have a little bit of facial hair. Everything your guys need to look their best can be included in this kit.
19. Groomsmen Tumbler
An engraved stainless steel tumbler is a unique gift suggestion for your group. This gift has a unique twist because it includes the groomsmen's names and distinctive images of them.
20. Shoes Care Kit
In your wedding photos, you'll want to make sure your groomsmen's shoes are spotless. A gift package for shoe maintenance is a useful approach to guarantee this. You guys can find everything you need in this kit to make new-looking kicks.
21. Modern Technology
Some presents are ideal for today's world. The guys in your group may keep all of their electronic devices nicely charged during your wedding and beyond by carrying around a wireless charging station.
Looking for a sophisticated gift idea for a group of outdoorsmen? The ideal tech gift are wireless Bluetooth speakers. With this awesome outdoor device, you can help your boys take their music everywhere they go.
22. Headphone Rack
A headphone rack is a reasonable gift to take into account for young men. When not in use, these gadgets assist guys in maintaining the condition of their headphones.
23. Bobbleheads
A traditional item of memorabilia is a bobblehead. Customized bobbleheads are a completely crazy idea to consider for individuals looking for a hip and non-traditional approach to wedding present selections.
24. Face Photo Socks
Want your gift to make the boys in your group laugh out loud? A pair of personalized socks featuring a face photo will undoubtedly make the receiver smile a lot.
25. Funny Bigfoot Silk Ties
A great approach to getting gifts for your wedding party is to find methods to combine geeky themes and ideas. The crowd will definitely enjoy funny silk ties with patterns that include all kinds of bizarre motifs.
26. Tie Clip
Do you want the men in your wedding party to walk down the aisle in perfect sync? An inexpensive last-minute gift you may buy to give everyone a tidy and finished appearance is a tie clip.
27. Monogrammed Handkerchief
Customized handkerchiefs are a fantastic way to keep your gifts within your price range. You can make a wonderful gift by having them monogrammed with the initials of each of your best men attending the party.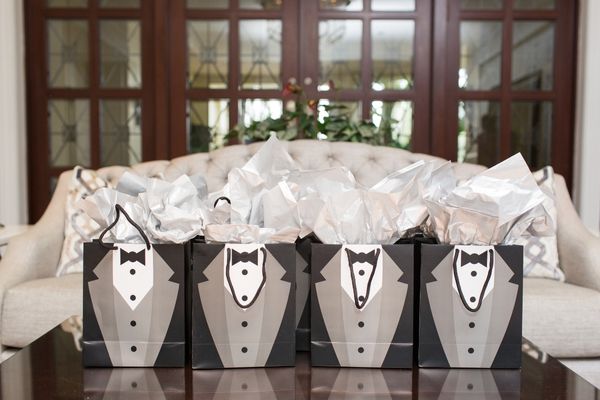 It might be difficult to find thoughtful presents for the special men in your life. You should consider the ideal groomsmen gift suggestions for your group if you want to get inexpensive and distinctive gifts that don't look hurried or cheap. Finding the ideal fit for your event will be made easier by thinking about your guys' personalities.
Groomsmen Gift Ideas For Non-Drinkers FAQs
What should a groomsman gift include?
It's crucial to consider how you thank your loved ones when arranging your wedding, and it shouldn't be left until the very last minute. However, since you've probably never looked for groomsmen gift suggestions before, it can be difficult to know where to begin. 
Here are some unique gift ideas that you should consider for your groomsmen.
1. Unique Card Holders
2. Embroidered Pocket Squares
3. Bespoke Experience Gift Cards
4. Sleek Travel Tumblers
5. Custom Bottle Openers
6. Baseball Caps
7. Handy Pocket Socks
8. Fancy Monogrammed Scarves
9. Useful Multi-Tools
10. Sophisticated Cigar Holders
What to get as a gift for someone who doesn't drink?
The top 9 non-alcoholic groomsmen presents for men who don't drink are included in this list. These thank-you gift suggestions are ideal to give at a wedding, and you might even prefer them to the customary presents for your friends. Here is the list!
1. Personalized pocket watch
2. Toiletry bag
3. Cufflink set
4. Custom mug
5. Pocket knife
6. Leather wallet
7. Personalized BBQ set
8. Customized gift box
9. Leather journal
Should all groomsmen get the same gift?
It is not appropriate to offer the best man the same gifts as the groomsmen. He has a special responsibility and is held to higher standards, thus his gift needs to be more distinctive. 
The presents for the groomsmen should all be the same, but preferably they should be customized with the names or monograms of the recipients. You must remember that every family and friend group is unique. There are some groomsmen presents that will mean a lot more than others.
Do you give a gift as a groomsman?
Do groomsmen give the groom anything? Not really, no. As a groomsman, you're not required to present a gift because that isn't actually your responsibility. 
Your main responsibility might be organizing a bachelor's party, taking into account the groom's personal preferences, like if he wants a sober bachelor party. You can still have party drinks, but it's actually better to have fun and prevent hangovers. You might want to try non-alcoholic Guinness at this point.