Today, we're exploring the makings of Virgin Cosmopolitan variations. It'll be your new favorite guilty pleasure—minus the guilt and hangover!
If you've ever been torn between the desire for a fancy drink and the commitment to keep things alcohol-free, you're in for a treat. We're diving headfirst into a palette of flavors, shaking up some creativity, and discovering that the party doesn't have to stop just because you're skipping the spirits.
Try these 8 Virgin Cosmopolitan recipes we've collected for anyone–sober and sober curious alike.
Virgin Cosmopolitan
Cosmopolitan Mocktail is a non-alcoholic take on the classic Cosmopolitan (also called a Cosmo). Orange liqueur, cranberry juice, vodka, and a tiny quantity of lime juice are the typical ingredients of the Cosmo. It's easy to make and tastes amazing without alcohol.
Ingredients
1½

ounces

non-alcoholic vodka

¾

ounce

DHOS non-alcoholic orange liqueur

¾

ounce

cranberry juice

100% juice with no added sugar

½

ounce

lime juice

freshly squeezed (about a half lime)
Instructions
The non-alcoholic vodka, non-alcoholic orange liqueur, lime juice, cranberry juice, and ice should all be added to a cocktail shaker.

Pour into a martini glass, then top with a wedge or a lime twist, if preferred.
Cosmopolitan Mocktail
Indulge in the vibrant world of non-alcoholic sophistication with this Virgin Cosmopolitan Mocktail—a tantalizing concoction that promises all the glamour of a classic Cosmo without the spirits. Perfect for those seeking a stylish and booze-free option, this mocktail is a delightful blend of flavors and aesthetics.
Ingredients
Juice of 1 orange
Juice of 1 lime
100 mL cranberry juice
Ice cubes
Instructions
Slice your orange and lime and squeeze them directly into a cocktail shaker over ice.
Pour in the cranberry juice. Give the shaker a good shake.
Transfer the mixture directly into a chilled martini glass or any glass.
Top it off with a slice of lemon or a twist of orange peel.
Sparkling Virgin Cosmo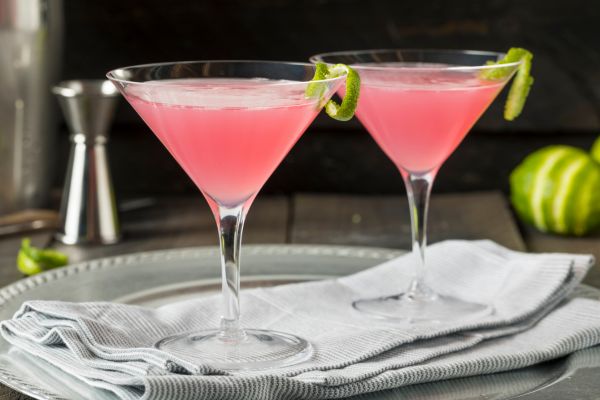 Learn how to make this easy Sparkling Virgin Cosmopolitan mocktail with even healthier ingredients—an absolute must-have for Christmas or any special occasion! Crafted for simplicity, you can whip up this mocktail in a breeze; just toss the ingredients into a cocktail shaker or mason jar. Worried about sugar intake? Fear not; this recipe by Mindful Mocktail keeps it light with reduced sugar cranberry juice.
Ingredients
90 ml Reduced Sugar Cranberry Juice
30 ml freshly squeezed lime juice
60 ml sparkling water
30 ml orange juice
Instructions
Add the Coke, lime juice, and cranberry juice to a cocktail shaker or something similar (a mason jar will work). Shake gently and add lots of ice.
Transfer into a glass martini.
Serve with a dash of orange juice added.
Slushy Virgin Cosmopolitan
Seeking a refreshing beverage without alcohol to counter the heat? You've found the ideal Food By LingLing recipe here!
This Slushy Virgin Cosmopolitan is a delightful and delicious treat to have in a martini glass, whether you're looking for a cocktail suitable for the whole family or just want to cut back on the consumption of alcohol.
Ingredients
1 cup carbonated water, also known as sparkling water
½ cup pure cranberry cocktail
juice of ½ a lime
1 cup ice cubes
Granualted sugar for the rim, optional
Instructions
Add all the ingredients (except the sugar) in a blender and pulse just enough to grind up all the ice.
Squeeze a little lime juice onto the rims of the martini glasses, then dip them into a plate of sugar to make the sugar rim.
After filling the martini glass with the Slushy Virgin Cosmopolitan, garnish with lime wedges.
Skinny Cosmo Mocktail
Not only does this recipe for Skinny Virgin Cosmopolitan by The Pinning Mama seem gorgeous and light, but it's also really simple and quick to prepare. Cranberry juice and lime sparkling water are essential ingredients to construct this mocktail. In addition to classic cocktails, the non-alcoholic Cosmopolitan is a great choice to provide at a party, bridal shower, or girls' night so that everyone may have a fun drink option.
Ingredients
⅔ cup light cranberry juice
⅓ cup lime Dasani sparkling water
Optional – fresh cranberries and lime to garnish
Instructions
In a pitcher, combine lime Dasani sparkling water and cranberry juice.
Transfer into a chilled martini glass and serve.
Garnish with fresh lime or frozen cranberries if preferred to keep the beverage cold.
White Cosmo Mocktail
Ditch the pink appearance of Virgin Cosmopolitan for a tangy and tasty White Cosmo Mocktail that will fool people into thinking you're drinking something more conventional.
This recipe is conveniently shared by LoveToKnow.
Ingredients
1½ ounces white cranberry juice
½ ounce freshly squeezed lime juice
½ ounce non-alcoholic orange liqueur
1-2 dashes orange bitters
Ice
Cranberries for garnish
Instructions
Chill a coupe or martini glass.
Combine ice, lime juice, white cranberry juice, non-alcoholic orange liqueur, and orange bitters in a cocktail shaker.
Shake to chill the mixture.
Pour through a strainer into the chilled glass.
Place cranberries as a garnish.
Virgin Coconut Cosmopolitan
Are you trying to find a delectable mocktail recipe that tastes exactly like the traditional Cosmopolitan? You've found it! You'll find that this simple recipe by Mocktail Mixologist quickly becomes a favorite.
This Virgin Coconut Cosmopolitan is made with coconut water, a naturally refreshing and hydrating beverage with mild sweetness. In addition, it offers vitamins, minerals, and electrolytes—all necessary for optimum health. This takes the place of vodka in a Cosmopolitan Cocktail with alcohol.
Ingredients
½ cup Coconut Water
⅛ cup Orange Juice
⅛ cup Cranberry Juice
1 tbsp Lime Juice
1 tbsp Lemon Juice
Ice
Instructions
In a cocktail shaker with ice, combine all ingredients and mix until chilled.
Pour and strain into a martini glass.
Glittering Non-Alcoholic Cosmopolitan Cocktail
This is another unique recipe from LoveToKnow that everyone will surely love. Any mocktail is worthy of being treated with the same glitz and glamour as a real drink.
Your Virgin Cosmo drink transforms from a martini to a Glittering Non-Alcoholic Cosmopolitan Cocktail with only a hint of petal dust, requiring no more work on your part.
Ingredients
1½ ounces cranberry juice
1 ounce freshly squeezed lime juice
¾ ounce freshly squeezed orange juice
¼ ounce grenadine
⅛ teaspoon red petal dust OR ¼ teaspoon edible fine red glitter
Ice
Lime slice and orange peel for garnish
Instructions
Chill a coupe or martini glass.
Combine ice, cranberry juice, lime juice, orange juice, grenadine, and glitter in a cocktail shaker.
Shake to chill.
Pour through a strainer into a chilled glass.
Add orange peel and a slice of lime as garnish.
Crafting The Perfect Virgin Cosmopolitan
Crafting the perfect Virgin Cosmopolitan isn't just about mixing ingredients; it's about embracing a world of flavor, style, and guilt-free indulgence. Don't let giving up alcohol or attempting the sober curious life means losing out on a fun night out or happy hour.
From the tantalizing tang of cranberry to the citrusy dance of orange, each element contributes to a symphony of taste that's nothing short of extraordinary. When you have these stunning and decadent Virgin Cosmopolitan mocktails only a shake away, living a sober life doesn't have to mean living a life of soda pop.
Related Articles
Virgin Cosmopolitan FAQs
What is in The Virgin Cosmopolitan?
The Virgin Cosmopolitan is a delightful mocktail that typically includes cranberry, lime, orange, and sometimes simple syrup. It mirrors the flavors of the classic Cosmopolitan cocktail but skips the alcohol, making it a refreshing and vibrant non-alcoholic option.
Why is it called a Cosmopolitan?
The Virgin Cosmopolitan gets its name from its alcoholic counterpart, the Cosmopolitan cocktail. The classic Cosmo is a sophisticated blend of vodka, triple sec, cranberry, and lime juice. The name "Cosmopolitan" reflects the ingredients' cosmopolitan nature, creating a stylish and worldly cocktail.
Is the Virgin Cosmopolitan sweet?
Typically, a Virgin Cosmopolitan is somewhat sweet due to cranberry juice, which often contains natural sugars. Additionally, if a recipe includes simple syrup or other sweetening agents, it can contribute to the overall sweetness of the drink. However, since it is a mocktail and lacks the alcoholic content found in a traditional Cosmopolitan, the sweetness may be more pronounced.
Is a Virgin Cosmopolitan drink expensive?
The cost of a Virgin Cosmopolitan can vary depending on where you order it or the ingredients' quality. Generally, since it doesn't contain alcohol, it might be more affordable than its alcoholic counterpart. Making it at home can also be a cost-effective option, allowing you to control the quality of ingredients and tailor it to your taste preferences without breaking the bank.