Time tor read: 6 minutes
If you're experiencing FOMO on all the food and drink trends of 2022 you're definitely not alone.
You may have heard about the Negroni (sbagliato … with Prosecco in it) and how to design a butter board. And guess what, slushies are back! But did they ever leave? And what's all the buzz about a dirty soda?
All new trends aside, you've most certainly heard about the Sober Curious Movement that was ignited by the pandemic. While we were hunkering down, we were getting lit up and it finally came to a point where we were saying to ourselves, neighbors and friends, enough is enough.
Sober October became a thing and the most famous of them all, Dry January. Restaurants and bars have taken notice. If you think you've been seeing more non-alcoholic options on your favorite restaurant's menu, you're correct.
Millennials and Gen Z are leading the sober charge by practically forcing restaurateurs and bar owners to offer a bit more than club soda and grapefruit juice. There are some really amazing non-alcoholic spirits and aperitifs on the market now and more are coming.
SoberBarsNearMe.com is not only a Sober Bar Finder but it is also a place for sober culture. What is sober culture? Sober culture encompasses the sober curious individual and also people celebrating 100% sobriety and those that are in recovery.
Our data shows that the majority of users visiting our site in 2022 are in fact Millenials and Gen Z with Gen Alpha saying "here we come". Millenials make up 25% while Gen Z makes up 28%. Gen Alpha visitors comprise 17% of all of our users visiting the website in all of 2022. The percentage of people who identify as male versus female is 59% male and 41% female.
"Most visitors come to our website when searching for sober bars near their location. The remainder of visitors are searching for sobriety education." For example, articles relating to non-alcoholic beer or wine options, how to make vermouth substitutes, "Quit Lit" (literature about how to quit drinking), and how to plan a sober wedding.
The top 10 states with users visiting the site (by percent of population) in order from most visitors to fewest were Oregon, Wyoming, Virginia, District of Columbia, Maine, Washington, West Virginia, Massachusetts, Georgia, and Ohio.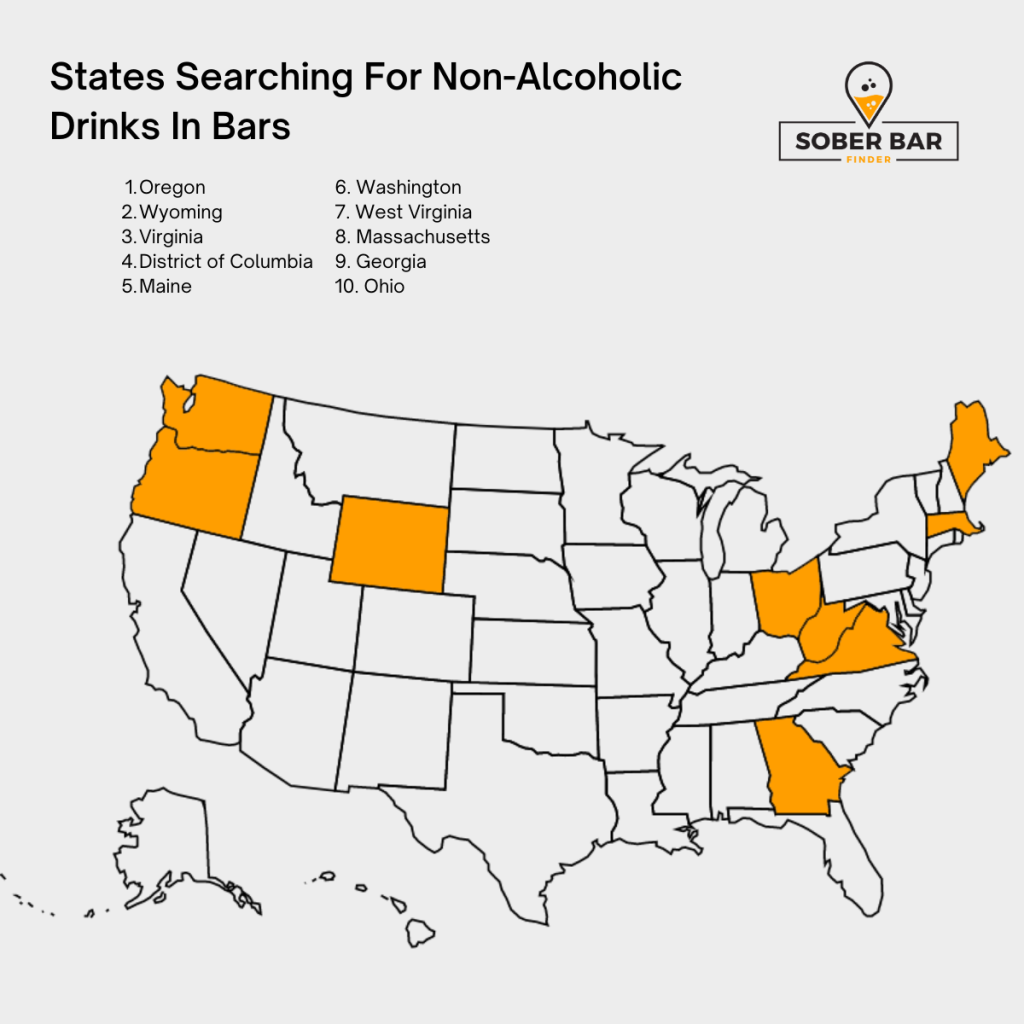 The top cities searching sober bars the most are (in order)
Philadelphia, Boston, Detroit, Los Angeles, Washington D.C., Seattle, Chicago, New York, Austin, Portland, Baltimore, Denver, Houston, Milwaukee, Cincinnati, Dallas, San Diego, Minneapolis and Tampa.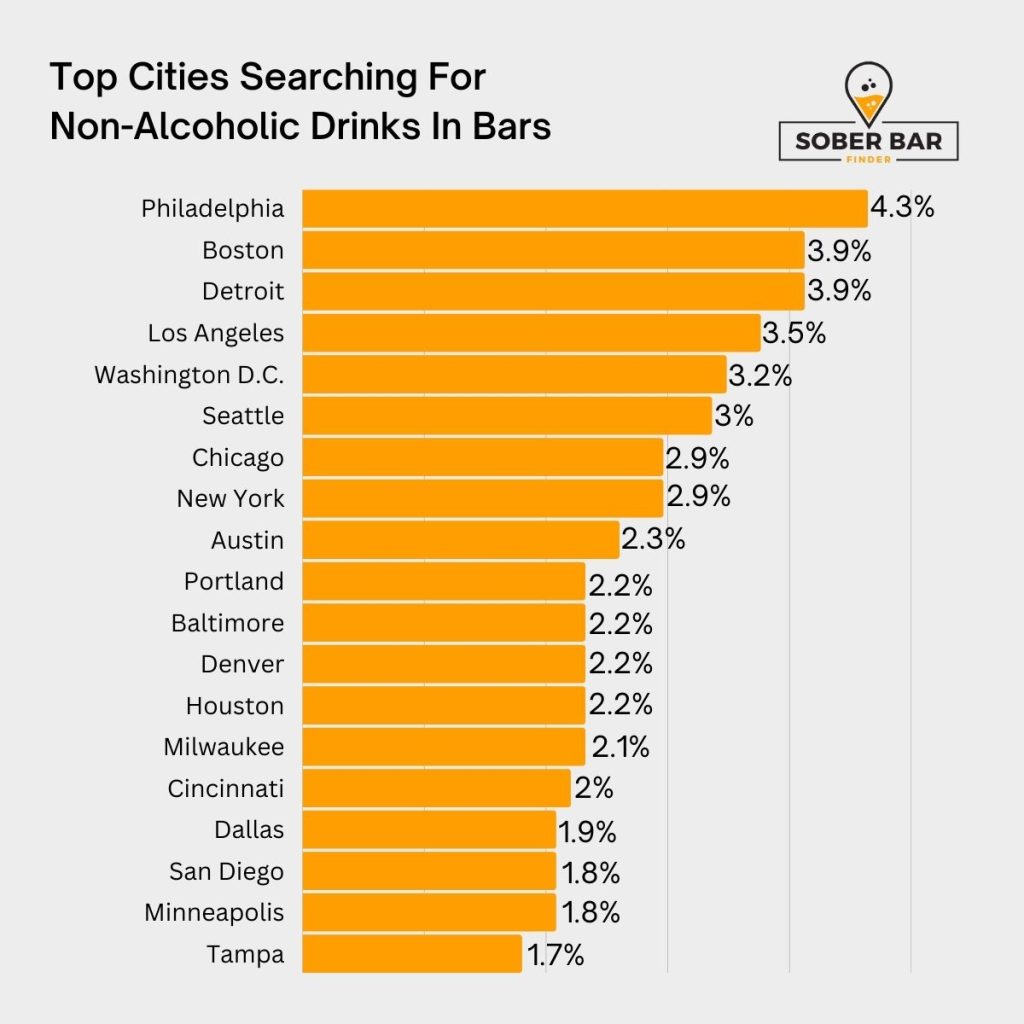 In 2021, according to Nielsen 22% of consumers said they were cutting back on alcohol. Why are people cutting back on drinking alcohol?
Interestingly, consumers who are purchasing no- and low-alcoholic beverages are also adding alcoholic beverages to their carts at the grocery. In fact, NielsenIQ survey data from October 2021 shows that 78% of non-alcoholic beer, wine, spirits buyers are purchasing alcoholic beer, wine, or spirits too.
What this shows is that there doesn't seem to be a full switch out, and moderation may be the key mindset. Rather than cutting out alcohol entirely, consumers are exploring elements of a booze-free lifestyle. #minusthehangover
About Sober Bar Finder… Anne and Matt started SoberBarsNearMe.com "…because we practice sobriety for months at a time and when we do, we find it challenging to locate sober friendly places in our travels. (We love to travel!) SoberBarsNearMe.com quickly expanded to become a resource for all things around sober culture. Restaurants, bars, mocktail recipes, bottle shops, education and a blog."
Exploring The Sober Curious Lifestyle
Sober curious is when you want to take a break from alcohol for whatever reason. Maybe you're over the hangover. Maybe it goes way deeper than that and you have a toxic relationship with alcohol and want to just "see what it's like". Another way to say that is "one day at a time".
The thing about quitting alcohol is not that now you have to stay home or only go to a park to avoid alcohol. As an active person you want to go out to your favorite restaurants, meet up for an after work drink with co-workers or friends, or continue your mixology skills at home and at parties (I think we mentioned a Negroni is a thing). So here they come! And if you're a restaurant/bar owner, you'll want to be ready.
Restaurants That Have Caught On To The Sober Movement
On Sober Bar Finder, you'll discover restaurants in your city that have not one or two non-alcoholic options but they're mixing up their own spirits using fruit and herbs and maybe topping that with N/A sparkling wine or dry prosecco. Talk about luscious. And the best part about throwing back this mocktail is knowing that you won't need to spend your precious Saturday on the couch recovering.