Today, we're exploring fruitful fusions in mocktail mastery, and our destination is nothing short of spectacular—Virgin Daiquiris! Let's dive into 11 different concoctions that you'll surely love and serve on any occasion because – that's right; we're focusing on fruits.
Now, we all know that Virgin Strawberry Daquiri is the most common mix you can actually find in a bar serving mocktails (and even YouTube video tutorials). But wouldn't you want to explore something new? A burst of tropical goodness, a symphony of vibrant colors, and the sheer joy of sipping on an imaginative concoction. Let's create some refreshing twists on a classic…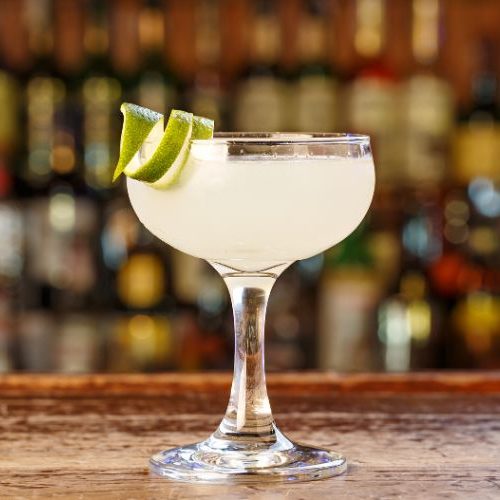 Classic Virgin Daiquiri
Take out that non-alcoholic white rum bottle to infuse some fresh, lively flavor into a Virgin Daiquiri without sacrificing any alcohol content. This is a very simple mocktail mix!
Ingredients
1½

ounces

non-alcoholic white rum

¾

ounce

freshly squeezed lime juice

½

ounce

simple syrup

ice

lime wheel

for garnish
Instructions
Refrigerate a coupe glass to chill.

Combine ice, simple syrup, lime juice, and non-alcoholic white rum in a cocktail shaker.

Shake to chill the mixture.

Pour the mixture into the chilled glass.

Garnish a lime wheel on top.
Classic Frozen Virgin Daiquiri
All it takes to make this Frozen Virgin Daiquiri come to life is a little blender magic. Don't have a blender? LoveToKnow recommends using an immersion blender as another option. And don't be afraid to add some rum flavor to it. Pour two ounces of non-alcoholic white rum if you're up for it.
Ingredients
Lime wedge and sugar for the rim
3 ounces white grape juice
2 ounces of freshly squeezed lime juice
1 ounce simple syrup
1½ cups crushed ice
Lime wedge for garnish
Instructions
Rub the lime wedge along the glass's rim to prepare it for coating.
Dip half or the full rim of the glass into the sugar that is on a saucer to coat.
Put the lime, white grape, broken ice, and simple syrup into a blender.
Blend to the appropriate consistency.
Fill your glass with the mixture.
Put a wedge of lime on top.
Virgin Banana Daiquiri
Your favorite icy tropical drink, created in a blender with just three actual ingredients and without the alcohol. This healthy Virgin Banana Daiquiri by Strength and Sunshine is sugar-free, vegan, and gluten-free, so even the kids can enjoy it!
Ingredients
2 medium-sized ripe bananas (cut in chunks)
2 tsp lime juice
1 tsp rum extract
½ cup cold water
6 large ice cubes
Instructions
Put everything in a blender and process until completely smooth
Transfer into two glasses and garnish with a lime slice and/or whipped cream.
Pineapple Daiquiri Mocktail
A cool frozen drink is the perfect refreshment on a hot summer's day. Nothing beats a cold Pineapple Daiquiri Mocktail to keep you cool when the sun shines. There are just 5 ingredients in this recipe by Fanciful Eats, and it doesn't include alcohol!
Ingredients
1 cup frozen pineapple chunks
1 heaping cup fresh pineapple chunks
¼ cup Lyre's White Cane Spirit or cold water
2 tbsp fresh lime juice (from 1 lime)
1 tbsp agave nectar, light or amber
Instructions
In a high-speed blender, combine all the ingredients and process until smooth. To ensure that no pieces remain unblended, use a tamper tool to force everything down.
Pour into a glass and decorate with a lime and a piece of fresh pineapple. Enjoy!
Virgin Raspberry Daiquiri
A delightful variation on the classic Strawberry Daiquiri is the Raspberry Daiquiri. When combined with lime juice, it tastes much better. It has a more tangy and brilliant flavor.
You can strain the berries and freeze the juice if you do not like the raspberry seeds in this mocktail by The Spruce Eats. You won't have to spend days extracting seeds from your teeth, but it will require more labor! You can also freeze raspberry puree if you can find one and use it in the mixture.
Ingredients
1 cup ice
1 cup raspberries, frozen
¼ cup lime juice
¼ cup water, or rum if you are making it for adults
¼ cup sugar , or honey, plus more for rim garnish
1 lime, cut into wedges
1 teaspoon lime zest, optional, for garnishing the rims
2 raspberries, optional garnish
Instructions
Fill a blender with the ice, sugar, lime juice, raspberries, and water. The ideal blender would be the one designed for smoothies. Until the mixture is perfectly smooth, use a smoothie setting or the highest level on your blender.
Wipe the rim of a cocktail glass with a lime slice before adding the daiquiri. Dip the glass's rim into a combination of sugar and lime zest.
Pour the blended daiquiri into the glass with a sugar rim.
If preferred, garnish with more lime wedges and fresh raspberries.
Non-Alcoholic Frozen Mango Daiquiri
This Non-Alcoholic Frozen Mango Daquiri doesn't require any alcohol. Mango and pineapple's tropical scents from this drink by CDKitchen will have you lounging poolside—or sofaside—in no time.
Ingredients
1 ripe mango (about 12 ounces size), peeled, pitted, and coarsely chopped
¼ cup unsweetened pineapple juice
2 tablespoons fresh lime juice
2 tablespoons superfine granulated sugar
3 ice cubes
Instructions
Combine the mango, pineapple juice, lime juice, and sugar in an electric blender container. Process until smooth on high.
Add in ice cubes until smooth and slushy.
Pour right away into glasses with stems and serve.
Spicy Daiquiri
The Spicy Daiquiri can be a crowd favorite for summer or any occasion, really! This recipe by Eat Good 4 Life is a wonderful place to start if you're looking for unique cocktail recipes to add to your summer menu. This daiquiri version will be a hit with family and friends because it's flavorful, tasty, and distinctive!
Ingredients
2 ounces non-alcoholic rum
¼ cup orange juice
1 inch chilli, mulled
1 tbsp maple syrup, optional
Instructions
Muddle the chili with one ounce of non-alcoholic rum and maple syrup in a glass.
Pour the mixture into a glass with ice.
Stir to combine after adding the remaining rum and orange juice.
Add more slices of chili as garnish.
Non-Alcoholic Frozen Watermelon Daiquiri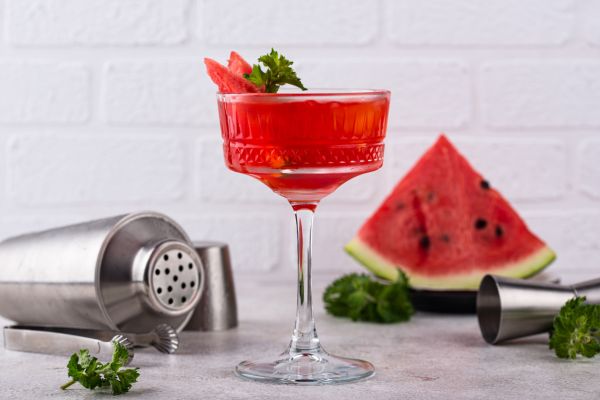 A watermelon cocktail is the epitome of refreshment, rivaling the coolness of a wedge of watermelon. Enjoy a refreshing drink by making a Non-Alcoholic Frozen Watermelon Daiquiri with aromatic watermelon cubes and fresh lime and orange juices. This recipe by Striped Spatula is ideal for entertaining in the summer.
Ingredients
4 cups frozen seedless watermelon cubes (slightly mounded)
4 ounces light rum
2 ounces fresh lime juice
2 ½ ounces orange juice
1 to 2 tablespoons simple syrup (to taste – use more or less, depending on the sweetness of your fruit)
Instructions
In a blender, combine frozen watermelon cubes, lime juice, orange juice, simple syrup, and a bit of water until smooth. (To taste, add more simple syrup after using one tablespoon at a time.) If you are not using a high-speed blender, take intermittent breaks to scrape down the sides of the canister.
Serve right away with a lime wedge on top.
Virgin Kiwi Daiquiri
Made with soda water, simple syrup, and fresh kiwis, this Virgin Kiwi Daiquiri is delightful and refreshing. This is a great way to take advantage of seasonal kiwis and satisfy your thirst with something tasty and cool.
Typically, sugar, alcohol (ideally rum), and some citrus fruit are combined to make a daiquiri. But in this recipe by Cooking With Sapana, we'll be omitting the alcohol.
Ingredients
4 kiwis chopped
½ cup ice cubes
¼ cup simple syrup
juice of one lemon or as per taste
soda water as required
A few slices of kiwi
Instructions
Combine the kiwis, ice cubes, simple syrup, and lemon juice in a blender.
To get rid of any extra pulp, strain.
Fill serving glasses with the mixture and cover with soda water. If you'd like, add extra ice cubes.
Garnish with sliced kiwis.
Non-Alcoholic Strawberry Orange Daiquiri
This recipe by Uncle Matt's Organic is typically made with alcohol, but if you're planning to make a non-alcoholic version, you can just omit the rum. This Non-Alcoholic Strawberry Orange Daiquiri is a delicious fruit slushie that is perfect for everyone and can also be healthy with a pulp-free organic orange juice!
Ingredients
1 cup chopped organic strawberries
2 cups ice cubes
1 ½ oz bottle of Uncle Matt's Organic Pulp-Free Orange Juice
Instructions
Combine all the ingredients in a blender until a creamy slushie consistency is achieved.
Transfer the mixture into tall glasses.
Garnish the daiquiris with sliced strawberries to complete the drink.
Blender Virgin Daiquiri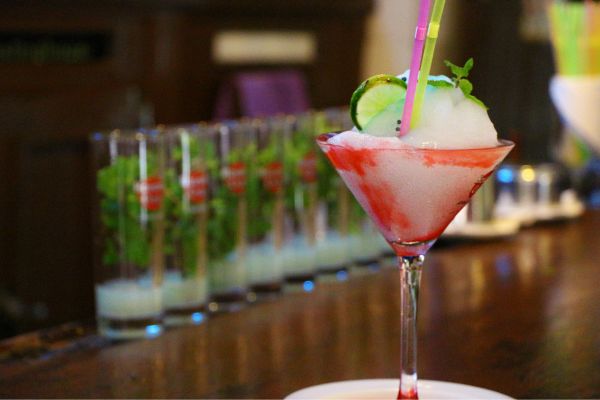 Presenting one of the simplest, most reviving mocktails that can be enjoyed by both adults and kids. Made in a blender, this almost healthy Blender Virgin Daiquiri by Recipe This is versatile and may be served during various seasons with frozen fruit combinations. 
Ingredients
3 cups frozen strawberries
3 cups frozen blueberries
320 ml fruit juice
320 ml lemonade
30 ml lime juice
Red food coloring (optional)
Blue food coloring (optional)
2 cups crushed ice (optional)
Instructions
Fill the blender with one-third of the fruit juice and lemonade.
Make sure the thickness is right for you and that your blender can handle a few frozen strawberries before adding them. If desired, add a few drops of red food coloring. Fill the bottom of your drinking glasses with this.
After giving the blender a good rinse, add one-third of the fruit juice, lemonade, and crushed ice. After blending and adding the lime juice, place a layer on the strawberry in the cups.
Pour the remaining fruit juice, lemonade, and blueberries into the blender. Blend until a layer of blueberries is slushy.
Add a little blue food coloring for a Fourth of July look, or triple it for a Halloween-inspired design.
Tropical Bliss From Virgin Daiquiri Creations
Wasn't that a tropical joyride? In this article, we've surfed the waves of tropical bliss, riding on the flavors of different fruits and imaginative blends. So far away from the classic Virgin Daiquiri and Virgin Strawberry Daiquiri concoctions.
Keep experimenting with as many fruits as you'd like to create your preferred combination of daiquiri mocktails. Some we've explored here are the simplest, with only a few ingredients needed (and can even be found stocked in your kitchen), and some are complex but worth sipping in the end. Cheers on a fruitful journey!
Related Articles
Rum is both popular and adaptable. It's good to know that there are tons of options for non-alcoholic rum to create your favorite rum-inspired beverage or rum mocktails.
The easiest Non-Alcoholic Strawberry Daiquiri has 4 ingredients: fresh strawberries, frozen strawberries, 6 ounces of lime soda water, and ice. Add Ritual Zero Proof Rum Alternative for a toasted coconut and vanilla flavor.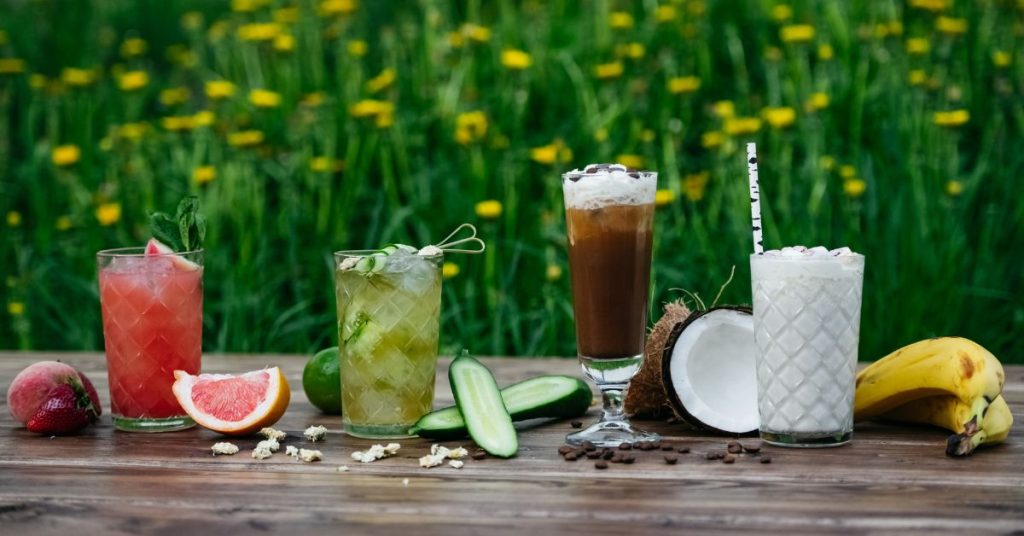 Are you planning a summer party? A backyard barbecue, a picnic in the park, or a day at the beach? It's time to chill and refresh yourself from the summer heat with non-alcoholic frozen drinks that everyone can enjoy.
Virgin Daiquiri FAQs
What is a Virgin Daiquiri made of?
A Virgin Daiquiri is a non-alcoholic version of the classic daiquiri cocktail. It typically consists of fresh fruit juices, simple syrup, and ice. You can get creative with the fruits—strawberries, mangoes, and pineapples are popular choices.
How many calories are in a Virgin Daiquiri?
The calorie count can vary depending on the specific ingredients used, but a Virgin Daiquiri is generally a lower-calorie option than its alcoholic counterpart. It's a guilt-free indulgence for those craving a refreshing, fruity beverage without the extra calories from alcohol.
Is a daiquiri always frozen?
No, a daiquiri is not always frozen. While the frozen or blended version is popular, especially in warmer climates, traditional daiquiris can be served shaken or stirred over ice. The choice often comes down to personal preference.
Why is it called a Daiquiri?
The daiquiri gets its name from the beach of Daiquiri in Cuba. The cocktail is believed to have originated there, gaining popularity during the early 20th century. It was initially a simple mix of rum, lime, and sugar served over ice.
How do you pronounce the word daiquiri?
It's pronounced, "DYE-kuh-ree." Just remember, the "r" is silent, and the emphasis is on the first syllable.
Is a Daiquiri like a margarita?
While both daiquiris and margaritas are popular cocktails, they have distinct differences. A daiquiri typically features rum, lime juice, and sweetener, while a margarita uses tequila, triple sec, and lime juice. Each has its unique flavor profile, but they share a refreshing and citrusy quality.
Feel free to mix up a Virgin Daiquiri and enjoy the vibrant world of non-alcoholic cocktails!