The COVID-19 pandemic has propelled an unexpected Japanese non-alcoholic beer industry boom.
According to industry experts, more time spent at home has liberated Japanese drinkers from social customs that frequently dictate that rounds of the same lager are ordered for everyone at a party.
The Japanese non-alcoholic beer industry has also benefited from other causes, such as persistent TV and other media advertisements encouraging people to stay healthy during the lockdown and a lucky coincidence with supposedly improved flavor.
The Unexpected Boom of Japanese Non-Alcoholic Beer
Japanese beer is well-liked both domestically and abroad. If you enjoy drinking beer, you may have previously had Asahi, Kirin, and Sapporo, among other popular Japanese beer brands. Have you ever tasted Japanese non-alcoholic beer, though?
Non-alcoholic beer has been available for a very long time. Imported ones have been available in Japan since the early 1980s, but it was at the turn of the millennium that they gained popularity. From that point forward, Japanese beverage businesses have started releasing their non-alcoholic beer varieties.
They are common at eateries and izakaya, especially among those who must drive, are expecting, or have been advised by their doctors to be cautious when consuming alcohol.
Non-alcoholic beers have always been criticized for tasting overly yeasty, watery, or cloying. But as Reuters reports, the Japanese non-alcoholic beer rise has been a rare boost for a $30 billion business (3.3 trillion yen) – Asahi – that has seen demand decrease as Japan's population ages and as wine and other alcoholic beverages have grown in favor.
In reality, over the past two decades, Japan's beer consumption has been halved, and the epidemic has worsened this problem because eateries and bars were compelled to close early.
With the recent introduction of alcohol-free versions of popular lagers like Budweiser and Stella Artois by Anheuser-Busch InBev and Heineken, the availability of non-alcoholic beer has increased in many nations.
Brewers have improved the taste of non-alcoholic beer, making it more comparable to alcoholic beer. To do this, they have been focusing on lowering the number of synthetic flavors and sweeteners needed to mimic the flavors produced by ordinary fermentation. Some have also embraced production techniques that enable a more delicate removal of alcohol, maintaining beer's flavor.
The Best Non-Alcoholic Beers in Japan
Japan is a bit of a boozy country. Most milestones are honored with a nomikai (drinking party) and a kanpai (cheers), whether social occasions, ceremonies or even work-related.
This is all well and good if you enjoy a sip, but for many individuals – those who, for whatever reason, prefer not to drink – it may be a little alienating, and there is usually a peer push to drink – even if it is 'just the one for kanpai.'
Thankfully, Japan has recently seen an increase in the manufacture of non-alcoholic beers and beverages.
Here are 12 of the best non-alcoholic beers produced in Japan:
Kirin Zero Ichi
One of the first non-alcoholic beer products to hit the market was Kirin Zero Ichi, which contributed to the rise of non-alcoholic beer in Japan. Due to its likeness to conventional beer, this beverage is preferred by many beer drinkers.
Zero Ichi has a wheaty flavor and is a touch sweet. Despite having no additional sweeteners, it tastes much more than you may anticipate. It is "a unique brew brewed only from the first press of the wort," as stated in their marketing, which is the same process used to make Kirin's well-known beer brand Kirin Ichiban Shibori.
Kirin Zero Ichi is the beer that you are most likely to find at pubs and izakaya because (as mentioned) the manufacturer was first on the market.
Kirin Perfect Free
Next, we have another well-liked Kirin product. In addition to being alcohol-free, Kirin Perfect Free also contains indigestible dextrin, which helps prevent the body from absorbing fats and sugars. The product is called "Perfect Free" since it aids dieters.
The legendary "Goldilocks" of beers, Kirin Perfect Free, lies in a tasting zone where it feels "just right" between other bitter and sweet beers. Also, it does a respectable job of emulating Kirin's Ichiban Shibori lager, which is sweet and palatable.
Finding it has become a little more difficult, but you can usually still get it at the bigger supermarkets or convenience stores in your neighborhood (or on eBay if you live in the US).
Although there have been conflicting opinions about the drink, most people say it retains that sweet, rich, lager flavor and tastes remarkably like traditional beer for a zero-calorie, zero-alcohol beverage. It is advised to serve it cold.
Asahi Dry Zero
One of the non-alcoholic beers produced by the huge beverage firm Asahi is called Asahi Dry Zero. This might be the best option for you if you want Asahi Super Dry because the flavor is designed to be comparable. This product's enticing feature is that it has no calories or alcohol.
Dry Zero is notably less frothy than other Japanese non-alcoholic beer alternatives. It is clean, crisp, and free of any stale, yeasty aftertaste that is frequently the deciding factor when it comes to non-alcoholic beers. Of course, Dry Zero's flavor isn't precisely the same as that of its 5.5% alcoholic counterpart, but it comes close.
This "malt beverage" is comparatively well-liked by drinkers and is gluten-free. Many claim it resembles traditional Asahi in that it is extremely dry, straw-colored, with a hint of sweetness, and has a vegetal scent. Very much the default beverage in Japan for anyone seeking a substitute for a can of lager.
Gain more insights about Asahi Dry Zero by watching this YouTube video from B00ZE-REVIEW.
Asahi Healthy Style
Asahi Healthy Style may be for you if you want to maintain your health while drinking beer. Not only is it free of calories and sugar, but it also bears the Food of Specified Health Use (FOSHU) label, indicating that the extra fiber it contains helps to reduce the rise in triglycerides in the blood after meals.
But, it doesn't taste the finest among the group. It has less flavor than Dry Zero but greater bitterness, which it partially compensates for with a more rounded mouthfeel.
Asahi Beery
According to Asahi Breweries, the goal of this rich and hopped product was to contribute to the development of a society in which drinkers, non-drinkers, and others who fall somewhere in between may respect one another and value diversity. The black beer variant is a respectable imitation of the real thing, while the craft beer in the white can have a distinct seasonal flavor.
Compared to the other beverages on our list, the high-calorie count of Beery is one area where it could be better, though perhaps the alcohol makes this unavoidable.
Suntory All-Free
The first of two non-alcoholic beers from Suntory on this list is called Suntory All-Free.
The taste, which is slightly acidic and similar to lemon/lime or cola, is one of its distinctive qualities.
Although it may not taste nearly as comparable to conventional beer as it formerly did, it is still pretty palatable and includes no sugar, calories, or purine.
All-Free appears to be more like a beer-flavored seltzer than a non-alcohol beer and is ideal for individuals who prefer a malty flavor without feeling guilty.
Watch this one-take beer review from Mark McDermott about Suntory All-Free.
Suntory "Karada wo Omou" All-Free
If you want to choose something based on what it contains rather than how similar it is to regular beer, this Japanese non-alcoholic beer is for you. In addition to being devoid of alcohol, sugar, calories, fat, and purines, Suntory "Karada wo Omou" All-Free beer also contains rosehip extract, which possesses a specific type of polyphenol that aids in the reduction of visceral fat.
Sapporo Premium Alcohol-Free
The first brewery in Japan, Sapporo, was established in 1876. Seigei Nakagawa, the first brewmaster of the business, had his training in Germany. When Japan was still firmly isolated, Nakagawa fled the nation, and while traveling through Europe, he learned how to make beer the German way.
Since its introduction to the American market in 1964, Sapporo has grown to dominate the Japanese beer market there. The firm uses distinctive steel cans, which are heavier and stronger than conventional aluminum, to package and sell its well-known light and dark lagers, including an all-malt lager.
Sapporo Premium Alcohol-Free is a 0.0% ABV lager. The bitterness and full-bodied flavors are well-balanced and satisfying. Sapporo Premium Alcohol-Free is pure wheat juice with only malt and high-quality aroma hops.
Sapporo Umami Shibori
Sapporo Umami Shibori lacks the bitterness that characterizes typical beer and has a mostly sweet and sour taste. This non-alcoholic beer's inclusion of anserine, a compound that lowers uric acid levels, is an intriguing feature.
NINJA LAGER
The first halal non-alcoholic beer in Japan is NINJA LAGER. This indicates that it doesn't have any seasonings, preservatives, or colorings. It tastes slightly like honey and has a harsh carbonated bubbliness and bitter-sweet flavor. Although it doesn't have the same malty flavor as conventional beer, it is nevertheless excellent and energizing.
Ryoma 1865
Ryoma 1865 may be the right choice if you're searching for a non-alcoholic beer that tastes like regular beer. This product uses roasted malt in addition to malt extract, which contributes to the rich, bitter flavor that distinguishes ordinary beer.
Otaru beer
Last but not least is the non-alcoholic Otaru beer. Otaru beer is produced in accordance with German regulations. This non-alcoholic lager beer is created carefully to mimic the flavor of light lager beer as closely as possible. The taste is identical to conventional beer, so you might be pleasantly surprised.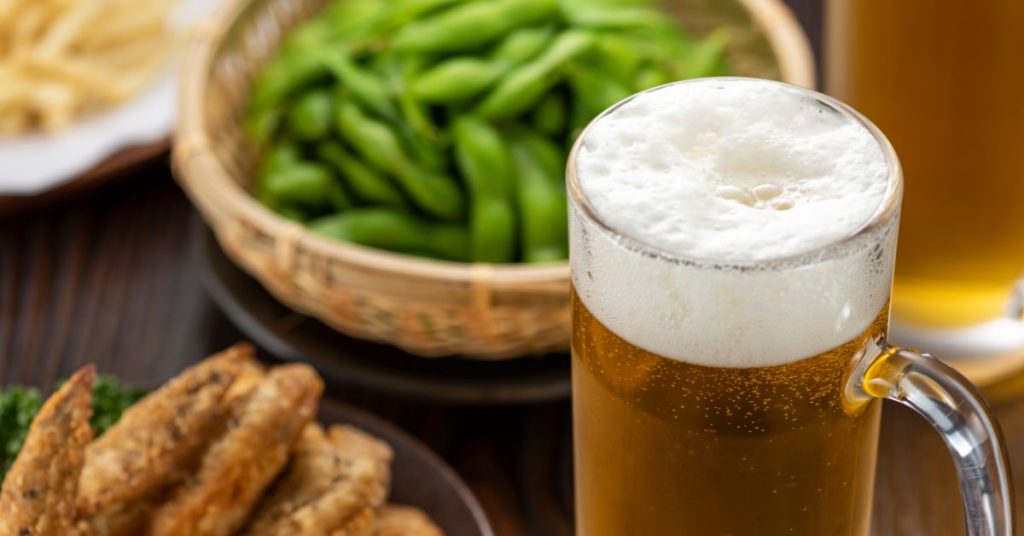 The beer market in Japan is less developed than in other countries, but things are improving. But which should a novice choose? Luckily, there's a wide range of options.
Aside from Japanese non-alcoholic beer, other non-alcoholic Japanese drinks are available in the market, like Hōjicha or roasted green tea. If you'd like to explore more non-alcoholic options from another Asian nation, check out a bunch of non-alcoholic Korean drinks.
Japanese Non-Alcoholic Beer FAQs
Is there non-alcoholic Japanese beer?
Japan has recently seen an increase in the manufacture of non-alcoholic beers and beverages. Here are 12 of the best non-alcoholic beers produced in Japan:
1. Kirin Zero Ichi
2. Kirin Perfect Free
3. Asahi Dry Zero
4. Asahi Healthy Style
5. Asahi Beery
6. Suntory All-Free
7. Suntory "Karada wo Omou" All-Free
8. Sapporo Premium Alcohol-Free
9. Sapporo Umami Shibori
10. NINJA LAGER
11. Ryoma 1865
12. Otaru beer
Is Asahi non-alcoholic beer halal?
No. Asahi non-alcoholic beer is haram, not halal. Because it has a trace amount of alcohol, it is forbidden by the Qur'an. Any non-alcoholic beer should be avoided by our committed Muslims.
Is Asahi Zero really Zero calories?
One of the non-alcoholic beers produced by the huge beverage firm Asahi is called Asahi Dry Zero. This product's enticing feature is that it has no calories or alcohol. This "malt beverage" is comparatively well-liked by drinkers and is gluten-free.
Is Kirin better than Asahi?
The Kirin has a cleaner first palate than the Asahi, and overall it tastes and feels better than the Asahi, according to product reviews. Despite being moderate, the finish lingers longer than the Asahi.
Is Asahi or Sapporo better?
In Japan, beer drinkers choose Asahi Super Dry and Sapporo Premium. Asahi is lighter in color than Sapporo. In contrast to Asahi, a beer famed for being dry, it is also a little bit sweet. Excellent, premium beers with distinctive flavor notes and flavors that you're guaranteed to enjoy are Sapporo and Asahi.
What to drink in Japan if you don't like beer?
If you don't want to be left out of social gatherings just because you don't drink beer or any alcohol per se, there is a wide range of options. Other non-alcoholic Japanese drink options are oolong tea, green tea, and melon soda.