Today, we're crafting the perfect ginger beer mocktail by experimenting with 14 different recipes to try to grace your taste buds. Whether you're the designated driver, looking for a refreshing alternative, or just in the mood for a zesty, non-alcoholic concoction, we've got you covered!
Ginger beer, the unsung hero of the mocktail world, brings a symphony of flavors to the party—spicy, sweet, and oh-so-refreshing. But what makes it even more appealing? The fact that it's non-alcoholic! Say goodbye to the morning-after woes and hello to a guilt-free, fizzy fiesta.
Ginger Beer Mocktail
Ginger Beer Mocktail is a tasty, cool, non-alcoholic beverage ideal for individuals who enjoy strong and spicy flavors. This mocktail, which has a ginger beer base, sweet pineapple, and fresh lime juice, gives each drink a delightful tingling. A delightful take on the classic ginger beer, it's ideal for gatherings or a sunny afternoon.
Ingredients
2

oz

pineapple juice

6-8

mint leaves

1

pinch

salt

1

tbsp

freshly squeezed lime juice

¾

cup

ginger beer

1

tsp

apple cider vinegar
Instructions
Clap the mint in your hands a few times until they start to smell minty.

Incorporate the mint, salt, and lime juice into your glass, and use your muddler to press a few times gently. If you don't have a muddler, try a wooden spoon handle or something similar.

Put some ice in the glass.

Stir thoroughly after adding the apple cider vinegar and pineapple juice.

Add the ginger beer, but don't overmix; you want to preserve the bubble!

Add some pineapple or mint as garnish.
Honey-Lemon Ginger Beer Mocktail
Despite having just three primary components, this Honey-Lemon Ginger Beer Mocktail by Chelsea Dishes is anything but dull. Every sip delivers sweetness, sourness, and spice from the combination of homemade honey syrup, fresh lemon juice, and ginger beer. Not only is it alcohol-free, but it's also a delightful drink that you may have any time.
Ingredients
For the honey syrup:
¼ cup hot water
¼ cup honey
For the mocktail:
1 oz lemon juice
1 oz honey syrup
1 oz cold water
4 oz ginger beer
lemon slices (optional for garnish)
Instructions
For the honey syrup:
Fill a small microwave-safe bowl with water, and cook for 30 to 60 seconds or until steamy.
Stir the honey into the boiling water until it dissolves completely.
Allow it to cool down a little.
For the mocktail:
In a rocks glass, combine lemon juice, honey syrup, and cold water; stir to mix.
Add crushed ice to the glass.
Add ginger beer on top, then whisk once more. Taste and adjust the quantities.
Garnish with the slices of lemon.
Pineapple Ginger Beer Mocktail
This Pineapple Ginger Beer Mocktail by Joyful Healthy Eats with just 4 ingredients is like a tropical carnival for your palate! Made with zesty lime juice, sweet pineapple juice, juicy blackberries, and sparkling ginger beer, it's a simple, summertime-friendly, alcohol-free drink!
Ingredients
3 blackberries
½ oz fresh lime juice
3 0z pineapple juice
3 oz Fever Tree ginger beer
Instructions
Add three blackberries to a cocktail shaker and muddle them a little.
Add some ice cubes and some fresh lime and pineapple juice after that. When the outside of the cocktail shaker becomes frosty, cover and shake briskly.
Pour into an ice-filled glass via a cocktail strainer.
Add ginger beer on top.
Add some blackberries and pineapple slices as garnish.
Sparkling Apple Ginger Beer Mocktail
This recipe by Marisa Moore for a Sparkling Apple Cider Ginger Mocktail is the ideal drink for fall. It's a simple and delightful drink that can be made with apple cider, fresh ginger, and ginger beer! Because it isn't alcoholic, it is suitable for all.
Ingredients
1 inch piece fresh ginger
24 oz. no-sugar-added apple cider
8 oz ginger beer
Ice
Cinnamon sticks
Apple slices, for garnish and eating
Instructions
Press the fresh ginger with a muddler in the bottom of a big shaker or jar until aromatic. Fill the shaker with the cider. Shake.
Fill the glasses with ice. To each glass, add six ounces of the cider. Add two ounces of ginger beer on top of each.
Add some freshly cut apple slices and a cinnamon stick as garnish. Serve right away.
Pear Ginger Snapper
Take a sip of this spicy sunshine as you settle in – the Pear Ginger Snapper. Your friends and family will be impressed by this mocktail by LoveToKnow because it's a little different. This is the ideal evening beverage because of the distinct ginger overtones from the fresh and brewed ginger and the appropriate amount of pear to mellow the flavor.
Ingredients
3 ounces pear nectar
1 ounce honey syrup
1 ounce freshly squeezed lemon juice
1½ ounces nonalcoholic bourbon, optional
Ice
Ginger beer or ginger ale to top off
Pear slices for garnish
Instructions
Pear nectar, honey syrup, lemon juice, and ice should all be added to a cocktail shaker.
Shake to chill.
Pour through a strainer onto a fresh glass of ice.
Pour some ginger beer on top.
Add pierced pear slices on a cocktail skewer as a garnish.
Grapefruit Ginger Beer Mocktail
Strong flavor lovers will appreciate this Grapefruit Ginger Beer Mocktail. It's fizzy, sweet, and incredibly refreshing all at once. Pour and stir are all required to make this drink by Entirely Elizabeth. There is no specific method for adding the components, nor does it require a cocktail shaker or expensive barware. This mocktail is perfect for warm afternoons to sip and enjoy.
Ingredients
3 ounces grapefruit juice
3 ounces ginger beer
2 ounces tonic water
½ lime; juiced
1 grapefruit slice; garnish
1 candied ginger; garnish
2 ounces non-alcoholic vodka (optional)
Instructions
Refrigerate the ingredients in advance and leave out the ice. Half-fill the copper cup with crushed ice or ice cubes.
Tonic water, ginger beer, grapefruit, fresh lime, and non-alcoholic vodka (if using) should be added.
Mix until thoroughly blended.
Add a grapefruit slice and a cocktail pin with candied ginger as garnish.
Cucumber Mint Ginger Beer Mocktail
The coolness of cucumber, the freshness of mint, and a hint of warmth from fresh ginger come together in this delightful Cucumber Ginger Mint Mocktail, creating a colorful and zesty drink. Added a splash of chilly, herbal freshness with handcrafted cucumber mint ice cubes, making it even more distinctive.
Best feature? This recipe by Orchids + Sweet Tea for a cucumber mocktail takes ten minutes to prepare! This cool beverage will make any celebration or holiday more memorable.
Ingredients
For the mint ice cubes:
2 cups filtered water
½ organic cucumber, peeled + sliced onto small pieces
handful fresh mint leaves, roughly chopped
For the ginger mint simple syrup:
1 ¼ cups filtered water
¼ cup organic cane sugar
1 ounce ginger root, peeled + chopped
handful fresh mint leaves
For the mocktail:
1 organic cucumber, peeled + sliced
1 lemon, freshly-squeezed
1 cup Ginger Mint Simple Syrup
premium ginger beer, for topping
Cucumber mint ice cubes
Cucumber slices (optional for garnish)
Fresh mint leaves (optional for garnish)
Lemon wedges (optional for garnish)
Instructions
For the mint ice cubes:
Place the chopped mint leaves and sliced cucumbers into your preferred ice tray cavity.
Carefully pour water over the contents, filling each cavity to the brim. Continue until all of the ice cube slots are occupied.
Place the tray(s) in the freezer and leave it there for three to four hours or overnight until ice forms.
For the ginger mint simple syrup:
Combine all ingredients in a saucepan over medium-high heat, stirring to mix, and boil for one to two minutes.
Simmer for about five more minutes after lowering the heat.
Take it off the burner and let it cool fully.
For the mocktail:
Add the cucumber slices, lemon juice, and cooled ginger mint simple syrup to a mason jar or bowl. Muddle the cucumbers until they are very soft. Mix.
Pour half of the mocktail mixture (without the mulled cucumber) into a decent cocktail glass (about 11 ounces) and top with ginger beer until the glass/es are ¾ full for each mocktail.
Garnish with cucumber slices, lemon wedges, and fresh mint leaves if desired.
Berry Ginger Beer Mocktail
This Berry Ginger Beer Mocktail is a delectable, summery, layered mocktail that uses some of the coolest, most refreshing herbal friends and ginger beer, either homemade or purchased. With a berry and rose simple syrup by Mountain Rose Herbs, it also honors summer fruit and the lovely roses of the season. The night before, prepare the tea and simple syrup, so all you need to do is find a spot of shade and relax for a rejuvenating and fun day.
Ingredients
For the herbal tea blend:
3 cups water
¼ cup organic dried hibiscus flowers
1 ½ tbsp organic dried orange peel
1 ½ tbsp organic dried rose buds or petals
1 tbsp organic dried elderberries
1 tbsp organic dried rosehips
1 tbsp organic dried lemon balm
1 tbsp organic dried lemon verbena
½ tbsp organic dried peppermint leaf
2 tbsp raw, local honey, or organic sweetener of choice
For the berry rose simple syrup:
1 cup fresh or frozen organic berries (about 5 ounces)
2 cups organic sugar
1 cup water
¼ cup organic dried rose petals, optional
Zest from 1 lime
For the mocktail:
Ice cubes
Ginger beer
Tea blend concentrate
Berry rose simple syrup
Unflavored sparkling mineral water of choice
Organic lime, berries, mint and/or crystallized ginger for garnish
Ginger juice, optional
Instructions
For the herbal tea blend:
In a saucepan, mix water and hibiscus blossoms. Heat till boiling.
Mix the remaining ingredients and remove from the heat except for the honey.
Place a lid on it and steep for at least 20 minutes until the mixture is warm but manageable, then filter out the herbs.
Add honey or your preferred sweetener and stir until it dissolves.
Refrigerate the tea, and it can be kept for a few days.
For the berry rose simple syrup:
In a saucepan over low heat, combine the berries, sugar, and water; whisk to dissolve the sugar fully.
Zest lime and add rose petals. Simmer for five minutes.
Pass the mixture via cheesecloth. Squeeze to extract all the delicious syrup while still warm but manageable. Compost any leftover pulp.
Use syrup within two to four weeks of refrigerating it.
For the mocktail:
Crushed or cubed ice should fill 8 oz rocks or lowball glass to two-thirds full.
Pour in ½ ounce of ginger beer.
Pour in ¾ to 1 oz of tea concentrate slowly.
Pour in ¾ to 1 ounce of simple syrup slowly.
Pour your preferred sparkling mineral water on top gradually.
Add crystallized ginger, mint, lime, and/or fresh berries as garnish.
Garnish with optional ginger juice.
Taste and enjoy the lovely layers. If you want to mix flavors, stir.
Ginger Beer Mojito
Ginger Beer Mojito is the ideal cocktail for a party, and it's simple to adjust to your preferences for sweetness (adding more ginger beer) and tartness (adding more lime). If you don't drink, you can definitely rely on this recipe by Gimme Some Oven as it's non-alcoholic.
Ingredients
10 mint leaves
2 ounces fresh lime juice
ice
4 ounces ginger beer
Garnishes: fresh lime wedges or slices, fresh mint sprigs
Instructions
In a glass, muddle the mint leaves with the lime juice.
Pour in the ginger beer, then stir in a couple of large ice cubes.
Garnish the drink with more ingredients if you'd like.
Ginger Beer Hibiscus Mocktail
This Ginger Beer Hibiscus Mocktail transports you to the tropics with warm, sunny days, refreshing breezes, endless white sand, and a turquoise-blue sea. This recipe by Recipe From A Pantry is very easy to make, and it's like putting some of your current favorite things together in one glass.
Ingredients
125 g strawberries hulled and sliced
3 tbsp lime juice
300 ml sparkling ginger beer
Ice
2 tbsp hibiscus syrup
Juice of 1 passion fruit
Mint leaves
Lime slices for garnish
Instructions
In a container, combine the strawberries and lime juice and muddle.
Pour the ginger beer on top.
Fill two glasses with ice, then split the mixture between them.
To serve, divide the passion fruit pulp and hibiscus syrup among the glasses, then top with lime slices and mint leaves.
Ginger Beer Mocktail With Bitters and Blueberries
This Ginger Beer Mocktail with bitters and blueberries is tasty and energizing. Without the addition of alcohol, it has enough zip from the tastes of ginger, lime, and mint combined with muddled blueberries. Because ginger beer's potent flavor blends so well with other ingredients, particularly lime, it's a wonderful base for this mocktail by Charming Cocktails.
Ingredients
½ fresh lime
1 bar spoon honey
5-8 blueberries fresh or frozen, plus more for garnish
2-3 leaves fresh mint plus more for garnish
2 dashes Fee Brothers bitters Fee Brothers brand does not have alcohol
6 ounces ginger beer
Instructions
Save the used lime shell for a garnish and juice the lime right into the serving glass.
Stir the honey into the lime juice after adding it and stirring until the honey dissolves.
Stir in the mint leaves and blueberries.
Mash the berries and mint with the muddler until every berry is broken.
Pour the ginger beer into the serving glass with ice already in it.
As a garnish, include the used lime, a fresh sprig of mint, and additional blueberries.
Sparkling Ginger Cranberry Mocktail
Serve up a Sparkling Ginger Cranberry Mocktail for any celebration! With just two ingredients, this sparkling non-alcoholic beverage by The Speckled Palate is perfect for adults and children.
If the ginger beer is too spicy or the cranberry is too tart, you can also add a small amount of apple or orange juice. It's quite adaptable and looks amazing for a party when served with an orange rim dusted with sugar!
Ingredients
2 oz. unsweetened cranberry juice
4 oz. ginger beer
Fresh cranberries, for garnish
2 tablespoons granulated sugar
1 teaspoon orange zest
Instructions
Place the orange zest and sugar on a small plate. Once incorporated, stir them and set them aside.
Using a sharp knife, cut one orange into wedges.
Wrap the wedge over your glass's rim. To ensure that the orange sugar sticks, make sure the entire rim is wet.
Move the glass around until it is completely coated after dipping the rim into the dish of orange sugar.
Fill the glass with the measured amount of cranberry juice.
Stir the cranberry juice after adding the ginger beer.
Add some fresh cranberries as a garnish, then serve right away!
Matcha Ginger Beer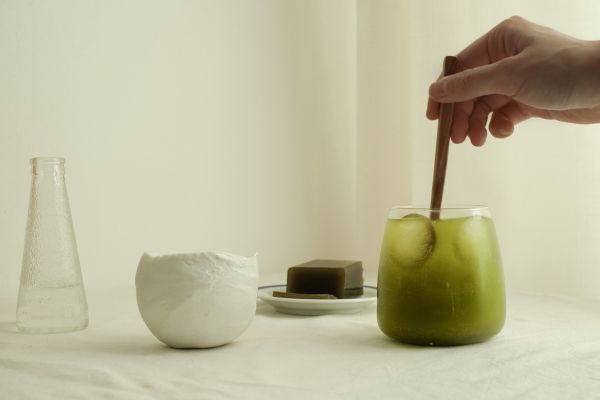 This non-alcoholic variation of Matcha Ginger Beer is ginger beer soda-based. It's incredibly refreshing and surprisingly tasty!
A dull green could make this drink by Oh, How Civilized appear unpleasant, so you don't want that. The brighter the green, the higher the quality of matcha, and this drink's color sets it out. Ginger beer is used as the liquid to prepare matcha tea instead of boiling water. It takes a very small amount to make the concentrate.
Ingredients
1 bottle ginger beer
1 teaspoon matcha
Instructions
Sift matcha into a matcha bowl using a mesh strainer.
Whisk together the matcha powder and 4 tablespoons of ginger beer.
Transfer the matcha blend into a tall glass and pour ginger beer on top.
Non-Alcoholic Moscow Mule With Ginger Beer
The easiest non-alcoholic drink to make is this Non-Alcoholic Moscow Mule With Ginger Beer! Virgin Moscow mules are a vibrant, cheery, and revitalizing way to enjoy any day. It's part of the pleasure that Moscow Mules are traditionally served in copper mugs.
Just leave out the vodka to create a delicious and simple non-alcoholic mocktail version of the traditional Moscow Mule. This recipe by Yummy Mummy Kitchen tastes just as good and is far healthier.
Ingredients
1 ½ cups crushed ice
1 cup ginger beer
juice of 2 medium limes (about 4 tablespoons)
⅓ cup club soda or sparkling water
fresh mint, for garnish
2 lime wedges, for garnish
Instructions
Add two thirds full of ice to two copper mule mugs.
Add club soda, lime juice, and ginger beer on top.
Mix well to blend.
Enjoy right away after adding lime wedges and mint as garnish.
The Sober Movement: Ginger Beer Mocktail Edition
The vibrant fusion of flavors, the dance of bubbles on your palate, and the sheer joy of sipping on a concoction that's as bold as it is booze-free—these are the hallmarks of a revolution in the making!
Ginger beer mocktails aren't just a trend; they celebrate choice, creativity, and a commitment to enjoying life's moments without alcohol.
In this spirited journey through the art of mixing the best ginger beer mocktails, we've discovered that sobriety doesn't mean sacrificing the thrill of a well-crafted drink. It's about embracing the zing of ginger, the sweetness of fruits, and the enthusiasm of quality non-alcoholic ginger beer.
Related Articles
Ginger Beer Mocktail FAQs
What is a good mocktail with ginger beer?
Some fantastic mocktails featuring ginger beer are:
– Virgin Moscow Mule
– Ginger Beer Mojito
– Pineapple Ginger Beer Mocktail
– Berry Ginger Beer Mocktail
– Sparkling Ginger Cranberry Mocktail
– Pear Ginger Snapper
– Honey-Lemon Ginger Beer Mocktail
Why is ginger beer healthy?
Ginger beer isn't just a flavor powerhouse but has various health benefits. Ginger, a key ingredient in ginger beer, is known for its anti-inflammatory and antioxidant properties. It can aid digestion, soothe nausea, and even boost the immune system. Additionally, many ginger beers are made with natural ingredients and can be lower in calories than sugary sodas.
What fruit goes with ginger beer?
Ginger beer is incredibly versatile and pairs well with a variety of fruits. For a delightful combination, consider mixing ginger beer with slices of fresh pineapple. You can also experiment with other fruits like berries, apple, or even a hint of grapefruit for a unique twist.